This week, very quietly, the biggest event of the SpaceCadet year happened.  It wasn't a show, it wasn't a big order, it wasn't a feature in a knitting magazine.  But it was something I've been working toward slowly — inch by inch — for a looooong time.  And then this week, it happened.  Quietly, and with no fanfare, just as if it was the most unimportant thing in the world.
And, y'know, to you, it probably is — but to me, it's huge.  So when I tell you what it is, please do me a little favour, ok?  Just for a moment, give a little squeal for me — I am just so excited!!!!!
Ok, you ready?  Here it is…  See that shop link right there on the right?  The one for the SpaceCadet shop?  Last week, it took you to an Etsy shop.  But today, when you click on it, it will take you to…
The Brand-New SpaceCadet Shop!!!!!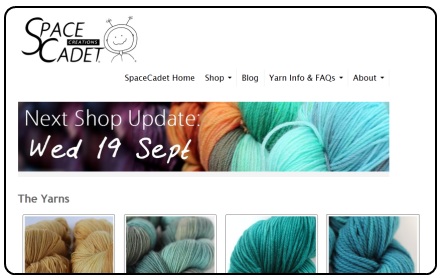 (go on, click it!)
I've designed this shop to give you everything I wasn't able to give you before — and I am just so tickled about that.  You can start by browsing all the yarns in one place on the Yarn Info page, where you can easily compare them by fiber content, weight, and yardage.
And there's a lot to compare — the SpaceCadet's fleet of yarns has increased from eight yarn types to… eighteen.  Everything from laceweights (silk! sparkles! linen!) to bulkies.  And in between, a beautiful array of choices.  I'm sooooo excited —  check it out!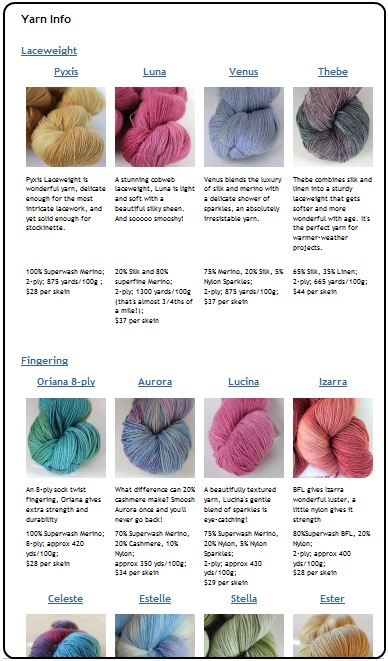 When you've chosen your yarn, you can click through to see which standard colourways are in stock.  Or, if you're feeling adventurous, there's a link to show you that yarn in all the fabulous experimental colourways in the Department of Rocket Science.
My goal is to make it as simple as possible for you to find exactly the yarn you need for your project.  Or…  if you're in a mood to just wander through the yarns and explore until you find one that captures your heart, you can do that too!
There's still improvements I want to make — little things to tweak here and there, and a few big things too — but even though I want to keep going until it's perfect, I know that, really, it's perfect enough.  And so, after months and months of preparation, the new SpaceCadet shop is ready at last.  And while it feels like a HUGE thing to me, I know I'm biased.  But secretly, I am really hoping that it's pretty darned exciting for you too.  So… will you squeal with me?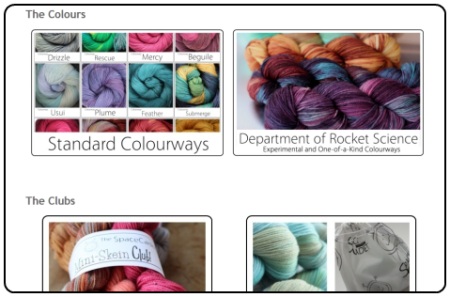 (Now, at the moment, there are only a select number of yarns in the new shop.  I'll be doing a shop update on Wed Sept 19 — see the banner on the main shop page — but, for now, most of the yarns are coming with me to…  )
A Trunk Show at KNOTS on Saturday Sept 15
As soon as I walked into KNOTS in Chardon Ohio (for a class with Brenda Dayne earlier this summer), I knew it was exactly what a yarn shop should be.  Cosy, welcoming, and packed with fibery goodness, I was thrilled when Kate asked me to do a trunk show there!
I'll be bringing a ton of yarn, including lots of wonderful experimental and one-of-a-kind colourways.  So if you're in the area, please do come.  I'd love to meet you!
SpaceCadet Trunk Show from noon to 5pm at
Knots – Knitting on the Square
153 Main Street
Chardon, Ohio 44024
(click here to map it!)
Only 3 Days Left to Join the InterStellar Yarn Alliance
Subscriptions to the Yarn Alliance have been going  like hotcakes and there are only a few spaces and three days left before subscriptions are closed.  If you've been thinking of joining and haven't subscribed yet, grab your place quick before it goes!  Click here for all the details.