Squeeeee!  I am so excited I can hardly tell you!  I've been counting down to today and it's finally here — the InterStellar Yarn Alliance is open for subscriptions at last!

The Yarn Alliance is the SpaceCadet's supercool yarn club.  And it's one of the most fun things I get to do in my job!  Seriously.  While I'm in the studio creating the colourways, or while I'm writing the dyer's notes, or coming up with all the fab goodies, I'm always hoping the members will love the results as much I do.  And do they?  Well, check it out…
And, y'know, while I was putting together the new Yarn Alliance images for the website, I realised I was taking a trip down yarn club memory lane.  So much luscious yarn, so many colourways I love!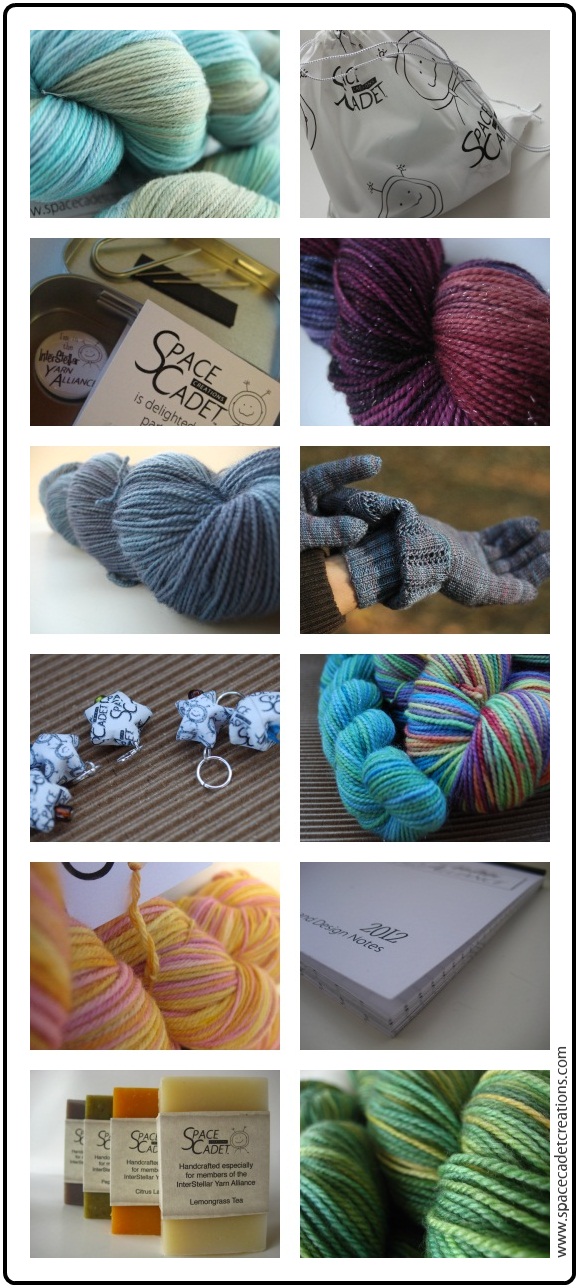 Members of the InterStellar Yarn Alliance receive fabulous parcels delivered to their door every other month, containing:
SpaceCadet ® Creations yarn (light to medium weight) in an exclusive Yarn Alliance colourway (guaranteed not to be offered on the SpaceCadet website for at least 6 months)
A great Yarn Alliance gift tucked into every parcel!
The SpaceCadet's Log exploring the inspiration for each colourway.
An InterStellar Yarn Alliance group on Ravelry where you can discuss WIPs, ask questions, and share FOs with fellow members.
The InterStellar Yarn Alliance newsletter with periodic special offers exclusively for members.
A 15% off coupon every six months
Subscriptions are for either 6 months (3 parcels) for $125, or for 12 months (6 parcels) for $235.
Want to join the fun?  C'mon!  We'd love to have you!