We are in flat out dyeing mode right now to get ready for the upcoming shows and KALs in March.  And I've got lots to tell you about them — new kits, new project ideas, and some really exciting exclusive colourways.  But all that in good time.  For now, I have some lovely images to share with you, and one small but very important announcement.
First, the images.  Here's a little glimpse of the studio this week…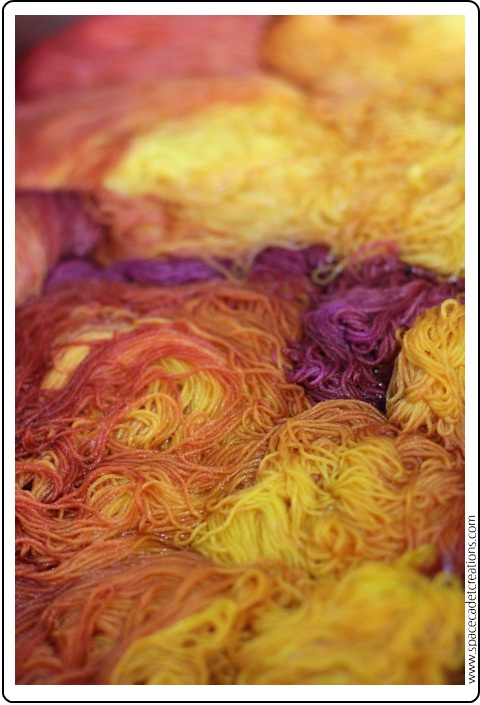 You can see why I love dyeing, right?  And now, the announcement…
SpaceCadet Yarns Now Dyed to Order
I made a small but very significant change to the shop this week.  You didn't notice?  Yeah, that's ok — it is very small.  But it kind of changes everything.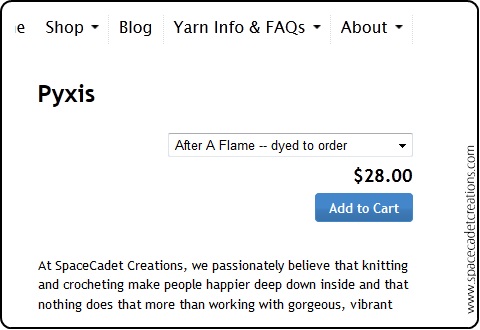 As things have grown and gotten busier here at the SpaceCadet studio, one thing that just hasn't happened is regular shop updates.  I love dyeing the yarns, love coming up with new colourways, but when it comes to sitting down and photographing them, then uploading the photos to the shop, then typing in all the details…  well, I always find myself drawn back to the dyepots and the shop update just doesn't get done.
But that's no good for you, is it?!?  You can't buy what's not in the shop!  So, I've decided to give you the best of both worlds.  You can buy what's in the shop — and shop updates will still happen — but when when a colourway or a yarn that you are just itching to work with is not in stock, you can now go ahead and order it to be custom dyed!
Every SpaceCadet colour, every SpaceCadet yarn, available to you any time.  See, that really does change everything, doesn't it?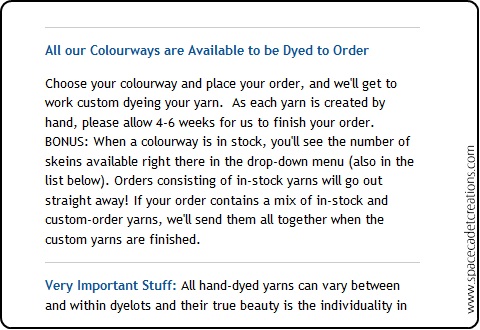 When we receive your order, we'll get to work dyeing your custom yarn.  Now, because each yarn is created by hand, we do ask you to allow 4-6 week for your order to be completed but, in truth, we always aim to beat that and get your yarn out to you as quickly as possible.  That timescale is really there to allow for busier times of year and the more complicated orders.  The best thing about the whole dyeing process?  Packing those lovely bundles of yarny goodness in their boxes and sending them off to become exciting new projects!
So there you go — one tiny little alteration that brings enormous change and wonderful news!
And here, before we go, one last image from the studio.  I just love these greens against that rust, don't you?