After a winter that felt like it would never be defeated, it is such a joy to see the signs of spring at last.  As soon as the first buds appeared on our maples, we welcomed the return of green by hanging a whole village of sweet little birdhouses in their branches.  And even though I knew they are purely decorative and would never actually be used, their bright colours and cheerful presence brought a smile to my face everytime I spotted them out the window.
And we gathered up all the scrap yarn lying about the studio and the house, and stuffed it into a spare birdfeeder.  It wasn't long before chickdees and sparrows began tugging out colourful strands to build their nests with.  Just like all of you, the birds in my garden have SpaceCadet WIPs too!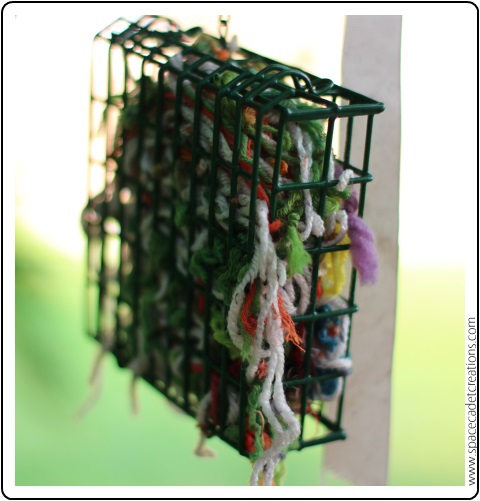 I think my favourite is the little church painted with the Union flag.  How happy is that?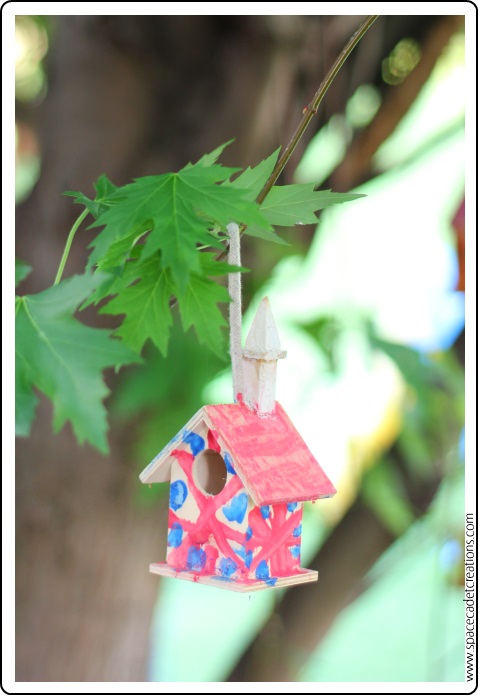 I can't tell you how suprised I was when I discovered that a two little birds had adopted one of our decorative birdhouses, and were flying madly in and out as they built their nest.   They're little and sweet, with fat round bellies and dainty pointed beaks — I think they're thrushes of some sort, but I don't know for sure.  Either way, I was delighted that they'd moved in right outside my kitchen window.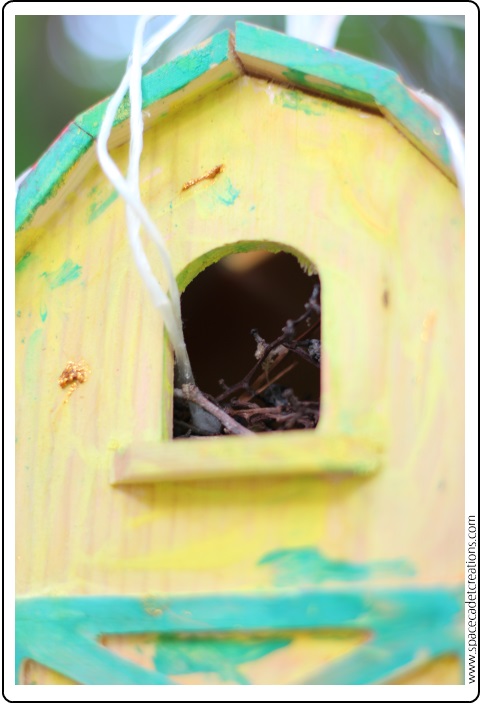 But as they flew in and out, adding sticks and twigs and lots of those yarn scraps, I realised to my horror that the birdhouse wasn't up to the task.  If you look carefully, you can see that roof was slowly beginning to separate from the house.  You can see what I mean right there in the photo above.  And at some point, I knew that the weight or the nest (…or the eggs  …or the nestlings) would be too much, and the house would drop, nest and all, to the ground below.
What to do?!?  I couldn't let them keep building with sure disaster on the horizon.  And yet I so wanted to them nest there outside my window!  The solution suddenly came to me, and I wasted not a single moment as I grabbed some nylon twine and pair of size 19 needles.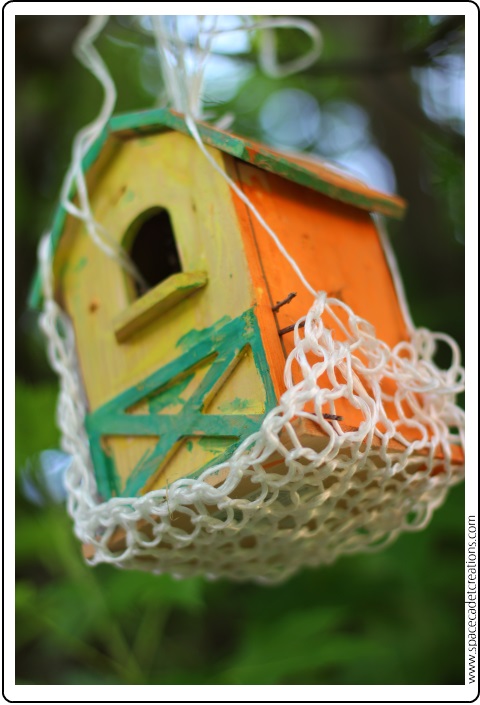 Fifteen minutes later, impending doom had been averted.  The house was now nestled safe and snug in a hand-knit net, secured through the birdhouse's hook and right around the branch itself.  The nest would not drop, and all was right in the world again.
---
Hey SpaceMonsters, get ready!  Your yarn is all dyed and I am super-excited about this colourway.  And your gifts were delivered yesterday and they are awesome!  I can't wait to get them in the post to you.
And for everyone else, if you've been thinking about joining the SpaceMonster Mega-Yarn Club, I've got exciting news!  The club opens for new subscriptions on June 7, and this one is all about bulkier yarns — so quick to work with and just such fun!  Want to know more more?  Click here for all the details about the club. And don't forget to mark June 7 on your calendar — we'd love to have you join us!