If you've been following me for a while, you know I've been a fan of the Singlehanded Knits podcast ever since I first discovered it.  I mean, Mel records right on the beautiful beaches of Kauai, with the waves rolling in and palm trees swaying — what's not to love?
And I knew she's been a member (and huge fan) of the Mini-Skein Club almost since it first began as well, so I felt comfortable asking her to share her thoughts on it in a new video for the Mini-Skein Club page.  Here, come escape to Hawaii for a few minutes and sit on the beach with Mel and chat about yarn.  (I don't think it can get any better than that, can it?)
As you can tell from the video, Mel is an absolutely lovely person — warm and genuine, and with a positive attitude that's just infectious.  Watching her podcast is always a surefire way to bring a little sunshine to any cloudy day.
So I was startled to find myself with tears in my eyes as I read this beautiful blog post she wrote about her dear friend Miss Carol, and the money she is helping to raise for the MARSOC foundation in Miss Carol's memory.  The response from the knitting community has been swift… and incredible!  But there is still a way to go to hit the goal, so I urge you to click here and read Mel's story about Miss Carol for yourself.
Ohhhhhhhhh….   did I mention there are prizes?  Oh yes there are!  Lots of wonderful yarny prizes to encourage you to read and donate, including a SpaceCadet Gift Code worth $40.  So seriously… Go. Click. Read. Give.   It's all good.
---
And now something I just have to share with you guys…  I was stunned — stunned! and thrilled! — to discover that SpaceCadet was featured in the latest issue of Knit Simple magazine, in a round-up of their favourite yarn clubs.  Go look — it's on page 12.  Or here, wait, have a look here…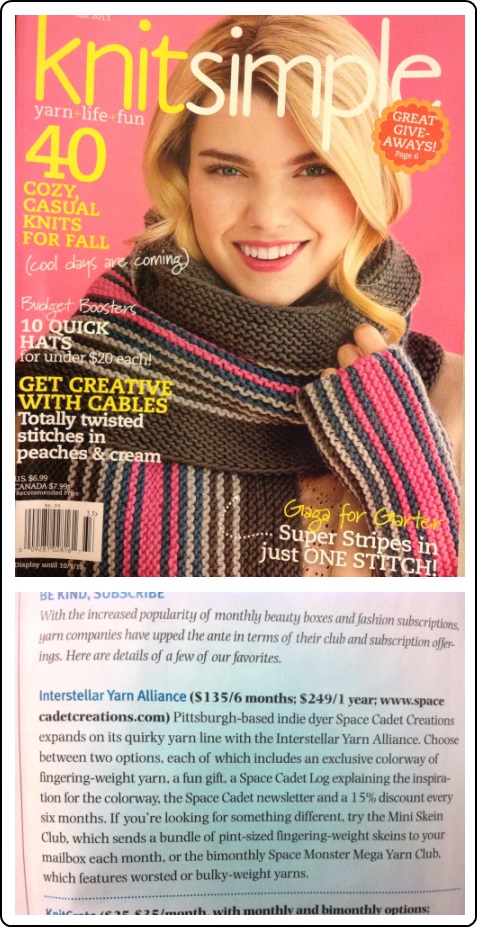 Isn't that exciting?!?  I'm over the moon!  Squeeeeee with me!!!!!
---

And hey listen, the club that Knit Simple mentions there, the InterStellar Yarn Alliance, opens for new subscriptions next month for two weeks only, from Sept 1 to 16.  This is the club that everyone talks about — beautiful hand-dyed yarn, fantastic SpaceCadet gifts and loads of fun!  Spaces are limited and last time they went incredibly fast, so if you're not already on the mailing list, click here to get on it and be the first to know when it opens!