Is someone giving you roses today?  Maybe a huge box of chocolate?  Valentine's Day can be a wonderful bright spot in the depths of winter but if, like me, you aren't likely to get something from a sweetheart, then let me step in and give you a sweet little treat of my own…
My friend Mel of Singlehanded Knits has just released Hana Hou, a gorgeous new cardigan design that I just love, absolutely love.  Knit in sport weight yarn and perfect for SpaceCadet Lyra, it features an asymmetrical style with a really beautiful border detail on the placket and cuffs.  It's just the kind of knit you find yourself itching to get on the needles…
But there's something more about Hana Hou that knocked my socks off.  Rather than simply put together a regular pattern, Mel has turned Hana Hou into a stunning look book, each page filled with the most incredibly luscious photography alongside the pattern instructions.  Every image makes you feel like you are falling right into the page and changes Hana Hou from a simple pattern into something that feels more like an escape to the islands.  I can't stop scrolling through it on my iPad…
Win a Copy of the Hana Hou Pattern & Look Book!
So how about a copy of your own?  You got it! Mel has very generously given me seven copies of Hana Hou to give away to seven lucky winners!
All you have to do is:
go to Ravelry (click here) and add Hana Hou to either your favourites or your queue
and then leave a comment here on the blog telling me which Lyra colourway you'd choose for your Hana Hou (don't forget to mention your Ravelry name)
That's it!  Once that's done, you're in with a chance to win your own copy of the gorgeous Hana Hou pattern look book!  But hurry — the giveaway closes on Monday Feb 17 at 11.59pm EST, and I'll announce the winner on the blog on Tuesday.
But hey, what if you just can't wait to get your hands on Hana Hou?  Yeah, we've got you covered — click here to join the Singlehanded Knits mailing list, and Mel will send you a $2 discount code for an instant download.
---
Pssst!  The Yarn Alliance Is Opening Soon!
Available to new subscribers only twice a year, the InterStellar Yarn Alliance — the SpaceCadet's premiere yarn club, known for fabulous fingering yarns, gorgeous colourways, and awesome gifts — will be opening again in March for two weeks only.  If you want to be the first to know when it does, click here and get on the Yarn Alliance mailing list!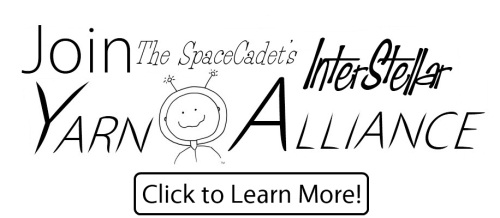 ---
There's always small print — official rules: NO PURCHASE NECESSARY. Open to entrants worldwide, age 5 or older. Void where prohibited. Odds of winning depend on number of entries received. Sweepstakes ends 11:59 p.m. EST on February 17, 2014. Official entry is made by commenting on the SpaceCadet blog post titled "Hana Hou: A Giveaway!" and by favouriting and/or queuing Hana Hou on Ravelry. Limit one entry per person. Sponsored by Singlehanded Knits and SpaceCadet Inc, PO Box 113312, Pittsburgh PA 15241. Seven (7) prizes, each consisting of one (1) copy of the Hana Hou pattern and look book, valued at $7. Total prize value: $49. Winner will be selected by random drawing. Prize cannot be redeemed for cash. Prize cannot be substituted. Employees and family of employees of SpaceCadet Inc and/or Singlehanded Knits are ineligible. A list of winners will be available on the SpaceCadet blog on or after February 18, 2014. For full official rules, visit https://spacecadetyarn.com/2014/02/14/hana-hou-a-giveaway