You know, they say the best stuff comes in packages with free shipping.  Wait… no they don't.  But still, free shipping has to make any package way better, right?  And when we're giving away free shipping in a way that's also some seriously sweet eye-candy and a ton of fun to enter…  well, you just can't beat that!
But first, let me show you the SpaceMonster Mega Yarn Club's October colourway…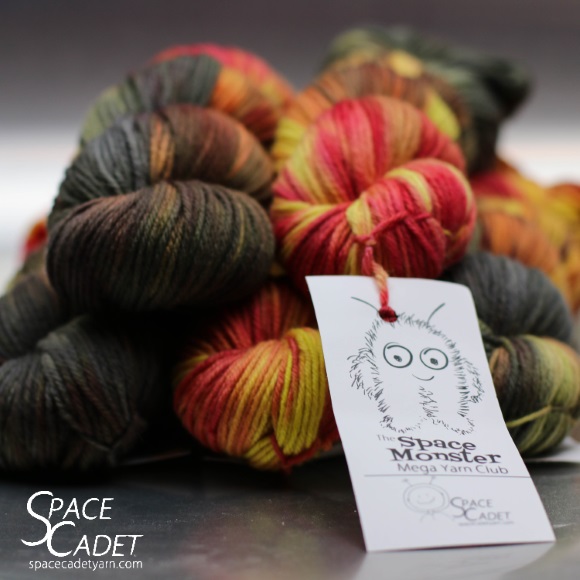 From the SpaceCadet's Log:
A few weeks ago, I was driving along a quiet country road which twisted past a field of tall grasses yellowing in the sun and ducked in and out beneath trees that were still mostly green. From all appearances, summer was holding on strong but somehow I could feel autumn marching relentlessly nearer. What was it that gave the game away? The shadows. They fell in gray streaks that stretched long and thin from the base of each tree across the road and far into the field, and left me in no doubt that the sun was shifting its path across the sky, lowering its arc a little more each day, and letting the warmth of summer slip slowly away.
To capture the essence of these Long Shadows, we started with a buttery golden yellow – the colour of a hazy late-summer sunset, of weary grasses in untended fields, of leaves just turning. And over that, we layered soft grays that streak up and over the yarn, fading in and out from strand to strand. And then we finished it with glazes of rust, russets, and deep maple reds, to pull in some of the hues of the glorious season to come. The result is a colourway that I hope captures all the depth of autumn's change, from the bold to the melancholy, in a yarn that will work up in gentle undulations from shade to shade.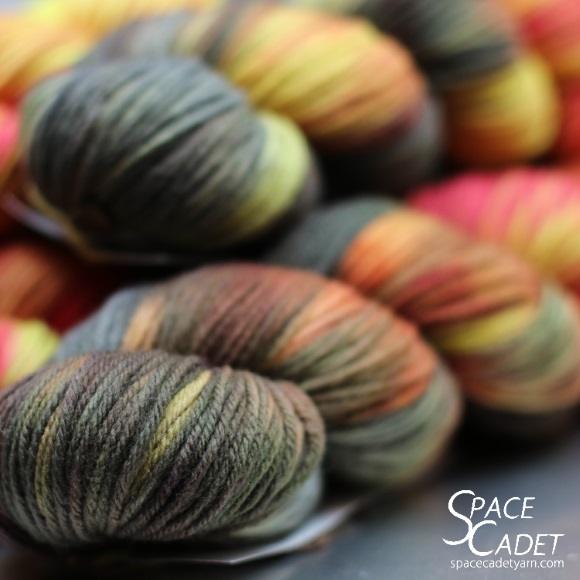 Isn't it lovely?  Dyed with very short colour repeats that are designed to create a painterly effect in the final fabric, this is a colourway that will blend together at a distance but be full of intrigue up close.  I love that kind of yarn — so interesting from stitch to stitch, but with colours that flow gently and work beautifully in the final fabric.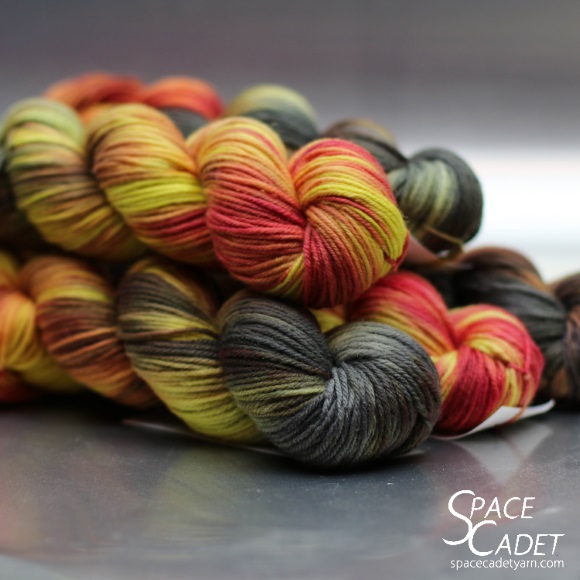 But enough about that — let's talk about that free shipping…
How to Enter to Win Free Shipping
We're looking for project ideas for this colourway — share your idea to get entered to win!  Here's how:
Everyone can enter, whether you're in the SpaceMonster club or not, and you can enter as many times as you like.
To enter, just click here and post a pattern idea (including a picture and link) in the thread.  That's all there is to it!

Each separate post (with picture & link) counts as a separate valid entry so the more pattern-idea posts you create, the better your chances of winning!
The sweepstakes is open until the end to the month, and closes at 11:59pm EST on Oct 31. For full sweepstakes rules and alternative method of entry, click here.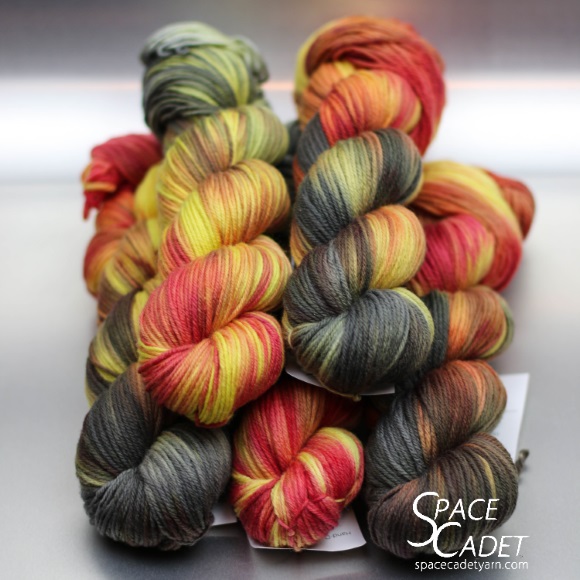 The SpaceMonster Mega Yarn Club opens for subscriptions in December (and makes a perfect holiday gift).  If you'd like to get on the mailing list so you're the first to know when it opens, click here.