Wow. Wowwwwwwwww.  We have never (ever, ever) had such a wonderful response to a giveaway in the history of SpaceCadet giveaways!  It was mind-blowing!
By the time the entry period closed on Friday, almost one thousand of you had entered, and it was just so exciting to see that kind of enthusiasm.   And the best bit?  Reading all the fantastic, heartfelt messages you left for our generous SpaceCadet community member who made this giveaway happen.  We really do have a wonderful knitting and crochet community!
What Made You Enter?
So first, I've gotta ask you, what was it this giveaway that appealed to you so much? Was it the fantastic prize? (a year's worth of smooshy SpaceMonster yarn is pretty hard to resist!)  Or was it the incredibly generosity of our SpaceCadet community member who sponsored it?  Or maybe both?
I would love to create more giveaways that speak to our community as much as this one did, so please, won't you click here and take just a moment to let me know?  I'd be so grateful!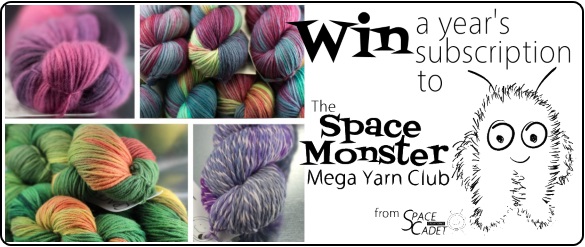 And the Winner Is…
Ok, let's not wait any longer!  After putting all the entries into the Random Number Generator, the winner of the SpaceMonster Giveaway is…
#47: Debra Houser
Congratulations, Debra!
Please send an email to info(at)spacecadetcreations(dot)com with your postal address, and we'll send your first SpaceMonster parcel right out to you!
Thank you so much to our lovely community member who sponsored this giveaway.  And thank you to everyone who participated — really, our sincere thanks because it was just so much fun — and keep your eyes on your inbox for more tips, updates, and exciting giveaways in the future!