Fun stuff today!  I'm going to announce the winner of the Sarah Jordan Shawl pattern giveaway!
But, before I do, I wanted to share with you a pattern I came across and just fell in love with because it's just so whimsical and cool.  And best of all, it's the perfect for one of my favourite things…  SpaceCadet Mini-Skeins!
(You know I love patterns like that, right? But, if you're reading this first thing in the morning, may I suggest a good solid swig of your coffee before you read on.  This colourplay is wild.)
I wasn't lying, was I?  It's a colour explosion!  You can see why I took one look at them and thought, Mini-Skeins.  And whether you'd choose to knit them just a few inches above your ankle or right the way up to your knee, they change things up every inch or so, so you know that you'd never get bored.  I think they're adorable, fabulous, and so fun, and I just had to share them with you.
(Quick, another gulp of that coffee, ok?  There you go. Better now.)
Want some more Mini-Skein Ideas?
Check out our Mini-Skein Ideas board on Pinterest!  Jade and I get our kicks hunting out the coolest Mini-Skein ideas and collecting them all together.  Some are patterns and some are just creative and interesting ways to use mini portions of yarn to add pops of colour to your knitting or crochet.  Click here to get inspired!
The Winners of the Sarah Jordan Shawl Kit Giveaway
Ok, I know this is what you've been waiting for, so let's get right to it.  You'll remember that a couple of weeks ago, I featured two of Sarah Jordan's beautiful shawls, Embossed Lines and Margalit, which she'd designed in SpaceCadet yarn.  And then she and I decided to make things even more fun by giving away each of the patterns with the yarn it was designed in to two lucky winners.  So many of you entered — thank you all so much!
And now, without further ado, let's announce the winners…
The first pattern is Embossed Lines and comes with a skein of SpaceCadet Lucina yarn in Drizzle.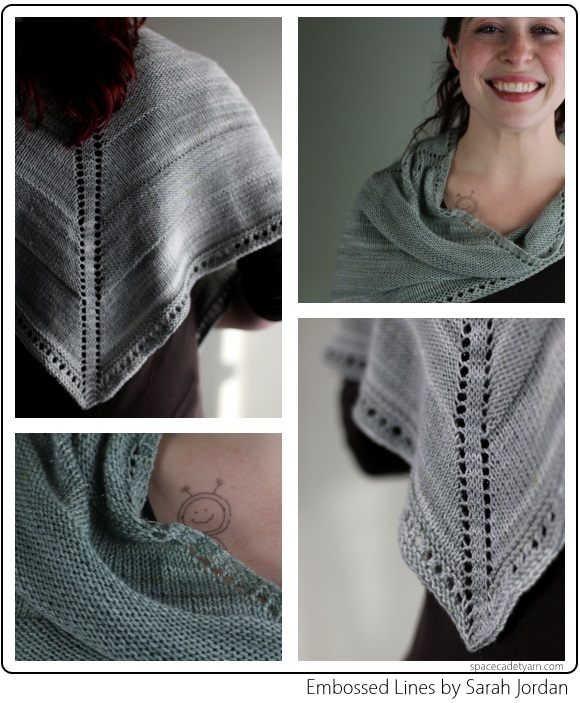 And the winner is…
 Barbara Gibbs
The second pattern is Margalit and comes with a skein of SpaceCadet Aurora yarn in Tickled.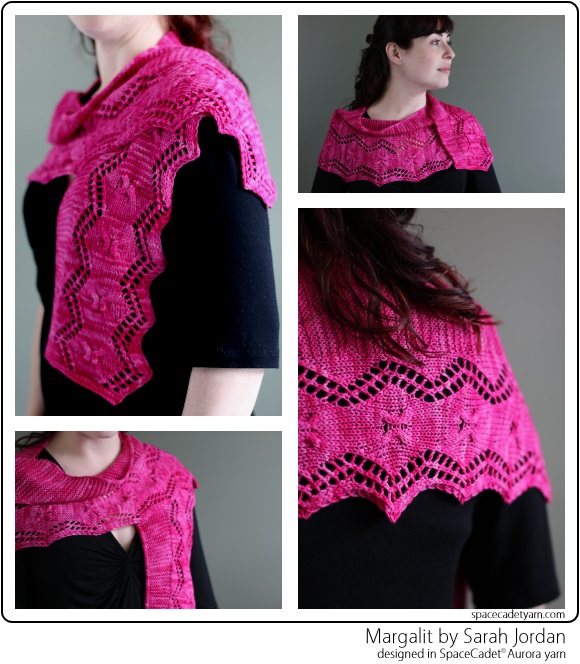 And the winner is…
 Wendy Melillo
Congratulations!  Please send us an email to missioncontrol(at)spacecadetyarn(dot)com, confirming the email address you used to enter and giving us your postal address, so we can get your prize out to you!