This weekend is many things: a time to spend with family (I had a great Thanksgiving with mine — I hope you did too), the full start of the holiday season and, for the SpaceCadet crew, a chance to pull out the stops and create some real fun for our customers.  And this year, we all sat round a table with our tea and knitting for a big brainstorming session… and did exactly that!
We've got some great stuff lined up, something special every day of the weekend… and beyond!  Here's the awesome line up…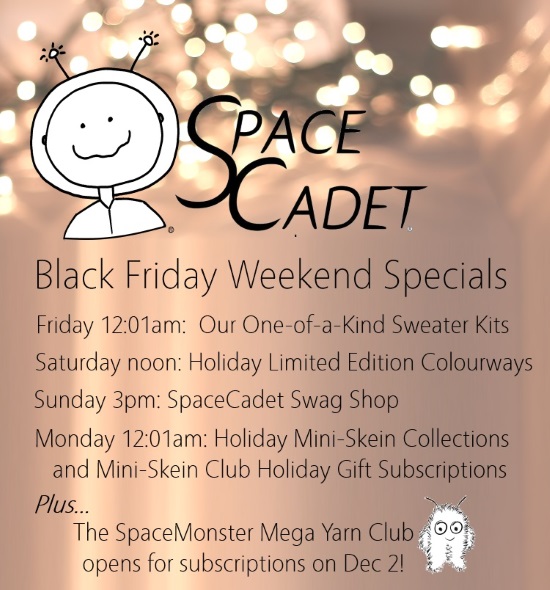 Friday from 12.01am — Our One-of-a-Kind Sweater Kits
We have some much fun putting these together for you!  We spread out a huge sheet, put all our skeins in the middle, and then start choosing and swapping until we get combinations that make us all squee!  I think you might too.  Take a look at the colour combos below and pick your favourite, then click here to go and grab it before anyone else does because there's only one of each for most of these and, once they're gone, they're gone!

Saturday from noon — Our Holiday Limited Edition Colourways
These colourways were so much fun to develop, I could hardly contain myself.  With every colour we layered on, the skeins seemed to get more and more breathtaking and I just couldn't wait to show you!  Dyed on four bases — Pyxis, Lucina, Lyra, and Astrid — in very limited quantities, they're sure to go very quickly, so be sure to set a reminder now and watch your inbox for the link.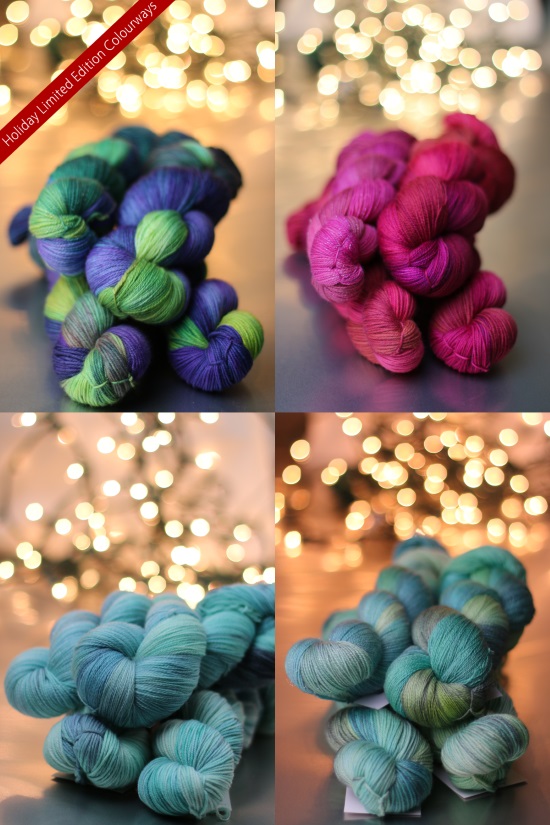 Sunday from 3pm — SpaceCadet Swag
By popular demand is such a cliche but, this time, it's true!  We've had so many requests for more of some of our most popular club gifts that we went back to the makers and asked them recreate them with the adorable SpaceCadet front and center.  Our Notions tins, project bags, needle boxes (and more!) let you show off your SpaceCadet pride.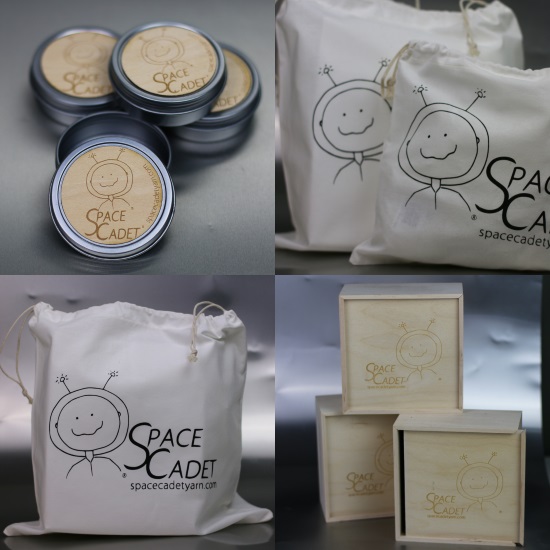 Monday from 12.01am: Our Holiday Mini-Skein Collections and Mini-Skein Club Holiday Gift Subscriptions
We love what you can do with our adorable Mini-Skeins (we think of them as yarn crayons that you can use to add colour to any project!).  So we dyed some special never-to-be-repeated colourways and put them together by the half-dozen for a perfect holiday gift.  Or, if you know someone who has always wanted to try the fun of our Never Ending Gradient in the Mini-Skein Club, we've got an option for that as well.  Keep your eyes on your inbox for the link in time to scoop these up!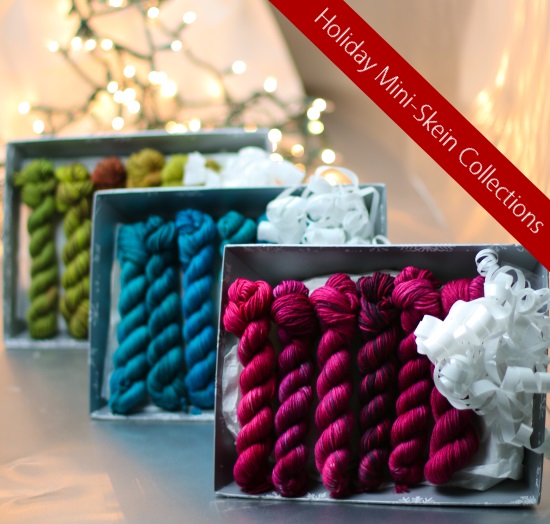 The Winner of Our $20 Gift Certificate!
We so much fun in our Mini-Skein Cowl KAL that I decided to do a giveaway for a $20 gift certificate in time for Black Friday shopping.  So, without further ado, the winner is….
marvelg
Congratulations, Martha!  Just hit reply and give us your email address and we'll get your discount code to you asap!