The Saga of Ol' Yeller
Sometimes the stuff that is the hardest work is the most exciting, right?  We packed up the truck for Stitches West on Friday and it was hard work — hard and cold — but pure excitement can keep you energised and keep you warm, and it was so exciting to know that all our lovely SpaceCadet yarn was about to start its journey to California!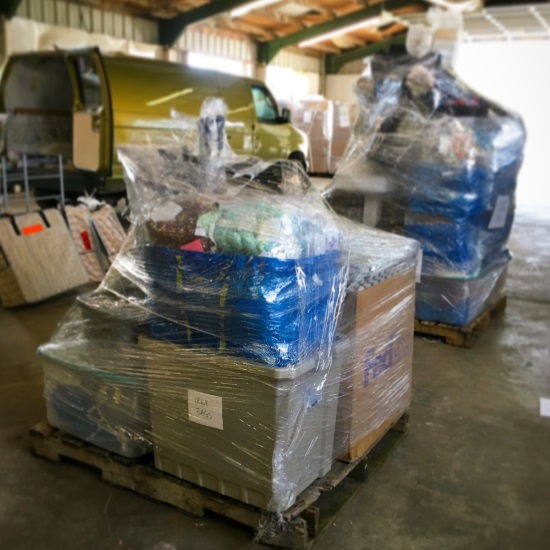 The whole SpaceCadet booth, all packed and sealed up tight!
And what a start it was!  There are eight awesome east coast vendors all making this journey to Stitches together: SpaceCadet, Ross Farm Fibers, Destination Yarn, Artisanal Yarn, ShirstyCat Designs, Yarn Culture, Dragonfly Fibers, and Neighborhood Fiber Co.  On Friday, we all met up and loaded our pallets onto the truck…
Our second pallet was the last to be loaded and…  it didn't fit!  WHAT?!?  It turns out that although the pallets were the right size to fit the truck, everyone's yarn had expanded over the edge of the pallets just a little bit.  And by the time you add an inch or two onto every pallet, there wasn't enough room for the last one.  So, my assistant Jade and I hopped up onto the lift gate and broke open our carefully constructed pallet-load, and squeezed everything willy-nilly into the last little space on the truck.  …And it fit!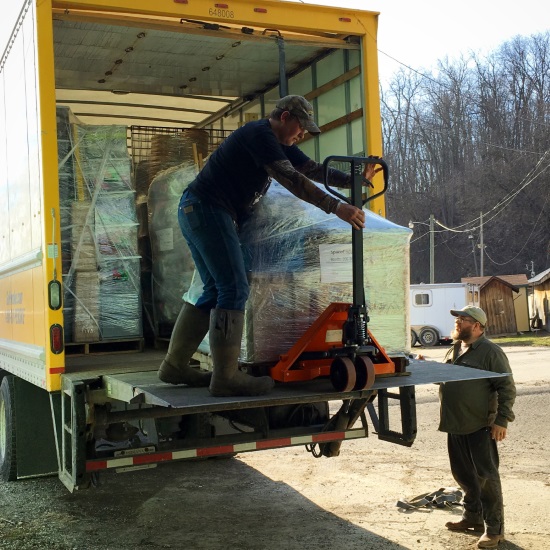 Trying trying trying to our last pallet on the truck
We all took a moment to stand in awe at the sheer amount of gorgeous yarn in that truck.  And then we all waved goodbye to our drivers, Amy and Scott of Ross Farm Fibers, and went home exhausted.  And at about 10pm, I got this message:
"Hey! Guess what? The truck died on the highway 30 miles west of Columbus! We get to meet NEW FRIENDS! They're sending their local tech guy to troubleshoot it in 45 minutes. We are 18 mins from our hotel."
It had been such a long day and now this…  oh, I felt so bad for them!
Amy and Scott had nicknamed the truck "Ol' Yeller" and, sadly, it lived up to its name: the tech guy decided it had to be put down.  Or at least taken away and replaced, meaning everything we'd loaded had to be taken off the truck right there in the cold and reloaded onto a new vehicle.  When I told my husband, he said, "Well, at least everything is neatly palletised so nothing will get lost."  I thought of our second pallet and cringed.  I'm sure it's all ok, I'm sure it's all ok, I'm sure it's all ok…
RIP Ol' Yeller!

The next morning, Amy and Scott were back on the road.  The new truck was named "Goldietrucks" and they were soon passing through Illinois… and then Missouri… and Oklahoma… and onto Amarillo.  Just think of all those knitters and crocheters the truck has been passing on its way, and they have no idea all the smooshy goodness that is flying past them with such determination to make it to Santa Clara!
Follow the Yarn Across America!
You can follow the yarn truck on Instagram as it makes its way across the country, using the hashtag #StitchesWestorBust (and when you do, please keep your fingers crossed that it's smooth sailing from here on out).
And if you are in the northern California area, I so hope you will come and see all of us east coast dyers at Stitches West this weekend.  We've brought a ton of yarny goodness clear across the country for you!

Thurs Feb 23 to Sun Feb 26
Santa Clara Convention Center
Show Information: click here
Marketplace tickets: click here
Floor plan: click here
For classes: click here
The East Coast Dyers Coming to Stitches West:
SpaceCadet — Booths 906-908
Ross Farm Fiber — Booth 910
Destination Yarn — Booth 217
Artisanal Yarn — Booth 701
ShirstyCat Designs — Booth 1340
Yarn Culture — Booths 407-411
Dragonfly Fibers — Booths 706-710
Neighborhood Fiber Co. — Booths 506-508 & 605-607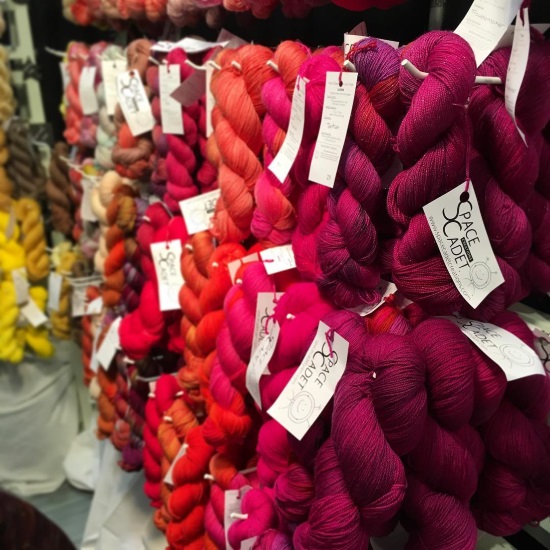 Stitches West Show Exclusive Colourways!
Stitches is such a big show that we've dyed not just one but two show exclusive colourways!  One is fiery and warm, the other cool and sublime — and both of them are gorgeous!   We'll be putting one out on Friday and the second on Saturday, and they're sure to go fast so be sure to come to booth 906-908 as early as you can!
We're Doing Two Shows Simultaneously!
Come see SpaceCadet at Indie Knit & Spin in Pittsburgh on Saturday Feb 25
When you have a series of great shows year after year, there's always the possibility that, one year, they'll be scheduled on the same weekend.  And this year it happened.  But when I told the SpaceCadet crew that Indie Knit & Spin, an awesome local show focused entirely on indie and handmade, and Stitches West were on the same weekend, they surprised me by proposing that we do both.
We've never done two shows simultaneously before.  It hadn't even occurred to me!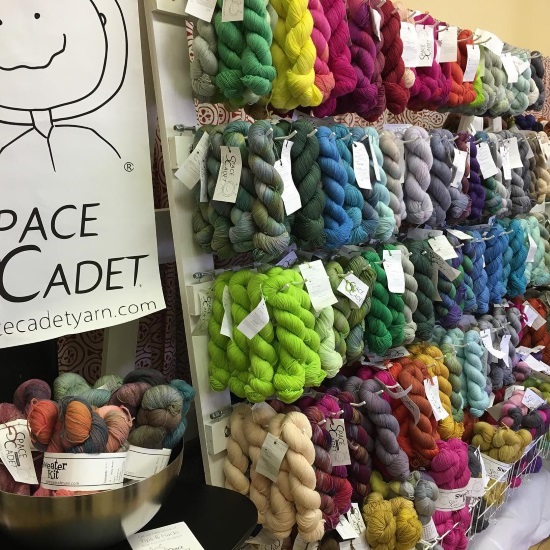 But after sitting there gobsmacked for a moment, I suddenly realised that of course we could do both.  It would take a lot of planning, to be sure, but we really could do it!  And I love that the SpaceCadet team is so positive and up for adventure — even stuff that I haven't thought of.  They're such a great crew.
This is Where You Come In
So, while Jade and I are going to be working Stitches in California (with help from our friend Fatima), my assistants Jill (the one who answers all your emails) and Sara (the one who packs all your lovely parcels) will be doing Indie Knit and Spin.  This is the first show they've ever done on their own and, between you and me, I think they're a little nervous.  I know they're going to do a great job but if you are going to the show, please stop by and say hi to them.  Seeing friendly faces and chatting with customers is really what makes a show fun for us, so your coming by the booth will make them both feel so much more at ease.
Pittsburgh Indie Knit & Spin
Sat Feb 25, 10-4
Free Entry!
Wilkins School Community Center in Regent Square
7604 Charleston Ave, Pittsburgh, PA 15218
Show Information: click here
For a map, click here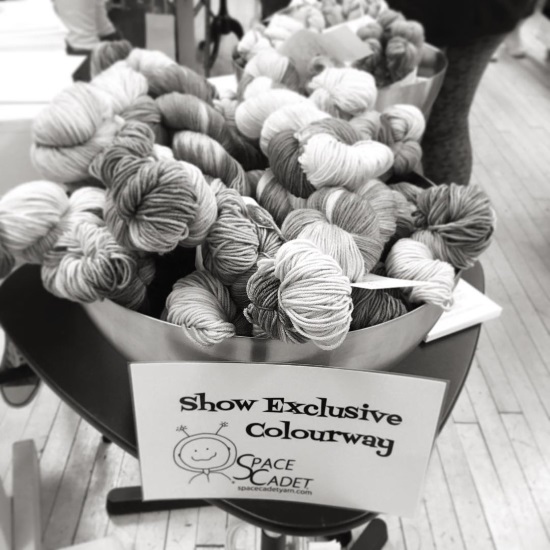 Show Exclusive for Indie Knit & Spin
This is a one-day show so there's only one show exclusive but, oh!, it is a stunner!  It's called Pretty Puddles and if you've ever seen all the colours in the puddles we post on Instagram, you'll get an idea of how multifaceted and amazing it is.  I have no doubt it will fly, so be sure to stop by the booth early!
---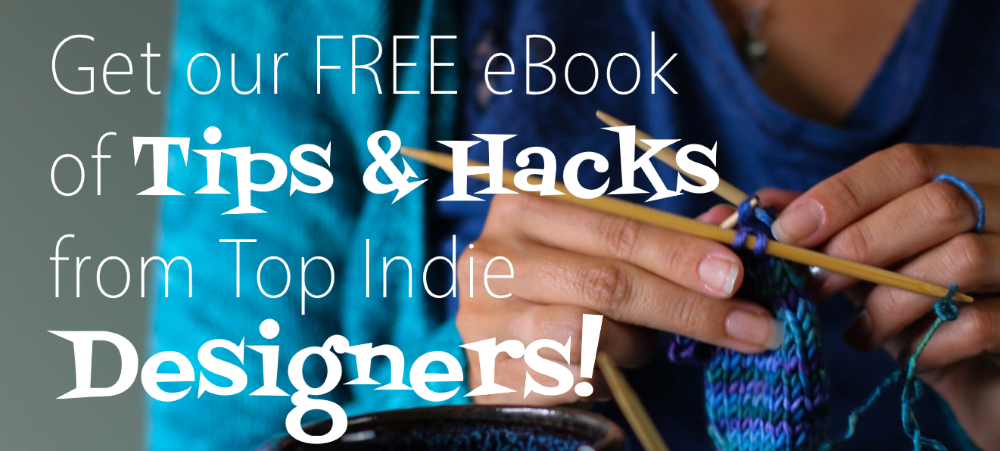 The Folks on our Mailing List get More!
If you found this post useful, you'll want to get on our mailing list. Each week(ish) we send out a newsletter packed with all the latest that's happening in the world of yarn, plus pattern picks, our pop-quiz, and more! And, when you join the list, you…
Get Our FREE eBook with Great Tips & Hacks from the Top Indie Designers!