We were at Stitches West last weekend and it was amazing: exciting, exhausting, educational, and a feast of fibery goodness.  With two massive convention center rooms packed with vendors, there was magic for any yarn lover.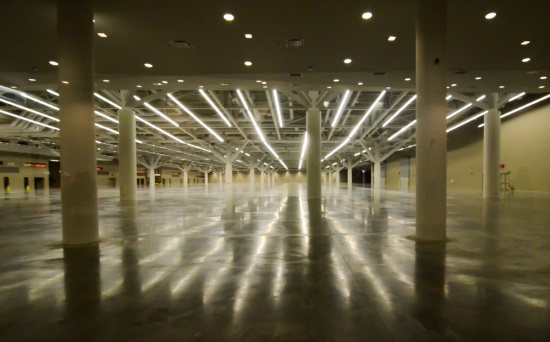 Photo by Erik Drost / CC BY
If you've never been behind the scenes as a yarn show is being put together, it's really quite remarkable.  At the start, it's a just a huge empty space: concrete floors stretching in all directions and practically nothing else.  It's hard to imagine how this will turn into a bustling, exciting yarn show.  But before you know it, the pipe-and-drape is going up to create the booths, the forklifts start zooming around carrying pallets, and vendors arrive and begin building their booths.
It's a very tough, physical day — lots of lifting and dragging and hoisting and balancing — but the excitement in the air makes the work go quickly.  The vendors are all in good spirits, looking forward to the show.  This year at Stitches, we even had the help of a Jamie, a long-time customer who lives near Santa Clara and offered an extra pair of hands.  It was lovely to have her help and even lovelier to get to a face to a name!
Now the thing I find hardest about set-up day is the confusion.  Until the booth starts to take shape, it feels like everything is everywhere — and it is.  Before we do anything, we have to lay our flooring down, which means emptying our pallet but without filling our booth space up, so we end up dragging all our stuff out into the aisle while we get the floor in place.  Then we move everything back into the booth so the other vendors can get by, and start building the displays.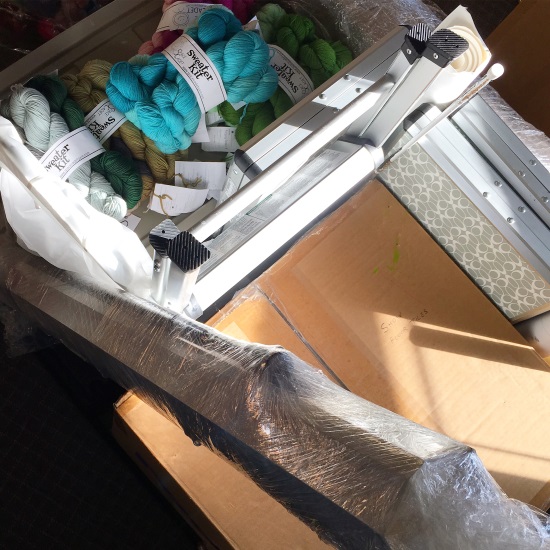 As we started hanging the yarn on the Stitches displays, Jade said, "Umm…  Stephanie, I can't find the Lucina."  I wasn't worried — it was sure to turn up, hidden under another bag somewhere.  But after a few minutes, she said she couldn't find some of the Maia either…  and then some other yarn was missing… and then some more.  We stopped what we were doing and counted bags of yarn.  There were only five bags.  And we had originally packed eight.
These are big bags — they hold several hundred skeins apiece.  Where on earth could they have gone?  We tore the booth apart but they weren't anywhere, and I began to think of the fateful trip of Ol' Yeller, the truck that broke down on the way to way to Stitches, and how Amy and Scott had had to unload everyone's yarn on the side of the road.  With a sinking feeling, I began to wonder if some of our yarn might have been left behind.
I texted the team in Pittsburgh: had we really packed eight bags?  Yes, we had, so that was almost half our yarn missing!  I looked at the booth displays we'd just put up and my stomach knotted…  we didn't have enough skeins left to fill them.  And what was I going to say to Amy and Scott?  It wasn't their fault at all but they were in the booth right next door and they'd see we were missing a ton of yarn.  What could I say to them?!?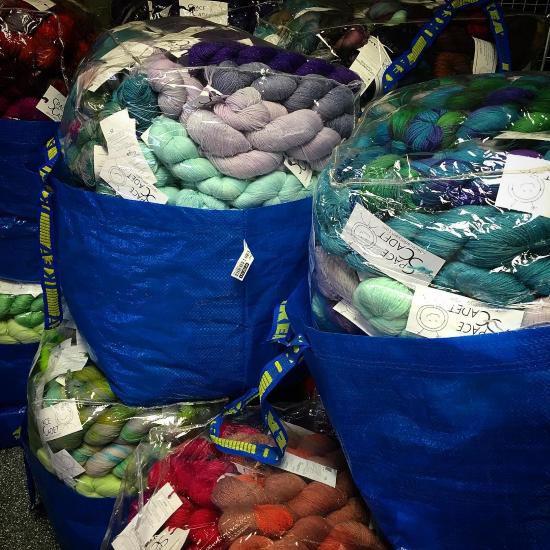 My mind raced for solutions.  What if I phone Jill and ask her quickly pack more yarn and…  Wait! We're in California. Dang it! That won't work.  Ok, what if I ask our neighbours if they can loan us some…  oh no, hold on, it's our actual yarn that's missing, not part of our display.  What if we…  Aughhhh…  there's no answer.  We're just scuppered.
For thirty minutes, we carried on building the booth as my heart sat in my stomach.  I didn't have the heart to stop the work but I didn't know what the solution could possibly be.  We had two big, beautiful booth spaces and they were going to look so half-empty and sad.  All my enthusiasm for the show had drained away.
After a while, Jade disappeared to get a drink and, when she came back, she had a funny smile on her face.  "Soooooo…" she started, drawing the word out for effect, "do you remember when we were putting the flooring down and we moved three bags of yarn into our neighbour's booth to get them out of the way…?"
When we WHAT?!?  Oh yeah!  We did!  I dashed out of the booth and around the corner and…  there they were!  Just sitting there minding their own business along the edge of our neighbour's booth.  I felt all the blood rush back into my body.  We had our yarn!!!
The rest of the weekend was a whirlwind of yarn and knitters and crocheters and pure excitement — but can I tell you what stood out to me the most?  The sheer number of customers who came up to introduce themselves and tell me how they know us.  We had club members (oh! how lovely it is to get to meet them in person!), and newsletter subscribers (so many people said, "I love reading your newsletter!" that I must have spent the whole weekend blushing) and even customers from last year who came back to show us what they made with their yarn.  Make no mistake, doing shows is really hard work and long hours, but getting to meet and interact with the people in our SpaceCadet community?  Makes everything totally worth it!
On Sunday, the show closed at 4pm, and we began to break down the booth and pack it all back up for the trip home.  Three hours after the last customer said goodbye, there was hardly a trace of the yarny wonderland that had been there all weekend.  Our pallets were picked up to go on the truck, Jade and I took one last look to make sure nothing had been left, and then we headed straight to the airport to catch the red-eye and start the long journey home.  Twenty-one hours after our day started on Sunday morning, I finally walked through my own front door.  And then I think I slept for two days straight!
(But Pittsburgh folks: you'll love the view we had as we flew in)
(Speaking of Pittsburgh folks, can I just take a moment to thank all of you who stopped by and said hi to Jill and Sara as they did Indie Knit & Spin that same weekend — their first show on their own?  I was a little worried but you guys made the show such a success that they came back with huge grins on their faces.  Thank you so much for being so encouraging!)
The Yarn Alliance Opens in One Week!
It really is all about community — and the best community is being part of one of our clubs!  Everything feels more personal: the dyeing, the choosing the yarn and gift, even writing the dyer's notes (the SpaceCadet's Log!) in a real connection between me and you, and between all the club members.  The Yarn Alliance is available for subscriptions only twice a year — and I'm so excited that it opens again next week!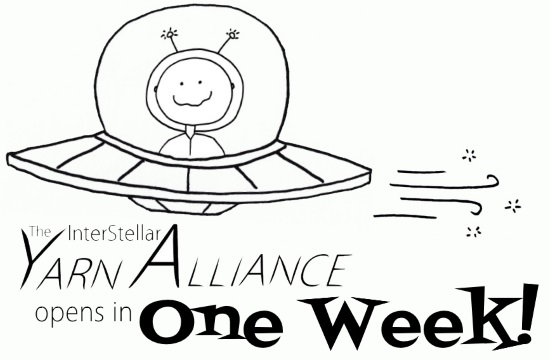 Want first dibs?
We always give early access to folks on the club mailing list, so click here and make sure you're on it.  You'll get an email a few days before subscriptions go live so you can nab yours before anyone else!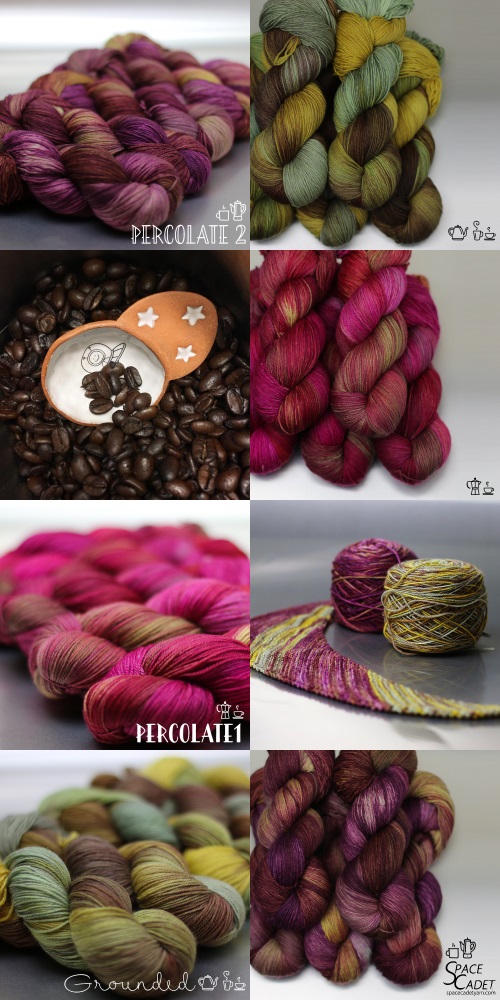 ---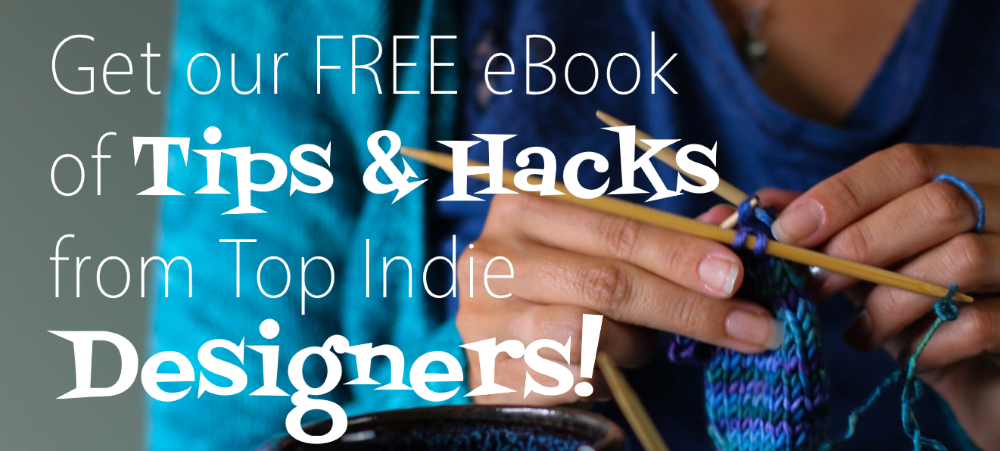 The Folks on our Mailing List get More!
If you found this post useful, you'll want to get on our mailing list. Each week(ish) we send out a newsletter packed with all the latest that's happening in the world of yarn, plus pattern picks, our pop-quiz, and more! And, when you join the list, you…
Get Our FREE eBook with Great Tips & Hacks from the Top Indie Designers!