I know I mentioned it in my recent blog post but so many people at Stitches came up to say how much they love reading this newsletter that I'm writing this one on something of a high!  My goal has always been to give you something fun and filled with yarny goodness, to relax with over a cup of coffee or tea and with your project near to hand.  And when I mentioned that, almost everyone nodded in agreement that that's exactly what they do.  I am thrilled!
And excited to bring you the next installment.  So quick, go put the kettle on, grab your WIP, and let's dive in!

A Round-Up of News from the Worlds of Knitting, Crocheting, Spinning, and Beyond…
If you've ever felt like a yarn was fighting you every step of the way — splitting, losing twist, driving you nuts — then these two articles from Wendy at YarnSub are just what you need.  First, read this one on yarn twist and how your knitting style affects it, and then move onto this one about how to add twist to splitty yarns.
In the category of "things that just make me happy":  these two adorable ink and watercolour illustrations, one called "My Stash, Explained" and the other titled "What's in the Knitter's Bag?"  When I finally get my own craft room (it will happen!), I think these may be the first thing to go up on the walls!
Did you see this article about how knitting teachers are paid at Michael's?  I'm thrilled that the fiber arts are growing, but it's important to foster a community that values and supports the skills we share.  An interesting read.
Walking around Stitches, I came across Indian Lake Artisans' booth and chatted with Mark for awhile.  We exchanged stories of parenting disasters (mine won), discussed how much our feet ached (concrete floors are brutal!),  and then he showed me their new interchangeable needle sets.  I was impressed!  I had time to knit on them for only a few minutes but the join is smooth, the tips are designed to swivel without untwisting from the cable(!), and the hexagonal needles felt good in my hand.  If you're looking for interchangeables, this is a set worth considering!

The Yarn Alliance Opens on Monday!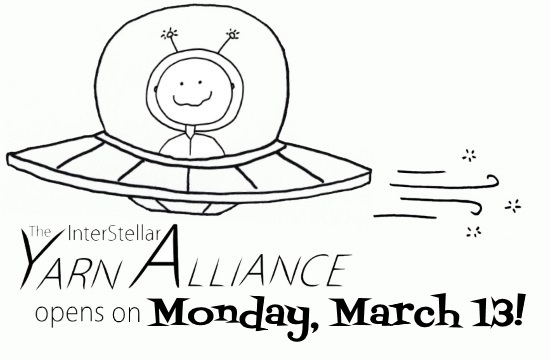 Being part of the Yarn Alliance club is all about coming on a colour exploration — in gorgeous yarns dyed in exclusive colourways (that you can't get enough of!), and shared with a wonderful community of fellow club members who are all part of the adventure too.  Plus we create beautiful coordinating skeins to double the fun.  And each parcel contains a wonderful club gifts created exclusively for the club by our community of amazing handmakers.  Oh, and a 15% coupon!

The Yarn Alliance is available for subscriptions only twice a year, and we always give early access to folks on the club mailing list. There's not much time, so click here and make sure you're on it.  You'll get an email a few days before subscriptions go live so you can nab yours before anyone else!
In the meantime, please feel free to drool a little over last season's yarns..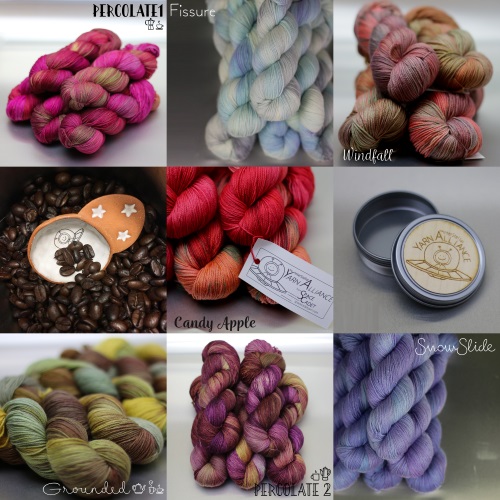 SpaceCadet Spring Show Schedule
In the meantime, we're in the middle of our spring show season. Come see (and pet and smoosh) all the SpaceCadet yarn you love — in person! Here's what's coming up:
Homespun Yarn Party
Date: March 19
Savage MD
Pittsburgh Knit & Crochet Festival
March 24-26
Pittsburgh PA

Yeseria Shawl by Katy H. Carroll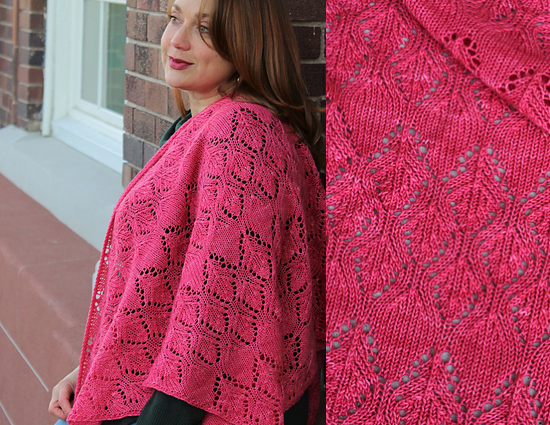 I got to see the lovely Katy Carroll at Stitches the other week and swooned over this shawl.  I love the generous triangular shape (seriously, click the link — it's like a cape) but what caught my eye most was the way she's included a non-lacy section between the lace repeats.  It's such a simple thing that a lot of people would never have thought to do but the contrast sets the lace panels off perfectly.  Named for the Moorish style of plaster carving found in Spain and Northern Africa, "Yeseria" can be knit in three skeins of SpaceCadet Lyra (sport).
Burly Cable Cowl by Barbara Benson
Men's knits can be sometimes disappointingly plain, which is why this beautiful cowl caught my eye.  Barbara Benson wanted a cable to run around the top of this cowl, but didn't want to do any grafting.  Her clever solution? Decorative buttons that tack down the flap of the cable band and make it look like you did a bunch of fancy work but without making the pattern too fussy.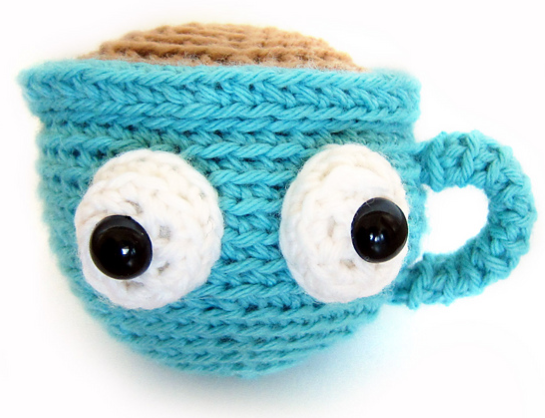 And this one….  just purely because it cracks me up.  I drink a lot of tea.  A lot.  When I first moved to Pittsburgh from the UK, a new friend asked me, do the British really drink as much tea as they do in the Harry Potter books?  I tallied up my day: a cuppa when I first wake up, one as soon as I get to work, another mid-morning, another right before lunch and then again after lunch…  it went on and on and eventually came to around ten cups of tea a day.  So I couldn't help but grin when I saw this adorable crocheted cuppa.  February's pattern for the Ami Club, crocheting it would be a great way to…  well, to work up a thirst!

I'm noticing a trend in the show scene that I'm sure you're noticing too: more and more shows are beginning to combine a yarn-based crafts (knitting/crochet/spinning) with a sewing-based crafts (quilting/sewing). I'm seeing it everywhere from the biggest shows such as Stitches United and the new Stitches Pasadena show, down to regional shows like Pittsburgh Knit & Crochet.
On the one hand, it's an exciting development (I don't know that I've ever found a craft I didn't want to at least try!). On the other hand, I'm not completely convinced these two make the most natural bedfellows.
How do you feel about the trend for combining yarn shows with sewing shows?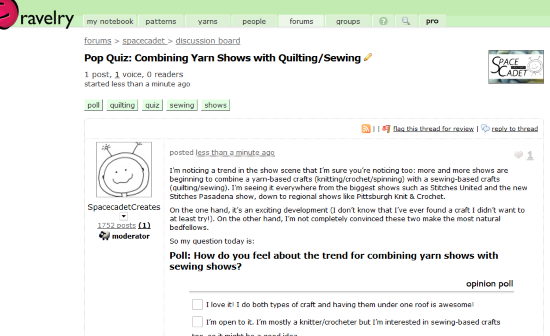 Click the link and share your thoughts!

 You know that awful sinking feeling when something has gone terribly wrong and there's nothing you can do to fix it?  Yep, I got it as we were setting up our booth at Stitches.  Read the story of how half our yarn went missing just a few hours before the show started!
Well, I've got a busy day of dyeing ahead of me.  Today, we're creating some wonderful new colourways to welcome spring (it is coming, right?).  I hope you have a wonderful day planned too!
Until next time, all the best.