Because the members of the SpaceCadet crew have a lot of freedom to work whatever hours suit each of us, we can often go for days (or sometimes weeks) without actually being in the studio at the same time.  So we have a set meeting at the beginning of the month so that we can all come together and go over everything we all need to know for the upcoming weeks.  It keeps us all on the same page, while being part of the framework that allows us to work the kind of crazy schedules that we all need (did you read the post where I talked about how SpaceCadet is set up to support women?).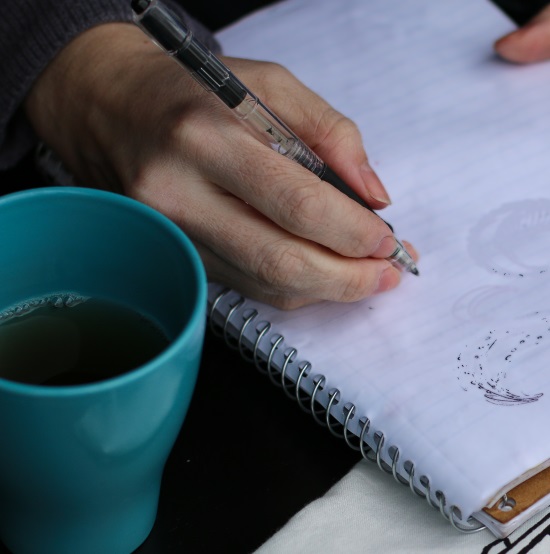 The meetings usually last about two hours and we cover a lot of ground.  The most important thing to me is getting the chance to hear what my team needs, and how I can make it easier for them to get their work done.  Then I tell them all about the fantastic/crazy ideas I've had and all the new stuff I want us to do…   aaaaand the more pragmatic members of the team start working through the pesky details that I tend to gloss right over.  It's good to have that mix of creative and practical, and the meetings are essential for bringing the two sides together.
Often, there are snacks.  Sometimes there are mimosas.  Those are kind of a necessity for the heavier planning meetings — getting too far into those pesky details makes me start to twitch.  But no matter what we're covering, or how heavy it might get, it's always about yarn.  Lovely, smooshy, delicious yarn.  And that makes all the difference in the world.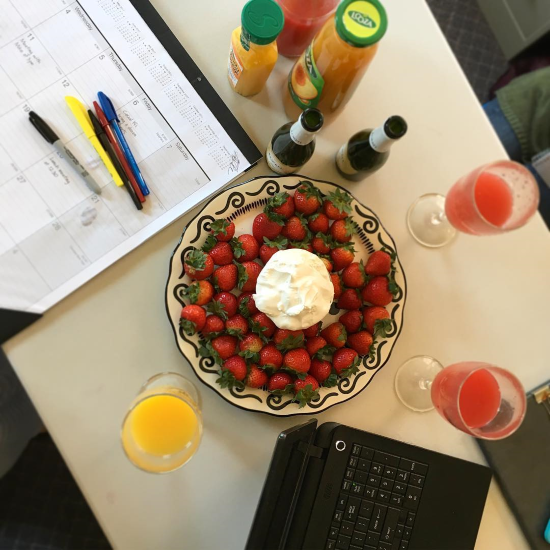 At our meeting last week, we were going over lots of the ordinary things that keep a business going: schedules, stock levels, packing for upcoming shows…  that sort of thing.  As we wrapped up one item, I looked down my agenda list to see what was up next.
"Ok," I announced, "the next thing is: rainbows."  I paused, hearing my own words echo for a moment in my head and felt a little smile tug at the corners of my mouth.  The actual agenda item was about the order in which we display our colourways at shows.  We do them in rainbow order, you see, but I've been thinking of  changing that up a bit and had hoped to get the team's ideas.  It was a legitimate agenda point, one with a real business need behind it…   but like a pre-teen girl doodling in school, what I'd written in my meeting notes was simply "rainbows."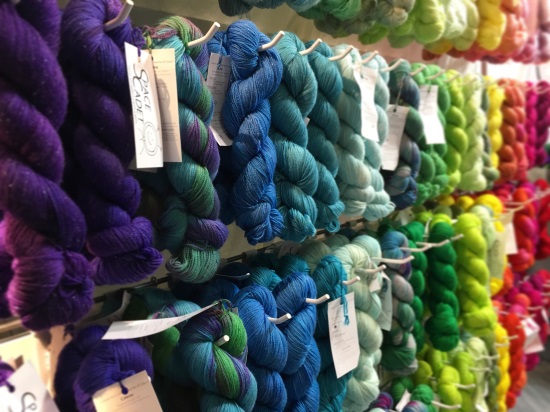 I looked up at the team, who were looking back at me slightly perplexed.  "Do you realise," I asked them, grinning broadly now, "that we work in a business where one of our actual agenda items is rainbows?!?  We're having a meeting and we're going to discuss rainbows?!?"
"I love my job," one of them said.
Yep, so do I.
---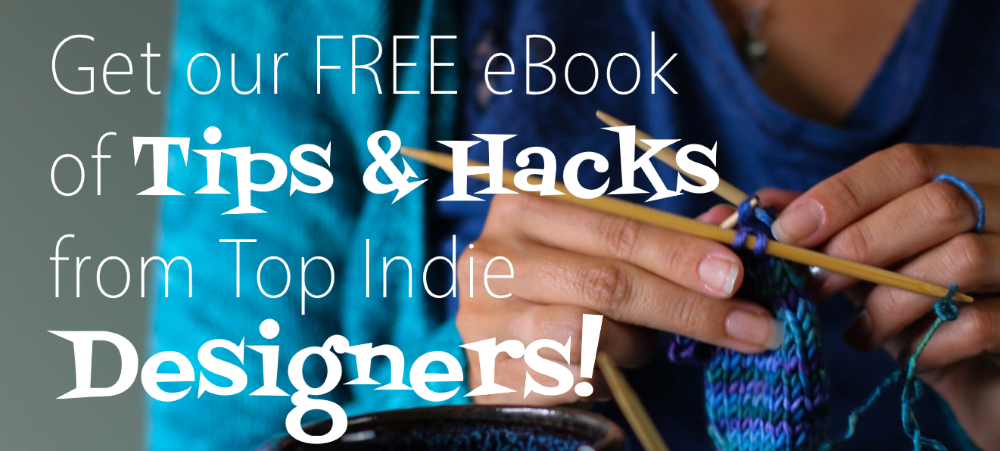 The Folks on our Mailing List get More!
If you found this post useful, you'll want to get on our mailing list. Each week(ish) we send out a newsletter packed with all the latest that's happening in the world of yarn, plus pattern picks, our pop-quiz, and more! And, when you join the list, you…
Get Our FREE eBook with Great Tips & Hacks from the Top Indie Designers!
---
I'm so excited to announce that today is the day…
The SpaceCadet's InterStellar Yarn Alliance is open for subscriptions!

Exploring great new colourways is tons of fun… and even better when you do it with friends!
The InterStellar Yarn Alliance is your a chance to e into amazing exclusive SpaceCadet colourways and share it with a fabulous community of folks who are just as excited as you are!
Subscriptions available from March 13 – 26 ONLY
Click below:
Very Important: if you are giving a subscription as a gift, please remember to include the recipient's postal and email addresses in the notes when you check out. We gotta have that to send the recipient their parcels!
So, what do you get when you join?
…beautiful yarns, colourways you might never have dared try but suddenly realise you love, and some seriously fabulous gifts!
As a member of the InterStellar Yarn Alliance, you'll receive a fabulous parcel delivered to their door every other month, containing:
SpaceCadet ® yarn (light to medium weight) in an exclusive Yarn Alliance colourway (guaranteed not to be offered on the SpaceCadet® website for at least 6 months)
A great Yarn Alliance gift tucked into every parcel!
The SpaceCadet's Log exploring the inspiration for each colourway.
The InterStellar Yarn Alliance newsletter with periodic special offers exclusively for members.
A 15% off coupon every six months

And your entry to an awesome community of club members who share pattern ideas, cheer you on, and make our activities so much fun!
Plus Get a Coordinating Colourway!
Colours this gorgeous deserve companions, don't you think? So each month, you have the opportunity to get a second colourway that we design to coordinate beautifully with the first, so you can create an even more amazing project. Usually a semi-solid or a gently variegated, you can use it to create stripes, a contrasting panel, or to go where-ever your creativity takes you!
And Sweater Quantities!
One gorgeous skein just isn't enough? You also have an exclusive opportunity to order more skeins custom-dyed in the latest club colourway. You'll receive an email with all the details about a week after your parcel goes out — and then all you have to do is pick your project!
Aaaand Great Goodies!
We have so much fun coming up with an awesome Yarn Alliance gift to pop into every parcel. Each one features our adorable SpaceCadet and is totally collectable. Which one will be your favourite?
A 6 month subscription (3 parcels) starts at $145
and a 12 month subscription (6 parcels) starts at $249
Ready to join us? C'mon — let's do this!
Click below to choose your subscription:
Very Important: if you are giving a subscription as a gift, please remember to include the recipient's postal and email addresses in the notes when you check out. We gotta have that to send the recipient their parcels!
Check Out our Gorgeous Colourways from Previous Parcels…
Very Important: if you are giving a subscription as a gift, please remember to include the recipient's postal and email addresses in the notes when you check out. We gotta have that to send the recipient their parcels!
Important Details and Policies: Six month subscriptions include 3 parcels; twelve month subscriptions include 6 parcels. Parcels will be sent out in early January, March, May, July, September, and November. Subscription openings will be available in March and September. Shipping within the United States is included in the price; extra charges apply for shipping outside the US. Normal subscription openings for the InterStellar Yarn Alliance are two weeks only in March and September of each year. Cancellation policy: Because we often purchase supplies for all the parcels immediately after the subscription period ends, refunds are generally not available. However, if there are extenuating circumstances, please contact us as soon as possible and we will try to do what we can. By purchasing a subscription, you acknowledge and agree to these policies.  All images shown here are of past colourways and are for illustrative purposes only. Yarns, colourways, and gifts for new subscriptions will be different (but still awesome!).
Any questions? We're always happy to help! Just email us at missioncontrol (at) spacecadetyarn (dot) com.