Yesterday, I did something I haven't done in (what feels like) forever:  I sat on the porch with a cup of tea and my knitting and watched the sun go down.  Ok, I needed a light cardigan around my shoulders but there is no doubting that the weather has turned and Spring is in full force.  And I am so ready for it!
I find that with the change of seasons, my thoughts on knitting and crocheting change too. I may still have something warm and bulky on my needles, but I'm starting to think about drapey summer shawls, lovely light yarns, and bright happy colours.  So I've filled this week's newsletter with exactly that!  Sound good?  Go grab a warm cuppa and your project, and I'll meet you on the porch!

I take my knitting my everywhere with me, and I often get those same questions we all get when we're knitting (or crocheting) in public.  You know the ones, right?  So laughed out loud when I came across this KIP Bingo card put together by designer Andi Satterlund.  Click here, print out a few copies, and play bingo the next time you go to knit night!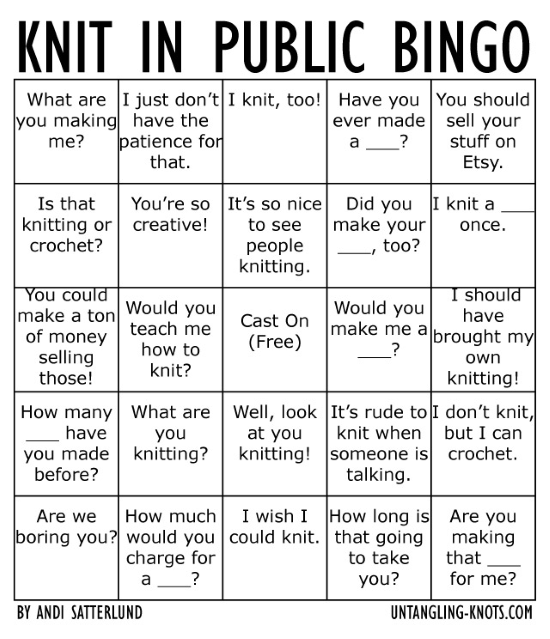 image ©Andi Sutterlund; used with permission
The thing that I love about knitting and crocheting is how architectural they are.  Except for that first garter-stitch scarf, most of us are working on something that has curves and corners, texture and shape.  And when it comes to sweaters, the trickiest part of that shape is how the sleeves join the body.  I loved this article from Interweave on six armholes and how to make them work for your body.
I have a dear friend whose favourite colour is green — as in, if she's buying something, she's buying it in green and, if she already owns it in another colour and it comes out in green, she'll buy it again.  So when I saw this article on the deadly nature of Victorian-era green dyes, I thought of her immediately and sent her the link.  She's still buying green.  And I'm still dyeing green.  (But we're both a bit the wiser about the fascinating history behind it.)

New "Linking" Gradient Sweater Kits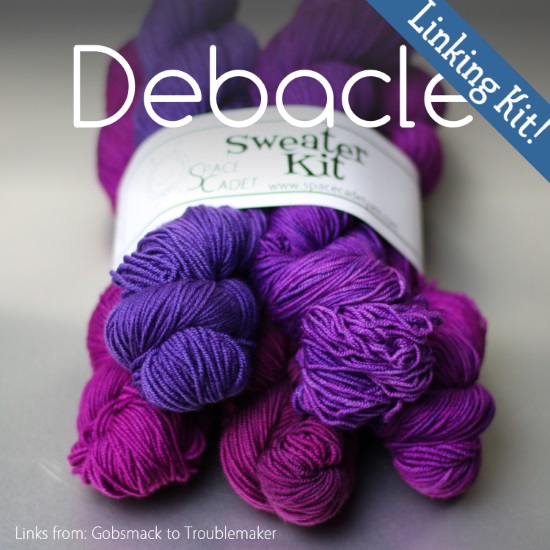 When we debuted these gradient sweater kits at Pittsburgh Knit & Crochet last month, I said we'd get them in the online shop soon, and here they are!  What's special about these kits?  Well, in the studio, we've been calling them "linking" kits, because the gradient works its way from one of standard colourways to another standard colourway.  Not only does that produce a really beautiful gradient, but it means that if you need to size up a kit (to adjust the fit or modify a pattern), it's really easy — just get an extra skein in of the the colours at either end of the gradient and it will blend right in.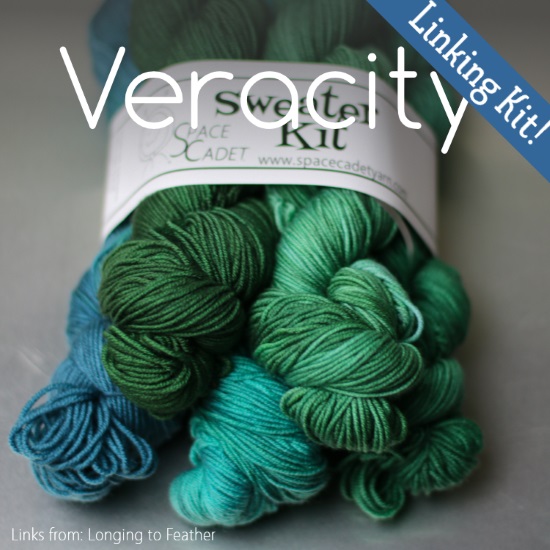 Take Veracity for instance: it starts with Longing, our lovely pine green, and works it way across the five skeins to Feather, a gorgeous teal blue.  If you need to size up, just add a skein of either Longing or Feather, and you're done!  Super easy and no wondering if you've picked a colour that will work.
Together with our other sweater kit colours (mixed into the collage below), you've got a lot of wonderful choices for gradient work.  Plus, we've had so much fun developing these that I think we just might find ourselves back at the dyepots creating even more.  Watch this space!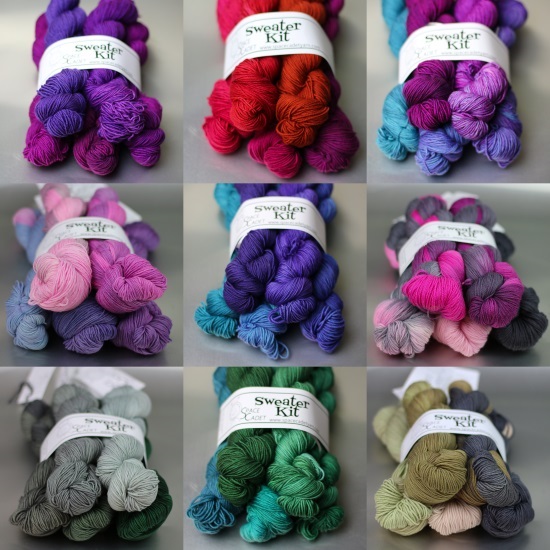 Knitting by the Pool by Rosemary (Romi) Hill
Just recently, I've noticed a ton of orders have come in for our beautiful silk-linen yarn, Thebe.  While we were packing all the parcels, I snuck over to the computer to find out why, and the reason is something to celebrate.  The wonderful designer Romi Hill had just released Knitting by the Pool, a design she created in Thebe for the latest installment YarnOver Truck's yarn club.  It's stunningly beautiful, with lacework that perfectly evokes a summer afternoon by the pool, and — fortunately for you and me — available to all of us online.   Thebe is a delight to knit with and we've just replenished our stock, so click here, pick your colour, and let's get summer started!
Fractured Helix by Barbara Benson
Can I be honest?  The words "lace," "mosaic," and "bold colour" don't sound like they'd make a good combination at all.  But the way Barbara Benson designs, they turn into something magical.  Take her Fractured Helix shawl for example.  I am just crazy about the way Barbara's complicated stitchwork both holds its own and makes the colour pop.  Wow, is that gorgeous!  And it's just one of twenty innovative patterns that combine slip-stitch colourwork and lace techniques in her new book, Mosaic Lace & Knits (below).  Plus, Barbara's produced a video tour for the shawl (yes, a tour!) so you can see it in action and get to know her.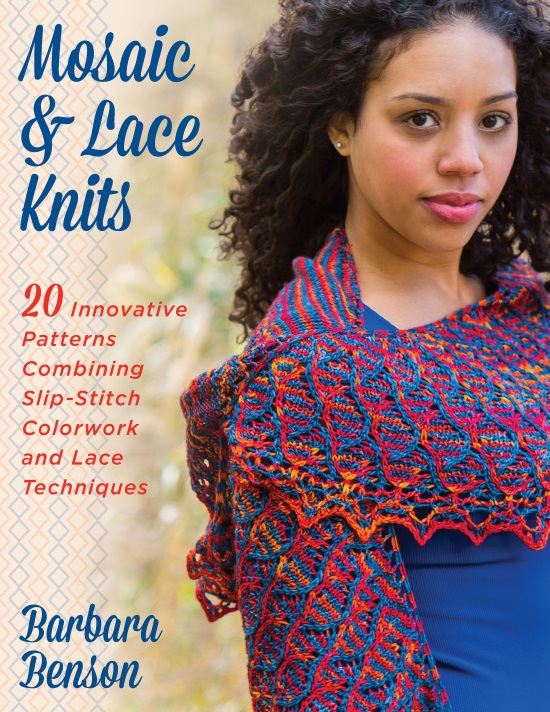 images © Romi Hill  and Barbara Benson; used with permission

Every year, as the season changes, I notice that my knitting focus changes as well — almost immeditely. I want to cast on All The (light, airy, breezy, lacy) Things. Are you the same?  Of course, that change could mean a lot of things: lighter weight yarn, more "summer"-y fibers, more delicate designs… There are a lot of ways our project choices can change to be more summer-ready.
But for today's pop quiz, I'm wondering:
What's the first change you find yourself making when the weather gets warmer?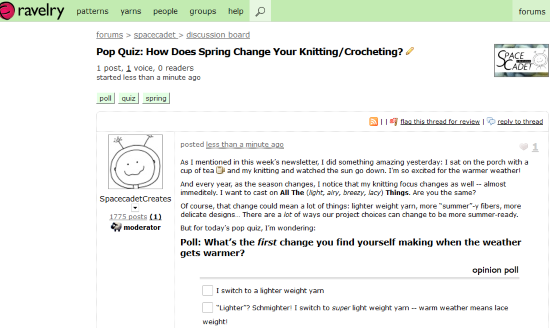 Click the link and share!
And with that, I'd better get back to work.  We've got some fun orders to dye today and I'm looking forward to doing it with the windows wide open and the breeze blowing through the studio.  I hope you have a wonderful spring day planned too.  So thanks so much and, until next time, all my best!
---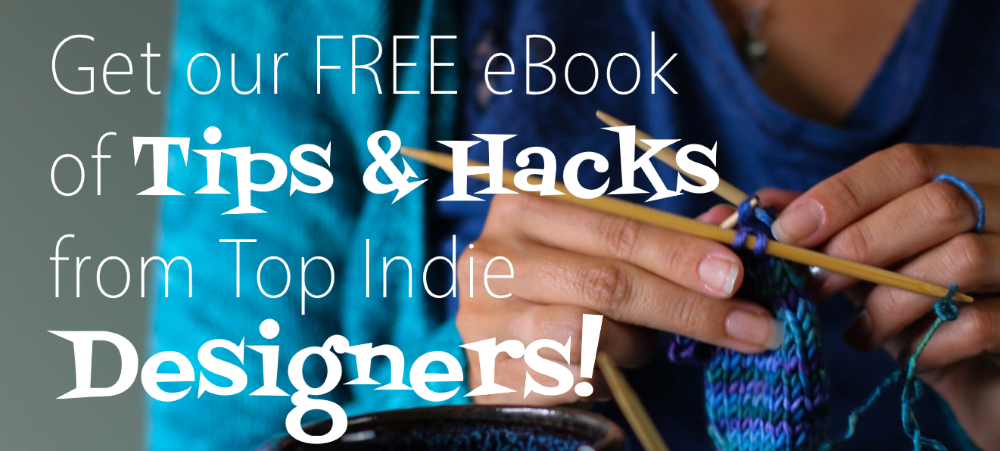 The Folks on our Mailing List get More!
If you found this post useful, you'll want to get on our mailing list. Each week(ish) we send out a newsletter packed with all the latest that's happening in the world of yarn, plus pattern picks, our pop-quiz, and more! And, when you join the list, you…
Get Our FREE eBook with Great Tips & Hacks from the Top Indie Designers!