I've been a fan of Corrina Ferguson's designs for a long time so when she contacted us and suggested a collaboration, I said yes immediately.  We suggested Lyra and she choose a colourway, and we dyed a fresh batch and sent it off to her.
Great designs take time — swatching and testing and ripping and reknitting — and, for me, the waiting is hard but when the result looks like this, it is totally worth it!  A couple of months ago, Corrina sent her sample to us and we all swooned.  This is Darlina.
The first thing my assistant Jade said when we opened the package was, "Wait! How is it constructed?!?"  I turned it over several times in my hands and we found the seams and started inspecting.  It's intriguing!  The main body is knit on the bias, almost like a triangular shawl (but not) and then the front and the back diagonals are joined by the sleeves and shoulders.
The feather and fan stitchwork does amazing things with variegated yarns by moving the colours around so they don't stripe, pool, or repeat in weird ways.  Take for instance the colourway Corinna chose here, Tantrum, and see how the colours move both vertically as well as horizontally across the fabric, creating a gentle undulation that brings life the variegations int he yarn.  And this same stitchwork works beautifully with a semi-solid yarn too — creating delightful texture to keep your interest going from cast on to bind off!
But I think the best part about this design is the way the bias pieces come together.  Look at how interesting the join is at the back of the neck.  I love the slipped stitch detail!  And the way the side join creates a this awesome shirttail hem effect?  It's those little things that make a design really stand out.  And this one really, really does!
Corinna's pattern gives a swingy effect with a single button at the neckline and the rest of the cardigan left open but, when we were photographing it, Jade couldn't resist trying her adorable SpaceCadet shawl pin (from a recent Yarn Alliance parcel).  And when we finished the shoot — can I be perfectly honest? — I know she didn't want to take it off!  "I love the way it fits!" she said.  "It's one of those cardigans you feel like you could wear every single day."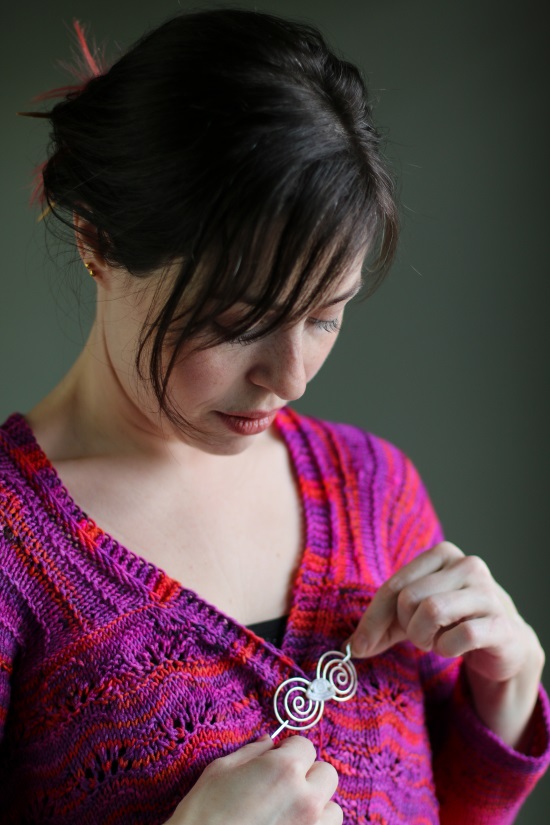 So, do you love Darlina as much as we do?  Ready to cast on?  Here's good news — we're doing a shop update of Lyra at noon today!  There will be plenty of skeins for you to create a Darlina of your own!  Set a timer on your phone and then click here to grab your favourite colour.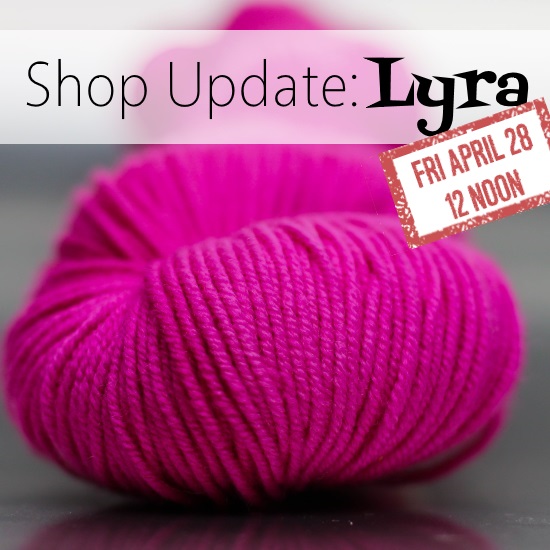 And Jade is planning to knit hers in Veracity, one of our new gradient linking sets.  Can't you just imagine how gorgeous this construction would look in colour that morphs from top to bottom?!?  We've got a few linking sets in stock — click here to see them.
Oh, and when we were taking the photos, Jade suggested this would make an awesome summer KAL and I totally agree. Do you think so too?  Leave a comment and let us know you're in!
---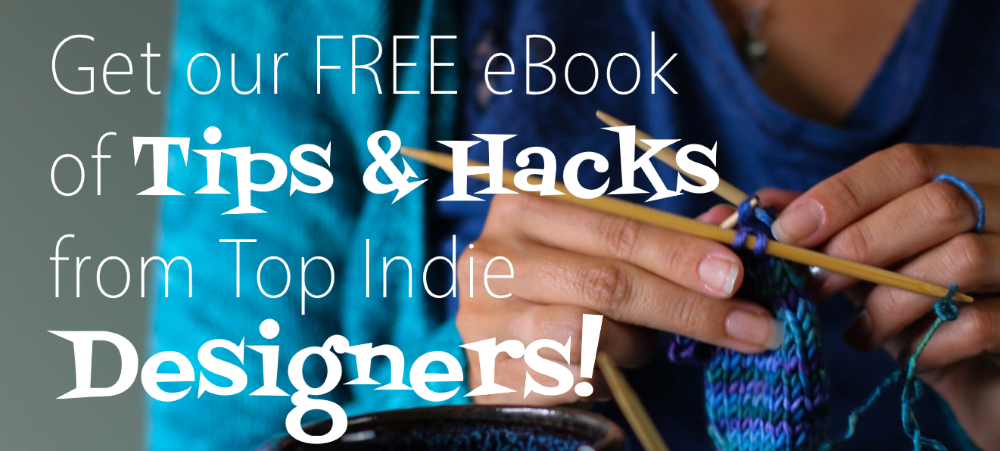 The Folks on our Mailing List get More!
If you found this post useful, you'll want to get on our mailing list. Each week(ish) we send out a newsletter packed with all the latest that's happening in the world of yarn, plus pattern picks, our pop-quiz, and more! And, when you join the list, you…
Get Our FREE eBook with Great Tips & Hacks from the Top Indie Designers!