You know how you feel when there is so much going on that you are wildly excited about and yet you don't even know where to start?  That's been my life the past couple of weeks.
I think it started at TNNA, the industry tradeshow, a couple of weeks ago, where we saw so many exciting new knitting and crochet toys tools that I wanted to buy them all!  Then I was packing orders and spotted how many fantastic Celeste-and-Maia combinations we had hiding away amongst our One-of-a-Kind yarns and how perfect they'd be for our upcoming KAL, so I had a sudden brainwave to share them with you in a shop update.  Terribly last minute, I know, but they're too beautiful not to share!  (Look for an email on that update at 10:30am today.)   And then we were packing the SpaceMonster club parcels and it hit me like a slap: with the excitement of the KAL and shows and all the stuff going on this month, I'd completely forgotten that it is time to open the SpaceMonster Club for new subscriptions!  WHAT?!?  Ok… ok…  deep breath, Stephanie…  remember the company is called SpaceCadet for a reason. More on that soon, but if you've been waiting to join the awesome SpaceMonsters Club, subscriptions openings are coming!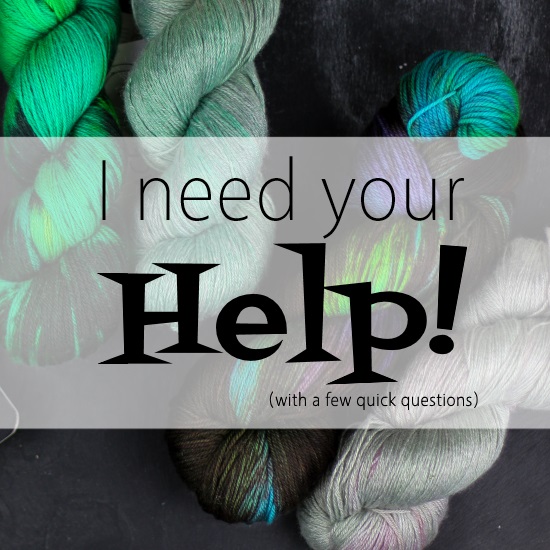 So there's a lot of cool stuff to share with you today but, before we get to that, would you help me out with something please?  TNNA filled my head with a ton of great ideas: new colours, new yarns, new techniques…  so much cool stuff, it could keep me busy for a lifetime or two (and if your stash looks like mine, I know you know that feeling!).  But before I jump into All The Things All At Once, I'd be so grateful if you'd help me narrow my focus.  Please click here and help me get on the right track by answering a few quick questions.  I'd really appreciate your help!

My lovely friends Amy and Scooter from Ross Farm Fiber (awesome heritage-breed yarn) stopped by our booth at TNNA (always makes my day to see them!).  And I was thrilled to get a mention in their podcast, the Transient Wool Merchants, (even if they spent several seconds completely forgetting about me! Ha ha ha ha! Listen to the first few seconds as they keep saying, "Who are we forgetting…?").  But I'm excited by how impressed they were with our Celeste and Maia pairings that we've been prepping for the KAL — they're right, it's amazing how differently those two yarns take the colour.  Are you joining us for the KAL?  Click here to read the guidelines and jump aboard!
Did you see this article on the way spies used knitting as a tool for wartime espionage?  So interesting!
Quick, before you do anything else, just grab and pen and draw a circle.  Now, look at how you drew it: from the top or bottom, clockwise or counter? This article is not at all about fiber arts but I found it fascinating nonetheless: the way we draw simple shapes is culturally conditioned and has a lot to do with what language we speak.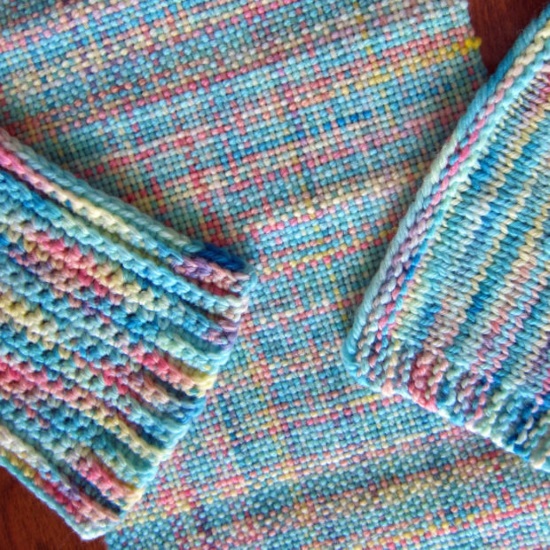 I chatted with a lot of designers at TNNA (so fun!) and the crochet designers all asked if I supported crocheters.  Even though I am personally more of a knitter, I enthusiastically said, "Yes!" because besides obvious (crochet is just as legit as knitting), I've always loved what crochet does with variegated yarns.  It moves the colour vertically as well as horizontally, and the result is strikingly different.  I loved how this article illustrates the way the same yarn comes out in knitting, crochet, and weaving.  So cool.  (And SpaceMonsters: you'll find out soon why this is especially appropriate for you! :wink:)
Today is the Summer Solistice — the longest day of the year!  I used to live very near to Stonehenge, where the solistice is a really big deal, so I have a real soft spot for the 21st of June.  If you want to see what it's all about, click here.

Our KAL Casts On on Friday!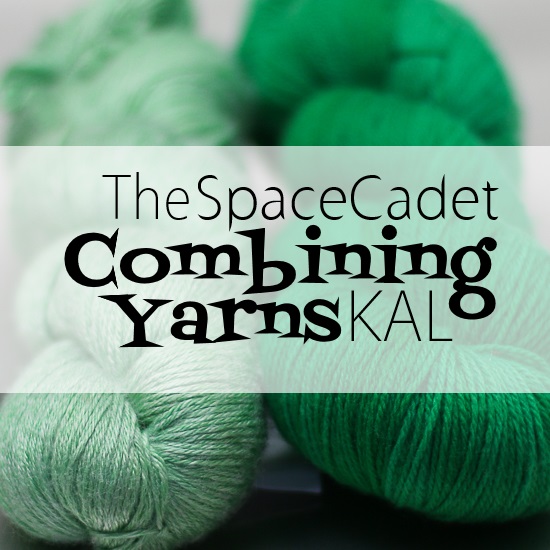 I'm so excited — Friday is Cast On Day and it's almost here!  Lots of folks have been busy sharing pictures on Ravelry and Instagram of their yarns as they come out of their parcels, and wound into cakes and even as they turn them into swatches.  With a KAL like this one — all about combining two very different yarns in one project — swatching is such a crucial step in really getting to know your yarn.
This is pair of yarns I've chosen: the show exclusive we did for Pittsburgh Knit & Crochet (yep, I stole two skeins for myself!) called "Astronaut Ice Cream" and I just love it!!! Look how different the colourway comes out on the two yarns (and how shimmery that Maia is!).⠀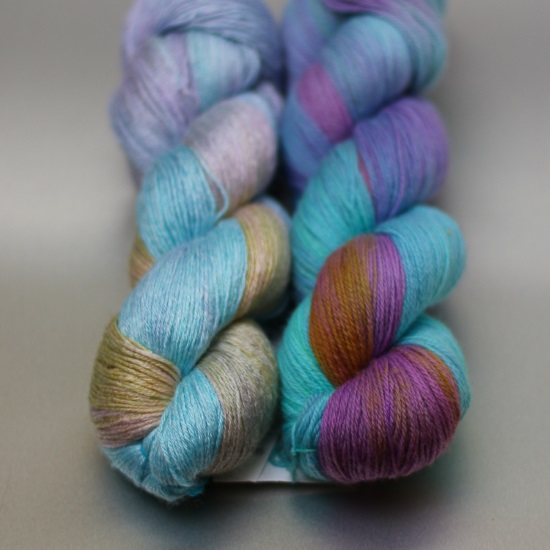 Shop Update TODAY at 11am:
One-of-a-Kind Pairings for our KAL!
I was hunting through the studio to fill some orders and realised a lot of our One-of-a-Kind Celeste and Maia would pair beautifully together for our upcoming KAL. I know it's a totally last minute thing but they're just to good not to share!
There's only one of each pairing and it's first come first served so, quick, do this:
have a look through the images below to find your favourite One-of-a-Kind pairing
then set a timer on your phone for 11am eastern
and click here when that alarm goes off and grab your favourite colourways before they disappear!
Ready to check out the colourways?  C'mon, here we go!
(By the way, this photoshoot was so fun!  First, tea and knitting just go together, right?  Second, apparently tea and photoshoots go together too — did you notice that the amount of tea in the cup keeps going down?  That was me.  Third, I totally got my steps in that day just going up and down the darned stepladder! See a behind the scene photo here)

Ready Player One by Barbara Benson
If you're joining us for our Combining Yarns KAL, I love this pattern as an option for Maia and Celeste!  Mixing lace with mosaic should not work (really, it should not work!) but it totally does and gives you the chance to use the two yarns to their best advantage.  I'd do the main section in Celeste so the colour really pops, and then the lace edging in Maia to show off that amazing sheen and drape.  And where they mix in between?  Magic!
Here's another pattern that could be really intriguing as part of our KAL.  If you do the main body in Celeste for stretch and memory, and layer Maia as the floats for sheen and visual interest, I think the the effect will be amazing!  And even though it looks terribly complicated, I have it on good authority that the pattern is not hard, so you'll look seriously impressive without actually making yourself go cross-eyed!
When I found out Melissa Leapman was designing in SpaceCadet Cressida (in Nine Stones, above) for Interweave's Fall issue of Love of Knitting magazine, I let out a little squeal!  And the result is as beautiful as I'd hoped.  With plenty of length to keep you warm this winter, it's the cabled detail in the edging that really catches my eye.  Not too much, just enough…  perfect!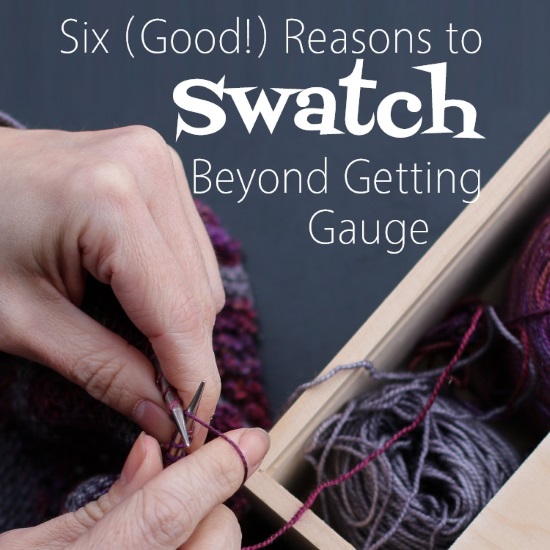 As we get ready for the KAL, I discussed some great reasons to swatch that go beyond just getting gauge.  If you shy away from swatching (who doesn't?), it's worth reading!
Ok, well, the weather is perfect and I've got a busy day of dyeing ahead (oh, and I have to cake up my skeins for the KAL!), so I'd better get going.  I hope you have a wonderful day planned as well — don't forget to check out the shop update at 11am (because One-of-a-Kind yarn is sure to make your day extra special!).
And until next time, all my best!