I don't know about you but, after a miserably hot couple of weeks, the weather in Pittsburgh has turned perfect.  I found myself starting my mornings with coffee on the front porch, a few minutes of knitting, and just watching the world wake up.  Today is no exception — but with the added bonus of a newsletter packed with fiber-arts news!  I've a had lot of fun putting it together so, if you're ready to join me, let's dive in…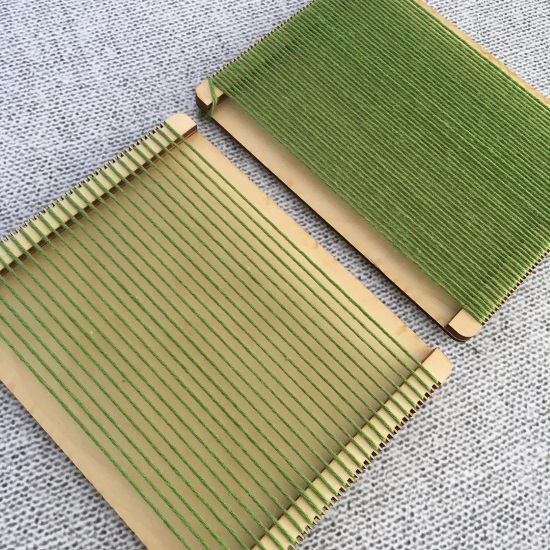 image ©Purl and Loop, used with permission
Weaving seems to be growing in popularity by the day (at my trunk show just this weekend, I was chatting with some customers about how great it is for stash-busting) so, if you're a knitter or crocheter who's thinking of taking a stab at it, you might useful this article on a Weaver's Guide to Wool Yarn.  Yep, you can use your knitting stash, but it's good to know how weaving yarns differ and why.
One of the things I love most about knitting is how architectural it is (if you're not following me, just turn a heel on a pair of socks) but for three-dimensionality, I think crochet has knitting beat hands down, and (warning: mature content, not safe for work) this design uses that particular element to hilarious effect.  I may just have spat my tea across my keyboard when I clicked the link.
Did you see my blog post the other week on Six (Good) Reasons to Swatch Besides Getting Gauge?  Well, that's all well and good but we both know that getting gauge the best reason to swatch but it's about much more than just hitting the numbers listed on the pattern.  In this article from Deb Gerish of Love of Knitting magazine, we learn advanced gauge techniques, including some lazy tricks for resizing your project.  Definitely worth adding to your repertoire!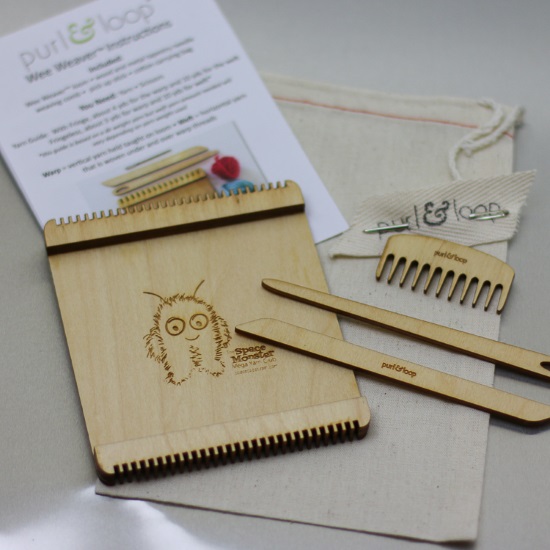 Speaking of weaving, did you see the adorable gift (above) that our SpaceMonster Club members got in their latest parcels?  I was so excited to send them out!  It's Purl & Loop's Wee Weaver, perfect for stash-busting and customised with our adorable SpaceMonster's grinning face.  I can't wait to see what everyone makes with them!

The SpaceMonster Club Opens this Friday!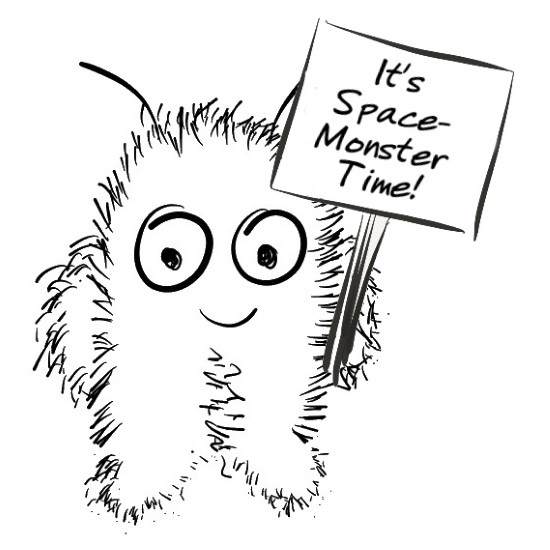 Last week, we sent out what I think is one of the most beautiful colourways I've ever dyed for the SpaceMonsters.  It was inspired by the deep, cool green of the leaves on the peony plants in my garden.  I absolutely love the way it came out!  And I also took inspiration from the peony blooms themselves for the companion colourway.  When I looked closely at the flowers, the layers of colour were just incredible, and I wanted to capture that range of pinks in this yarn.
The club has been closed for six months…  but it opens to new subscriptions this Friday!  The sign-up period is limited, so get on the club's list to get an early-bird and the chance to join before anyone else.  Just click here to get your name on the list —  and then watch for an email later this week with instructions on how to get your spot!
Shop Update: July 7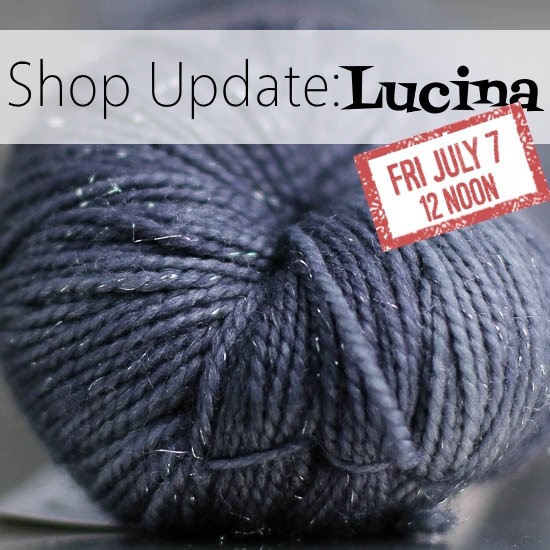 While we were packing for a trunk show this weekend, I realised that Lucina — our wonderful (and wonderfully soft) sparkle yarn — has been selling pretty quickly.  Time to dye some more and do a shop update!  And maybe I'll get the chance to play in the studio and create a special colourway.  The update will be next Friday, July 7 at noon (eastern).  Set a reminder on your phone and look for more info next week!
The Combining Yarns KAL is Underway!
Cast On Day was Friday and it's been awesome to see everyone's projects get underway!  Click here to see some of the awesomeness in action, or check out the hashtag #spacecadetcombingingyarnskal on Instagram.  My own Cast On Day did not go to plan (the whole day turned out be about a rather nasty stomach bug, someone in my family who wasn't fast enough, and then hours of bleaching every surface between the bed and the bathroom, and five, yes five, loads of laundry) so I am casting on this week instead.  If you're a little behind too, don't feel bad — you can come and sit over in the corner with me!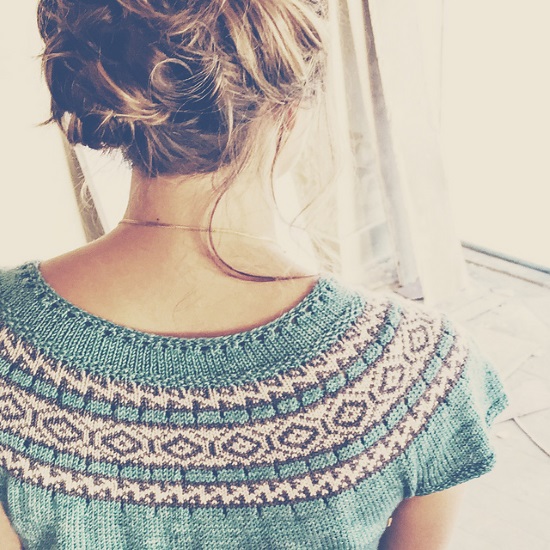 I usually associate Fair Isle yokes with cosy winter sweaters, so I was just smitten when I spotted this cap-sleeve, fingering weight Fair Isle tee that's got all the beautiful colourwork I love but is sweet and light enough for warmer weather.  Plus the colourwork is repeated again at the waist.  It's a beautiful design and, as soon as I saw it, I thought of our Mini-Skeins.  They're all fingering weight and give you the chance to work your Fair Isle in a striking ombre fade.  And July's colours?  So summer.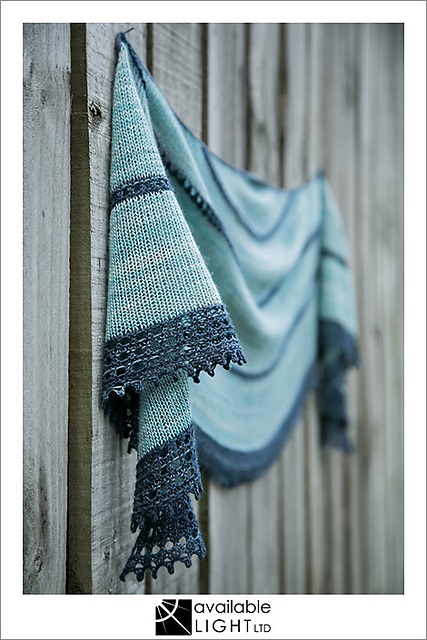 I'm an absolute sucker for summer shawls, and this one is perfect for both our Combining Yarns KAL and for our Mini-Skeins.  I love the lace edging and the eyelet stripes, perfect offset to the serene expanses of stockinette.  Worked in a neutral with ombre stripes, it'd be stunning.  Or work the ombre across the stockinette with a coordinating neutral for the stripes.  Either way, it makes for a colourful summer!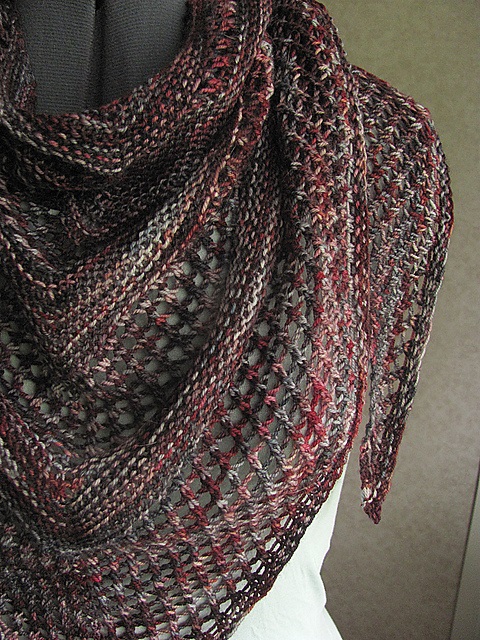 Designed especially to make the most of variegated yarns, this shawl moves colour about in a way that breaks up any tendencies toward pooling or flashing and, instead, creates a mix of textures that bring out the best in full-of-colour yarns.  Is there a skein lurking in your stash that you've never found the right pattern for?  Reyna might be it!
images © the respective designers, used with permission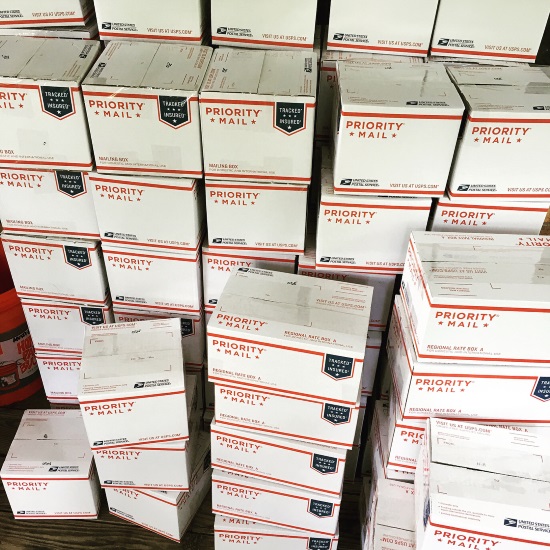 Well, I've got a busy day ahead of me — if you follow me on Instagram or Facebook, you know that my computer updated itself yesterday and suddenly I couldn't print the postage labels for all the parcels that were supposed to out that day (that's some of them, above).  After some help from an IT-pro friend, we're up and running again, and it's time to get them all in the post at last!   I hope you have an exciting day planned too, with a few key breaks to knit or crochet — always makes a day go better.  Until next time, all my best.