You remember that, last week, I asked educators to share their thoughts on knitting and crocheting in schools?  I was so delighted by the response!  Tons of folks replied — some by email, some on Instagram and Facebook, and all of the replies were interesting informative.  I heard from a lot of educators who are restricted by budgets and/or rules regarding curriculum — I hear the frustration.   I loved hearing from the folks who learned in school (for the most part, Europeans) and from the teachers who started after-school knitting/crochet clubs, and most especially from a few students who had started their own knitting and crochet groups with their peers.  Such wonderful and inspiring stuff!
Well, come to think of it, that's kind of what this whole thing is about, right? Inspiring stuff?  Ok, so let's see if we can't add a little inspiration to your morning.  Grab yourself a cup of tea and let's jump in…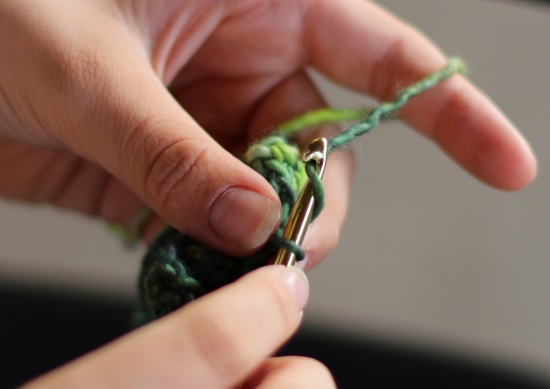 Ok, so, speaking of teaching kids to knit and crochet (in school or otherwise), I wanted to share this article with tips on how to teach kids to crochet — most importantly, how to create an atmosphere where they enjoy themselves so that it sticks!
And while I was looking through articles on this same subject, I came across this story about two British math(s) teachers who use knitting and crochet to create visual representations of mathematical concepts.  The funniest line in the article comes when they were approached by a US yarn company to design an afghan ("We were sent into a panic! We had no idea what an afghan was!") but I think the most telling is this: "We always tried to make sure that knitting was not seen as a female activity and Steve always knits at any event to emphasise the point," says Ashforth. "We find more reluctance from women who say they can't do maths than from men who say they can't knit."  It's a fascinating read and their creations are stunning — click the link!
There's a chill in the air, which means scarf season is coming.  If you love cables the way my assistant Jill loves cables (that is, trulymadlydeeply), then this article on how to knit reversible cables might be handy.  Sadly, there's no tutorial (and they're mostly selling kits) but there are a few handy tips and there's two free patterns.  So it's worth a click… because no matter how carefully you arrange your scarf, somehow it's always the wrong side that ends up on show!
Hands up if you spend most of your time during certain TV shows and movies spotting all the cool knitwear.  And you know you're not alone (right?), which is why I had to smile at this quick blog post cataloguing Marilla's shawls in different adaptations of Anne of Green Gables.  What's your favourite show for knitwear-spotting?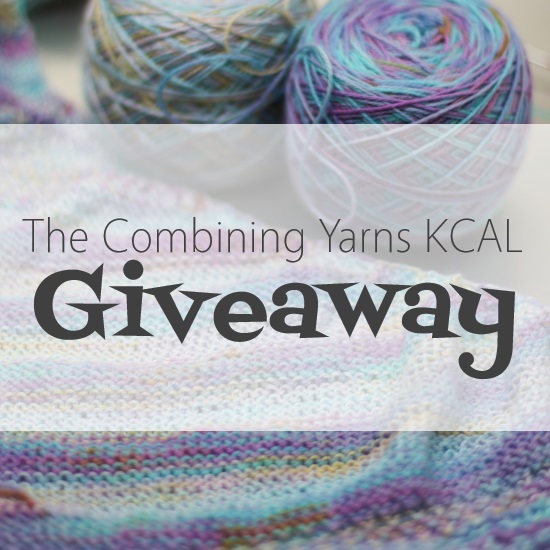 Our Combining Yarns KCAL has come to a close and, even though I haven't finished my project (I know! I know!), it has been so much fun to see the amazing variety of patterns folks have made by combining different yarns together.  I loved hearing how many folks were pushed outside their comfort zone by using two different yarns…  and love it!  I am personally inspired by
marvelg's Pātiki Cowl (Maia and Celeste look amazing in mosaic!)
ReenieSue's Road Trip Shawl (she combined three yarns, all in the same colourway but with such different characteristics and it looks amazing)
and jventur319's Strawberry Vanilla (because I'm crazy about the colour she chose and she got a whole sweater out of two skeins of yarn)
Click the links and get inspired too!
Giveaway!
To celebrate everyone's hard work and creativity, we're doing a giveaway for the KCAL participants.  If you've finished your project (or can get it finished by the end of Thursday), be sure to post a picture of it in this thread to be entered to win a skein of Maia and Celeste in the colourways of your choice!
Official rules and AMOE are here.
The Latest SpaceMonster Colourway
On a beautiful sunny day last week, we moved operations outdoors and packed the latest SpaceMonsters parcels in the dappled sunlight and cool summer breezes.  It really was the loveliest way to do a day's work!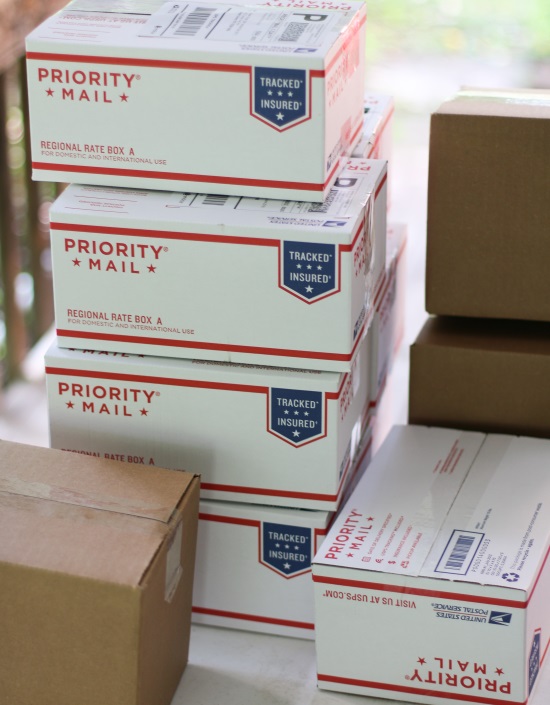 And I just want to share with you the colourway we were packing, because I am over the moon about it.  The club colourway is called Evening Shadows (top left) and the coordinating colour is Evening Fade (top right).   And then at the bottom, I put together a couple of gradient fade options using the two club colourways combined with our standard colourways.  And I am just so excited by they work together!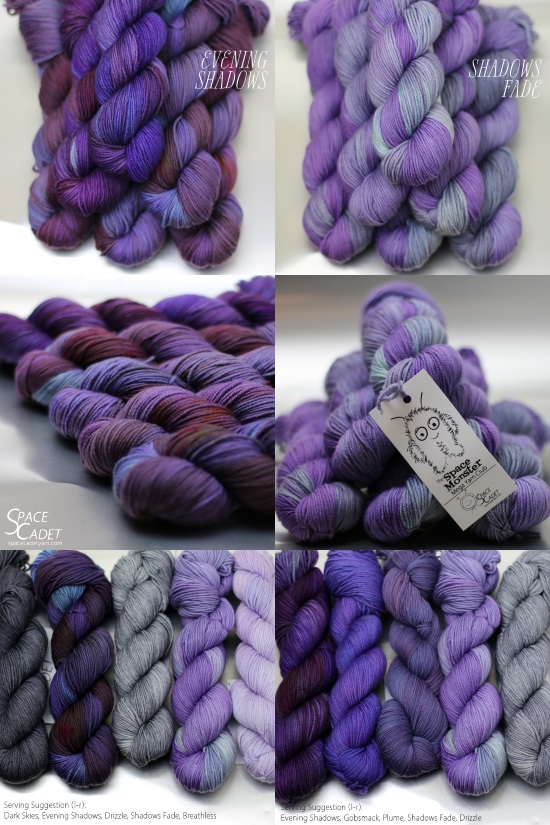 This week I'm featuring wonderful patterns by Corrine Walcher, whom I know through one of my favourite yarn shows, Homespun Yarn Party, because she needs the knitting community's help.  Here's how she put it on Instagram:
"Friends, my father is gravely ill with untreatable, terminal cancer. We do not know how long he has to live. I am on the first of what I expect to be many trips to Alberta [Canada] (I live in Maryland), and I need help to finance them. Please take a moment to look at my Ravelry page to see if there are any patterns you might like to buy in order to help. There are over 100 in the shop and I'm always available for technical help."
Corrine has returned home now from her trip to see her parents in Canada, but there will be more travel and expenses in her future, and I can't think of any better way to support her in this difficult time than by knitting her patterns.  Here are three of my favourites…
Shifting Cable Hat by Corrine Walcher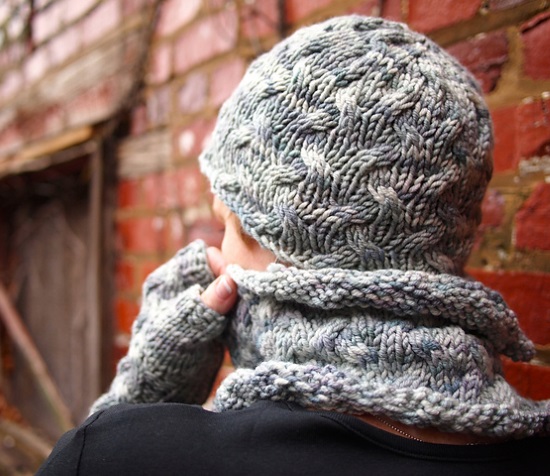 Cables are always beautiful but when they break out of their orderly lines and start climbing over each other willy-nilly, I fall in love!  So you know that this hat, mitt, and cowl set that jumped right out at me.  You too?  Try it in SpaceCadet Elara for lots of bulk or SpaceCadet Capella for an extra smooshy look.
Round Trip by Corrine Walcher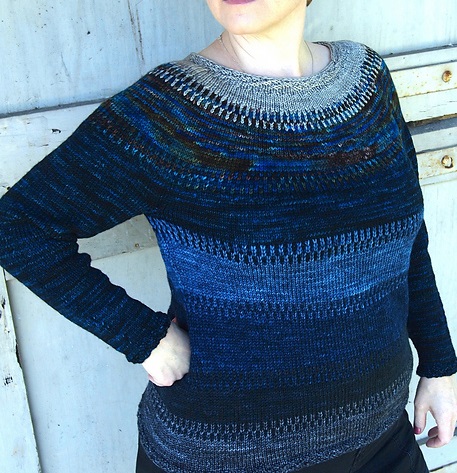 You know, we always suggest alternating skeins to blend yarns together but I just adore the way Corrine turned the colour changes in a simple fade into this gorgeous two-tone detailing!  If you're on our mailing list, check out the colour combos in my Monday Morning Fiber Fix emails for two fabulous fade suggestions and then cast on — you know this is a sweater you'll wear all season long!
Century and Light by Corrine Walcher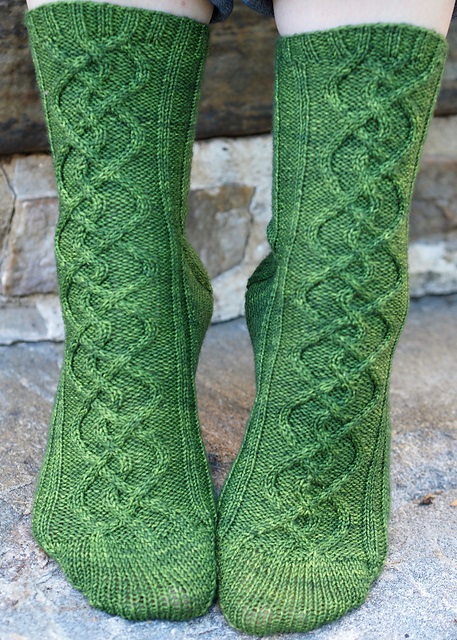 Sock knitting season is upon us and that means that holiday gift knitting is right around the corner (what?!?)…  and what I love about these socks is that even though they've got those fancy-fab cables running right down the center, they work for either men or women.  Knit in a somber colour (like Drizzle), the cables will add interest without being fussy; knit in a brighter hue (how about Feather?), they'll jump out in all their twisty glory.  Perfect either way!

I love it so much when you guys get in touch and share the projects you're making with SpaceCadet yarn.  Seriously, I always wonder what those lovely skeins are going to turn into!  Here's some that got me super excited…
Averysmom29's Tubularity
Rachel knit this in SpaceCadet Mini-Skeins and there are three more pictures in her Instagram post.  Be sure to click through them all — I think the last one is just gorgeous!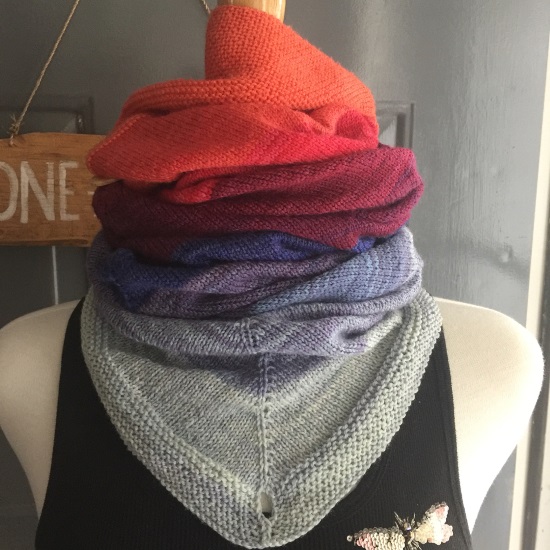 semcdwes's So Faded
Using three colourways from our Yarn Alliance club, Sara is putting together an absolutely gorgeous So Faded!  I love how, even though the colours weren't designed to go together, they really do. (Also, I'm smitten with her Yarn Alliance stitchmarkers and notions tin!)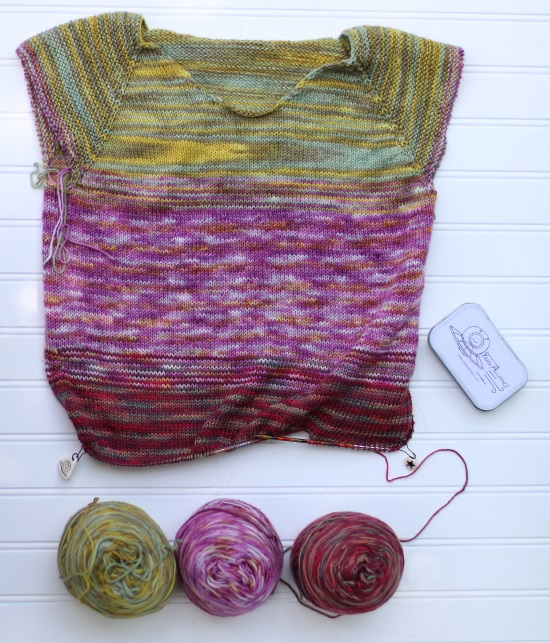 la_lizz0609's Sea Grass
From our Combining Yarns KCAL, I love how you can see the different textures in the Celeste and Maia (compare the lace sections), even with indoor lighting
Ok, how that for some mid-week inspiration?!?  It's been wonderful sharing all this with you, but I've got a busy day ahead of me — and I'm guessing you do too — so I guess it's time to get it started.   Have a wonderful, fibery day and, until next time, all my best!