A really surprising thing happened yesterday…  I grabbed a jacket as I went out the door!  The afternoons are just perfect but there's a just a hint of a chill in the early mornings, so I know that autumn is definitely on its way.  But knitters and crocheters don't care, right?  Because that means…  sweater weather!!!
And if that's the case, then it's time to start get to work.  Grab your needles or your hook and your most autumn-worthy project, and let's spend five minutes jumping into all the fibery goodness that is the best part of this time of year.  Here we go!…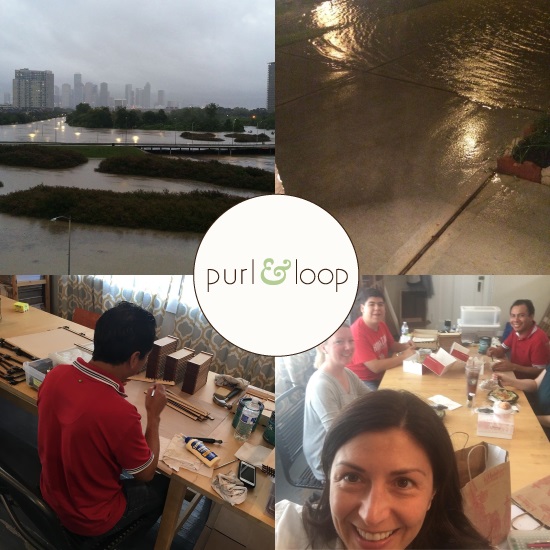 Purl & Loop watching the water rise…  and then so happy to get back to work!
The news out of Texas last week was shocking and I know so many of us want to do something to help.  There are myriad aid organisations we can contribute to but another thing we can do is support the businesses inside the flood zone that are trying to get back on their feet, build their economy, and continue to put pay in the pockets of their employees.  Purl & Loop is a tiny Houston-based company making adorable mini-looms for fiber artists — they made our most recent SpaceMonster gift (below) — and they documented their journey through the flood on their Instagram feed (image above).  If you've been wanting to join the recent trend in weaving, now it is a great time to order a loom from Purl and Loop!  Click here to read the wonderful message Angela wrote about their situation and to help a Houston business return to normalcy.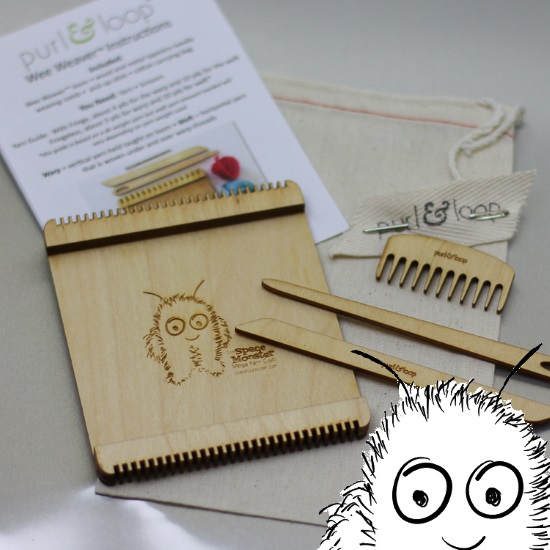 Purl & Loop made our most recent gift for the SpaceMonsters Club
Have you seen this ad featuring a couple falling in love in an LYS?  Well, it's maybe more of a general craft store (so many zippers!) but it's so goofy that it made me smile nonetheless.
In a world where everything is robotisation (I feel like I see a driverless Uber almost every time I head downtown), there are two fiber pursuits that defy automation: crochet and sewing.  I really enjoyed reading this article from the Economist about the future of clothing manufacture.  What are the hurdles to automation and how much longer will it be done by hand?
This made me laugh: When Yarn Bombing Goes Meta  Hilariously pointless!
Psssst — I know this is really cheeky, but I'd love your help!  I recently spotted this post on Instagram from David Highfield, a local television reporter and news anchor, showing off his brightly coloured (store-bought!) socks — and of course my first thought was that, if he likes those, he really needs to try some hand-knit socks.  Then I remembered he often covers upcoming local events and feel-good stories — and we have an awesome local yarn show, Indie Knit & Spin, coming up in November.  So I left a comment on his post saying that if he covers the show, we could probably get him a pair of hand-knit socks to spruce up his wardrobe!  So far, no reply from David, so I'm thinking he just doesn't understand the hand-knit joy he's missing out on…  bu-u-ut if there were a few more comments from passionate knitters saying the same thing, we might get his attention, right?  Pittsburgh folks (and non-Pittsburgh folks too!), want to click over to his post and encourage a little hand-knit love?

Shop Update for Vega: Friday Sept 8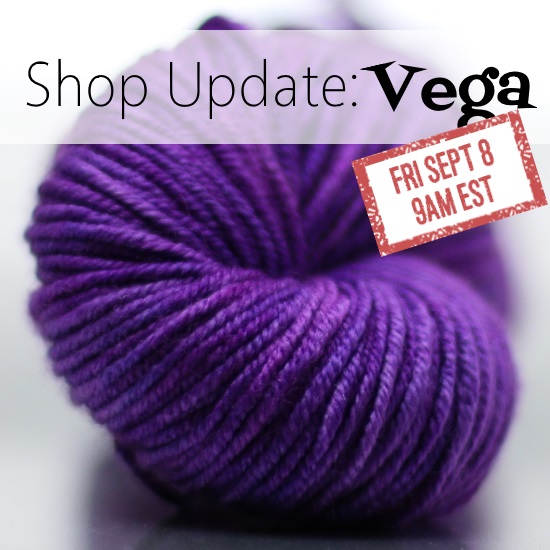 That feeling of fall in the air means it's time for lovely thick yarns again, so we've decided that this Friday, Sept 8, is the perfect time for a shop update of Vega, our delightfully smooshy worsted weight.  We've dyed tons of yarn to fill the shop plus a gorgeous one of a kind colourway that is absolutely perfect for back-to-school autumn knitting.  (Want a pattern suggestion?  I love love love Baltimore Tea Party by Ann Weaver)
The update will go live on Friday at 9am (eastern), so be sure to set a reminder on your phone so you don't miss the best colourways.  And then you can curl up in a comfy spot, grab those big needles again (ahhhh…!) and cast on something to celebrate the return of sweater weather!
We have a Winner!
Our Combining Yarns KCAL has been so much fun seeing the amazing projects folks have made by combining different yarns together. To celebrate everyone's hard work and creativity, we've done a giveaway for the KCAL participants and, after a random drawing, our winner is…
LaLizz
Congratulations!  Please send an email to missioncontrol (at) spacecadetyarn (dot) com so that we can give you your prize!
The Yarn Alliance Opens in Ten Days!
It really is all about community — and the best community is being part of one of our clubs!  Everything feels more personal: the dyeing, the choosing the yarn and gift, even writing the dyer's notes (the SpaceCadet's Log!) in a real connection between me and you, and between all the club members.  The Yarn Alliance is available for subscriptions only twice a year — and I'm so excited that it opens in ten days!  And the best way to get first dibs is to click the link and get on the club mailing list.


One of the nicest things about doing yarn shows is getting to meet great people — both customers and fellow vendors.  And doing those shows again and again, a lot of those other vendors end up becoming friends.  Today I want to introduce you to Michelle Stead, knitting designer and shawl pin maker, and show you three of her super cool designs.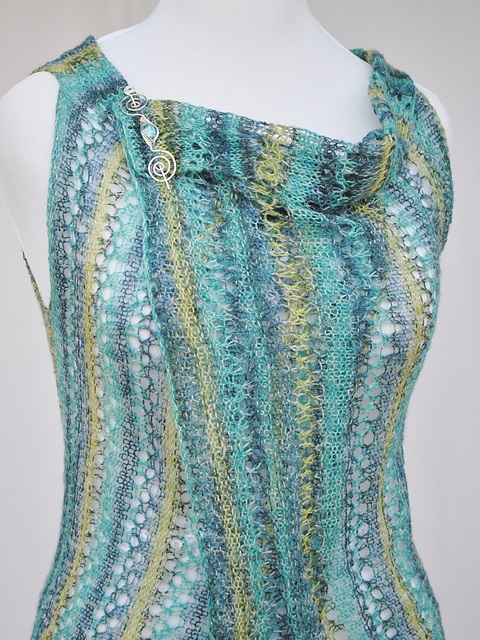 Knit Suavest Ease in SpaceCadet Thebe in Tantrum with Tickled, Blood Moon with Honey,
Molten Cool with Sage, or Life was Better in Black & White with Feather.
SpaceCadet: When I think of Michelle's Assortment, I think of both your patterns and your beautiful shawl pins. How did you get your start with both? And which do you think of yourself primarily, a pattern designer or a shawl pin maker?
Michelle: Thank you! Creating both pins and patterns started with learning to crochet and knit. I started selling the shawl pins a few years ago. As a little girl attending craft fairs with my mom I had dreamed of one day selling my handmade things at a craft fair. The shawl pin shop quickly grew beyond what I had dreamed was possible. The pattern designing started from a couple of inspirations. At first shawl pins were displayed on shawls from other pattern designers. Customers would often remark that they don't wear shawls. I have an irresistible urge to be creative and not follow the instructions exactly as they are written. Creating the pattern as I knit/crochet and matching up yarn with stitch patterns is a lot of fun. So I started designing knit/crochet patterns that are not shawls to wear shawl pins on. I enjoy both of my creative outlets equally.
SpaceCadet: You've got a beautiful new shawl pin style coming out that I know you debuted at Stitches Midwest. When will we see it in your shop?
Michelle: The new Round style of shawl pin is in the shop now. New color combinations of bead and wire are being added weekly.
Suavest Hues by Michelle Stead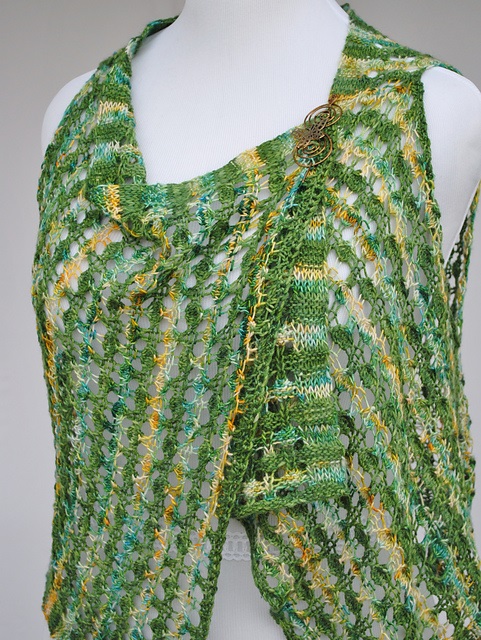 Knit Suavest Hues in SpaceCadet Oriana in Time Traveller with Honey,
Solstice Sky with Feather, Windswept with Headstrong, or Thrive with Honey
SpaceCadet: The Suavest Hues (above) is such an interesting design with a really intriguing stitch pattern. Tell us where you got the design idea and what challenges it posed as you worked through it.
Michelle: The design idea started as a challenge I set myself. Suavest Hues is part of the Evident Allure collection. These patterns are designed to explore lace, cables, slipped stitches, color, and sizes that are a little more complex than those in the Apparent Comfort collection. The challenge was to design a pattern with lace, colorwork, and sizes that looks more complex than it is. Further inspiration was to use two different yarn bases with different dying techniques in fingering weight yarn. I wanted the pattern to create a vest that is easy to make and beautiful to wear. The challenge while designing this pattern was using just the right amount of yarn. I weigh the yarn after each pattern repeat while knitting the sample. This allows me to finish the sample with at least 15% of the yarn unused. I play yarn chicken so you don't have to.
SpaceCadet: What kinds of yarns do you like to work with the most: variegateds or semi-solids? How do you design differently for each of them?
Michelle: I love both for different reasons. Creating patterns that use both semi-solid and variegated yarns is challenging and fun. Multi-colored yarns are interesting enough that simple easy stitch patterns enhance the yarn best. The Semi-solid yarns play nicely with simple and more complex stitch patterns.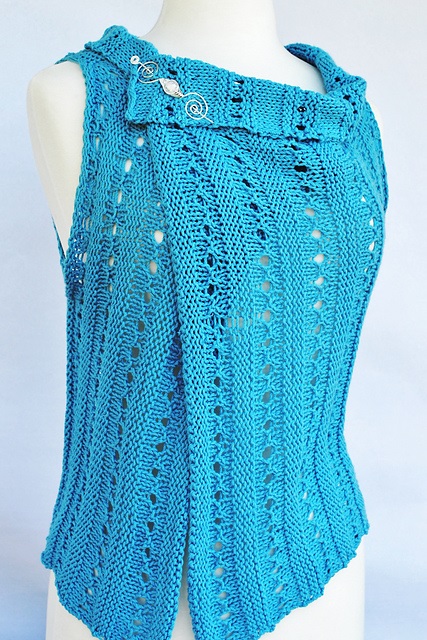 Knit Coastal Breezes in SpaceCadet Lyra or Astrid in Look Up or Feather
SpaceCadet: You have so many different motifs in your shawl pins, from steampunk to jewels, always set against a lovely swirl. Which is your favourite style to make?
Michelle: The style with a bead in the middle of two spirals is my favorite to make. It was one of the first styles I made. Wrapping the bead with wire is very rhythmical and almost meditative for me.
SpaceCadet: Any new designs you have coming up that we should look out for? Can we have a sneak peek?
Michelle: There are one or two designs being released every month for the forseeable. 😉 The next design to be released is Lavant. It is the 4th pattern in the Weald and Downland collection which features cables and lace in a variety of accessories. It is inspired by the Weald and Downland Open Air Museum located in Singleton, England. Lavant was made with one skein of SpaceCadet Lyra in colorway Look Up. It will be released in mid September.  Sure, here is a sneak peek…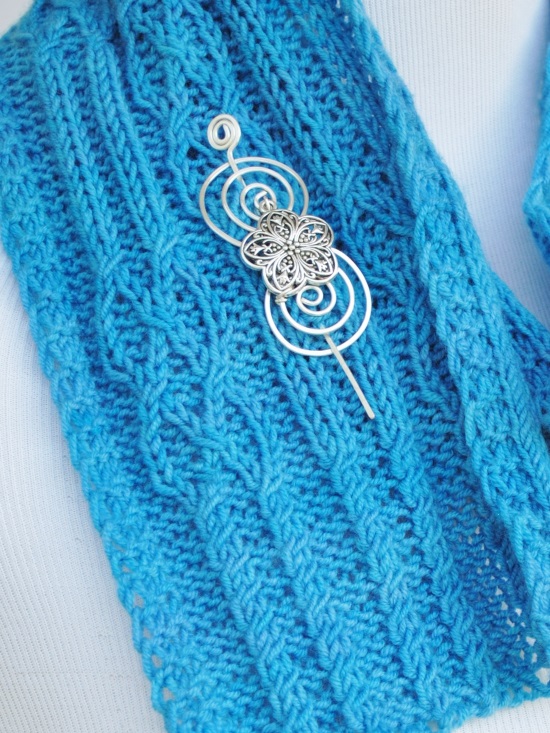 Marvelg's Collusion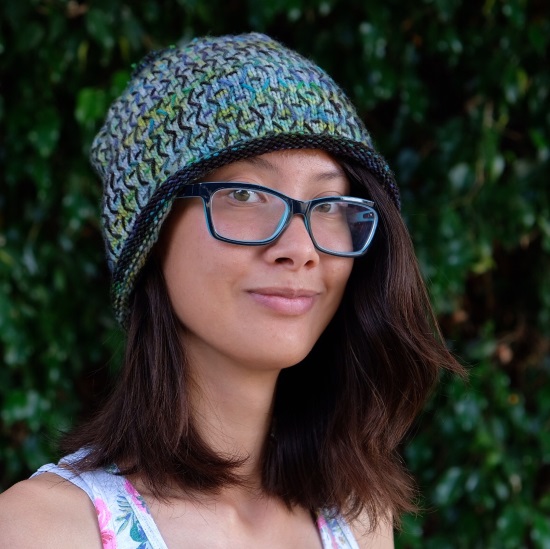 Martha knit her Collusion using Capella in Time Traveller for the main colour and Celeste (in a ooak colourway) for the accent, and I love how it turned out.  The vertical floats break up the main colour beautifully (below) and the effect is amazing!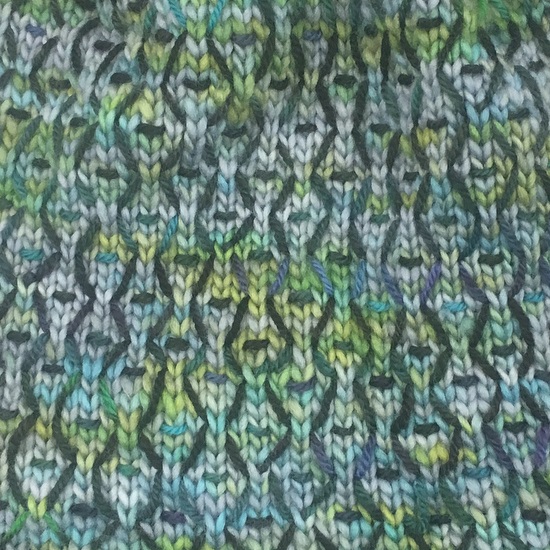 I love my Traveller's Notebook and I make a ton of to-do lists, but I don't really bullet journal.  I mean, the real bullet journal system.  But I'm really intrigued, y'know?  So, bullet journallers (and quasi-bullet journallers), I have a couple of questions and I'd love your thoughts.  Click here and help me out?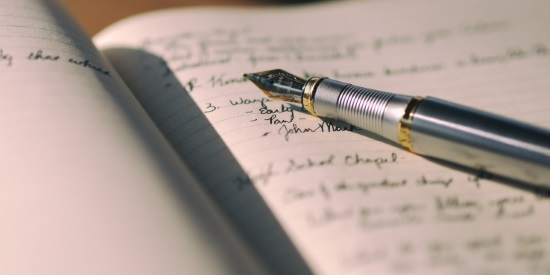 (That's not really my journal — my pen's not that fancy.  it's a photo by Aaron Burden)
It's a gorgeous day here in Pittsburgh (cool and a little cloudy, just how I like it) and I think I'm going to take advantage of the perfect autumn weather and do all our packing on the porch.  But there's a lot of packing today, so I'd better get to it.  I hope your day is just as beautiful and, until next time, all my best.