During the summer months, we do a lot of our work outdoors.  We hold our team meetings in the park, pack parcels under the shade of a tree, and plan our dyeing on the porch with a cup of mint tea.  And as the air takes on a chill, I am feeling so sad — I don't wanna move back indoors — but I know there's a really wonderful silver lining too: cooler weather means sweater knitting and I am so ready for that!
So it was easy to pull together a whole bunch of fiber-y inspiration to share this morning, and I can't wait to get started.  Grab your coffee or your tea and let's dive in!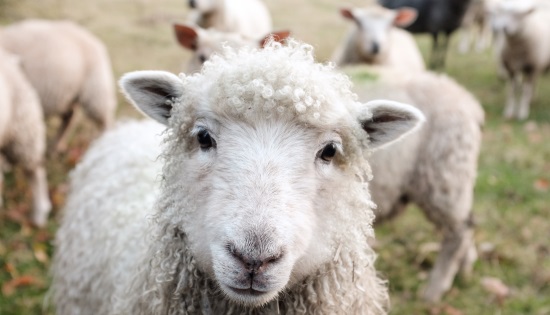 Photo by Sam Carter
In all honesty, I cannot decide if these crocheted bird costumes are art, crazy, or kitsch…  or all three?  Oh, and they're not costumes for people, they're costumes of extinct bird species… for pigeons.  Yeah, it's hard to explain.  You kinda just have to click the link.
I love to dye superwash because of the way it absorbs colour and how easy it is to take care of, but its very existence creates debate in the fiber community.  I fount fascinating this post by Pigeonroof Studios — cuts right the chase and asks, is it hypocritical to disapprove of superwash wool?
Did you see this awesome crochet idea that folks on the Yarnover Truck had for SpaceCadet Lyra?  I love it so much and it's perfect for October crafting!
If the cooler weather has got people asking you to knit them socks (family… friends…  complete strangers…?) asking you for hand-knit socks, you'll love that Kate Atherley has published her foot size tables.  Warm toes on the way!
Speaking of socks…  oh my stars, I was grinning so hard last week as I saw the comments appearing on this Instagram post by David Highfield, one of our local television reporters.  If that doesn't convince him to try hand-knit socks (and covering our local indie yarn show), I don't know what will!  You guys are awesome.

Upcoming SpaceCadet Events   Mark these on your calendar!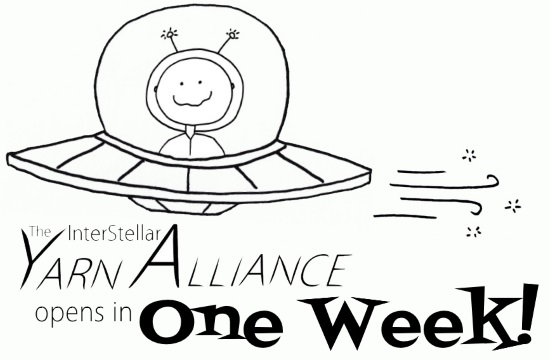 Wed Sept 20 — The InterStellar Yarn Alliance Opens for New Members (click here to get on the club mailing list for early  registration!)
Friday Sept 29 — Spaces open in the Gradient Explorers (currently, we have 8 spots available)
Friday Oct 6 — Shop Update:  this month the yarn is Aurora, our incredibly soft and luxurious 20% cashmere yarn, perfect for warm and cozy autumn projects.
Our first Gradient Explorers Colourway!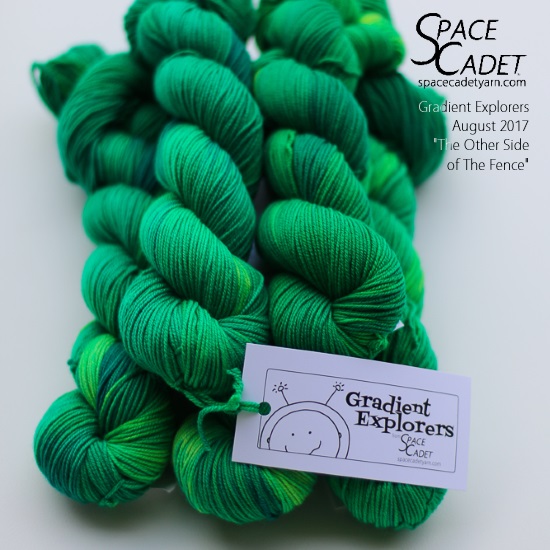 Can I tell you how excited we were to send out the first Gradient Explorers parcels last week?  SO excited!  And I just have to share it with you.  This is "The Other Side of the Fence", a colourway created from a base of the bright lime green of Fizz layered with greens and blues, to create glazed tones of both Stoppy and Feather.   I love how subtle the varying tones are!  And because the whole idea of the Gradient Explorers is to create beautiful colour flows, I couldn't stop myself from grabbing a few of our standard colourways to see how they combined…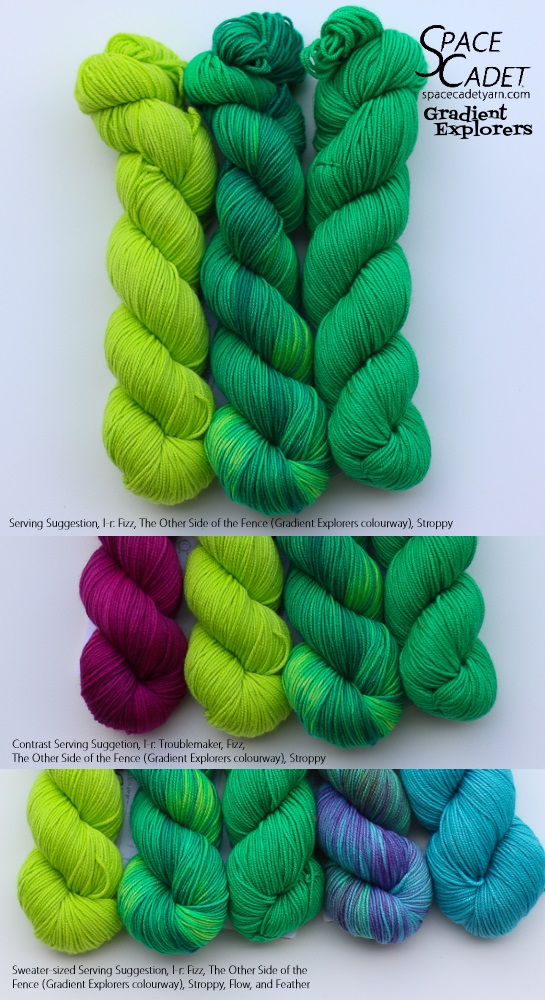 And then, because this is the very first parcel of the Gradient Explorers, I really wanted to make a little treat for for our charter members.  So I created this custom zipper pull (which turned out to be harder than I'd anticipated!) to make the whole parcel a little extra special.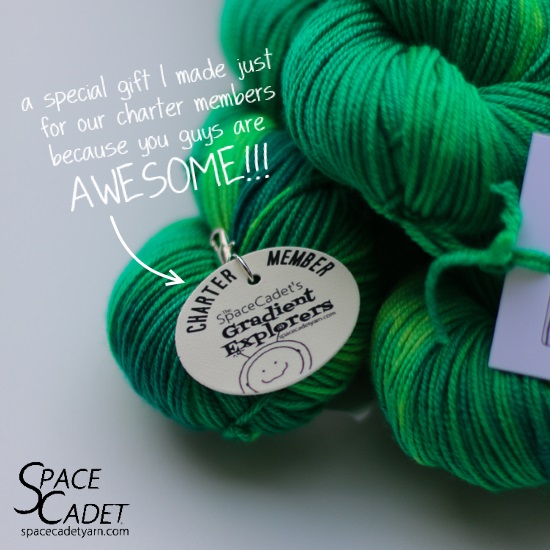 Eight spots in the the Gradient Explorers will be opening on Sept 29.  Click here to get on the mailing list to get a reminder and a link to grab one of them before they go.

When designer Kristen Jancuk told me about her upcoming KAL and that it's all about mini-skeins, I knew I had to share it with you.  And you know what?  She has a bunch of patterns you should check out!  With cooler weather on its way, here are my favourites:
Foxkit by Kristen Jancuk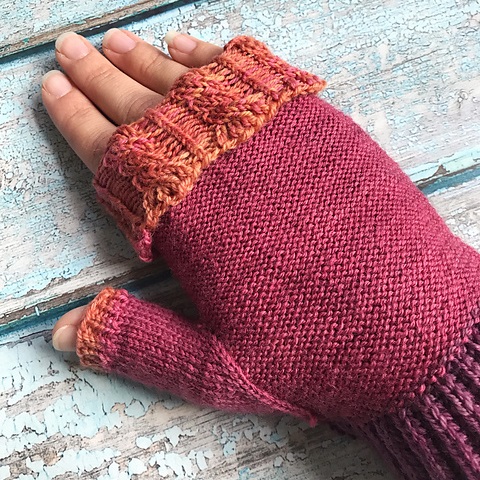 (three of our SpaceCadet Mini-Skeins in all you need!)
SpaceCadet: I had to chuckle when I saw that you are doing a "not-mystery KAL" for the Foxkit mitts. What does that mean, and what should we know about joining the KAL?
Kristen: I tried really hard to come up with a better description than "not-mystery" but in the end, decided to go with it, because it really fits! This KAL isn't a total mystery because I've shared a number of samples so knitters have a general idea what they'll be working on. But it's run in the same fashion as a mystery KAL, with a new section of the pattern delivered each week, and the knitter will make multiple design choices during the course of the KAL, so he or she won't really know exactly what the finished project will look like until it's done! I think it's the best of both worlds. I also think this is a great KAL for knitters of all experience levels, because I've included design options for beginners as well as advanced knitters–I'll also be providing lots of tips, tricks and tutorials along the way, and a chatter thread for questions and comments, so it will really be a community experience!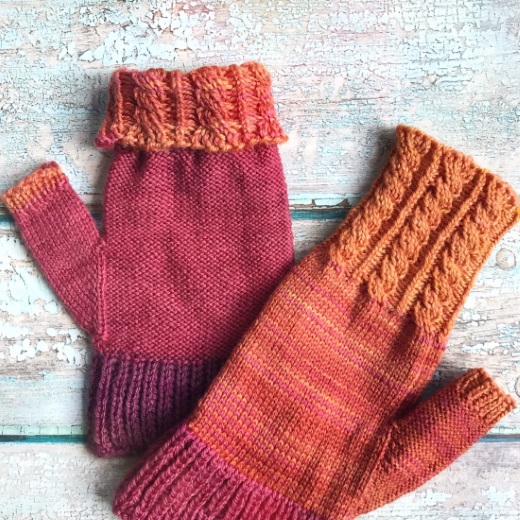 (click here to see how these mitts look reversed!)
SpaceCadet: You've got lots of patterns that do beautiful things with colour. What's your process for finding the right colour combinations?
Kristen: When I start a design I usually have color ideas in mind, but I almost always rely on the dyer's expertise in selecting final colors. They know their colors so well and can combine them in surprising and stunning ways! I personally tend to gravitate toward fall-ish colors year round, and dyers have opened my eyes to many more color possibilities–they've really helped me to think outside the box more and mix unexpected colors together.
Tumbao by Kristen Jancuk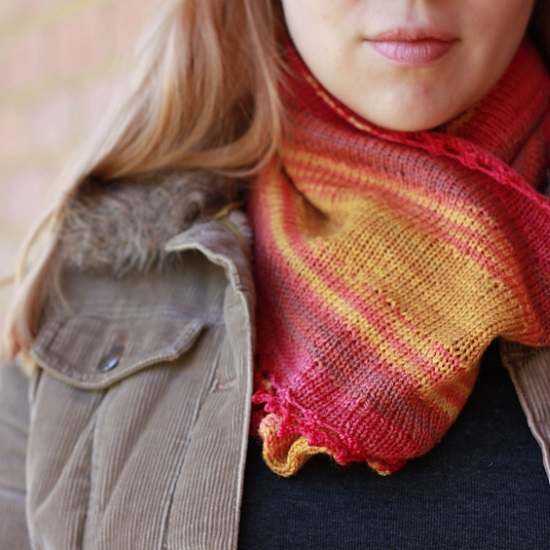 (Tumbao works perfectly in bundle of minis from the SpaceCadet's Mini-Skein Club)
SpaceCadet: The Foxkit mitts are the second pattern you've designed in SpaceCadet Ombre&Gradient Mini-Skeins, the first being Tumbao (above). What do you like about working with minis? And are there special challenges when you're working with an ombre or gradient fade?
Kristen: One of my favorite things about minis is that you can mix and play with colors without breaking the bank–for a small accessory design, it's not very practical to buy multiple full skeins of yarn; it gets expensive, and then you have leftovers you tend to stash away and forget about. I think it's so fun to play with the colors when using minis, you have much more freedom than with a single skein–you can use more of your favorite color, or place it in a key spot in your design. Even with a gradient skein, where the colors naturally transition, those transitions don't always look the same when you work them into a design. But with minis, you can really play with the transitions and pick the ones that work best for your project.
Road to Giza by Kristen Jancuk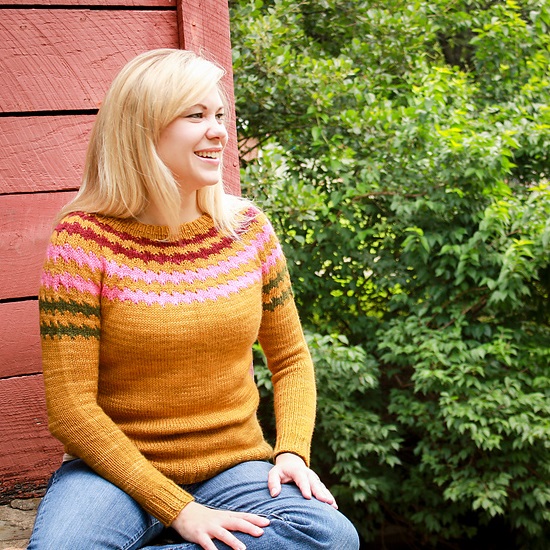 (knit this pattern in SpaceCadet Vega in Crisp, Plume, Feather, and Drizzle)
SpaceCadet: When you look over all the patterns you've designed — and it covers everything from accessories to sweaters, colourwork to lace — which of those feel the most natural to you? The most "you"? And which were the biggest challenge?
Kristen: Colorwork and lace don't come as naturally to me, so I look at those projects as more of a challenge–in fact, for the Foxkit mitts, I taught myself 2-color brioche, which I'd never tried before, solely because I wanted a reversible 2-color option for the cuffs! Cables and textured knits are more my thing, especially sweaters–I started designing mostly accessories, and now my head is just full of sweaters; I have to remind myself that not everyone is a sweater knitter!
Limeño by Kristen Jancuk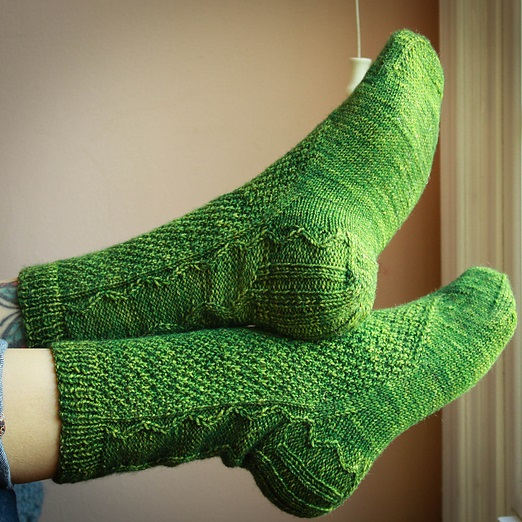 SpaceCadet: I know that your goal, when you design your patterns, is to help knitters take their projects "from fine to amazing" and I think that sounds awesome! Tell me what you mean by that and a little about how you incorporate it into your designs.
Kristen: I know I had a lot of projects when I started knitting that turned out "fine." They looked nice enough and mostly fit, but I wasn't entirely happy with them, either because I didn't understand some of the directions, or I didn't pick the best yarn for the project, or I didn't really get gauge. With those old "fine" projects in mind, today I strive to write patterns that are thorough and easy to understand, I work with an amazing tech editor to make sure my patterns are clear and that all that tricky math is correct, and I try to supplement my patterns with tutorials and other useful information on my website and in my newsletter so knitters really have everything they need to knit amazing projects right at their fingertips.
The SpaceCadet's Mini-Skein Club
In the SpaceCadet's Mini-Skein Club, each month's colourways in the Ombre&Gradient Mix flow into the next month's colourways… and into the next month's… and into the next to form a Never-Ending Gradient that is endlessly inspiring!  What to see what I mean?  We laid out a year's worth of SpaceCadet Minis and here's what they looked like…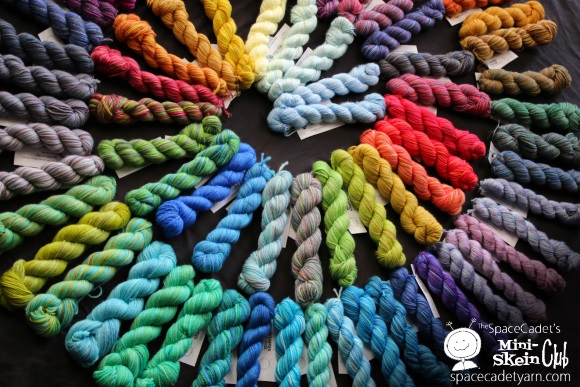 See what I mean?  So gorgeous!  So, do you wanna to get in on the fun?  Click here to find out more!

We go to extra effort with our parcel packing but have you ever wondered why?  This week on the blog I show you the amazing (horrifying!) state one of our parcels arrived in — and how our packing affected the condition of the yarn…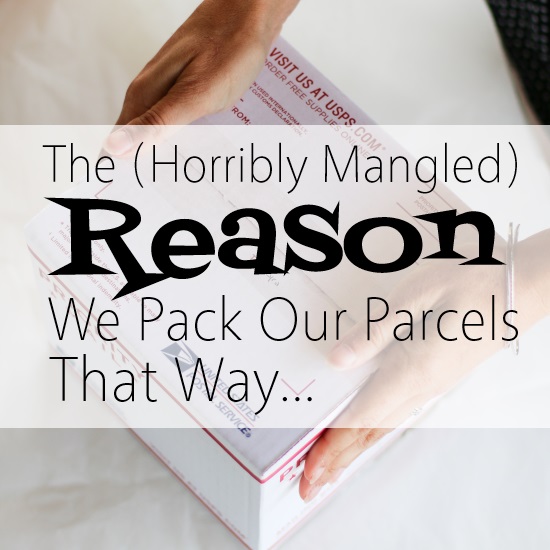 Ok, we've got a fabulously fun day ahead of us, involving something we call our drinking game (though, given that we're starting at 10am, it's likely to be less scandalous than it sounds).  If you're curious as to what we're up to, keep an eye on my Instagram feed and Instagram stories…  and I might just give you a sneak peek!  I wish you a wonderful day as well — and, until next time, all my best.