Some days, I have to do boring things like file receipts and calculate taxes (blech!) but other days, we get to spread out a big sheet and one of the best parts of our jobs: sorting through yarn and creating new colour combos!  Last week, the weather was warm and breezy, the SpaceCadet crew all met at my house, and we did exactly that –laying skeins out like parquet flooring across my front porch and then setting up the camera to photograph them all.   It was so much fun, and the colours are so irresistible, that Jade ended up going face-first right into the yarn!   Poor girl, she never stood a chance really — the call was just too strong.
But any day you get to smoosh yarn is a good day, right?  Working on a project, digging through your stash, visiting a new yarn shop or…  just taking five minutes to read through some fun fiber news…  it's sure to get your day off to a good start.  Today, I've got some super cool patterns to share with you, a bunch of fun fiber news, and the winner of our giveaway.  So, grab a cup of tea, sit down here with me, and let's do this!…

Right now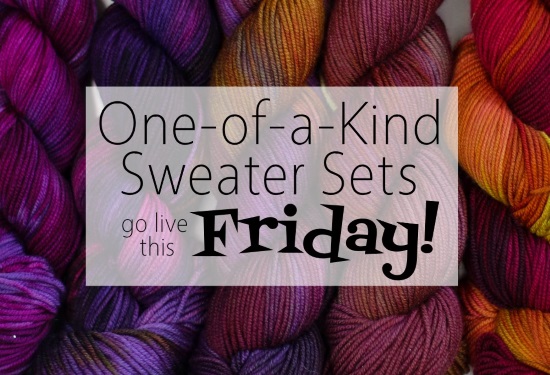 This Friday, Oct 20:  One-of-a-Kind Fade Sweater Sets Shop Update — So exciting!  The whole SpaceCadet crew sat down put together a bunch of FABULOUS fades in full Sweater Sets from our One-of-a-Kind yarns — they are stunningly beautiful, each one completely unique, and they are going up in the shop on Friday in two releases at 8am and at noon (eastern).   There's only one of each and it's first come, first serve, so click here to scroll through the Sweater Set pictures, find the number of the ones you love best, and then come back on Friday to grab it!
Upcoming
Saturday Nov 11: Indie Knit & Spin in Regent Square, Pittsburgh.  One of our favourite shows!  Click here for details.
Friday Nov 17: Gradient Explorers spaces may open — The Gradient Explorers is currently full and there are no spaces available, so I can't open any in October but, if we have room next month, I'll be opening the Gradient Explorers a week early in November (so it's not all tangled up with Thanksgiving).  Mark your calendar and keep an eye here for updates.

It's the nature of hand-dyed yarns to have variations from skein to skein — there's almost no way to escape it (and, really, it's part of the charm and the beauty emerges when you embrace it). If you want to blend the transition between two hand-dyed skeins, the general advice is to alternate every two rows as you switch from one yarn to the next, whether they're both the same semi-solid colourway or two different colourways in a variegated fade.  But I found absolutely fascinating this article with an ingenious way to create a much more subtle blend that doesn't require as much backing-and-forthing between skeins.  I have a One-of-a-Kind Fade Sweater Set from Friday's shop update that I kept for myself (!) and I am totally going to try this technique with it!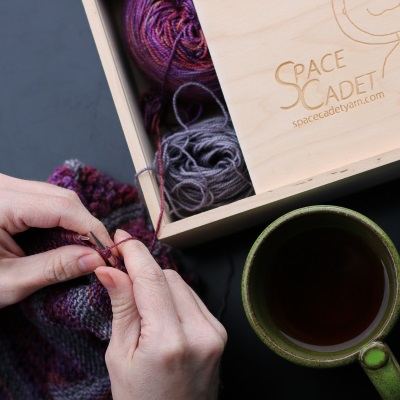 Have you been hearing about hygge everywhere lately and wondering what on earth it is?  This article explains it beautifully (including how to pronounce it!) — so beautifully, in fact, that I find myself pining for snow and long nights…
You've seen t-shirts and project bags that say, "It's not a hobby… it's a post-apocalyptic life skill", right?  I thought this article was interesting, all about how many companies are creating instructional videos on the most basic of skills for a generation who doesn't have them.  Personally, I found some of them a little surprising (how to use a tape measure?!?) but then, I turn to online videos every time I find a knitting instruction I don't understand.  Sign of the times…
This is a super-handy guide to yarn weights, with photos and translations to UK and Aus/NZ weights.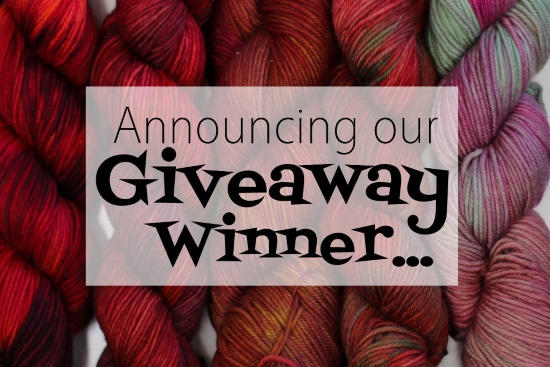 Ok, wait, I have to be honest here…  when I first set up this giveaway, I was not expecting to be so excited to choose a winner (maybe because I wanted to keep all the yarn for myself? Shhhh…).  But as more and more people joined in, and I read all the comments about the colour combos on Instagram and Facebook, it became so much fun.  And so, as I ran the Random Number Generator to choose a winner, I was just super excited.  This giveaway has been a blast — thank you to everyone who participated!
And now, without further delay our winner is…
Lisa Loyo
Congratulations Lisa!  I can't wait to see which One-of-a-Kind Sweater Set you choose!
One-of-a-Kind Fade Sweater Sets Shop Update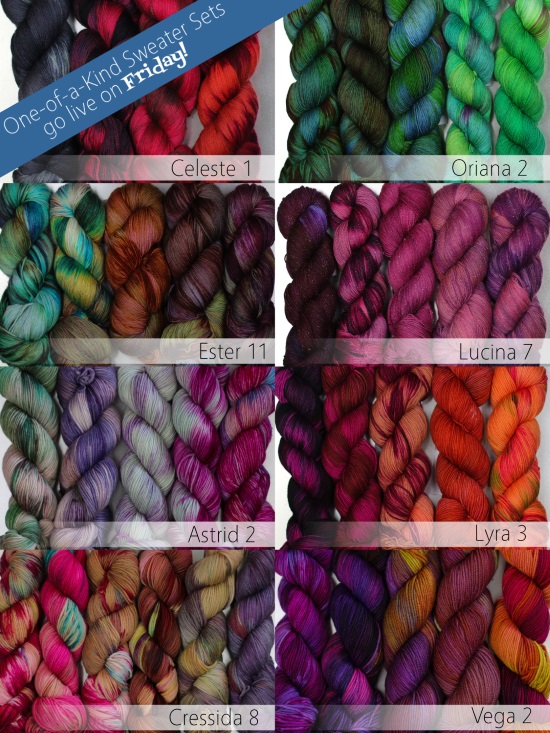 We have so many awesome One-of-a-Kind Fades in the Shop Update this Friday that they are going live in two releases:
Fingering yarns at 8am (eastern)
Sport, DK, and Worsted yarns at 12noon (eastern)
(Plus I'm hoping maybe that gives everyone in different timezones a better chance to get the colour combos they want)
There's only one of each combo and it's first come, first serve, so click here to scroll through the Sweater Set pictures, find the number of the ones you love best, and then come back on Friday to grab it!

To celebrate this Friday's One-of-a-Kind Fade Shop Update, I've picked patterns that are designed to make the most of gorgeous hand-dyed yarns that flow from one colourway to the next.  Everyone knows the most famous fade patterns dominating Ravelry at the moment, but check out these fabulous options…
all images © the respective designers and used with permission
Gelato by Chantal Belisle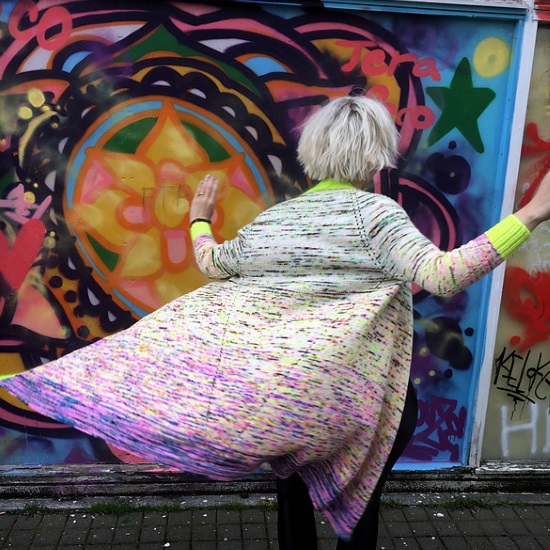 Gradient fades are designed to be spectacular and what could be more spectacular than a coat-length cardigan that fades from top to bottom?!?  Knit from the top down with raglan sleeves, A-line shaping and contrast cuffs, it will get you noticed where-ever you go!  (Designed for fingering, try it in Celeste, Ester, Oriana, or Lucina)
Salt by Chantal Belisle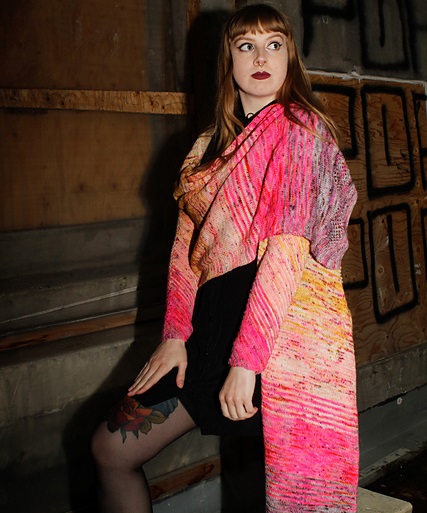 This is a design to give a dramatic look without a whole lot of drama!  Designed specifically for a gradient fade, its simple rectangular shape contrast to the bias-knit sleeves and allows the colour to take center stage.  Worn in a dramatic sweep over the shoulder or just hanging loose, this is a beautiful way to work a fade. (Designed for fingering, try it in Celeste, Ester, Oriana, or Lucina)
Ground Pepper by Suvi Simola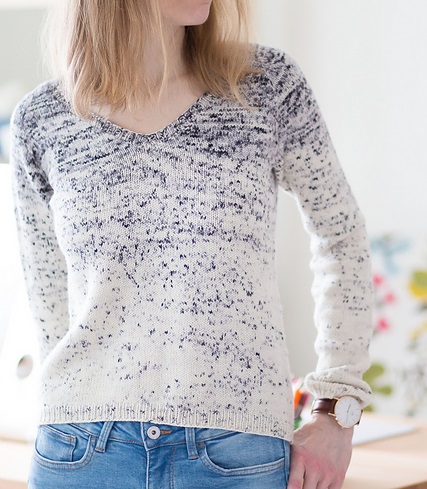 I love this as a go-to sweater — and I know I'd go to it again and again and again.  Simple stockinette and casual details work together to show off the yarn's fade to its best advantage, but little details like its faux seams elevate the final project up a notch. (Designed in sport weight yarn, try it Lyra or Astrid)
Well washed by Natalie Volyanyuk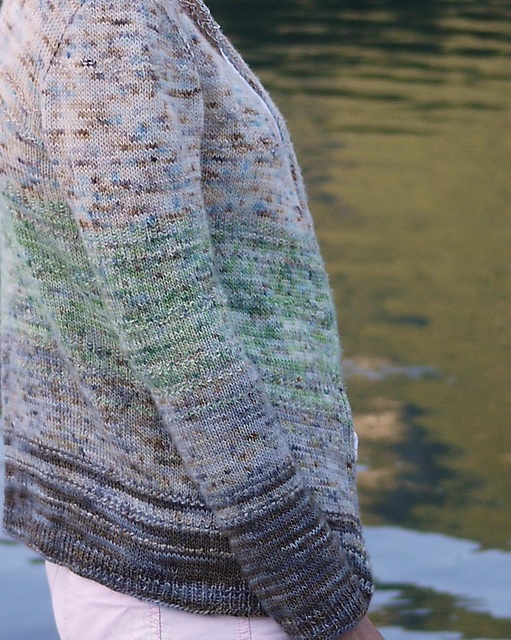 A little texture is what sets this cardigan apart and make the transition between gradient skeins that much more interesting.  Perfect to slip on as the nights get cooler, it'll be as much fun to make as it is to wear! (Designed for fingering, try it in Celeste, Ester, Oriana, or Lucina)
On a Personal Note…
I received a lot of supportive emails and messages last week and I just want to say how much I appreciate it.  It meant a lot to know how many other people were thinking about me and my family — I'm really grateful.  And the surgery seems to have been a success, and all is well.
Ok, it's going to be a lovely day today (they're saying 70F… in Pittsburgh… in October…?!?) so I'm going to get down to the studio and work with the windows open(!).  I hope you've got a lovely day planned too and, until next time, all my best.