I think most of us started out knitting and crocheting because we wanted to make things.  But pretty quickly, we all discover that there is much more to our crafts than that.  The movement of our hands, the yarn through our fingers, the creation of stitch on stitch on stitch…  together it all forms a kind of meditation that becomes part of our days.  When we are frazzled, it calms us.  When we are stressed, it grounds us.  And when we are afraid, its familiar rhythm tells us everything is going to be ok.
This week I need a little more of that meditation than usual, and a little more of that supportive community we create while we craft.  So please, pour yourself a hot drink, pick up your needles or hook, and sit with me a while.  I've got lots to share, and I've so glad to have the chance to share it with you.  Ok, so are you ready?  Here we go…

Right now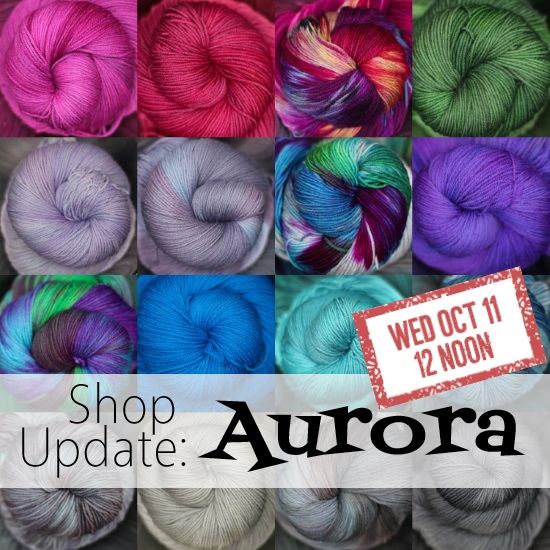 TODAY at noon — Shop Update:  The very best handmade yarns really amp up the luxury, and our Aurora is exactly that. It contains *twice* the cashmere of most MCNs and you can tell the difference as soon as you pick it up!  We've dyed lots of skeins in our most gorgeous colourways that will go in the shop today at noon (eastern).  Set a timer on your phone and then click here to get this most wonderful yarn for holiday gifts or… for yourself!
Now through Oct 15 — It's the LAST WEEK to enter One-of-a-Kind Fade Sweater Sets Giveaway!  Each day, I've been sharing on Instagram & Facebook our One-of-a-Kind Fade sets that are going in our October 20th update. And the reason I'm sharing them is that if you are are the winner of our giveaway, you get the Sweater Set of YOUR CHOICE our of all the sets we'll be putting in the shop! How awesome is that?!?  Click here to enter.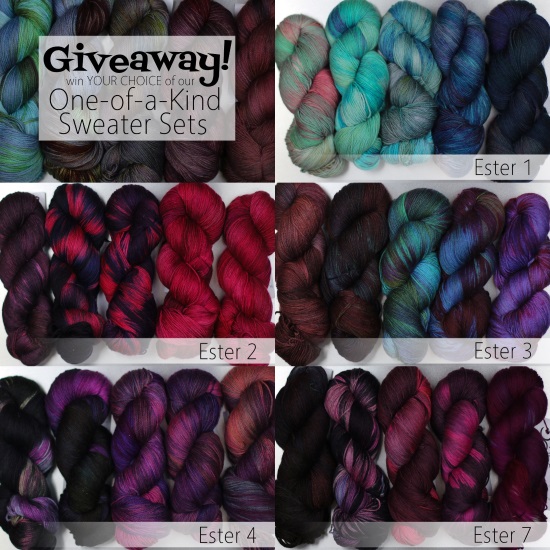 Upcoming
Friday Oct 20 — One-of-a-Kind Fade Sweater Sets Shop Update — watch my Instagram & Facebook feeds for sneak peeks of each set
Saturday Nov 11 — Indie Knit & Spin in Regent Square, Pittsburgh.  One of our favourite shows!  Click here for details.

The SpaceCadet crew all fell in love with this amazing knitted lace garden fence.  It was made with fishing net twine and curtain rods …and I think there are now at least two more knitted lace fences being planned here in Pittsburgh! Ha!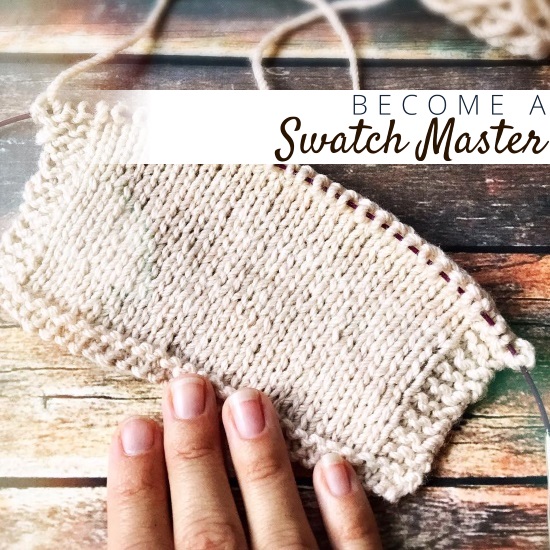 This is exciting: Kristen Jancuk at MediaPeruana Designs new e-course, Become a Swatch Master, starts in November and, because it's the first edition of this course, she's offering a very special price.  If you're not the skilled swatcher you know you want to be (because FOs that actually fit are such a good thing, right?), click here and get on it!
Knitwear always features heavily in dystopian films because knitting are awesome survival skills.  This article is a few years old but it still made me feel like I could totally kick butt come the armageddon: Great Moments in Dystopian Knitwear.  Just the title is entertainment enough!
Say the words "handmade sweater" and someone somewhere is going to assume that's code for "bad taste".  Now, there are enough horrible acrylic Christmas sweaters in the world to justify that interpretation but, for all the beautiful handmade sweaters that redress the balance, good taste is a concept that can be kind of hard to pin down. So I was intrigued by this article that asks, can good taste be taught?  Interesting reading!

Vote for your favourite Gradient Explorers Fade!
The September Gradient Explorers parcels went out a couple of weeks ago — so exciting to send our members the second step in the colour journey we are on! — and while each month's colourways are designed to flow into each other and create a beautiful Never Ending Gradient but we also design them to blend with our standard colourways. So I went stash-diving in our stock and came up with a bunch of colour combos that made me swoon… and I'd love to know which one made you swoon too!
Below are the four "serving suggestions" I put together — all of them include our two Gradient Explorers colourways plus three from our standard colours, layed out in a gradient fade.  Take a look at each and then please click here and cast your vote for which one you like most.  I can't wait to see what you say!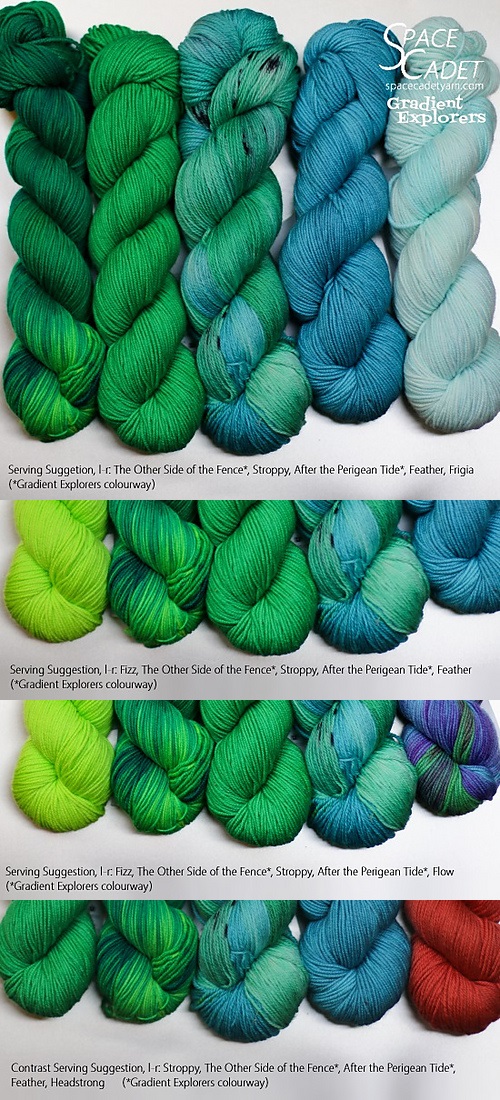 Septembers Mini-Skein Bundles
I just have to share the latest Mini-Skein Club bundles we sent out because I love both of them so much.  The Ombre & Gradient Mix (top) is all in shades of moody purples overcast with deep grey-black, like dark, angry storm clouds.  The Multicolour Mix (bottom) manages to be both muted and bright at the same time — I love that gorgeous rust and that pop of bright teal.  Honestly, I don't know which bundle I like more!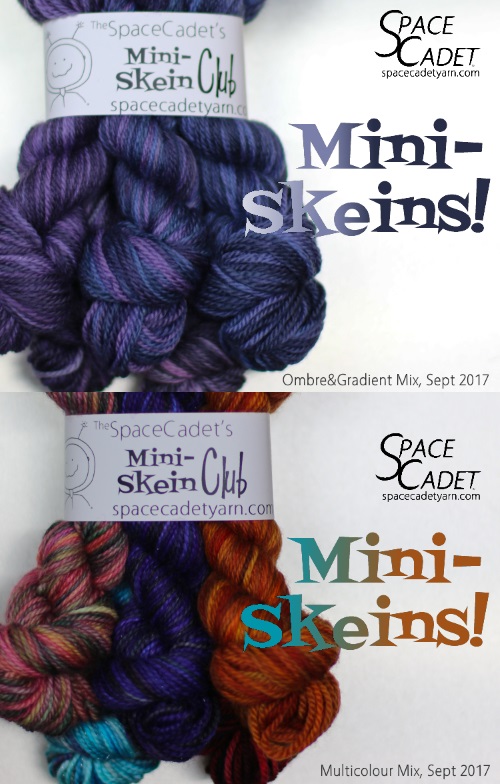 Texture changes, colour changes, bobbles, and three cheeky pom-poms…   Oh, this lovely shawl just jumped out at me because it's fun!  Knit in fingering yarn, this pattern is a perfect match for those gorgeous Multicolour Minis in your stash.  The pattern calls for 70g, 60g, and 95g of the three colours it uses — I'd suggest choosing three colour families (for instance, neutrals, blue-purples, and rusts) and then choosing 4, 3, and 5 of our 20g mini-skeins respectively in colours that blend together within each family.
Seitenstreifen Socks by Sybil R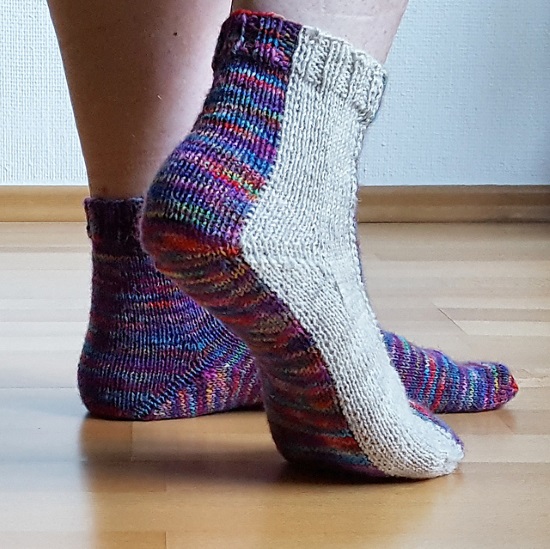 Socks are aways a great choice for holiday knitting and when the pattern is both interesting to the maker and fun for the wearer, that's the best kind of gift!  I love these intarsia socks that give you the chance pair colours in a really cool way.  The pattern calls for 60g of the main colour and 20g for the contrasting colour, so that's easy to translate into our Mini-Skeins:  three of one colour family and one of another.  Oh, and the bonus?  The pattern is free!
I'm seeing circular-yoke sweaters everywhere right now but the almost pop-art graphics of this beautiful design jumped right out at me.  I love the way it brings the tradition of stranded colourwork right into the 21st century and the mirrored details on the cuffs and hem finish it off perfectly.  Worked in two colours as it is here, or with gradient mini-skeins in the colourwork for an eye-catching fade, it will be just stunning!
all images © the respective designers and used with permission
On a Personal Note…
I don't often mention my family but I got some sudden and frightening news yesterday: someone I love dearly needs a very serious operation very quickly.  It is happening tomorrow and I'd be grateful for your prayers, thoughts, meditations…  whatever it is that you do, if you could do it tomorrow, I'd really appreciate it.
And in the meantime, I have a lot of (distracting!) things to get done, so I guess I'd better get to them!   I'm starting today by donning my oh-so-attractive particle mask to mix up dye solutions, and then we've got a busy day dyeing a bunch of custom orders — can't wait to see how they turn out. Oh, and don't forget to set your reminder for today at noon and then click here for our Aurora shop update.
Ok, time to get today started.  I hope your day is bright and colourful and, until next time, all the best!