You know that lovely feeling you get when you start talking to someone new and discover they're a knitter or crocheter too?  Every time it happens, I find that, no matter what I know or don't know about this person I've just met, I already like them based solely on this craft (or is it a calling?) that we share.  I had that happy experience just this week and realised that I'm so glad the world is full of knitters and crocheters.  We need more of us — let's do all we can to encourage more folks to learn this wonderful thing.
Spoiler warning!  I can't help but share with you a few images of the latest Yarn Alliance parcel because I am just so excited about it.  But if you're in the club and haven't received your parcel yet, close your eyes as you scroll down, ok?  (and if you're not, click here!)
Ok, I've got my cup of tea (have you?) and bunch a great fiber stuff to share with you this morning, so let's do this, ok?  Here we go…

Right now
Closes on Friday — The InterStellar Yarn Alliance is open for New Members… it's an AWESOME club so click here to learn more!
Now through Oct 15 — One-of-a-Kind Fade Sweater Sets Giveaway — click here to enter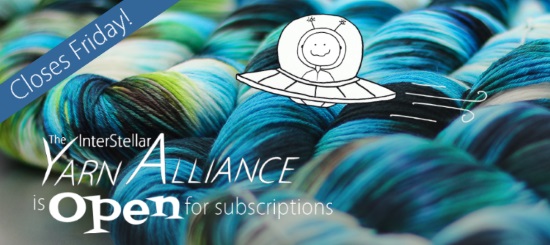 Upcoming
Wednesday Oct 12 — Shop Update:  this month the yarn is Aurora, our incredibly soft and luxurious 20% cashmere yarn, perfect for warm and cozy autumn projects.
Friday Oct 20 — One-of-a-Kind Fade Sweater Sets Shop Update — watch my Instagram & Facebook feeds for sneak peeks of each set

If leaves are falling where you are (they aren't here, which kind of amazes me but I suspect they will eventually), you might be starting to think about leaf inspired patterns.  I love this fabulous round-up of knitted leaf motifs, Seven Ways to Knit a Leaf, which shows each motif one-by-one and complete with charts.  Scrolling through has got me feeling all autumnal!
You know how sometimes you see images of people who are supposed to be knitting but clearly have no idea how?  This quiz asks how many knitting skills you've mastered and then designates your level (I got "Stitch Superstar — what do you get?).  But if you tell it you've done every single thing on the list, the image that pops up is anything but a "Master Maker".  Made me laugh!
A few weeks ago, I recommended a class I'd taken on short-rows and, if that was interesting to you, check out this article on double short-rows.  What's that, you say?  It's where two short rows are worked into the same stitch and it creates a nested effect that's really striking when you use two or more colours.  I'm not brave enough to try it yet, but I am soooo tempted.
You remember last week I referenced Inigo Montoya?  What are the chances that this week I would happen across an article about Rats of Unusual Size?  But I did…  an article on an actual new species of rats that truly are of unusual size, from National Geographic and everything.  You couldn't make this stuff up!

Yarn Alliance Closes on Friday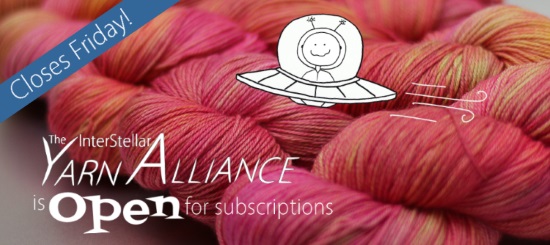 Our premiere yarn club, the InterStellar Yarn Alliance, is open for new subscriptions, but closes in just a few days.  Being part of the Yarn Alliance club is all about gorgeous yarns dyed in exclusive colourways, shared with a wonderful community of fellow club members who are all part of the adventure too.  Plus we create beautiful coordinating skeins to double the fun, and each parcel contains a wonderful club gifts created exclusively for the club by our community of amazing handmakers.  Oh, and a 15% coupon!
We just sent out the last parcel of the current season to our members.  Want to see?  It's on Aurora, our deliciously soft 20% cashmere fingering and I'm just crazy about how the colours flow into one another along the skein.  Can't wait to see it knitted up.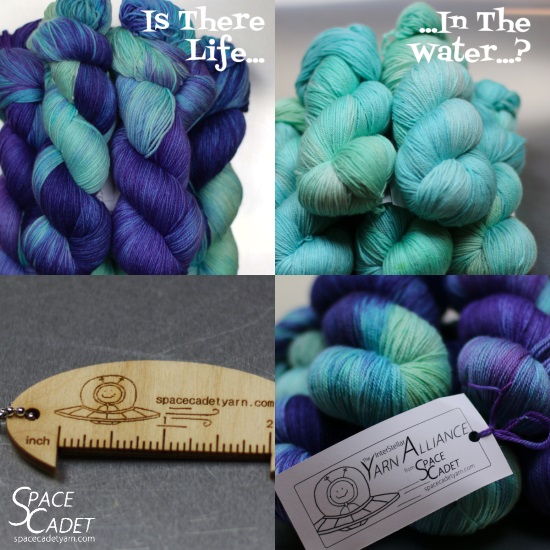 We're welcoming our new members and getting ready to dye their first parcel soon.  If you'd like to join us, click here now and get a spot before subscriptions close!
Shop Update: More Aurora on Oct 11
Aurora is a yarn you have to touch to understand — it's just amazingly soft — and every time I put a skein in someone's hands, I can see them melt a little.  Why? Because it's got twice the cashmere of most MCNs — and what a difference that makes!
But our stock in the shop is getting low, so we've been dyeing a bunch of colours to fill it back up again.  So if you've never experienced Aurora, mark your calendar for Oct 11.  It's well worth it.
Oh, what time?  Well, I need your help with that.  Scroll down to our pop quiz and please give me a hand!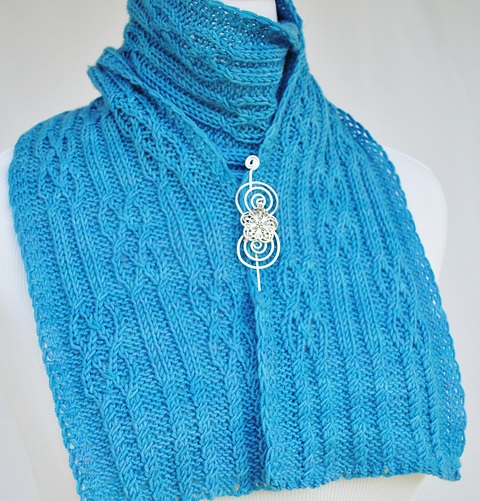 A few weeks ago, I introduced you to Michelle, who makes lovely swirly shawl pins and designs patterns that make them look amazing.  And I was delighted when she recently told me she's created one of those designs in SpaceCadet Lyra!  This is Lavant, a lovely scarf inspired by the diamond-paned windows in the part of England that its named for and perfect for the chilly days on the way.
Lavant is 50% off through October 6th on both Ravelry and Michelle's new website (and, if you visit her website, check out the 'Pinspirations' section for a lot of pics and videos showing all the ways to wear shawl pins!).
The best designs are ones you know you'll wear again and again — and this pattern is definitely one I can see myself practically living in.  Designed in sport weight, it would work beautifully in SpaceCadet Lyra, but I really want to see those thicker stripes worked in SpaceCadet Minis held double so the colours marl and soften.  With a semi-solid for the thinner stripes and a gentle gradient fade from top to bottom, the effect would be just gorgeous!
all images © the respective designers and used with permission

Every time I do a shop update or a special event, I have a dilemma about what time to make it go live.  We have customers all over the country and the world and…  well, timezones can be pesky things!  If I schedule an event for 7am here on the east coast, our west coast customers sleep through all the fun.  If I make it for noon here, it can be hard for my local customers who are at work, my west coast customers who are mid-commute, and our friends in Australia who have gone to bed.  And after work here?  Well, that works for some folks and not for others.  I try to spread the love around by changing the times for each event but it's always such a dilemma!
And then I thought… hey, why don't I just ask you?!?  So today's pop quiz is exactly that:
What time best suits you for shop updates and special events?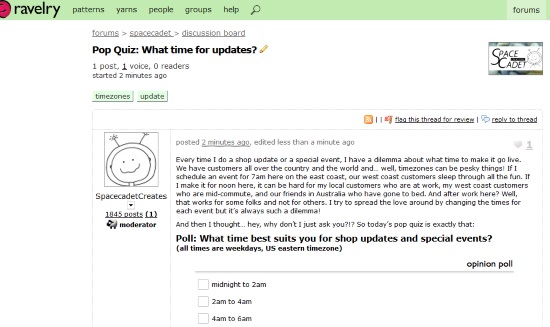 Click here and let me know.  (Fine print and caveats: All times are US eastern timezone, and this is a totally non-binding survey.  If it turns out that the best time for updates and events is 4am eastern, wellllll…  that might not be all that practical — you want me awake enough to update the stock numbers! But your answer here is a huge help and I'm so grateful)
Ok, it's looking like a beautiful day here in Pittsburgh and we have a bunch of boxes to pack and some amazing colourways to dye, so I'd better get to work.  I hope this has got your day off to a great start and, until next time, all my best!