As the weather cools down, sometimes it feels like life speeds up, and it's tempting to skim through our days without really looking at the details.  That's especially true in the morning — rush rush rush to get out of the house! — and that's why I really enjoy taking a little time each week to share all this fiber news with you.  It's such a good opportunity to slow down and breathe.  And to think about yarn and knitting and crochet.  Everything is better when you get to stop and think about fiber-y things like that, right?
(I've got lots of stuff to share with you, but the most important, a case of yarn chicken that went wrong, is right at the bottom so please make sure you scroll all the way down.  There's an almost-but-not-quite-finished sweater handing in the balance!)
Alright, got your cuppa tea?  Let's jump in!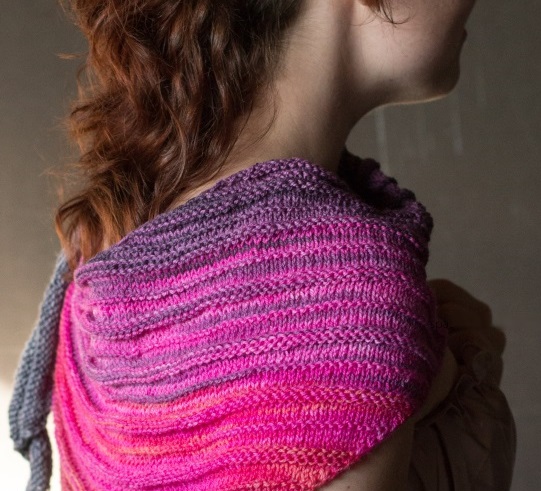 (this image was shot in my horribly messy garage — between a stack of dirty garden equipment and an
unnecessary collection of old paint cans — but look how awesome it makes that gradient Mini-Skein shawl look!)
One of the best parts of knitting and crochet isn't the making… it's the capturing a killer image of your finished object once it's all done. I've always felt that the right background is a huge part of a great photo, so I really enjoyed this article full of tips for making the most of your background. It's written by a bird photographer (for bird photographers?) but, with a little imagination, you can easily adapt it to FO photography.
Knitters and crocheters are great for coming up with hacks and tricks to make things work in new ways. I loved this awesome infographic of 27 Uses for Wool Wash (besides washing wool). Want to know my wool wash hack? Turns out my stash of (indie-made, all natural) wool wash is a wonderfully gentle alternative to shampoo for cleansing curly hair without drying it out or causing frizz (which is pretty logical, once you think about it).
If the words "Hello, my name is Inigo Montoya…" mean something to you, then (1) we can be friends and (2) this should put a grin on your face.
The way you hold your knitting needles or crochet hook can have a big impact on whether you end up with pain in your hands and wrists. And sometimes, the solution can be as simple as changing your grip. This article from Wendy at YarnSub goes through the different ways to hold your needles and the impact that had on both her pain levels… and her knitting speed!
Did you know I started a Pinterest board to act as a stitch dictionary for when I want to find just the perfect texture for a project idea?  I did!  And you can follow it (by clicking here) and use it as a resource for your project ideas too!

Right now
Now

through Oct 6 — The InterStellar Yarn Alliance is open for New Members… it's an AWESOME club so click here to learn more!

Now

through Oct 15 — One-of-a-Kind Fade Sweater Sets Giveaway — click here to enter
This Friday Sept 29 — Spaces open in the Gradient Explorers (currently, we have 8 spots available)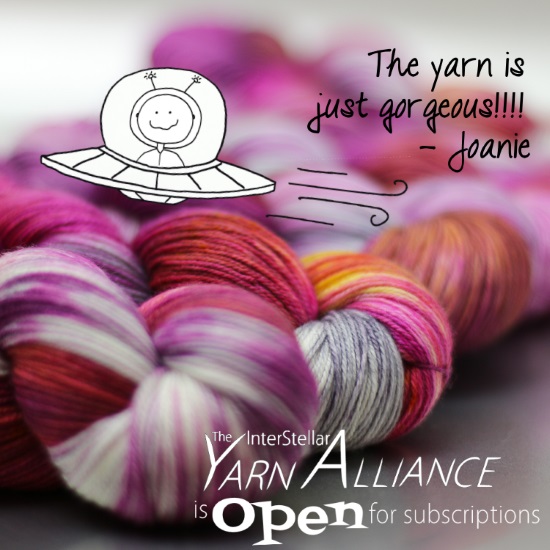 Upcoming
Friday Oct 6 — Shop Update:  this month the yarn is Aurora, our incredibly soft and luxurious 20% cashmere yarn, perfect for warm and cozy autumn projects.
Friday Oct 20 — One-of-a-Kind Fade Sweater Sets Shop Update — watch my Instagram & Facebook feeds for sneak peeks of each set


(all things to keep your neck and shoulders warm…  it's that time of year!)
Magic Dragon Shawl by Heather Anderson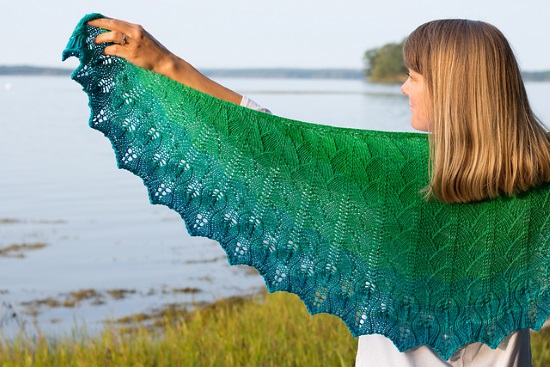 First, the name — seriously, how can you not love a pattern called Magic Dragon?!?  Then second, the stitch pattern along the top — so often with shawls, it's all about the edge but I love the way the top section actually looks like dragon scales.  And lastly, because it's designed in a gradient DK, you could use Mini-Skeins held double to create so many amazing colour change options: hold each skein double on itself for a clear-cut gradient fade; hold two next-door-to-each-other Mini-Skeins together and then switch them out one at time for a very gradual gradient fade; hold two coordinating-but-contrasting skeins together for a marled effect.  So many possibilities!
mad day out by Jenny F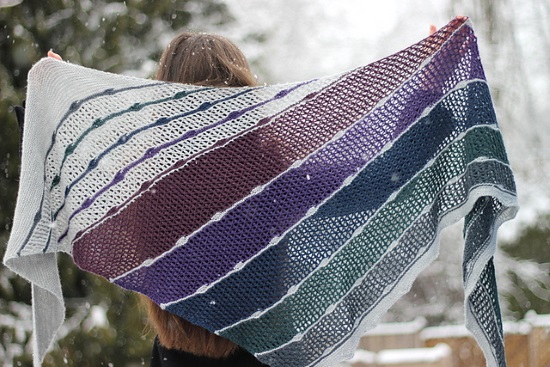 I love when designers do clever things with colour, and this is so clever: see how the same colours from those big panels on the right repeat and reverse themselves in the accent stripes on the left?  And I'm really taken with the visual impact of that mesh-like lacework.  Go back through your Mini-Skein stash and find a gradient set that's been calling out to you, then go and find a great contrast colour to work it with.  The effect will be awesome!
Halftone Cowl by handmade by SMINÉ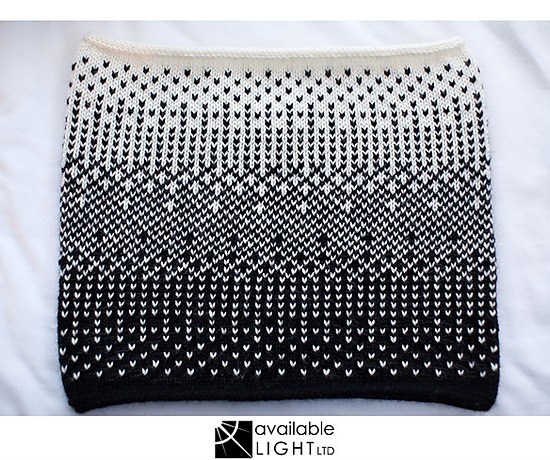 Speaking of clever things, how fantastic is the colourwork on this cowl?!?  It looks incredible here in graphic black and white, but I'm also dyeing to see it in other colour combinations, such as Honey and Drizzle (I love gold and grey!), or the cool blue-purple blend of Feather and Gobsmack, or how about a delicious pink and brown of Troublemaker and Fat-Free Chocolate?  Regardless of what you pick, this pattern will be a delight to knit!

This Friday — 8 Spaces Open in the Gradient Explorers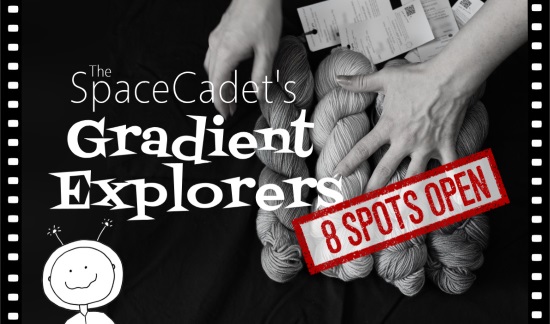 In the Gradient Explorers, we create a Never Ending gradient, just as we do for our Mini-Skeins, but for full-sized skeins so they build up into sweater sets! Just like the Gradient Mini-Skeins, each month's colours will flow into the next but in larger skeins to create bigger colour blocks and more gradual shifts that are perfect for sweaters.
In the last two months, spaces in the Gradient Explorers sold out fast. This month, we have fewer spaces: just 8 available this month. They'll be opening on Friday so click here to read all the details and then, if you want one of those spots, set a reminder on your phone for Friday at 9am! (eastern)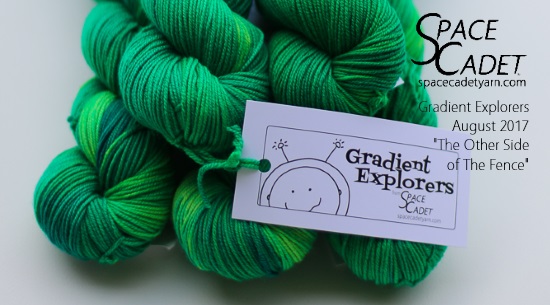 (And for our current members: September's colourway is all dyed and dried. We're twisting them now and they'll be on their way to you this week. I'm so excited for you to see them!)
Sweater Set Giveaway — Choose Your Fade!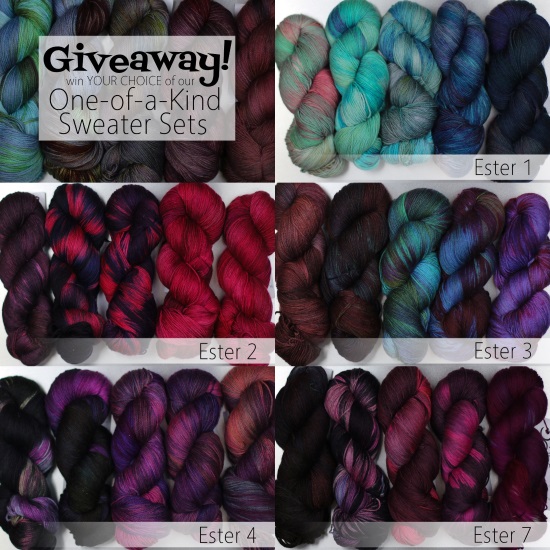 Each day, I've been sharing on Instagram and Facebook our One-of-a-Kind Fade sets that are going in our October 20th update. And the reason I'm sharing them is that if you are are the winner of our giveaway, you get the Sweater Set of YOUR CHOICE our of all the sets we'll be putting in the shop! How awesome is that?!?
There are 35 sets in all — a lot of amazing combinations to choose from. So you'll absolutely want to get entered and then keep your eye on my Instagram or Facebook feed to spot the one you just love!
Entering is easy:click here and give us your name & email address (and Instagram name if you have one).⠀
Then to get additional entries, make sure you're following me on Instagram and think of a friend (or two!) who'd love these fades and tag them here on this post. When they enter and name you as the person who referred them, you'll get an extra entry — one for every friend who enters!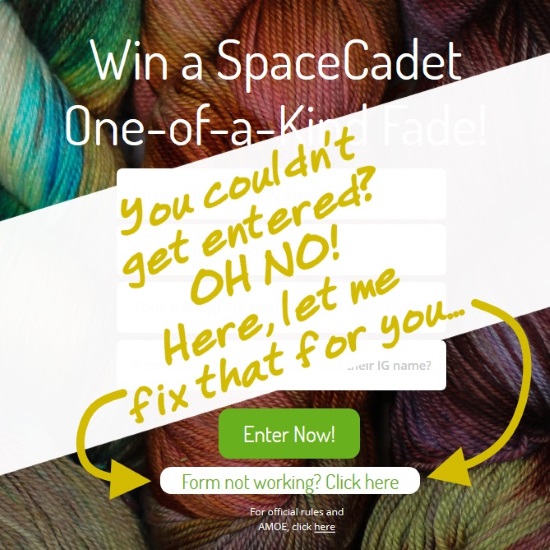 Oh, and a few people let me know they were having trouble using the entry form, so I've put a little workaround in place to fix that. If you tried to enter and couldn't, click here and use that button to be in with a chance to win!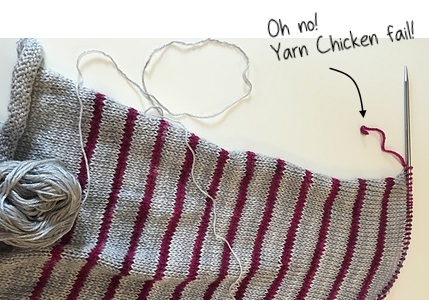 Our lovely Ravelry mod, Fatima, lost at yarn chicken on her last stripe and can't finish her Sacko Stripes without more of the contrast colour!  It was a Mini-Skein from February's bundle — and I've looked everywhere but we don't have any left to send her.  If you've got a SpaceCadet Mini-Skein stash, please could you help her out and see if you've the colour she's looking for?  Click here for the dyelot info.  And thanks a lot!
Ok, and with that, it's probably time for me to head to the studio.  Today I'm working on some developmentals that didn't go as planned last week.  Sigh.  But I know what I did wrong and I'm excited to see how they come out today.  Keep your fingers crossed for me, keep an eye on my Instagram feed for more of those gorgeous One-of-a-Kind fades, and I hope you have a wonderful, creative day!  Until next time, all my best.