Every year on the day after Halloween, I realise that it's somehow turned into November while I wasn't looking and, every year, I wonder how did this this happen?!?  This year, I've woken up with my first cold of the season — you know the kind where you know it's bad even before you're fully awake?  Yeah, that.  Fortunately, I've got a bit of computer-work lined up so I suspect today will be spent mostly on the couch with my laptop, Olbas Oil, and a nice steaming pot of tea.
But before that, I've got a ton of great fiber news I found during the week and I can't wait to share it with you!  So you grab a cuppa and get comfy, and let's spend five minutes together to start Wednesday off right.  Here we go…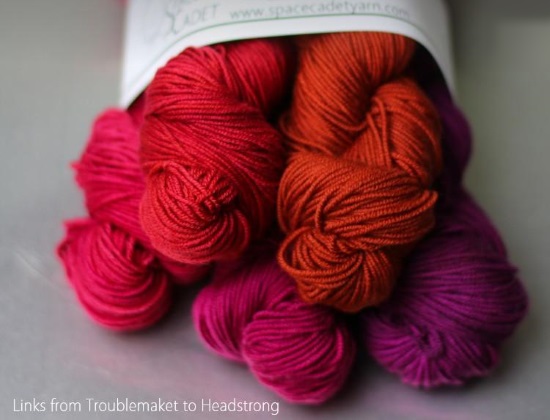 Upcoming
Saturday Nov 11: Indie Knit & Spin in Regent Square, Pittsburgh.  One of our favourite shows!  Click here for details.
Friday Nov 17: Gradient Explorers spaces open!   At the moment, we have 4 spaces open for The Gradient Explorers, and they'll be opening on Nov 17.  Click this link to read the details, and enter your email make sure you're the first to hear about them.

On Circular Yokes…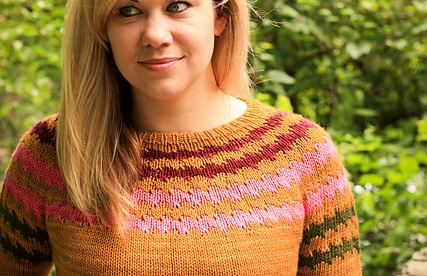 Road to Giza by Kristen Jancuk (© Kristen Jancuk, used with permission)
If you've never knitted a circular yoked sweater before, this nifty article will walk you though the basics of circular yokes and the pros and cons of yoked construction.  It's a really great (and inspiring!) introduction.
Stranded colourwork means using two colours in each row, carrying (stranding) one of the colours behind the other.  I found two great tutorials (here and here) that give step by-step images to show you the different ways to hold your yarns and keep your sanity while you do it.
And finally, choosing the right colours is crucial to successful colourwork.  This article gives some great tips to help you step just far enough away from your default colours (we all have 'em!) to choose hues that will really make your colourwork pop!
And Other Cool Stuff…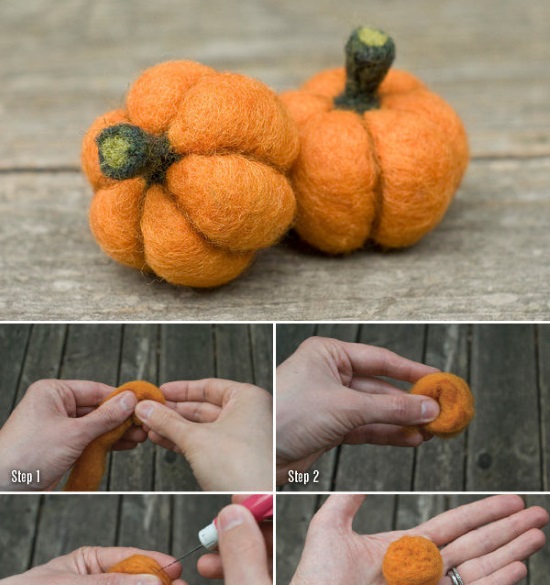 With Halloween last night and the first day of November dawning this morning, it's full speed ahead to Thanksgiving here in the US.  I love the look of these adorable needle-felted pumpkins, perfect for decorating the Turkey Day table.  And, even better, there's a fabulous step-by-step tutorial for making them!  If you've never tried needle-felting before, it's easy and lots of fun and gives that awesome woolly fiber fix we all crave.  Try it!
If (like me) you have trouble getting your gift-knitting/spinning/crochet done in time, these tips might come in handy.  I think number 2 is BRILLIANT!
And lastly, I'm honestly not exactly sure where you'd ever wear this crocheted hat but it totally cracked me up!

October's Mini-Skein Club bundles were so perfect for the season! The Multicolour Mix (top) just feels like October all over — so bright and warm and Halloween-ish.  And the Ombre & Gradient Mix (bottom) is a journey of purples as we leave the warmth of autumn and start heading toward the season of ice and cold.  Everyone has their own colour comfort zone — which of these is yours?
The SpaceCadet's Pinterest Boards: Leaves & Nature Motifs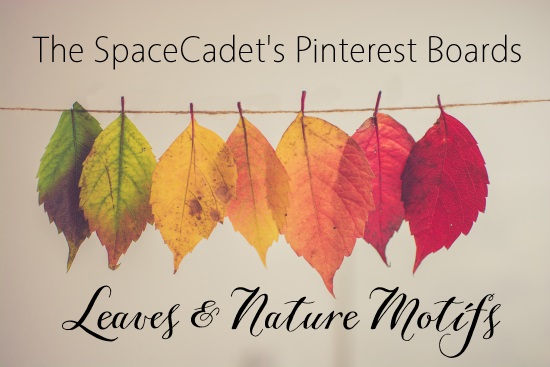 Photo by Chris Lawton
This time of year, I am so inspired by the fabulous show that nature is putting on outside my window that all I want to cast on is designs that capture the best of the season: leaves, wind, branches, ice and snow.  If you're like me, you'll want to check out my Leaves & Nature Motifs board on Pinterest.  It's full of pattern ideas that are perfect for this time of year!  Click here to go to it and then, once you're on the board, click the images to enlarge and again to go through to the corresponding pattern or webpage.
And did you know I started a Pinterest board to act as a stitch dictionary for when I want to find just the perfect texture for a project idea?  I did!  And you can follow it (by clicking here) and use it as a resource for your project ideas too!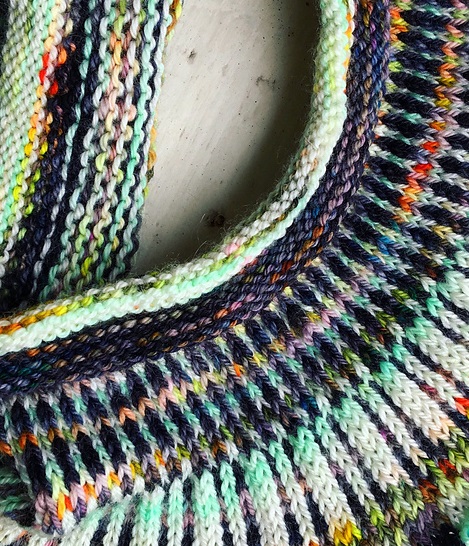 The thing that caught my eye about this design first was the designer's tagline: "When English is my language, I speak softly; when color is my language, I scream."  And then I looked at her stranded colourwork on this design and realised how true it is.  Most of the yoked sweater designs I've seen use elaborate motifs with very simple colours.  This one uses a really simple motif combined with fabulous variegated colour.  Fun!
The kid-sized pattern releases this Friday, with an adult version to follow  — and the adult version is included with the purchase of the kid-version.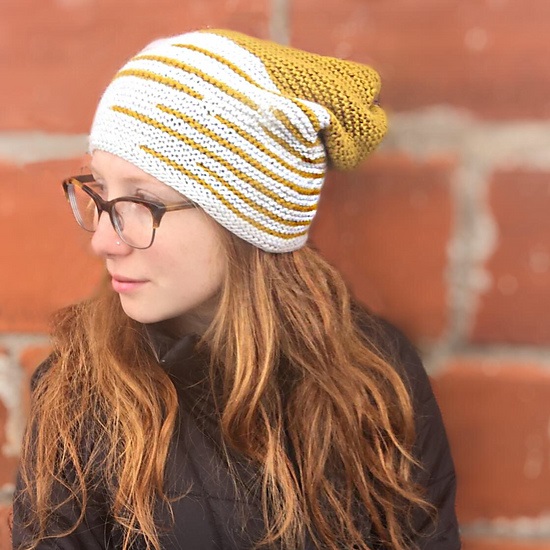 So, ok, this hat is knitted in two (lovely) solid colours but, as soon as I spotted it, I knew it was one of those awesome patterns that simultaneously brings out the best in a variegated yarn while also controlling the overwhelm by pairing it with a semi-solid.  I'd love to knit it in Lyra in Molten Cool and Drizzle, Time Traveller and Longing, or Breeze and Plume.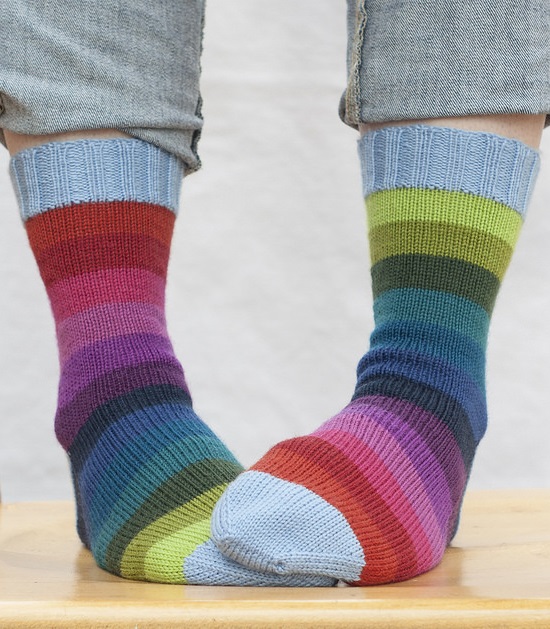 How's your holiday knitting going?  Yeahhhhh…  But simple socks are such a fab gift and when someone else has done the math and all you have to do is put together the rainbow yarn and cast on, well, you're half-way there!  If you're in our Mini-Skein Club, do a little stash-diving and start lining up your colours — they're going to look awesome.
all image © the respective designers and used with permission
Ok, Back to Reality…
See, I told you I had a bunch of cool stuff to share!  But now it's time I made another pot of tea and get back to work.  Please keep your fingers crossed that I can send this cold on its way quickly, and I hope you have a happy and healthy start to your November.  Until next time, all my best!