Do you remember a couple of weeks ago when I said I thought I was coming down with maybe a cold?  Oh, how naive I was!  What I was coming down with was actually the Real Flu and I have never been so sick.  Never, ever.  I will spare you the gory details (and they are gory!) but to say that I have been laid up in bed and unable to work since Halloween.  My entire family has had it, the SpaceCadet crew has had it, and I am currently on Day 17 and I haven't kicked it yet.  In fact, I was in such bad shape yesterday that I dragged myself to the doctor for the third time in two weeks (and I never go to the doctor!).
So, because much of the crew and I have been out of action, our schedule is a little out of whack (Yarn Alliance members, your parcels will be a little late — I really appreciate your patience).  But I now have new meds (yay!) and new hope(!) and I'm ready to jump back into our regularly scheduled fiber fix.  Are you ready too?  Here we go…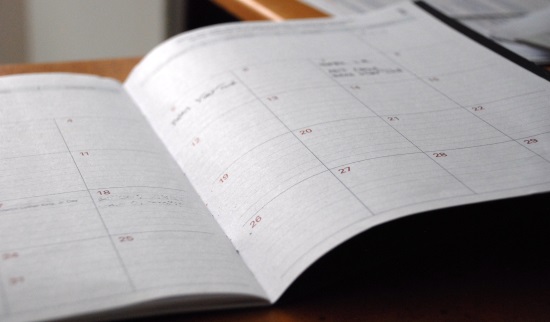 Right Now
Friday Nov 17: Shop Update  To get ready for the upcoming holiday season, we'll be putting a bunch yarns in the shop on Friday.  Look for Vega, Lyra, Lucina, Astrid, Aurora, and Elara to appear between 8am and noon (eastern).
Tuesday Nov 21: Gradient Explorers spaces open!   At the moment, we have 6 spaces open for The Gradient Explorers, and they'll be opening Tuesday at noon (eastern).  Click this link to read the details, and enter your email make sure you're the first to hear about them. 
Upcoming
Black Friday: Something Special!  I can't say more than that, but it's gonna be fun!  Look for details in next weeks's newsletter
Cyber Monday: Something Else Special!  Same deal: no details but watch this space…
Friday Dec 8: The SpaceMonster Mega Yarn Club opens.  I love this club — all about the smooshiest of yarns.  Click here for all the details and get on the list to get first dibs!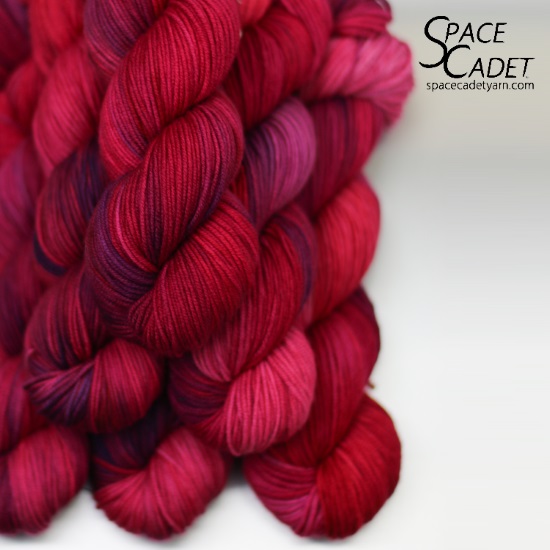 As the weather gets cooler, I am in the mood to knit mitts and I loved (loved loved) this quick primer on mitten and thumb gusset anatomy from knitmaster Kate Atherley.  I've got a couple of gorgeous skeins of Reserve (above) from the SpaceMonster Club staring at me on the shelf…  maybe I'll cast on right now!
Speaking of casting on, you'll notice I never mentioned a pattern?  Heh.  I'm notorious for just starting a project with no pattern and trying to wing it.  Sometimes it works…  aaaand sometimes it doesn't.  Either way, I was really excited to see the release of the new book Design Your Own Crochet Patterns by Sara Delany.  We'll see if it improves my success rate!
And if you're as excited about that new book as I am, you'll want to know that the Moogly blog is giving away a copy.  Click here before the end of the month to enter.
Saturday was Veterans Day in the US and, in the UK, it was Remembrance Day, for which most Brits wear red poppies on their lapels to commemorate the fallen.  Usually they are made of cardstock, sometimes of silk, and this film from the BBC shows the results of eight months of dedicated knitting and crocheting by the residents of Walsham-le-Willows: no less than 5,000 handmade poppies to adorn the village church.
Ahem. How to turn a pretty cute heart pattern into something else altogether: this (not-safe-for-work!) crocheted hackeysack pattern made me grin.
If you have leftovers in your stash and don't know how many yards they are, this quick tutorial will have you calculating the yardage of your partial skeins in no time.  Because mathing is totally worth it if it means you get to use more of your yarn!

Emily Connell Designs…  A Steeked Shawl!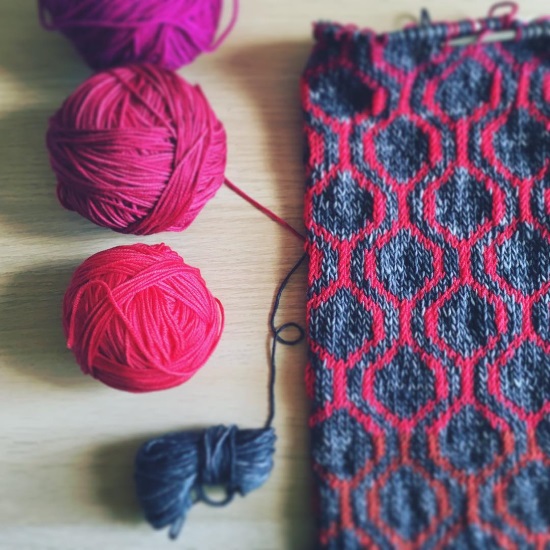 As much as I hate the idea of someone taking a pair of scissors to our yarn (eek!), I am so looking forward to the release of Emily Connell's Study Break Shawl in Knotions magazine.  Created in SpaceCadet Capella and Vega, it has beautiful colourwork and all the added excitement of steeking!
The new issue will be going live on Saturday (and we'll have yarn in the shop) so click here this weekend to get your copy!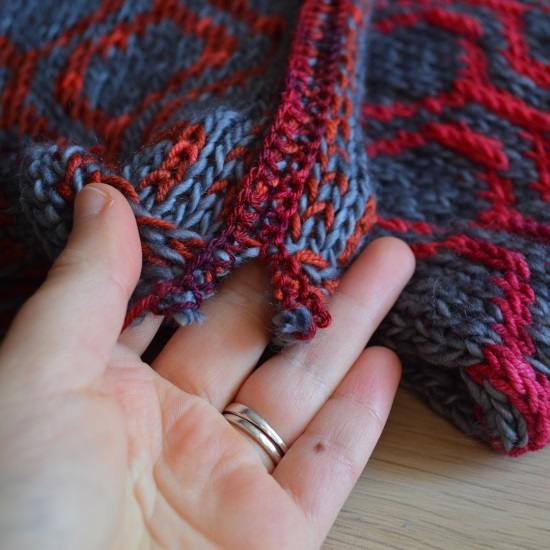 images ©Emily Connell,  used with permission
I Played a Lot with Colour!
If you follow me on Instagram or Facebook you'll know that, while I've been sick (and unable to sleep at night), I had a lot of time for knitting with the latest SpaceMonster Club colourway, Bonfire (above).  I had sooo much fun playing with the colours: pooling them, creating pseudo-stripes, and incorporating slipped stitches.  The different effects were stunning and, sometime soon, I'll put together a blog post to walk you through it. But in the meantime, check out the images I've been sharing (below).  And, if you don't follow me on social media, click here for Instagram and here for Facebook!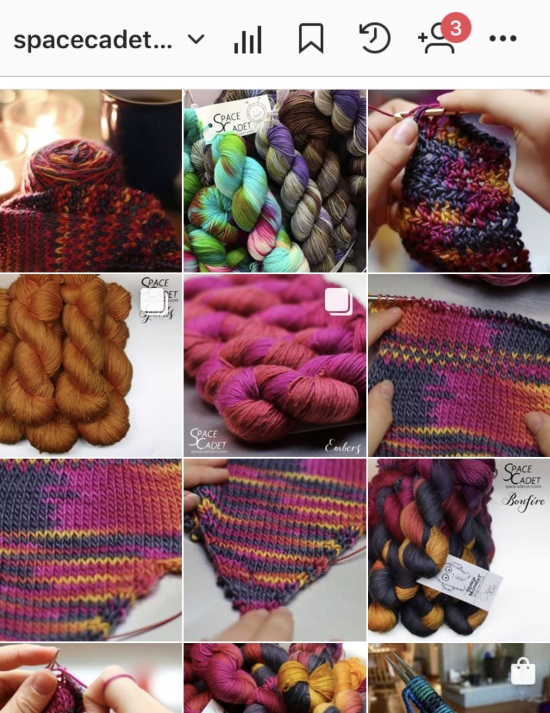 If you follow me on Instagram or Facebook, you'll know that, while I've been sick, I've filled a lot of the hours (when I simply couldn't sleep) by knitting.  And one of the things I played a lot with (…and fell in love with!) was slipped stitches.  And so, as I gathered the patterns that caught my eye this week, I realised there was a bit of a natural theme happening.  See if you can spot it…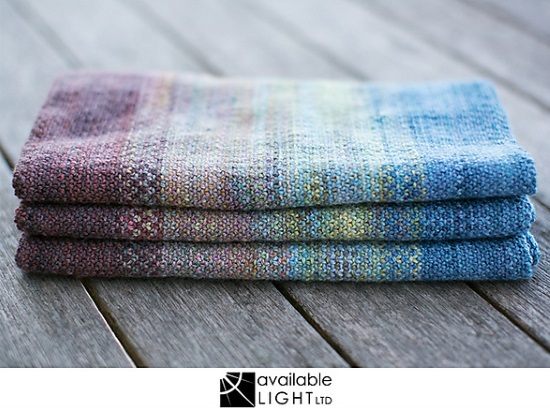 Linen stitch is a wonderful way to use slipped stitches to blend colours and without muddying them.  I love the way this scarf softens a gradient into a stunning watercolour effect.  If you've got a stash of SpaceCadet Ombre & Gradient Mini-Skeins, this is the perfect pattern choice!
Slipped Cowl by Rebecca Velasquez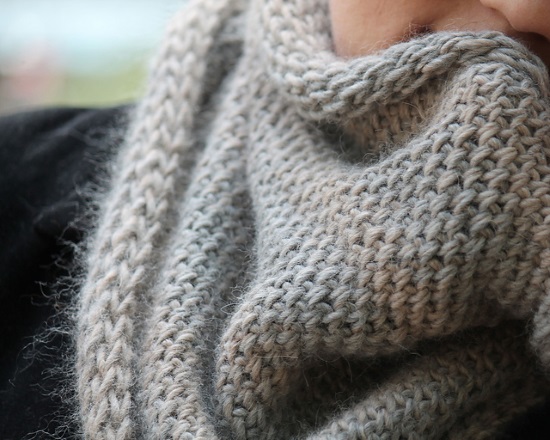 Slipped stitches can be a great way to show off a heavier yarn in all its smooshy glory.  This crocheted shawl does exactly that, working its magic on to create great texture in a simple semi-solid yarn.  But try it with a variegated colourway on Capella and  it will look equally stunning!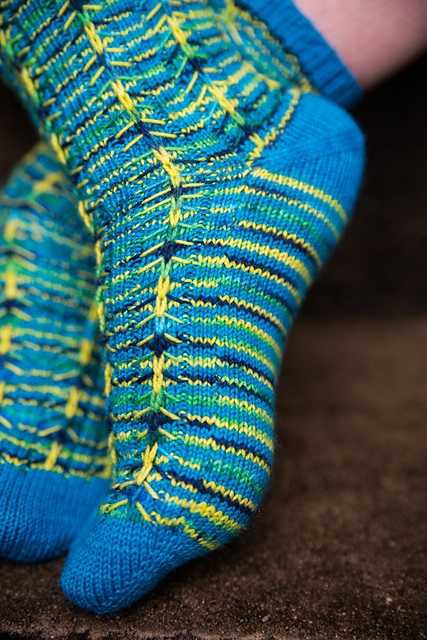 The other two patterns used all-over slipped stitches but these socks show off just how effective strategically placed slipped stitches can be. Incorporating a lifted bar of yarn, this is called Sandpiper Stitch and creates a really stunning effect!
images © the respective designers,  used with permission
Yarn Alliance Members: Share Your Projects!
Because the flu has us running a bit behind on the Yarn Alliance parcels, Fatima suggested we could help the new members' in their anticipation by sharing past projects we've made in our club yarns.  If you've got a great FO (or WIP!) in a Yarn Alliance colourway, pleas click here and show us!
Thank You!!!
Before I go, I just want to say how wonderful its been getting everyone's well wishes on Facebook and Instagram.  Seriously, when you're as sick as I've been and up all night in the dark with that never-ending cough, getting little messages of support and encouragement mean so much.  Thank you so much getting in touch and giving me moral support — I really really appreciate it.
Ok, and on that note, it's time to get back to real life and start the day.  I'm going to do some simple computer work and then maybe maybe maybe head down to the studio and see how I feel.  Keep your fingers crossed for me!  And until next time, stay healthy, stay warm, and all my best.