This week has been all about little changes.  As much as I wanted these meds to kick in and fix everything Right Now, that's not how pneumonia works.  The vicious cough is clearing up at last and, every day, I can push myself to do a little more than I did yesterday.  But then I hit the limits of what I can do, and it hits back hard.  The other day I carried a bag of yarn about a hundred yards and then had to sit down quickly because I was suddenly thisclose to passing out.  As much as I want to make my body do what I want it to do, it keeps reminding me that that's not how pneumonia works. Ok, ok, I'm listening.
But the other changes?  They're magical!  It's time for those the wonderful little shifts from the daily grind to holiday twinkle.  And while I haven't had the energy to drag everything out and do all the decorating at once, every day there's a little more sparkle in the house: a wreath of holly on the door, a centerpiece of oranges on the table, and a lot more candles.  I like my holiday decor simple and as homemade as possible so, naturally, I've been thinking of ways to hand-craft a little holiday spirit for the home — and you'll spot that influence in this week's pattern picks too.
But for now, I'm ready to grab a cup of tea and share this week's fiber news with you.  Are you ready?  Here we go!…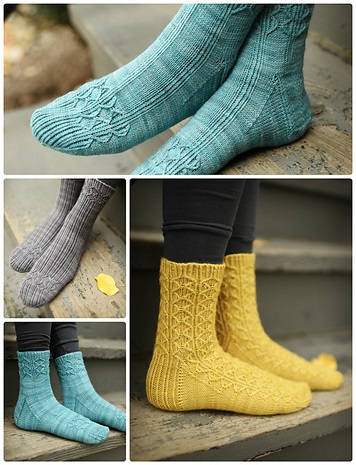 I know I mentioned it last week, but don't forget that the wonderful designer Hunter Hammersen is taking the idea  of an Advent calendar and applying it to her gorgeous designs!  Each day from Dec 1st to 24th, she'll put one of her patterns on sale, throwing in giveaways for the accompanying yarn along the way.  Look for her Changeful socks this Thursday (and a chance to win a skein of SpaceCadet Oriana!)
I absolutely swooned when I spotted these awesome knitted dishes from Ikea!  Have you seen them?  They're part of their Vinter collection (so maybe only available for the holidays?) and each piece has a different textile pattern: knit stitches, cables, linen stitch, chevrons…  I want them all!
This (not safe for work!) zippered pouch made me laugh out loud. There's someone in your knit group who would love it.
A couple of weeks ago, the SpaceCadet team and I were discussing the best way to strip herb leaves from their stalks.   Jill has a particularly abundant herb garden and is so generous to the rest of us (did you see this?) but sometimes fresh herbs are just really argumentative (I'm looking at you, Thyme).  So I nearly fell off my chair when I saw this amazing knitting tool trick for stripping fresh herbs super quickly and easily.  Seriously game-changing!
Speaking of cooking, this video showing how to knit an apple pie has got me totally inspired (…and kind of hungry!)

Put These Dates on Your Calendar…
The SpaceMonster Mega Yarn Club Opens This Friday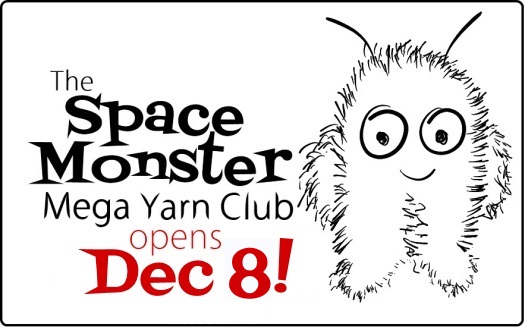 The other day, I was scrolling through Instagram and spotted a comment on one of my posts from a member of the SpaceMonster Club.  I'd been knitting a mitt out a club colourway and she'd simply said, "I love this club!"  And you know what?  Reading that absolutely made my day, because that is exactly what I want our club members to feel!  Being a part of the SpaceMonster Club is about gorgeous new colourways, awesome gifts, and the fun of sharing it all with a community of fellow club members.
The SpaceMonster Club opens to new members only twice a year, and we open the doors at noon on Friday Dec 8 and I always give first dibs to folks on the waiting list, so click here for all the details and get on that list!
(And you know what's the best part?  It makes an excellent (and easy!) holiday gift that lasts a whole year!)
Our Cyber Monday Special: Saving Your Last-Minute Bacon!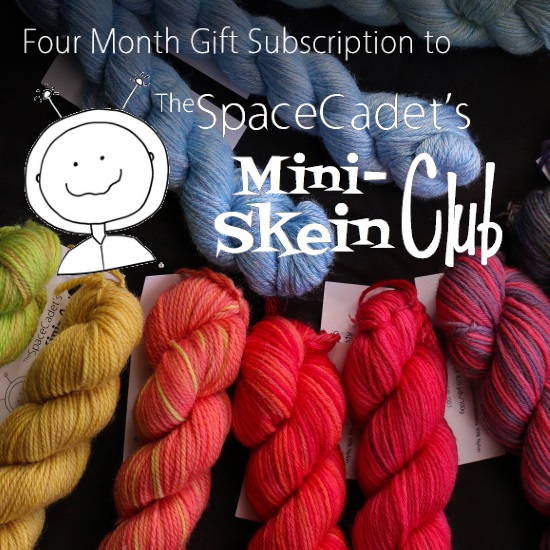 You know that our popular Mini-Skein Club is a super-fun way to collect a palette of colours but, because it's an ongoing subscription, I know it's a little tricky to give as a gift.  So just for the holidays, we've put together an awesome option for easy gift-giving… Now you have the chance to give a one-time gift subscription to your favourite knitter or crocheter — or try it yourself!
And y'know, I've never been one of those (amazing) folks who get all their holiday shopping done on Dec 1 —  I'm always scrambling a few days before the holidays to find the perfect gift.  And if you're that kind of person too, I getcha!   So I'm making our Four-Month Gift Subscription available right up to Dec 23 to save your last-minute-shopping bacon!  Tell us who your gift recipient is and we'll be sure to send them an email to let them know what you've got them.  Click here for all the details.
Ok, I think it's time I got to work.  I won't be lifting lots of things and tiring myself out today, but we do have a bunch of orders to go out and I'd better get the paperwork started.  The best bit about sending packages?   Checking out the colour combos each customer came up with, and then writing a little note just to say hi!  Today, I've got a ton of those to do, so I know it's going to be a good day.   I hope yours is just as good and, until next time, I wish you all the best.