This time of year is so busy, with so much rushing back and forth and all the things that (we think we) have to get done, it's easy to forget how much good there is out there.  I have received so many emails and messages over the last couple of weeks from readers and customers sending me good wishes to get better soon, and they've absolutely warmed my heart.  Seriously, I appreciate it so much.
I went to see the doctor last week, a follow-up to ending up in the ER (did I tell you I ended up in the ER?) where they finally spotted that I had pneumonia and gave me the meds I'd been needing for a month (hooray!!!!).  Anyway, I had my follow up and the doctor is pleased with everything, told me I'm on the mend, and then said…  wait for it…  "Now you know, with pneumonia, for every day you were sick, you should expect it will take two days to recover."  Friends, I'd been sick — really sick — at that point for a month!  How am I supposed to manage taking another two months to recover?!?  But you know what, I've tried pushing my body this week and it has adamantly pushed back so… perhaps I'll have to let it take its time.
And in the meantime, I've been relying on my awesome SpaceCadet crew: Jade, Sara, and Jill.  They have absolutely carried everything for the past month and if you've received yarn from us this month, it's really they who made it happen.  So I just want to take a moment to acknowledge how fantastic I think they are (just in case you — or they — didn't realise).  With that kind of support in both the studio and from our customers, I'm feeling so grateful.
But it's still that crazy season and there's a lot going on — and lots to share with you!  So shall we get to it?  Pour a nice cup of tea (mine is never far away!) and curl up in a comfy spot, and let's dive in…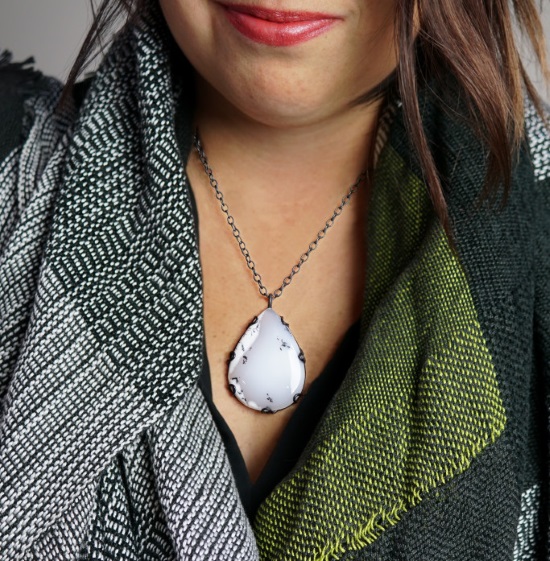 Image ©Megan Auman, used with permission
'Tis the season for scarves and shawls (hooray!) but 'tis also the season for fancy holiday outfits that often call for a bold statement necklace.  Can you wear the two together?  Yes, according to this article (though personally I'd add that, at least when the shawl or scarf is handmade, the necklace needs to be non-snagging!).  And this sister article gives three ways to style it.
Did you see this?  I used one of our Notions Boxes to tidy up my needles and notions and made a sweet little video as I went along.  It makes me happy .
Hanukkah began last night and I've seen a lot of awesome crocheted menorahs (like this one) but this round-up of DIY menorahs actually had me laughing out loud.  Hard to pick my favourite but I think it's Number 2.
I know I mentioned it in previous newsletters, but don't forget that the wonderful designer Hunter Hammersen is taking the idea  of an Advent calendar and applying it to her gorgeous designs!  Each day from Dec 1st to 24th, she'll put one of her patterns on sale, throwing in giveaways for the accompanying yarn along the way.  Today it is the beautiful Permutation hat (and a chance to win a skein each of Capella and Cressida!). Check out Hunter's Instagram feed to join the fun!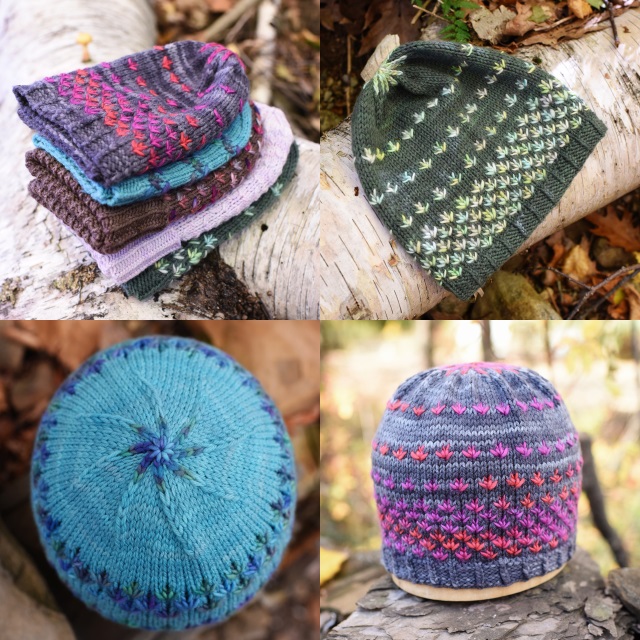 We've got you covered for easy holiday gifts…
The SpaceMonster Mega Yarn Club is Open for Subscriptions!
"This is such a fun club… and of course the Space Cadet colorways are so beautiful" — it's comments like this one from our SpaceMonster Club members that make everything so much fun!  We spend a lot of time planning everything that goes into the club to ensure that being a part of the SpaceMonster Club is about gorgeous new colourways, awesome gifts, and the fun of sharing it all with a community of fellow club members.  And when we get comments like that?  It makes all the hard work worthwhile!
The SpaceMonster Club opens to new members only twice a year and only for two weeks.  It's open now until Dec 23, and then it closes again for a whole six months so, if you've been thinking about joining, you'll want to grab a spot now!  (And you know what's the best part?  It makes an excellent (and easy!) holiday gift that lasts a whole year!)

Four Months of Mini-Skeins: a Gift Subscription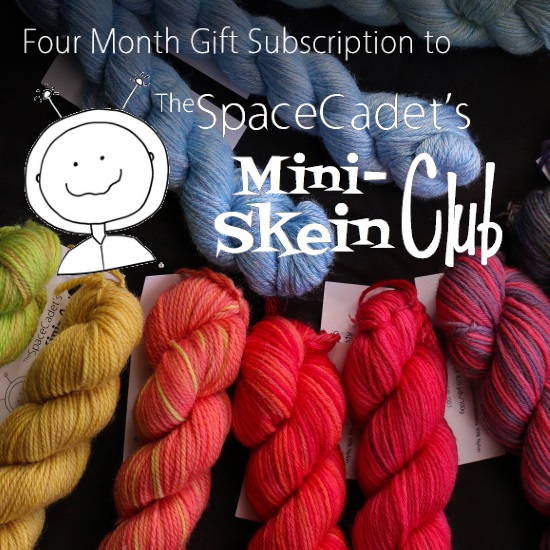 You know that our popular Mini-Skein Club is a super-fun way to collect a palette of colours but, because it's an ongoing subscription, I know it's a little tricky to give as a gift.  So just for the holidays, we've put together an awesome option for easy gift-giving… Now you have the chance to give a one-time gift subscription to your favourite knitter or crocheter — or try it yourself!
And y'know, I've never been one of those (amazing) folks who get all their holiday shopping done on Dec 1 —  I'm always scrambling a few days before the holidays to find the perfect gift.  And if you're that kind of person too, I getcha!   So I'm making our Four-Month Gift Subscription available right up to Dec 23 to save your last-minute-shopping bacon!  Tell us who your gift recipient is and we'll be sure to send them an email to let them know what you've got them.  Click here for all the details.

North Point by Simone Kereit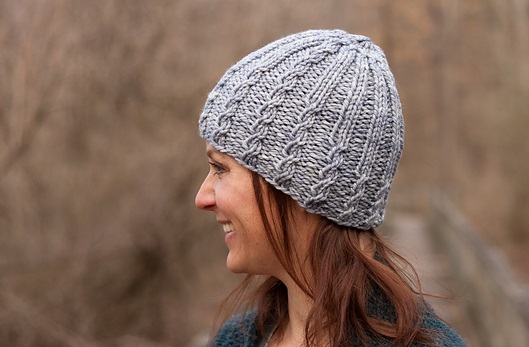 The first thing to love about this hat is the way the cables are all set to different heights…  do you see that?  It not only makes the finished object super-cool, but keeps your interest while you're making it too.  And the second thing to love is that is it's part of a collection called "Procrasti Nation: Quick projects for the last minute crafter", which is just tailor made for anyone starting a gift this late in December (*raises hand).  And the third is that the designer, Simone, is an absolutely lovely person, which always makes a pattern more fun to knit, don't you think?
Are Ewe Feeling Sheepish? by Melissa Kemmerer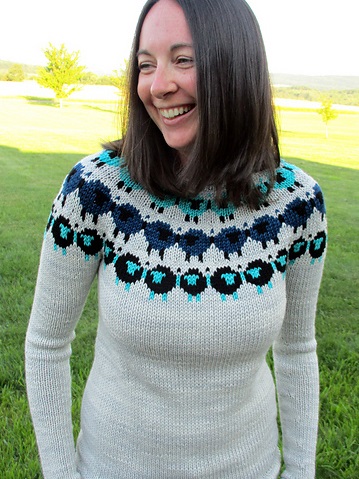 One of THE trends of this season has been stranded colourwork yokes and, while so many of them are classically beautiful, I think my favourite might be this one with its adorable sheep repeated around the neckline.  Knit in nature-inspired neutrals or pop-art brights, it's a witty alternative to traditional motifs that will keep you smiling from cast on to bind off.
A Lady is Known by Hunter Hammersen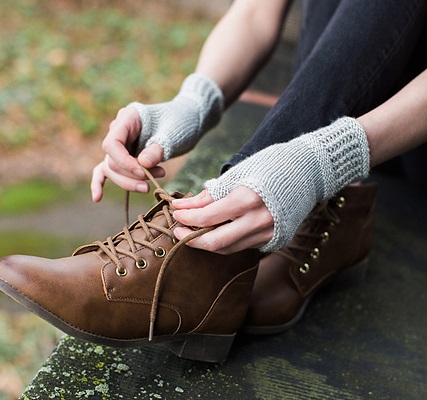 This past week, I swapped handbags — there was something about the chill in the air that made me feel it was time for a change, so I went in my closet and pulled out a bag that I love but hadn't used in a long while.  And inside, amongst the random coins and old receipts was a project bag containing the start of these beautiful mitts, still safely on their double points.  That's where they were!  So naturally, I have to share this this beautiful pattern with you.  Mine are (started) in the colourway Molten Cool (and I might snap some photos of it and show them on
Instagram
— they're lovely).  But if you're stuck for a last minute gift, these are an awesome and quick option (as long as, y'know, you don't lose them in an old handbag…)
All images © the respective designers and used with permission
Ok, it's time to get back to real life and get today started!  I've got some photos to take, and then I might cast on a last minute gift (
keep your eye on my Instagram
— if I get the yarn caked up in time, I'll show you the colours I've chosen).  I hope your day is filled with lots of good things (and maybe a new project?) too.  And until next time, all my best!