Hooray! Hooray!  It's the Winter Solstice!  Officially the first day winter, what it is really is the shortest day of the year (and, therefore, also the longest night).  Having lived for so long in Britain, where the sunrise on the Winter Solstice can be as late as 9am and sunset as early as 3.30pm, the solstices have special meaning for me because, while today is the depth of Winter's darkness — something to enjoy with candles and tea and warm blankets and cosy knitting — tomorrow we begin the slow lengthening of the days that will take us, day by day, back to summer.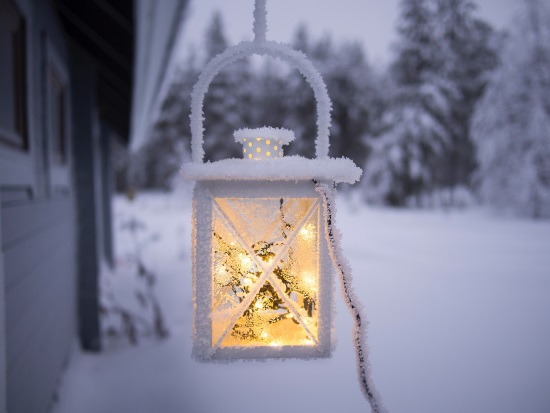 Photo by Mira Kemppainen
And of course Christmas is only a few days away (what?!? I'm so not ready!) and, while it is the season of peace and joy, it really can feel like anything but.  So much to do, so much traffic, things to remember, and things you forgot…  And I think the best way to remedy that is by spending time in the company of good friends and family (who don't care what you did or didn't forget), indulging in much-loved slow traditions (ours is decorating our tree on Christmas Eve by taking the whole day to make gingerbread men and saltdough stars — I love the smell of pine and gingerbread!), and naturally, curling up at the end of it all with your needles or hook to let go of whatever stress you're still holding onto to.
And to help make that happen, I've gathered up some wonderful yarny things to share with you. So grab a cup of something lovely and steamy, find a comfy spot to sit, and enjoy!  Oh, and make sure you read to the bottom, because I've got a special request of you, ok?  Right, here we go…

To me, colour is something to dive into with abandon but I know that lots of folks find colour combining really intimidating.  If that's you, check out this article with some really excellent and simple tips to take the tension out of putting colours together for stranded colourwork.   Really worth reading.
Some knitters and crocheters are in it for the finished object, some are in it for the math (bless 'em), and some of us are in it to give that creative energy a healthy place to go.  If you're the latter (a "chaos maker" according to my assistant Jade), you'll be nodding your head at this list of Twenty Things Only Highly Creative People Would Understand.  And if you're not, it might help you make a little more sense of the chaos-makers in your life.
Pom-poms are everywhere at the moment and everyone knows that gradients are gorgeous.  I love this tutorial combining the two to show you how to make a gradient pom-pom.  Because that's what your life was missing and now you are complete.  (Mini-Skein Club members: go on, get on it! and please send me pictures so I can see!)
Nothing to do with knitting but everything to do with winter and I am totally going to try this one cold day: blowing bubbles in freezing temperatures is stunningly beautiful!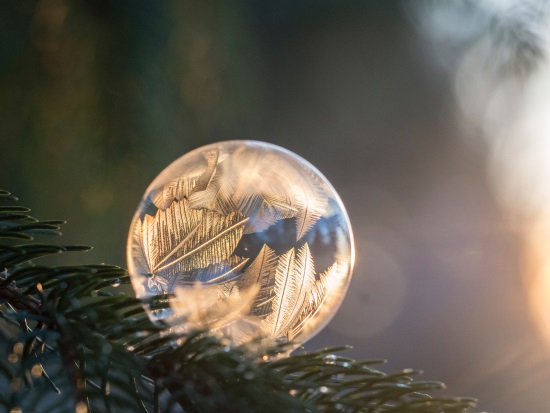 Photo by Aaron Burden

There's no time to order anything and the shops are just insane.  But don't worry, we've got you covered for last-minute gifts that will be an instant hit…
The SpaceMonster Mega Yarn Club is Open Now! (But Closes Saturday)

A SpaceMonster Club subscription gives yarny goodness all year long!  We spend a lot of time planning everything that goes into the club to ensure that being a part of the SpaceMonster Club is about gorgeous new colourways, awesome gifts, and the fun of sharing it all with a community of fellow club members.
The SpaceMonster Club opens to new members only twice a year and only for two weeks.  It's open now until Dec 23, and then it closes again for a whole six months so, if you've been thinking about joining, you'll want to grab a spot now!  (And you know what's the best part?  It makes an excellent (and easy!) holiday gift that lasts a whole year!)

Four Months of Mini-Skeins: a Gift Subscription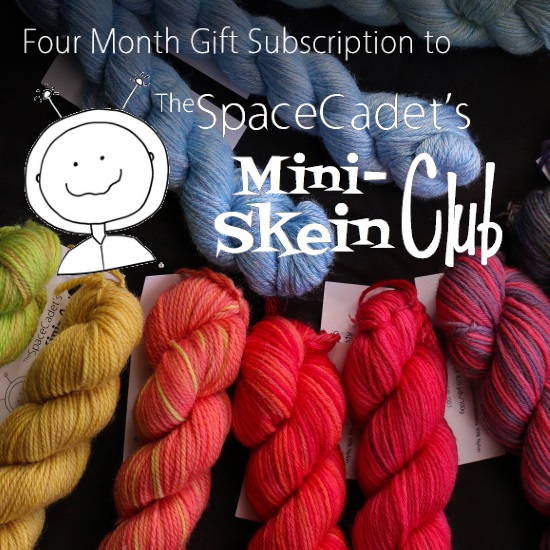 You know that our popular Mini-Skein Club is a super-fun way to collect a palette of colours but, because it's an ongoing subscription, I know it's a little tricky to give as a gift.  So just for the holidays, we've put together an awesome option for easy gift-giving… Now you have the chance to give a one-time gift subscription to your favourite knitter or crocheter — or try it yourself!
And y'know, I've never been one of those (amazing) folks who get all their holiday shopping done on Dec 1 —  I'm always scrambling a few days before the holidays to find the perfect gift.  And if you're that kind of person too, I getcha!   So I'm making our Four-Month Gift Subscription available right up to Dec 23 to save your last-minute-shopping bacon!  Tell us who your gift recipient is and we'll be sure to send them an email to let them know what you've got them.  Click here for all the details.

Fir shawl by Melody Hoffmann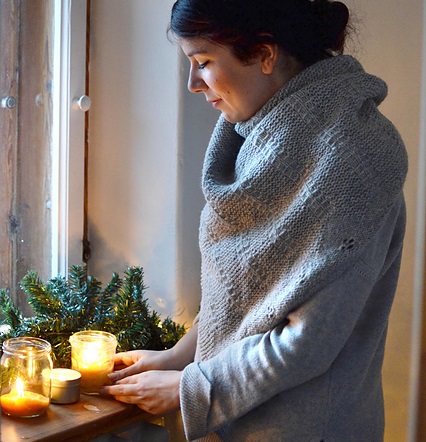 To me, the deepest, darkest winter is all about texture — and this beautiful shawl's incredibly subtle texture is absolutely perfect.  Knit in worsted weight yarn, our Vega would show off the stitchwork perfectly.  Knit it in Drizzle or Dark Skies for a wonderful neutral look, Longing for colour of deep pine forests, or Troublemaker to shake things up a little.
Fissure by Simone Kereit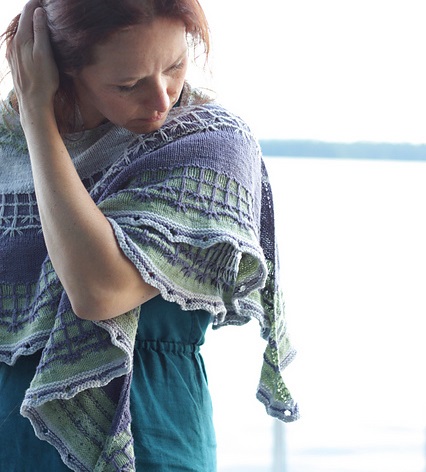 Texture combined with gentle colour might be even better.  I absolutely love the three-dimentional effect of the shawl's stitchwork, where one colour layers over another.  Ah, the magic of slipped stitches!  Try it in Oriana in the colourways Sliver, Breathless and Drizzle for an ethereal look.  Or go for Feather, Crisp, and Plume for a striking cool-hued combination.
Jessica Jones by handmade by SMINÉ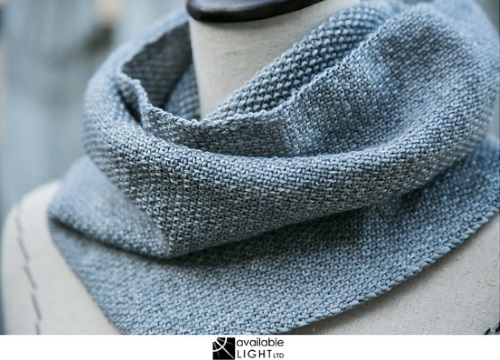 And there's probably no texture more sublime than classic linen stitch.  This beautiful cowl is pattern shows it off perfectly, and is available for free until midnight Dec 24 (New Zealand time). Knit it in Oriana in the colourways Dark Skies or Fat-Free Chocolate for wonderful winter neutrals, Thrive for a subtle colour play, or Tickled or Gobsmack to make a real statement.
all images © the respective designers and used with permission

This isn't really a pop quiz, because I couldn't possibly guess what your answers might be to create a poll.  But I shared with you our family tradition of decorating our tree on Christmas Even with freshly made gingerbread and saltdough ornaments.  It's not something I did as a kid but rather a new tradition we developed on our own as a family, and it means so much to me.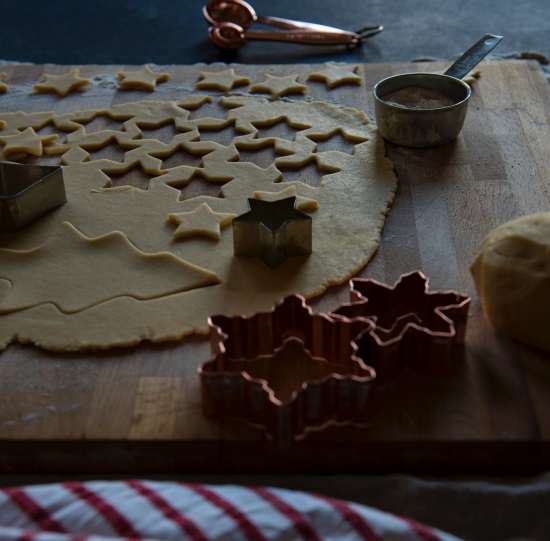 Photo by Joanna Kosinska
I love the way it creates a transition from Advent to Christmas, how it turns the whole day before the holiday into a celebration as well (with flour and mess and texture and smells and laughter and silliness and joy), and oh, did I tell you about the scent of pine and gingerbread together?!? It's gorgeous, and it lingers all through Christmas Eve and Christmas Day. It's lovely!
And now I'd love to know your most cherished tradition.  Whether it's something you grew up doing or a tradition you created on your own, come over to Ravelry and tell me the thing you do every holiday season that means the most to you.  I'd really love to hear about it!
Ok, that's it for today.  There's an awful lot left to do this week, so I'd better get to it!  I hope the rest of your week is crowd-and-craziness-free, full of fiber, good food and fun.  And until next time, I wish you the very happiest of holidays!