The new year always starts with a mix of excitement and trepidation.  Everything is fresh and new, everything is a blank page, and the possibilities are endless!  …And yet, can I possibly live up to all that has to offer?  When I first mark that blank page, can I do it justice?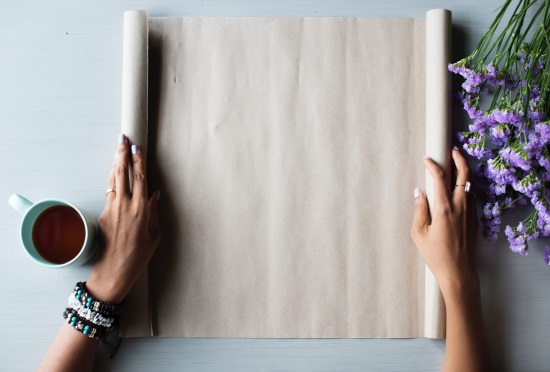 Photo by rawpixel.com
As each year passes, I've gotten a little better at harnessing that potential.  Not that I ever feel I've lived up to it, mind you, but I've moved on from resolutions (so harsh!) to goals (more forward-thinking) and this year, perhaps, to cultivating practices.  I'm hoping to make 2018 mindful and focused and I'm sharing with you some of the ways I'll be trying to do that.
But before I do, I hope you had lovely holidays.  Ours were wonderful — mostly quiet with family, which felt exactly right, and gave me a chance to really rest.  I am knocking on wood as I say it, but I feel like I'm starting to get back to feeling like myself again. Of course, I say that but then I tried 15 minutes of yoga this week and had to rest for 30 minutes afterwards.  Baby steps, I guess.
Oh, one other quick thing: this week, the "k" key on my laptop keeps sticking, which is something of a problem for someone who writes about knitting a lot, so if you see me mention "nitting" somewhere below, you'll know why.  Anyone know how to fix a laptop key that's acting up? (Also, just take a guess as to how many times I had to type "the 'k' key on my keyboard keeps sticking" before it came out right?!?)
Ok, ready for all the usual weekly fun?  Here we go…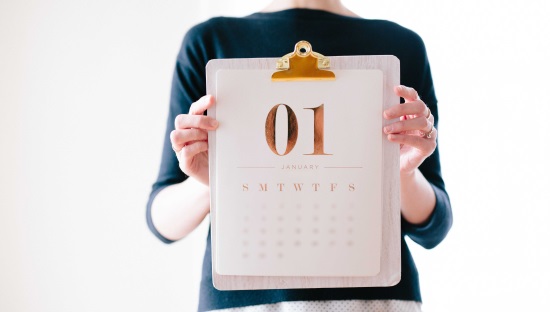 As it's the first week of a the new year, with all that has to offer, I'm devoting this section to sharing my favourite ideas and tools for making the most of 2018….
New Year's Resolutions always feel kind of doomed to fail (if you kept yours in 2017, hit reply and tell me how!) and year-long goals are… well… long.  Instead, I kind of like the idea of a bucket list for the new year: individual things you want to do, try, or learn at some point in the year.  This article gives four steps for creating a great 2018 bucket list.
And along those lines, I really liked this article with six tips for cultivating a creative practice in 2018.  Whether it's knitting or crochet or writing or playing guitar or whatever creative outlet you most enjoy, I absolutely love the idea of taking our innate creativity and consciously building a practice around it.
I've told you about Workflowy before but it is a tool that I love so very much that I have to share it with you again.  I don't really know how to categorise it: it's a list-making tool, an organisational tool, a note-taking and brainstorming and mind-dumping and everything tool.  I use it all the time and you just have to try it to understand what I mean (or, watch this video… but really, just give it a go).  And it's free(!) up to 250 items a month ("items" means lines, and that will make more sense once you've tried it) but, if you sign up with this link, both you and I get an extra 250 items for free.  So give it a try — and then please hit reply and let me know what you think!
Bullet journalling is a thing I always feel I ought to conquer but somehow never do. I mostly just make to do lists.  This year might be different.  I will never be one of those artsy people who create works of art on every page (I know a few and they amaze me!) but I can at least use my journal for more than lists.  I'll use this Bullet Journaling 101 article as a guide (or maybe the whole series).  This week, I put a fresh notebook in my Traveller's Notebook and, while I use a Pilot Metropolitan fountain pen, I also got a Lamy Vista for Christmas and I really like it. (And I do like to pop a printable Knitting Project Card in my notebook to keep track of what I'm working on at the moment).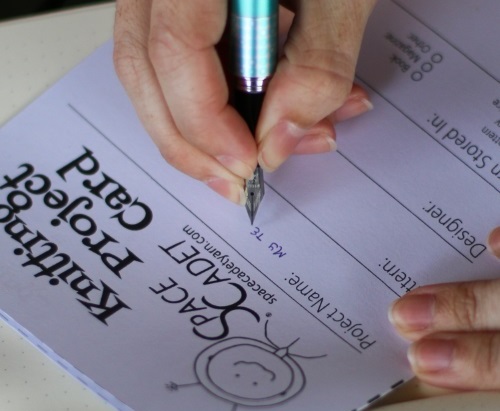 Ok, just for fun: I shared with you a few weeks ago what fun it is to blow bubbles in super cold weather and watching them freeze (have you tried it? Go! Do it!).  This week I discovered the absolute joy of making my own snow.  You wouldn't think that throwing a pan of boiling water into the air would delight a grown woman as much as it did, but I actually started giggling like a little kid when the water froze and turned into snow.  If you've never done it, try it!  Here's a video to show you how (…how to do something so easy that you don't really need the video).

Dates for Your Calendar
Shop Update: either Jan 26 or Feb 2 TBD
It's sweater weather time!  And we do some seriously gorgeous Sweater Sets in gradients that link from one of our regular colourways to another (so it's dead easy to add extra skeins if you need them!).  But we're low on stock so we'll be dyeing more this month — look for an update to be announced for either Jan 26 or Feb 2 as we get closer to the end of the month.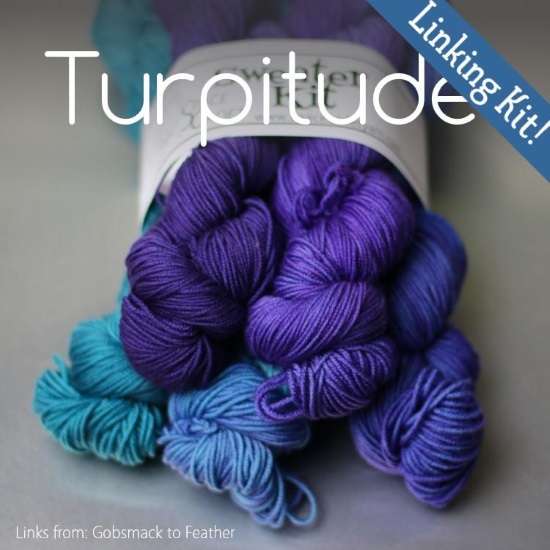 Gradient Explorers: New Spaces Open on Jan 26
We're about to send out the latest colourway for the Gradient Explorers and it takes the ever-growing gradient in a whole new direction that the whole team is just swooning over.  I can't wait to share photos with you!  We open spaces to the Gradient Explorers only when they become available and we should have a few spots open at the end of this month so mark your calendar and look for updates in upcoming newsletters.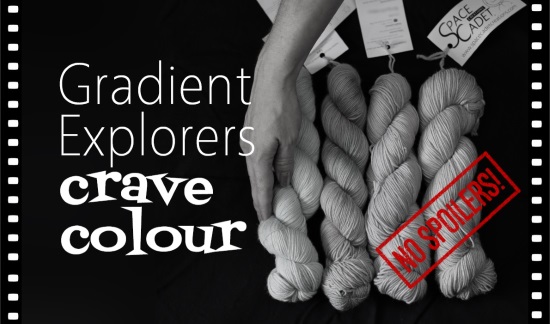 The SpaceMonsters Latest Parcel
And while we're at it, I just have to share with you the SpaceMonsters December colourway.  This was the last parcel of the 2017 season and I just love the both the club colourway, Tannenbaum, and the coordinate, Winterberry.  Don't you?
This parcel also had an awesome gift that I was too sick in December to photograph, but I'm hoping to snap some photos and show you in next week's newsletter.  For no other reason than that I love it so much!  Seriously, it's just so much fun to create beautiful colourways and put together great gifts for our club members!  The club doesn't open again until June but if you want to hear first when it does, get on the SpaceMonsters mailing list.

It's been bitterly cold here in Pittsburgh (ask me what that does to our dyepots!) so, this week, I am entirely preoccupied with keeping warm — and that spilled over into my pattern picks.
All images © the respective designers and used with permission
Below 60 Beanie by Benjamin Matthews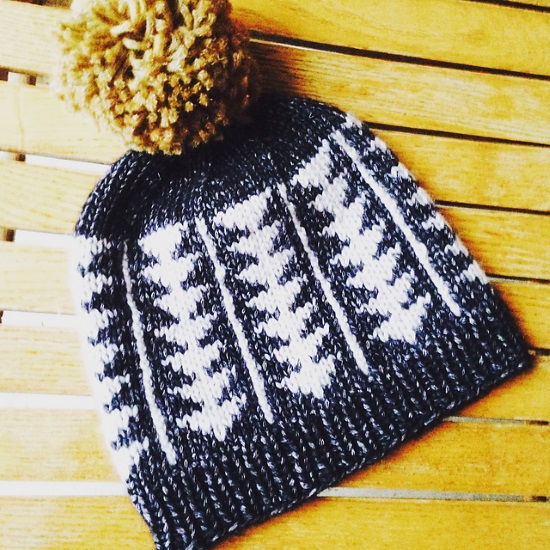 Ok, when I first read the name of the pattern, I thought it was Below Minus 60, because that's how cold it feels right now.  But even if it's not really that cold and even if this hat isn't name quite so dramatically, it's the perfect wintery quick-knit to keep your noggin warm.  And it's FREE through January 5, so snap it up quick!
"The Huggle" Hooded Cowl by Jess Coppom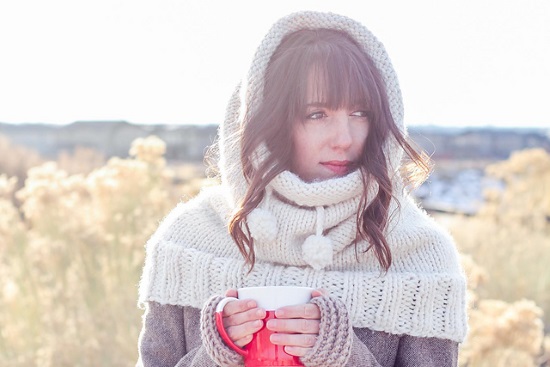 As cold as I've been this week, how could I resist this cowl-that-becomes-a-hood?  A super-simple pattern, it's just one of those practical things you'll end up reaching for all winter long (personally, I'd be wearing it inside my jacket so it fills that gap around my neck where the wind sneaks in.  Knit in bulky yarn, this free pattern would look great (and be sooo warm) in our bulky Elara.
Heriz by Hunter Hammersen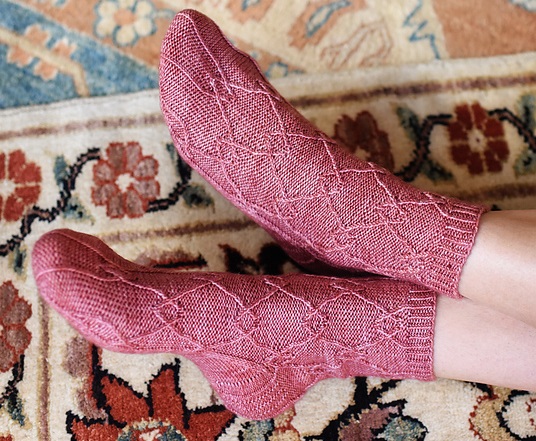 What's the thing that gets cold the most? My toes!  And I want socks that look pretty, of course, but that keep my feet warm ("No lace, Mrs Bennet, I beg you!").  Heriz fit the bill perfectly — such delicate stitchwork can be combined with a no-holes design is exactly what I want.   Knit them in Oriana and they're sure to keep you toasty year after year.
---
Ok, it's time to get back to work.  I've got some fun photography to do today (new Gradient Explorer's colour combos!) and a little colourway brainstorming as well.  And then it's off to the studio to see if those colourways come out the way I'd imagined.  Thanks for spending some time with me this morning and, until next time, all my best!