Dyeing is always about creativity and always about colour, but it isn't always about playing.  And I realised recently that we needed to get in the studio and just play a bit.  No plan, no dyeing list, no preconceptions…  Just gathering a bunch of skeins, getting all the dyes out, and letting our imaginations run.  So yesterday, that's what we did!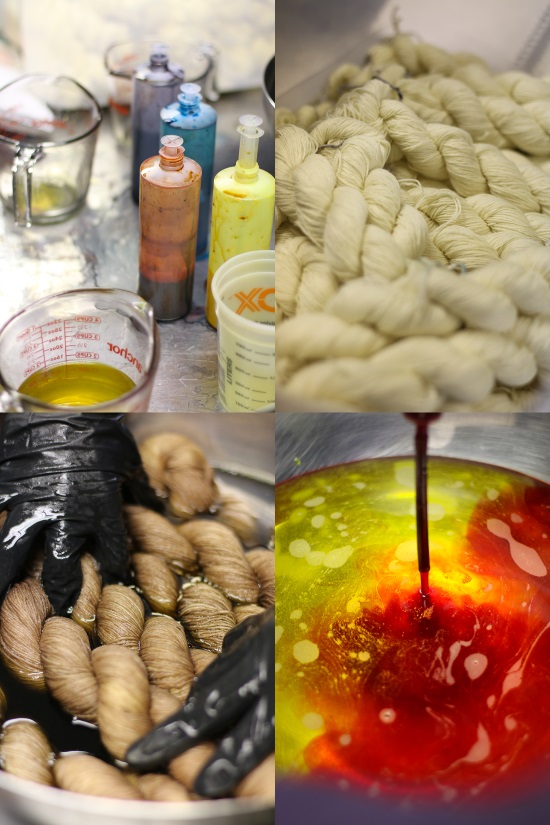 (Here's a little behind-the-scenes designed to show you what we did while not actually revealing anything)
It felt wonderful to shed the pressure we usually place on ourselves and to just experiment and explore and create.  And that feeling of freedom came through in the new colourways we dyed.  They're all in the studio drying now and, if I like the results as much as I think I'm going to like them, I'll be photographing and sharing them with you in the coming weeks!
But there's no hurrying drying — it just takes a long as it takes — so, while we wait, let's occupy ourselves with all the fun fiber-y news I've spotted this week.  Are you ready?…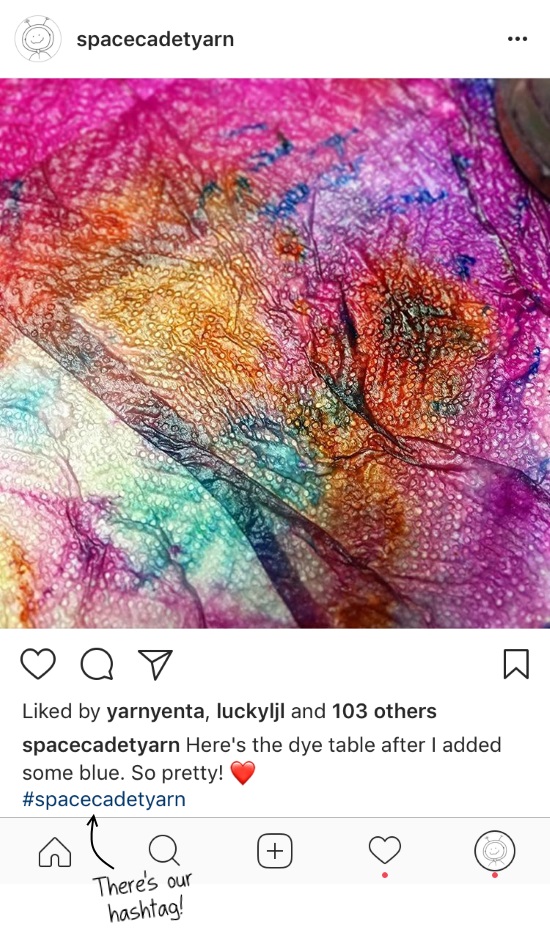 Awhile back, I wrote a blog post about How to Use Instagram for Knitting Inspiration and one of my key points was to use  hashtags to find patterns and other knitters you like.  At that time, the only way to do that was to use the search to find posts with that hashtag but Instagram has now made it possible to follow a hashtag the same way you'd follow another Instagram user and the result is an IG feed that's just bursting with knitting and crochet inspiration!  To follow a hashtag, just tap on it in a post or search for it in the search window, and then tap the blue "follow" button on the hashtag's feed (here's a quick tutorial).  For knitting, try following #knittersofinstagram #knitting_inspiration #knittingaddict #knittersofig #knitsagram;  for crochet, try #crochetersofinstagram #crochetgram #instacrochet #crochetaddict #crochetlove; and for SpaceCadet yarn, follow #spacecadetyarn #spacemonstersclub #spacecadetminiskeins #yarnalliance.
The new year a great time to be adventurous and pick up new skills (especially when the weather forces you to stay indoors the way it has here in Pittsburgh).  If you are a knitter who has always wanted to learn to crochet, I am intrugued by The Learn to Crochet Project from loveknitting.  Starting with a simple chain, it promises to walk you step-by-step through everything you need to know to begin crocheting with confidence, and your first project is a really pretty cowl.  Grab a hook and check it out!  The first installment (last week's) is here and the second (this week's) is here.
This has nothing to do with knitting or crochet but had me laughing out loud while also screaming "WHAT?!?" inside my head.
I am utterly blown away by the Flying Mosque, a hand-crocheted art installation currently on display in the United Arab Emirates.  Created by the same artist who produced The Urchins (and produced by a team of over 40 crocheters), it is simply beautiful.  When you click the link, scroll down toward the bottom of the page to see it turning in the wind.  Mesmerizing!

Dates for Your Calendar
Shop Update: either Jan 26 or Feb 2 TBD
It's sweater weather time!  And we do some seriously gorgeous Sweater Sets in gradients that link from one of our regular colourways to another (so it's dead easy to add extra skeins if you need them!).  But we're low on stock so we'll be dyeing more this month — look for a shop update to be announced for either Jan 26 or Feb 2 as we get closer to the end of the month.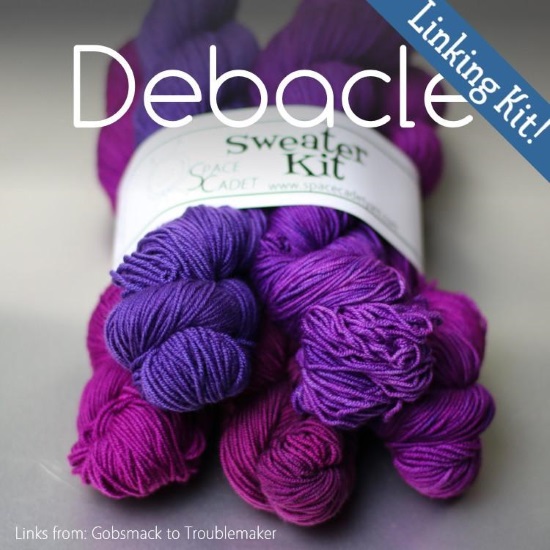 **SPOILER** The Latest Gradient Explorers Colourway: Sun Shower
The most recent yarn in our (full-sized) Never-Ending Gradient went out to the members of the Gradient Explorers and, I have to tell you, I think it's amazing.  I'm pretty sure most of the parcels have been delivered but, if you're a member and haven't received yours yet, quick — close your eyes and scroll down!
This is Sun Shower, and it takes that same lavender that we hinted at a couple of months ago in Frost Moon and layers it with a stunning periwinkle and bold, deep purples. I love how they run over one another, blending and dividing as they do. And then, for an exciting pop of contrast, we added in a wonderful buttery yellow that somehow looks perfect against all the blues and purples, don't you think?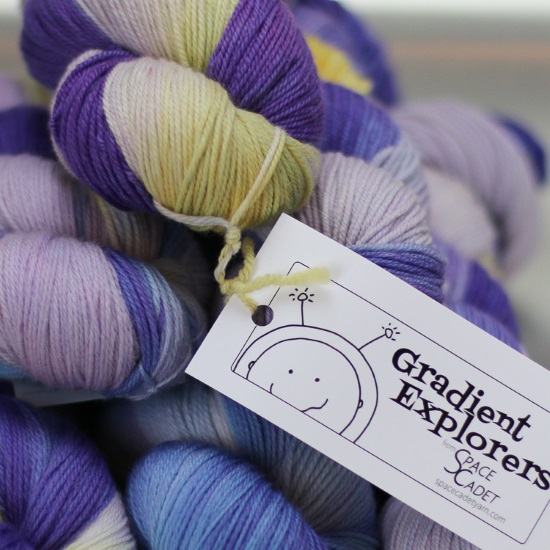 I sent an email to all the Gradient Explorers members introducing the colourway and sharing a whole BUNCH of ideas for awesome fades. I found is that the Gradient Explorers skeins of the last few months work so beautifully with so many SpaceCadet colourways that mixing and matching them is super-easy — but choosing between them is really hard! The fades below are all quite similar, but look carefully and you can see subtle differences that will impact how the final project turns out.
Choose your favourite and then click here to vote in my poll on Ravelry — I'd love to know which one you liked best!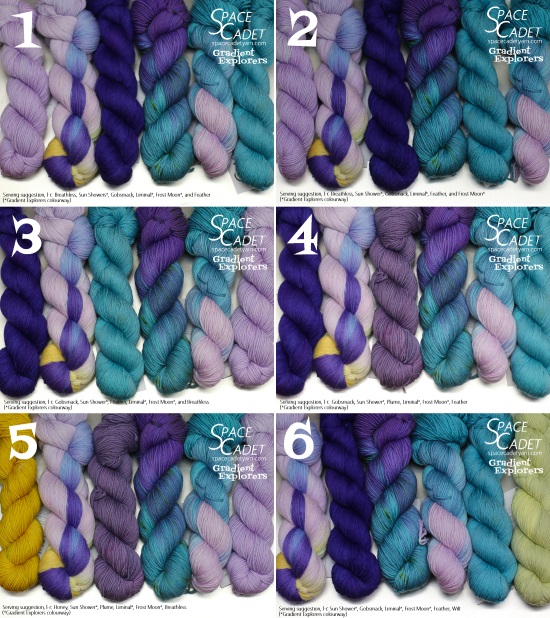 Gradient Explorers: New Spaces Open on Jan 26
We open spaces to the Gradient Explorers only when they become available and we should have a few spots open at the end of this month so mark your calendar for Jan 26, and look for joining instructions  in upcoming newsletters.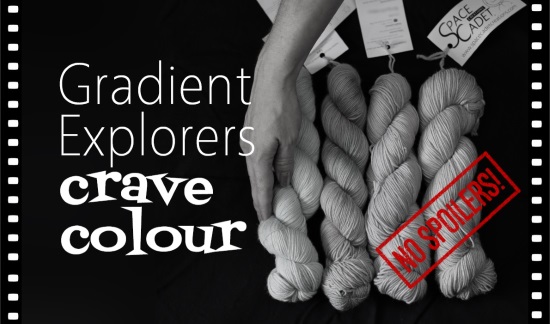 The Habitat Cardigan by Jess Coppom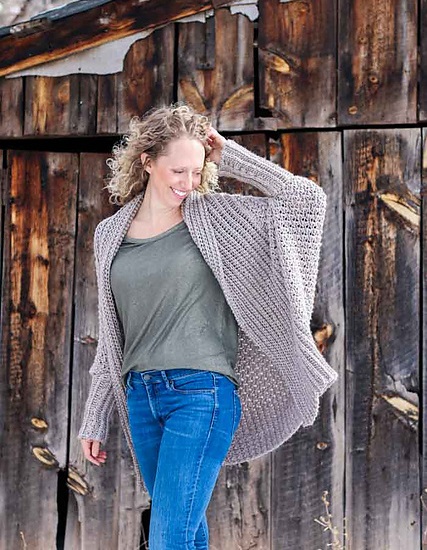 This is the time of year when I reach for big, slouchy cardigans to wrap myself up in and keep the cold at bay (sometimes two cardigans, if one is big enough to fit over the other!).  This lovely loose design is exactly what I have in mind and, if you're planning to try The Learn to Crochet Project that I mentioned above, you'll be glad to know that this beautiful crochet design is both beginner-level and free!
Unheeded Warnings by Barbara Benson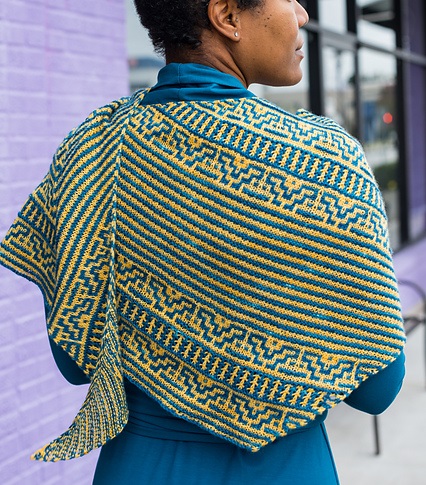 Two things I really love about this design: first, the name, which stems from Barbara's unwavering belief that there had to be a way to successfully combine colour and lace; and second, the fact that this design is a fabulous way to combine that variegated skein that's had you stumped with a semi-solid skein that will tame it a little — swatch them together and see if I'm not right!
All images © the respective designers and used with permission
For as cold as it's been in Pittsburgh, today and tomorrow we are getting a very short reprieve — today is forecast to hit almost 60F!  And so we're going to taking the opportunity stocktake of some of the yarn that's stored in an area that's usually uncomfortably cool this time of year.   So I had better finish my coffee and get to it!  I hope you enjoyed taking this quick fiber-filled break with me and, until next time, all my best!