Doing shows is one of my favourite parts of this job (I know I've said it before but it's so true) because I get to meet in person so many folks who have until that point been only names on shipping labels.  When a long-time customers come into the booth to introduce themselves, to me it is such a pleasure to finally put a face to that name.  Thank you to everyone who came and said hello at our recent shows.  I had a great time meeting you, and I hope you enjoyed it too!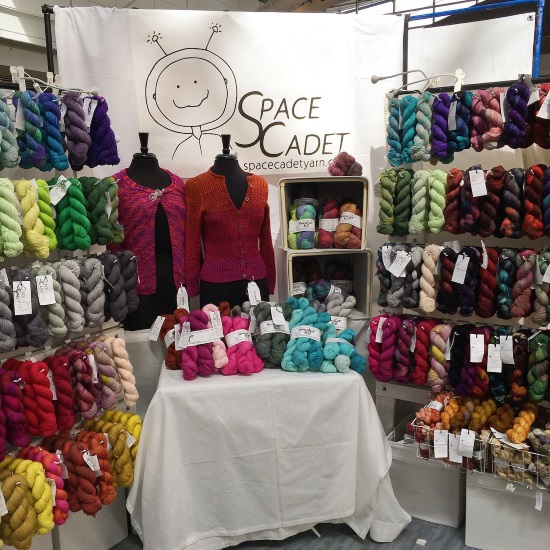 Our booth at the Pittsburgh Creative Arts Festival. I loved standing in the sunlight from the huge windows in the Convention Center!
Speaking of shows, I'm thinking of shaking up our regular schedule and trying some new places we've never gone to before.  If there's a show or festival  you think we ought to come to, please let me know!  Now, booth fees and travel can be expensive, so any show we go to has got to have that energy and vibe that makes it really worthwhile — you know what I mean — but if there's one you love going to and think I should apply for, I really do what to hear about it!
And then once you've done that, I've got a ton of great fiber news to share with you. So grab your cup of tea or coffee, get comfy, and here we go…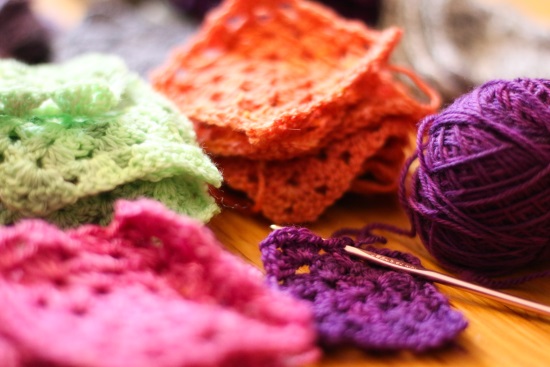 (when you make granny squares out of Mini-Skeins, they somehow become doubly addictive… *cough* …ask me how I know!)
I pretty much love all things modular (mitred squares and granny squares are my happy place) so I was super-excited when I saw this tutorial for two colour spiraled granny squares.  I think I like the one on the right better.  Don't you think it'd be awesome in a variegated yarn with a complimentary semi-solid?
This is cool: Instagram just introduced a "Focus" setting that mimics the shallow depth of field look that's often only possible with higher-end cameras.  I can see it works really well with selfies, but will it work with project photos?  If you try it out, tag me — I'd love to see!
Umm…  ummm…  This is a big fat NO from me, but I'd love to know what other crocheters think.  Would you be into turning your fingernail into an always-on-hand (literally!) crochet hook?
Have you heard of Knit Stars? It's an entirely online knitting event that give you the chance to learn from some truly awesome designers and instructors, and Knit Stars 3.0 (Nov 26- Dec 14) is open for enrollment now. Click here to check out the teachers and get earlybird pricing!
Ever knit a big scarf?  I bet it's not as big as the one Jennifer Garner went out in recently!  I came across two articles about it (this one is safe for work, this one is not) and both of them made assumptions about her scarf that made me chuckle (it doesn't look knitted to me…  and I'm not convinced it's handmade…  and I'm really not convinced any 12-year-old is focused enough to work through all that yardage!).  But at any rate, I wonder if this is a one-off fashion statement, or will we see some sort of crazy-big scarf trend?

I'm super excited that the fabulous Corrina Ferguson, editor of Creative Knitting magazine, is using a trio of SpaceCadet yarns to create a beautiful new design.  That's all I can say about it (shhhhh!) but I just loved this image she recently posted on Instagram of the three colourways all caked up: Troublemaker, Headstrong, and Windswept.  She's boldly combined a semi-solid with a tonal with a variegated (never be afraid to try them together!) and what I love about this combo most is that, even though my instincts tell me they shouldn't work together, it so beautifully mixes warm colours with cool.
image © Corrina Ferguson, used with permission
Try holding your hand over the image so you block out one cake at a time and see how that changes the feel of the whole picture.  When the rust disappears, the other two look cool.  When the magenta disappears, everything seems warm and autumnal.  And when the variegated is covered, you've got this awesome contrast combo.  See what I mean?  It's so cool!
(Serious question: which out of those three is your favourite pairing?)
Gradient Explorers Combos!
This past month I've been so blown away by the SpaceCadet crew, who kept their focus on getting clubs and orders out even while we were away at back-to-back shows and hindered by simultaneous studio repairs (SpaceMonsters and Mini-Skein members, look for your parcels to go out at the end of this week).  But I finally got the chance to photo some colourway combinations for recent Gradient Explorers yarns and I just have to share my favourite with you!
First, this is March's Gradient Explorers colourway, Rivulet: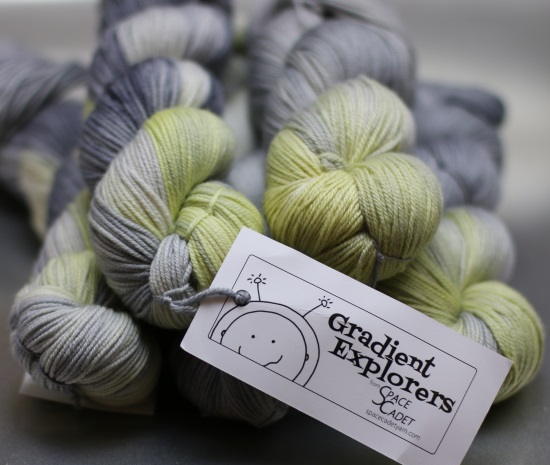 And this is how it fits into a fade created with the previous Gradient Explorer colourways combined with some of our standard colourways. Even though I came up with about a dozen different combos that I shared with the Gradient Explorers members (once I got started, I just couldn't stop!), I think this one is my absolute favourite because I just love a fade where the colours alternate perfectly between semi-solids and variegateds.  Don't you agree?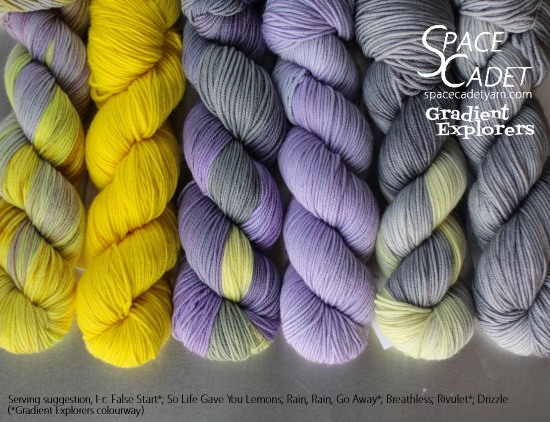 This kind of gorgeous mix-and-match flow is exactly what the Gradient Explorers is all about! There are a few spaces available in the Gradient Explorers but it might be too late in the month to open those spaces up. If you've been wanting to join, click here and get on the Gradient Explorers mailing list, so you're first in line if I do a special limited opening before the end of the month.

Ecliptic by Hunter Hammersen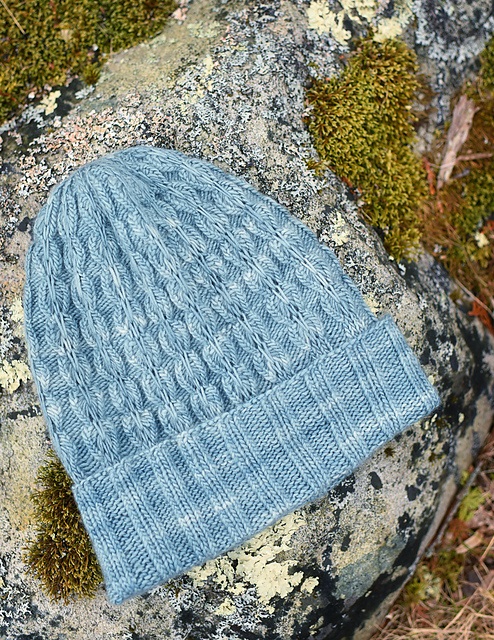 What Hunter does with creative stitch patterns blows me away every time, and this beautiful hat is no exception.  And while it may seem like an odd time of year to knit a hat, Spring still hasn't convinced me that it's yet sprung, and when the stitchwork is this intriguing and the project is quick, casting on is a no brainer!
Atyria II by Alasdair Post-Quinn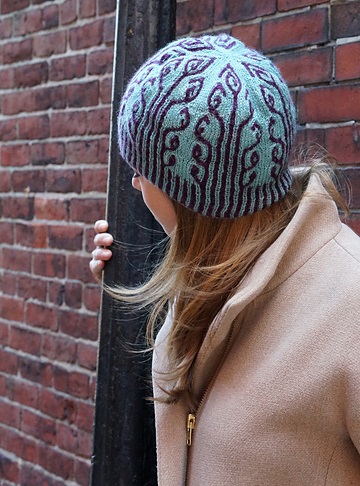 We partnered with Alasdair Post-Quinn at one of our recent shows and, as I flipped through his beautiful books and smooshed his lovely samples (he knit this one in Lyra), I couldn't help but fall in love.  This hat was one of those samples that customers picked up again and again and again, because the double-knit design is so instantly appealing.  I just had to share it with you here!
little v hat by Jenny F
But if what you really fancy is some straight forward stranded colourwork, then I love the way this beautiful design combines it with just a little bit of texture for a completely intriguing knit.  Work it up in a monochromatic colour pair or go for a really bold contrast.  Either way, it makes for a fun, fast, and thoroughly enjoyable knit!
all images © the respective designers and used with permission
Ok, I've got fun day ahead of me, filled with lots of lovely yarn photos to take, and dyer's notes to write, and maybe, if I'm lucky, a little dyeing as well.  I'm so glad to have been able to share all of this fun fiber stuff with you and hope you've enjoyed it too.  And, until next time, all my best!