Last week, I had a wonderful phone conversation with an LYS owner to discuss developing a custom-dyed yarn club for her shop.  This week, I got to chat with a customer who wanted to check on an order.  And in between, I've been working with a whole bunch of designers, choosing colours and yarns for some seriously awesome new designs and KALs.  It's so exciting to see these creative new things in development!  And to be a part of making it all happen!  It just fills me up with anticipation and enthusiasm and I can't wait to get to the studio and do my part in making it happen.
And it's no less true for dyeing for our regular customers as it for LYS owners and designers.  They may be in the industry but it's our customers' passion for knitting and crochet that makes all of this happen.  And that passion is so much more than a hobby!  It's a calling and a connection and a creative outlet that other folks just don't get.  And I am so glad to get to be a little part of it!
So, lots of great stuff going on at the moment but, before I rush off to the studio, let's take a moment to explore what's going on in the fiber world together.  Grab your tea or coffee and get comfortable, and here we go…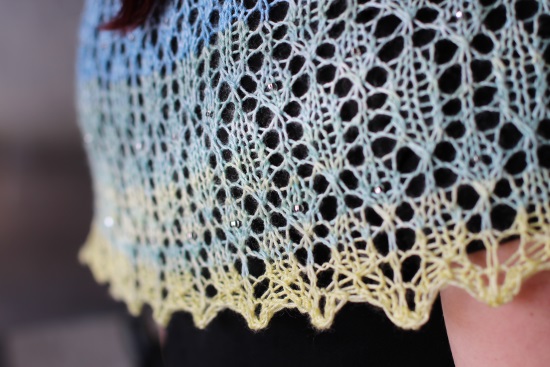 (the pattern is Eyeblink by Heidi Alandar, knit in SpaceCadet Maia Gradient Mini-Skeins)
Warmer weather always gets me excited about lace patterns.  But it's easy to get intimidated by them too, so I was excited to spot that Julia Riede just released Lace Knitting for Beginners, a brand new ebook to teach everything you need to get started with lace.  And she's offering 30% off until the end of the May!  Click here for the code and download a sample chapter.
Along those same lines, I don't know what it is about warmer weather that makes me think every year that this is the year I'm doing to do a project with beads, but I always do.  And then the idea freaks me out a little and I never end up doing it.  But this video made it seem so simple that this might be the year I do it! (It uses a crochet hook and adds the beads as you go along but if you know a good video about pre-stringing your beads, let me know — I'd love to see that too)
What makes you a maker? I am feeling so inspired by this quick round up of other makers' thoughts on that question.
Twitter seems to have changed tone a lot in the last few years.  Whereas it used to be one of the places where I went to connect with other knitters, now it feels like it's all politics (for better or worse, and Instagram has taken its place in my personal knitosphere).  But designer Kathleen Sperling is bring that knitting feeling back to Twitter with a Twit-a-long, a mystery KAL where the clues come every two days in tweet form.  Sound like fun?  It started yesterday but there's still plenty of time to join in.  Click here for the inaugural tweet.

New Colourways Coming Next Week!
Now that we've got the studio back and the most recent shows behind us, we've had the opportunity to do a little experimentation in the studio and it's been so fun to get back to the dyepots.  Two of the things I've been working on are the colourways inspired by the damage to our studio and a new little collection of colours that we're calling Fadeds.  And when I started taking their pictures earlier this week, I realised they actually go beautifully together.
I'll share proper pictures of them soon, but I just want to give you a quick sneak peek (without giving toooo much away).  So here are the Fadeds together with the Damage colourways.  Don't they make a gorgeous fade?  Watch for them to go in the shop next week!

(that's it. It's really really sneaky)
Speaking of Gorgeous Fades…
I just want to show off to you our latest Mini-Skein Club colours in the Ombre & Gradient Mix.  This is such a cool club because, in this mix, the gradient flows from one month to the next (and the next and the next).   I just love the way March's deep, rich greens morph slowly into April's khaki and then into a golden yellow.  We're working on May's set now…  where do you think the colour will take us next?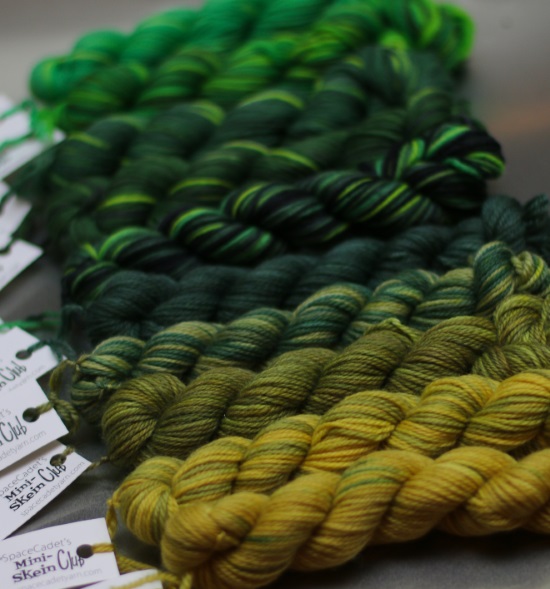 (Mini-Skein Club minis from March to April 2018)
And, while I'm at it, here are the months that came before the skeins above.  So this is November and December on the left, and you can see how they flow into January and February on the right.  If you're in the club but you don't break open your bundles and lay them out like this…. do it!  I find it is so much more inspiring when you can really see their gorgeous colours.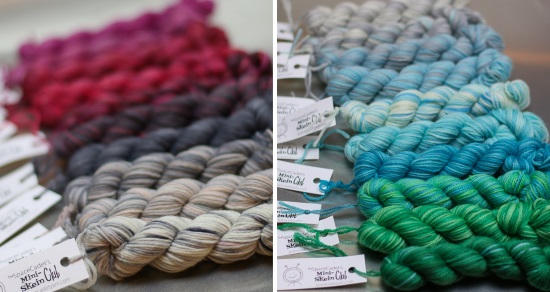 (Mini-Skein Club minis from, left, Nov to Dec 2017 and, right, Jan to Feb 2018)

Speaking of Mini-Skeins, I find that folks often ask me what to make with them.  My standard answer ("Everything!") isn't always the most helpful but, this week, three fabulous patterns jumped out at me that answer the question perfectly.  Each one has a slightly different take.  Check them out and imagine how you'd use the colours above in these patterns…
Pomeroy Shawl by Mindy Wilkes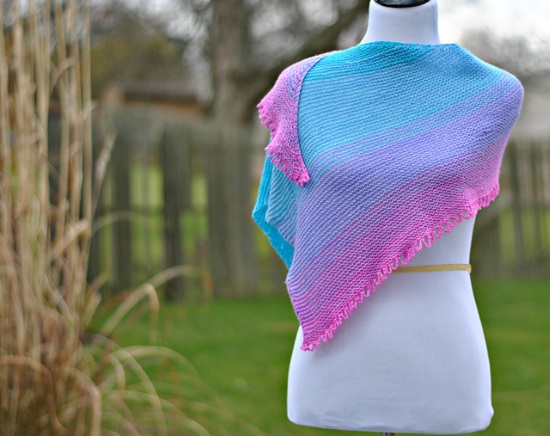 The most obvious place to start is with a simple shawl that just works its way through a set of Mini-Skeins to show off the wonderful colour flow. This shawl has two great things going for it: first, Mindy works the changes between skeins so that the colour blends perfectly from one Mini-Skein to the next; and second, this $4 pattern is yours free when you sign up for her mailing list!  Click here to get it!
Ondulation by Becky Herrick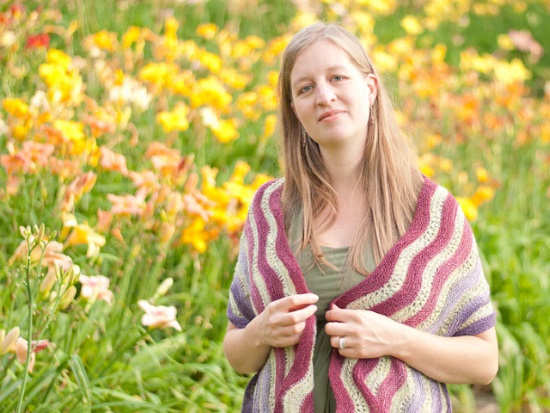 Becky's lovely shawl uses Mini-Skeins combined with a contrast yarn to create really emphasise the colour flow from skein to skein with crisp, clean stripes.  But they're not plain stripes — they have soft undulations of their own that make them both fun to knit and so pretty to wear.  I think April's blue-to-green Mini-Skeins would look amazing in this, against a contrasting skein of Drizzle.
Bonus! Just for folks on our mailing list, Becky is offering Ondulation for 20% off.  Just click here and use the code spacecadet before the end of May …and then cast on!
POPstripes by Jennifer Dassau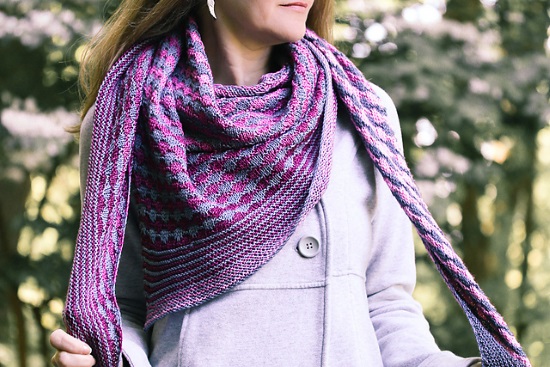 And finally, for this shawl, a truly innovative way to use Mini-Skeins, by working two sets in opposite directions: from light to dark and dark to light, moving across one another in reversing waves of color. Using just knit, purl and simple slipped stitches, lines of colorful stripes sweep along this asymmetric bias shawl to create a wonderfully intriguing knit!  Imagine it in November and December's Minis going one way, and January and February's going the other: you'd have gorgeous grey at both ends…   mmmmmm!
all images © the respective designers and used with permission
There now, isn't that a wonderful way to start your day?  Yarny goodness always gets the morning going right!  But it's time I head down to the studio.  Lots more dyeing to do and photos to take!  I hope your day is creative and inspiring too, and until next time, all my best!