Before I say anything at all, I want to thank you.  You know our studio suffered storm damage a couple of months ago and so I dyed two colourways to raise funds to help cover the extra costs we incurred while the contractors repaired our water-logged ceiling and walls. In all honesty, I wasn't sure how it would go… I didn't know if if anyone would like the colourways or would even show up to support us.  As it got nearer to midday, I became more and more nervous and started telling myself that no one would show up to buy them…  and tried to convince myself that that would be ok,that I'd be fine if no one turned up when the clock struck noon.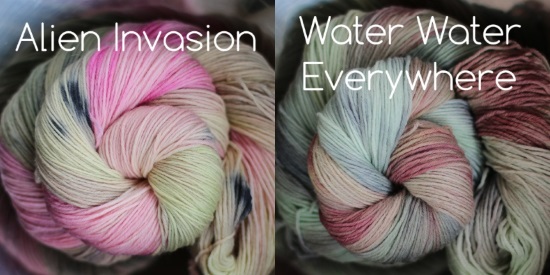 But I couldn't have been more wrong.  You guys blew me AWAY!!!  So many people, so much support.  I was shocked and humbled and am so, so grateful.  This is the video I posted to Instagram about 10 minutes after sales opened.  I think you can see how stunned I am.  Thank you so much for supporting our little studio — I can't tell you what it means.  And I can't wait for our Storm Damage dyeing day when I can create your beautiful skeins!
If you missed their debut, the Storm Damage colourways are available until June 6, and then they are gone forever.  You can jump in on fun and support our studio repairs at the same time by clicking here.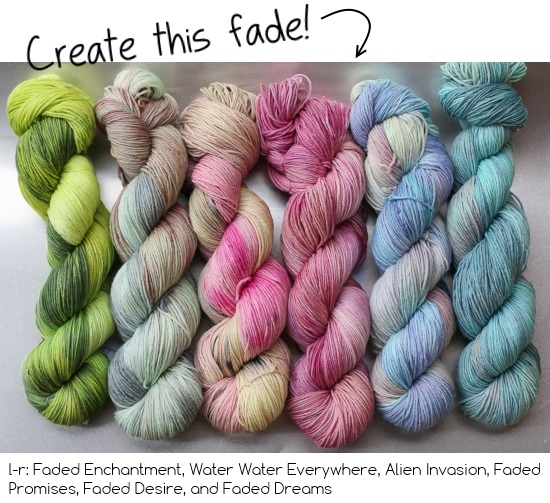 But there's more to this newsletter than me just getting all soppy and sentimental — you want fun fiber news, don't you?  Good, because I've got a bunch of stuff to share.  So if you've got your cup of tea, I've got mine…  let's get to it!
(Also… yep, I know it's Friday and the newsletter usually arrives earlier in the week but… well… having Monday off completely confused my SpaceCadet brain and I've been a day out of sync all week!  You know how it goes, right?)

It was the flamingo pattern that caught my eye, but I love all the birds in this article.  They're not knitted or crocheted, but such an intriguing use of textiles in art that they are well worth a look!  (Why did the flamingo catch my eye?  Members of the Gradient Explorers will know soon enough! *grin*)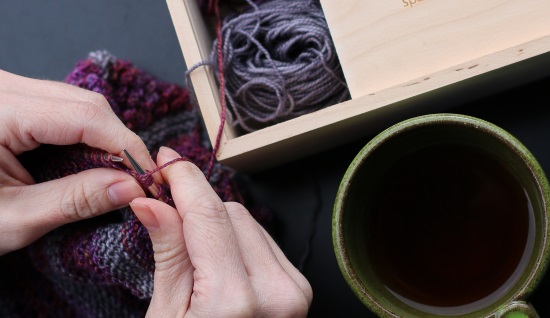 I absolutely loved this article: Knitting My Own Clothes Let Me See My Body Clearly.  It's one for savouring slowly, curled up on the couch with enough time to enjoy it.
Weaving in ends is rarely fun, and that's no matter what fiber art you're practicing.  And with the rising popularity of hand-held looms as a great stash buster, I love the video tutorial Purl & Loop created to show how to work the ends into your weaving (all of their videos are pretty awesome, to be honest).  Psst..  SpaceMonsters, take note.
Did you know that all the sweaters are handknit in the current Broadway run of Rodgers and Hammerstein's Carousel*?  They involve some pretty impressive colour work and, in the true tradition of hand-knits-on-a-deadline, came down to a nail-biting end.  Click here to read about the woman who spent three months of her life creating them.
(*as an aside, Carosel is one of my least favourite R&H musicals because the storyline never sat well with me, even though the music is lovely.  But in the age of #MeToo, I'm really intrigued how they approach Billy's abusive nature)

We're headed to TNNA!  June 15-17
TNNA is the industry tradeshow, where yarn companies big and small get to show their stuff to LYSs from around the country and take orders for the yarns you'll see in shops this autumn — and we are SO excited to go!  Every year, it's a great weekend but, still, I'm always so nervous (what if no one steps into our booth? What if the weekend's a total flop?!?).
But listen, there's a great way you can help us: tell your local yarn shop you'd like to buy SpaceCadet in person and to stop by our booth when they come to TNNA.  We've gotten our best yarn shops through customer recommendations (seriously! yarn shop owners listen to their customers) and it makes such a difference when a shop owner comes up at TNNA and says that their customers told them about us!  Please do let them know we'll be at the show — it can be as simple as forwarding this email to your LYS with a short message asking them to come and see us.

And if you're an LYS owner, we'd love the chance to show you our yarns in person.  We're in booth 247, in the first aisle right as you come down the escalator.  I can't wait to meet you!
The SpaceMonster Club opens for New Subscriptions on June 22
The SpaceMonster Club is our worsted and bulky weight club, and I absolutely love dyeing for it, because big squishy yarns are… well, they're what got me started knitting in the first place (you too?).  They knit up so quick, they're so much fun to hold, smoosh, snuggle, and wear.  If you feel the same way I do, make sure you're here on June 22 at noon (eastern) to join the rest of the SpaceMonster members in all that lovely squishy yarny fun!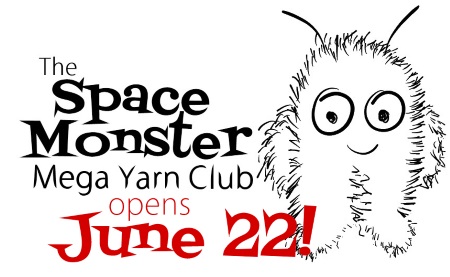 Gradient Explorers: Very Limited Spaces Open June 29!
We sent out the latest Gradient Explorer yarns this week and I am so excited for our members to see the next stop in our colour adventure!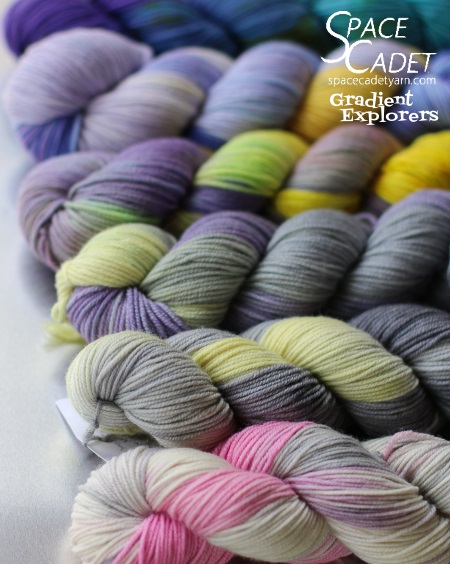 Each month in the Gradient Explorers, we dye a stunning colourway that flows into the next month's colour… and into the next month's colour …and into the next.  With limited availability, we open new spaces only when they become available and, this month, we have a handful spots free!  I'll be opening them up on Fri June 29 at noon (eastern), and there are so few spots available that I think they'll go quickly, so mark your calendar and get on the Gradient Explorers mailing list to get a early reminder.

Cyril Ruana by Lisa M Barnes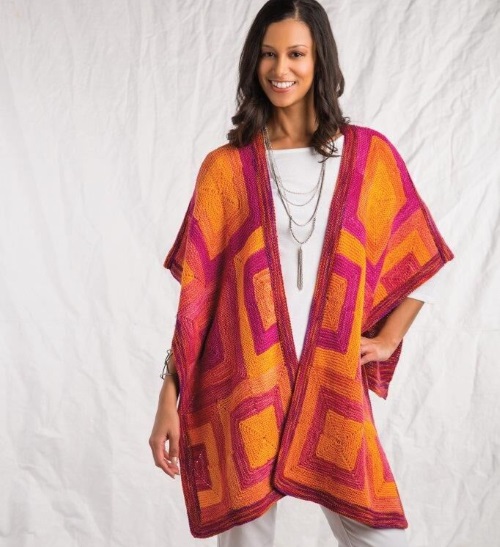 I am such a sucker for squishy garter mitred squares that I actually let out a little squeal when Lisa shared a photo this gorgeous pattern with me.   Designed specifically for gradient Mini-Skeins, it's simple to knit and easy to wear.  And absolutely show stopping wherever you go in it!  If you're a member of the SpaceCadet Mini-Skein Club, check your stash (I think Nov-Dec-Jan would look amazing!), and if you're not, come join our Ombre & Gradient adventure!
image © Creative Knitting, used with permission; Cyril Ruana by Lisa M. Barnes of LMB Designs published in Creative Knitting Summer 2018 available in newsstands and at Annie's online catalog at: https://www.anniescatalog.com/detail.html?prod_id=142777&cat_id=26
Hourglass Scarf by Sharon Silverman
When a designer asks for yarn to for a new pattern, it's incredibly exciting but I know it's going to be quite a while before I see the result, especially when it's for a book publication.  So when Sharon sent me the photos for this beautiful scarf crocheted in SpaceCadet Maia, I was over the moon!  I love how light and lacy it is (perfect for summer, especially in such a light and drapey yarn), how perfectly it compliments an outfit without overwhelming it.  The book comes out in Oct-Nov (hello holiday gift!) and is available for pre-order now.  Click here to get on the list.
image © Daniel Shanken, used with permission
Vegas by Jenny F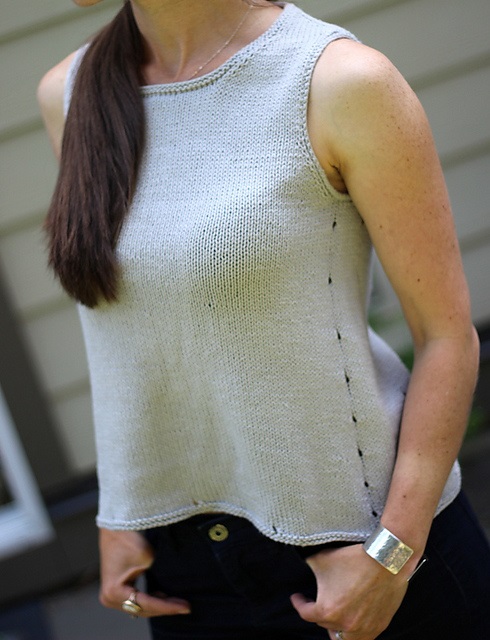 It's no wonder this pattern jumped out at me: summer has arrived with a bang.  Suddenly it's incredibly hot and so humid, and all I want are light summery projects to work on…  and this looks perfect!  It's designed in sport weight which, if I'm honest, sounds a wee bit warm at the moment so I'm thinking it might be worth swatching with two strands of Maia held double.  With 80% bamboo, it's so light that I think it'd create a perfect summer sweater.
image © Jenny F, used with permission
Oh, one other thing I just have to share because I'm so excited.  I was looking through our special projects to-do list the other day and realised just how many designers are currently working on new designs in SpaceCadet yarn!  It's such an honour when a designer chooses our yarn.  I'll be sharing their WIPs on Facebook and Instagram, so keep your eyes open for behind-the-scenes looks at designs by Rohn Strong, Kristina Vilimaite, Jenise Hope, Jessica Anderson, Hunter Hammersen, Corrina Ferguson, Lotta Groeger, Karen McKenna, and Emily Connell.  How cool is that?!?
Ok, that's all for this morning.  I've got a busy day ahead of me and I'm going to try to get it started before the heat really kicks in and makes me want to melt.  I hope you've got a fun day ahead (and maybe a good way to beat the heat too?) and so, until next time, all my best!