Do you ever have those times when it feels like life has revved up to 10million miles an hour?  This week feels like one of those times, and my head is swirling with excitement and a little trepidation.
First, the thing that's sending shivers of nervousness down my spine: next week, we are headed to TNNA, the knitting industry tradeshow, and there is still so much to do.  I'm super excited about it — I love the chance to meet with designers and suppliers and, most of all, to show off our yarn to LYS owners planning their stock for autumn and winter — but it's such an important show and such a big endeavour that I get really nervous about it.  What if we don't do as well as I'd hoped?
There's a way you can help with that, and I'll tell you in a minute, but first, the other thing that's making my week super-busy, and this time it's something that fills me with warm-fuzzies: Friday is our big Storm Damage Dyeing Day!  That's when we're laying the colour on all the yarn that you guys purchased to enable us to raise funds to cover the unexpected costs from the storm damage our studio suffered earlier this year.  And the reason I'm excited about it, besides just the pure fun of creating these beautiful colourways and sending them out to our lovely customers, is because it gives us the opportunity to earn the support you guys are giving us — and that means so much to me!
Ok, back to what you can do to help us with TNNA: it's super simple, just tell your local yarn shop you'd like to buy SpaceCadet in person and to please stop by our booth when they come to TNNA.  We've gotten our best yarn shops through customer recommendations (seriously!) and it feels amazing when a shop owner says that their customers told them about us.  So please do let them know we'll be at the show and that we'd love to meet them!

But first, let's get to the serious stuff: it's time for our weekly dose of fibery goodness.  So grab your cup of tea or coffee (it's tea for me today), get comfy, and let's get started…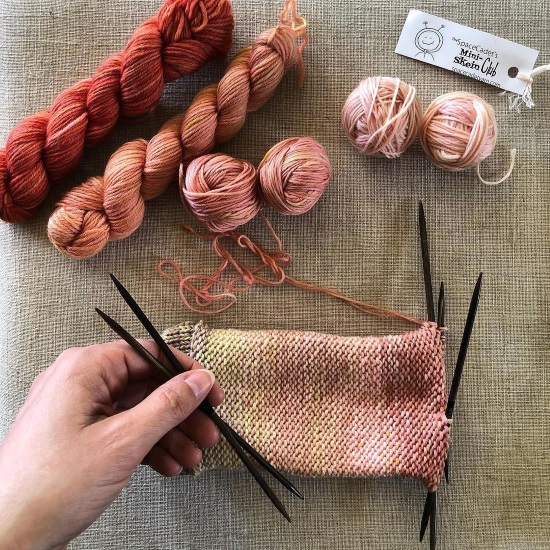 My lovely friend, the designer and podcaster MelSki, is leading an intrepid group of knitters on a Mini-Skein adventure as they use SpaceCadet Mini-Skeins to test knit a new design of hers during their annual summer retreat. Doesn't that sound wonderful?!? And we all get to follow their progress on this journey and cheer them along on Instagram.⠀Mel shared this post  (above) and I want you to see the amazingly beautiful effect she is creating with one of our Ombre & Gradient Mini-Skein sets. Look how perfectly the colour flows — there's a secret to it, can you guess? And the best bit is that, when the adventure is complete, Mel is giving this pattern as a free gift to the members of our Mini-Skein Club!  Make sure you are following me and her on Instagram to see how this adventure unfolds.

I came across the knit Texxture app this week, a growing stitch dictionary in digital form.  It'll never replace the romance of a holding a real book full of beautiful stitches, but I love having a stitch dictionary in my pocket.  And I love that it's ever growing.  (Serious question: what's your must-have knitting or crochet app? I'm always looking to grow my collection!)
I am convinced we can achieve world peace through knitting and crocheting (can you imagine if everyone at the G20 meetings were knitting? They'd be so chill!).  But we'll never get the whole world hooked* if we don't represent!  This Saturday is World Wide Knit in Public Day, so get your project ready and click here to find a nearby event.  Or, heck, just get out there and knit!  (*pun intended)
Lots of people start their knitting adventure by making socks, but lots of other people are kind of intimidated by them (and then there's Clara, who just blew my mind).  If starting socks has always made you a little bit nervous, I love this simple tutorial as a great way to get started.

Quick Calendar:
Today: Last chance to order the Storm Damage colourways
June 22: The SpaceMonster Mega Yarn Club Opens
June 29: A very limited number of spaces in the Gradient Explorers available
Today: Last Chance to Order the Storm Damage Colourways!
As you know, our studio suffered storm damage a couple of months ago and so I dyed two colourways to raise funds to help cover the extra costs we incurred while the contractors repaired our water-logged ceiling and walls — creating something beautiful out of all that ugliness!  The result was Water Water Everywhere, inspired by the rain coming through our ceiling, and Alien Invasion, inspired by… wait for it… the mold and mildew they found all over the wet insulation inside our studio walls.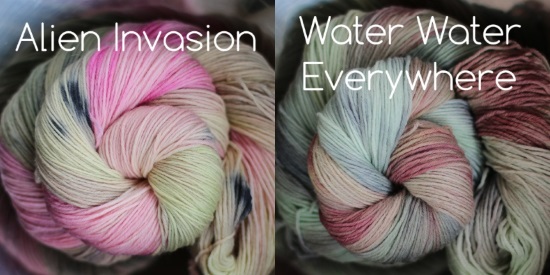 But today is the last day to order them before they are gone forever.  You can jump in on fun and support our studio repairs at the same time by clicking here before midnight tonight! 
The SpaceMonster Club opens for New Subscriptions on June 22
The SpaceMonster Club is our worsted and bulky weight club, and I absolutely love dyeing for it, because big squishy yarns are… well, they're what got me started knitting in the first place (you too?).  They knit up so quick, they're so much fun to hold, smoosh, snuggle, and wear.  If you feel the same way I do, make sure you're here on June 22 at noon (eastern) to join the rest of the SpaceMonster members in all that lovely squishy yarny fun!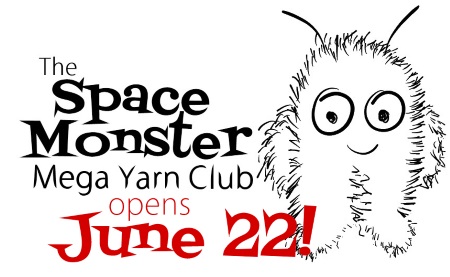 Gradient Explorers: Very Limited Spaces Open June 29!
We sent out the latest Gradient Explorer yarns this week and I am so excited for our members to see the next stop in our colour adventure!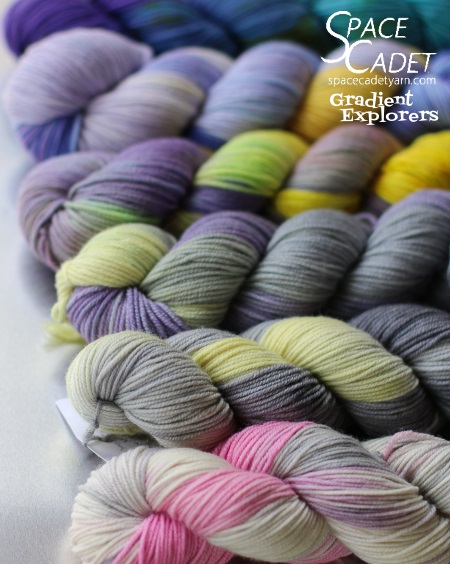 Each month in the Gradient Explorers, we dye a stunning colourway that flows into the next month's colour… and into the next month's colour …and into the next.  With limited availability, we open new spaces only when they become available and, this month, we have a handful spots free!  I'll be opening them up on Fri June 29 at noon (eastern), and there are so few spots available that I think they'll go quickly, so mark your calendar and get on the Gradient Explorers mailing list to get a early reminder.

Over the weekend, I came across Paola Albergamo's work on Ravelry and fell in love!  You'll be able to see why…
Nereid by Paola Albergamo
The first thing that caught my eye is that amazing colourwork, inspired by sea nymphs and the swirling waters they swim in.  While it looks incredibly complicated, the spirals are knit in modules, worked using just one color at a time and joined seamlessly while knitting.   And the best part?  It's actually designed to for Mini-Skeins!  If you're in our Mini-Skein Club, do a stash-dive and find as many sea-inspired minis as you can, and then pair them with a skein of Honey.  And if you're not in the Club, click here.
Nereid is one of the patterns in Paola's Happiness Make-A-Long, which runs from June 1 to July 31
The Prism Effect by Paola Albergamo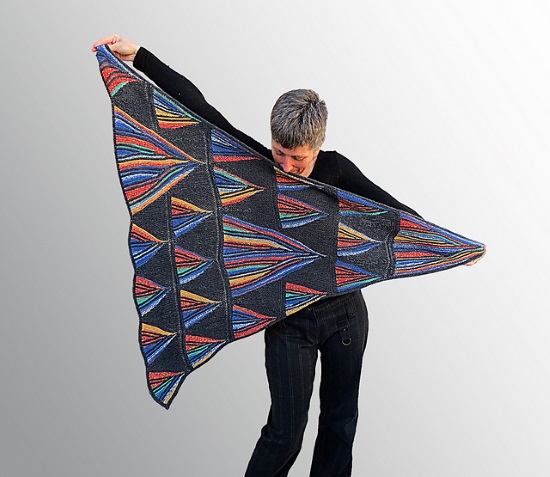 As I may have mentioned(!), I'm a sucker for modular knitting, so this pattern absolutely leapt off the screen at me.  Worked in consecutive vertical strips made of short row triangles joined as-you-go with no seams, it's a deceptively simple pattern that creates a seriously eye-catching result.  And for a knockout colour combo, I suggest Lyra in Dark Skies or Drizzle paired with Windswept, Molten Cool, Tantrum, or Vortex.
Reptile Skin by Paola Albergamo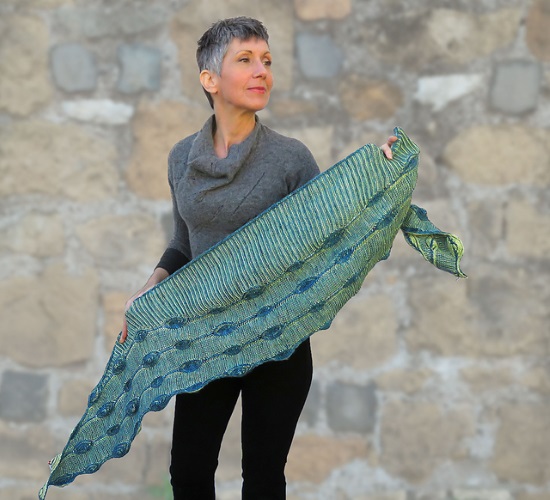 And then there's this beautiful creation in oh-so-hot-right-now brioche!  Completely reversible, it incorporates double increases and decreases to force the fabric into three-dimensional shapes and an intriguing texture that resembles reptile skin.  Sound like fun?  For a cool-toned colour combination like this one, I suggest Oriana in Crisp and Feather; for a warm combo, try Honey and Headstrong or Blood Moon.
all images © Paola Albergamo, used with permission
Ok, well, with all the stuff going on this week, I'd better get to it!  First thing on the agenda: heading down to the studio to see how a new club colourway I dyed looks once it's dry (that's always a moment of truth!).  I hope you have a lovely day ahead of you too and, until next time, all my best!