Ok, I have to be quick because we are about to get in the car and head to Cleveland for one of the industry's biggest events of the year, TNNA.  If you're not familiar it's THE tradeshow where hundreds of yarn shops from around the country and around the world come to buy their new stock for the upcoming season, and it's an amazing weekend!  If your local yarn shop is going to TNNA, do tell them to stop by and see us — we're in booth 247, in the first row right as they get off the escalator.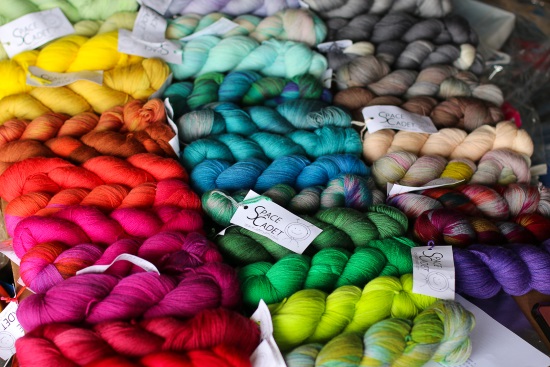 our full palette of colourways, all laid out to go to TNNA — don't they look amazing all together like that?
But that isn't what I wanted to tell you!  What I wanted to share with you was something that occurred to me this week as we were prepping the club shipments for the SpaceMonsters…  Maybe I'll elaborate when I have more time next week but, as we packed up the SpaceMonster's colourway and I looked at the huge pile of gorgeous gorgeous yarn (and it really is gorgeous — I can't wait for the club members to see it!), I realised what a wonderful creative outlet our clubs are.  Seriously, the clubs are where we get to really stretch ourselves and dye with…  well, with passion!  I love all our regular colourways, of course, but the clubs are different — creating their colourways is a really special thing.  Next week, I'll share with you the SpaceMonsters colourway we just sent out so you can see what I mean!
you can't see it (because this image is black&white) but there's a lot of complexity in this colourway!
Ok, we'd better get onto this week's fiber news before I have to hit the road.  I've got coffee today (lots and lots of coffee — it's going to be a long day!) and, if you've got your cuppa too, let's go!

We have a checklist at the studio to make sure that everything is turned off before we leave, and I find I have peace of mind later that evening if I first say the date out loud and then call out the number of each dyepot as I check it's off, even if I'm alone.  I know that's a little odd, but reading this article made me feel a lot better: I guess I'm not the only one who worries later that the stove isn't turned off!
Ok, I know you're a whiz at knitting or crocheting (or at least, you're on your way to whiz-dom), but how are your finishing skills?  It's buttons that always get me, so I love this tutorial on how to expertly attach the perfect button for your FO.
Speaking of which, I was chuckling the whole time I watched Issac Mizrahi explaining the history of buttons.  Did you know people used to "wriggle into clothes"? LOL!
We use a lot of those blue Ikea bags at the SpaceCadet studio.  They're handy for everything: moving yarn around the studio, taking equipment to shows, I even use them at home instead of laundry baskets.  But I don't think I've ever seen a use for those blue Ikea bags that's as pure genius (and genuinely hilarious) as this.

Quick Calendar:
This weekend: TNNA! We're booth 247 — if you're going to the show, come see us!
June 22: The SpaceMonster Mega Yarn Club Opens
June 29: A very limited number of spaces in the Gradient Explorers available
The Storm Damage colourways are dyed and drying…
The SpaceMonster Club opens for New Subscriptions on June 22
The SpaceMonster Club is our worsted and bulky weight club, and I absolutely love dyeing for it, because big squishy yarns are… well, they're what got me started knitting in the first place (you too?).  They knit up so quick, they're so much fun to hold, smoosh, snuggle, and wear.  If you feel the same way I do, make sure you're here on June 22 at noon (eastern) to join the rest of the SpaceMonster members in all that lovely squishy yarny fun!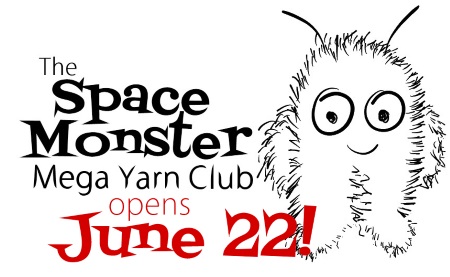 Gradient Explorers: Very Limited Spaces Open June 29!
Each month in the Gradient Explorers, we dye a stunning colourway that flows into the next month's colour… and into the next month's colour …and into the next.  With limited availability, we open new spaces only when they become available and, this month, we have a handful spots free!  I'll be opening them up on Fri June 29 at noon (eastern), and there are so few spots available that I think they'll go quickly, so mark your calendar and get on the Gradient Explorers mailing list to get a early reminder.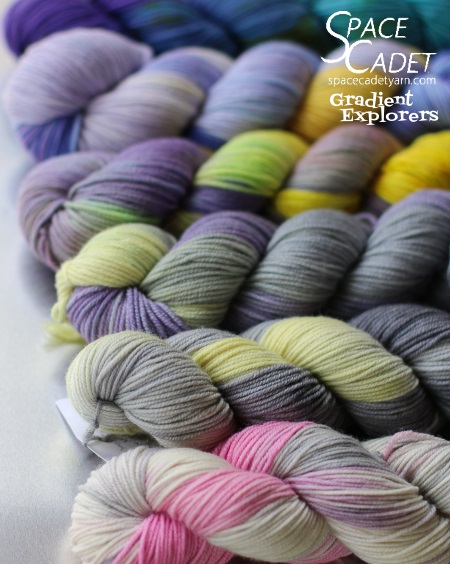 The Storm Damage Colourways: Update

We had our Storm Damage Dyeing Day at the end of last week and there were so many orders that we actually had to dye all through the weekend too!  And everything was so busy with yarn and pots and dye mixtures everywhere that, of course, I completely forgot to get pictures.  Whoops!  But no matter — the yarn is dyed* and hanging up to dry.  Once we get back from TNNA, we'll start twisting and tagging it, and then schedule a packing day and get all out to you guys!
*except for one batch that had QC issues. Sometimes that just happens with hand-dyed yarn.  We'll redye that as soon as possible and, if it's going to delay any orders, I'll get in touch.

Kronblad by Verena Cohrs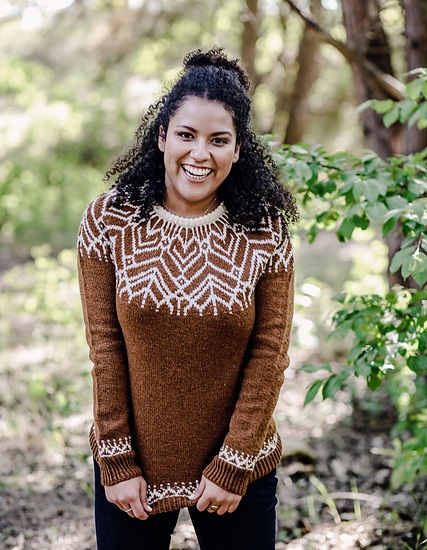 When I saw this gorgeous design, just one thing popped in my mind…  well, ok, two things.  The first is just how much I love the graphic quality of the yoke design.  There's something about those crisp lines that completely revolutionises the whole look of a colourwork yolk sweater and I am just crazy about it!
And the second thing is — stay with me here — what if this was knitted in one of our ombre sweater sets*…  so the body of the sweater works it way evenly through the colour flow with, say, the darkest colour at the bottom and the lightest colour at the yoke…  but then, you saved some of that darkest colour and used that for the contrast colour in the yoke?  And used some of the lightest colour as the contrast in the hem and the sleeves.  Wouldn't that look incredible?!?  Somebody pleeeease, knit that!!!
(*I think Audacity, Infatuation, Transcendence, or Downpour would work best.)
image © Ricarda Schueller, used with permission
iSea by Gretha Mensen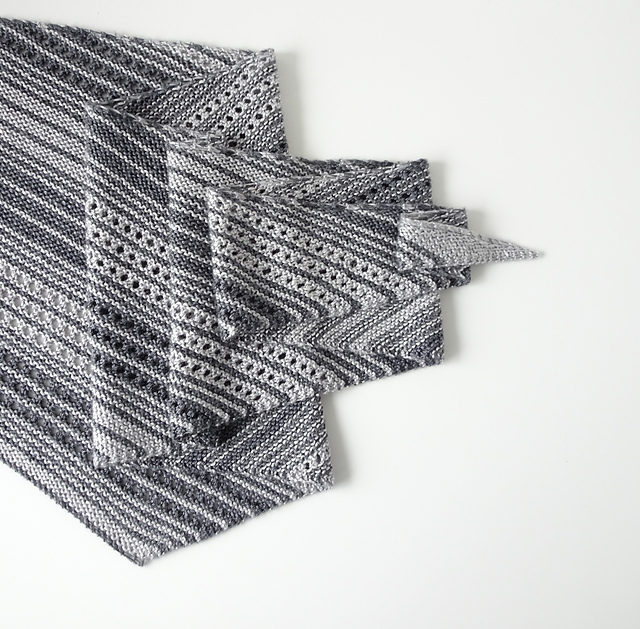 Talk about eye-catching!  This gorgeous shawl jumped right out at me as I was looking through patterns this week.  The construction is simple but those gorgeous stripes create visual complexity and wonderful texture.  Designed for fingering yarn, it's a fabulous stash-buster for SpaceCadet Mini-Skeins or that amazing variegated yarn you haven't been quite sure what to make with.  Or recreate the look here with our gorgeous greys Sliver and Dark Skies.
image © Gretha Oceaan, used with permission
Hocus Crocus Beanie (DK) by Lisa M. Barnes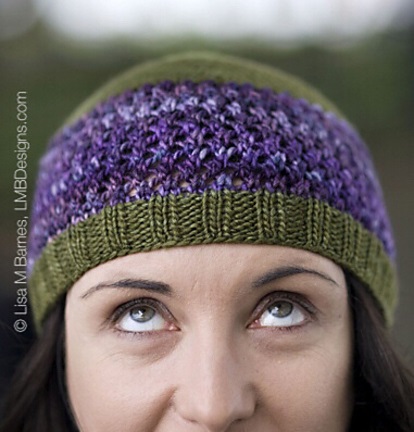 Sometimes the best part of a simple is design is the way it lets the colour shine.  I'm a sucker for purple and green together, for mesh lace, and for quick knits, so this sweet hat is a natural fit!  Designed in DK (try Astrid or Lyra), it's also available in a worsted version.  What colour combo would you go for?
image © Lisa M. Barnes, used with permission
Ok, my coffee is gone (what?!?) and it's time we got on the road.  Please keep your fingers crossed for us at TNNA this weekend — that it is as productive as it is fun — and I hope you have a wonderful weekend planned as well.  And until next time, all my best!