I feel like I have soooo much to tell you! TNNA was amazing: we've got orders from some wonderful new shops, met so many wonderful people, and we're collaborating with some fantastic designers on really cool projects.  So much good stuff!  But you're not going to believe what I'm actually about to tell you…
We got home from TNNA late on Sunday night.  I took a much-needed day off (sleep! and recover!) and then we jumped right back in to pack all the parcels for the Storm Damage colourways that had been drying while we were away.  I am so grateful to all of you for supporting us as we got our studio repaired from the damage of all the rain pouring through the ceiling, that I wanted to get your yarn out asap.  And there were so many orders that it actually took two days get them all boxed and labeled!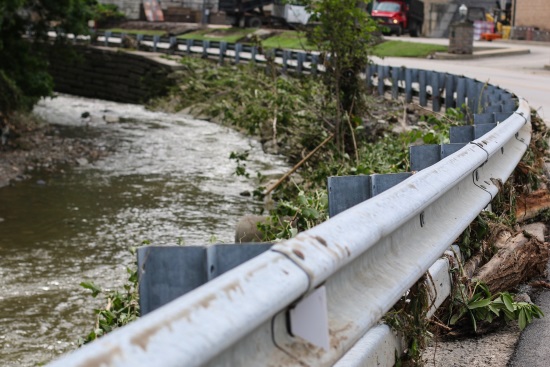 the little creek across the road from our studio — see the crushed vegetation and the debris deposited in the safety fence?
As I pulled into the post office parking lot just before closing on Wednesday, I looked up at the clouds darkening rapidly.  One of the postal workers helped me unload my car and she spotted them too. "That's quite a storm coming."  It made me chuckle a little to realise that I was dropping off yarn inspired by one storm under the dark skies of another storm rolling in.
But Wednesday night's storm was no laughing matter.  It dumped a colossal amount of water and caused flash floods all over the area — so much that our township and the ones surrounding have declared a state of emergency.  There's damage all over the place, and the little creek outside our studio became a raging (and I do mean raging) river that burst its banks and flooded businesses and homes up and down our street.
When they cleared the debris yesterday enough to open the road, we headed to the studio to see how it fared and, as we drove, the damage actually made me gasp.  But though I could see that the creek had crossed the road and covered three-quarters of our parking lot, the watermark showed that it had come to a stop just feet short of our front door.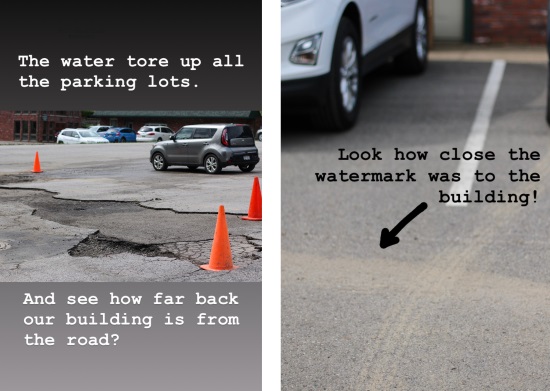 Sadly the rain came under the door and our carpet in the first room is completely soaked.  I think it was probably just the sheer force of the water, and its now squelchy underfoot and smells of fish and muck and yuck.  We spent the afternoon hauling ruined shipping boxes out to the dumpster and moving bags of undyed yarn (thank goodness it was all in bags!) to higher ground.  And I just couldn't believe it had happened twice in one year.
But do you know what?  I don't mind one bit!  We'll pull the carpet out and paint the concrete underneath and it will be fine.  Compared to the damage we had earlier in the year, this is easy.  Compared to the damage faced by so many others around us, this is an absolute blessing.  I am grateful that pulling up some carpet is all we have to do.
So that was this week: from all the excitement and fun of TNNA to squelchy carpets and weird smells!  And after all that, I'm ready to indulge in a little fibery good news, aren't you?  I've got a ton to share but, before I do, just one really important thing:
You guys were so generous when I create the Storm Damage colourways to raise funds for the studio repairs and I loved having the opportunity to earn that support by doing what we do best.  That was important to me.  Now, we don't need to do repairs like that this time but I just wanted to say that the thing that really supports our studio month in and month out is our clubs.  More than regular yarn sales and or orders from LYSs, it's the clubs that give us the kind of reliable income that keeps everything in the studio running.  The SpaceMonsters Club opens today at noon — if you love the work that we do and the yarn we create, I hope you'll join us and let us continue to earn your support!

I think of handknitting as a thoroughly modern craft but it has ancient roots and the larger knitting world (read: industrial machine knitting) has really fascinating modern applications.  This article explores the latter and it's so interesting to see behind the scenes of the production of the fabrics we all use every day.
Not about fiber arts but still about making, I was kind of blown away by the simple solution this rolling pin presents for an age old problem: how to make sure your pastry is even and exactly the right thickness? You just roll until the edges touch your tabletop.  Now, at nearly $50 per pin, I'm not sure my only-occasional baking habit can justify buying one, but I sure can recognise genius when I see it!
When you knit or crochet, do you do it to blend in or stand out?  Carolyn, an awesome member of the SpaceMonster Club, sent me the link to this amazing collection of camouflage knitwear.  And when I say camouflage, it's not what you think.  Really, really cool.
I always find that the more I knit, the more knitting ideas I have (to the point where I have a very very hard time finishing my projects because I'm always rushing to cast on the next idea!).  Are you the same?  I found this article about What Happens In Your Brain When You Create to be fascinating.  And suddenly it makes sense: the more you create, the more creative you are.  Cast on!
This picture cracked me up.

Quick Calendar:
TODAY at noon (eastern): The SpaceMonster Mega Yarn Club Opens!
Friday June 29: A very limited number of spaces in the Gradient Explorers available
The SpaceMonster Club opens TODAY at noon!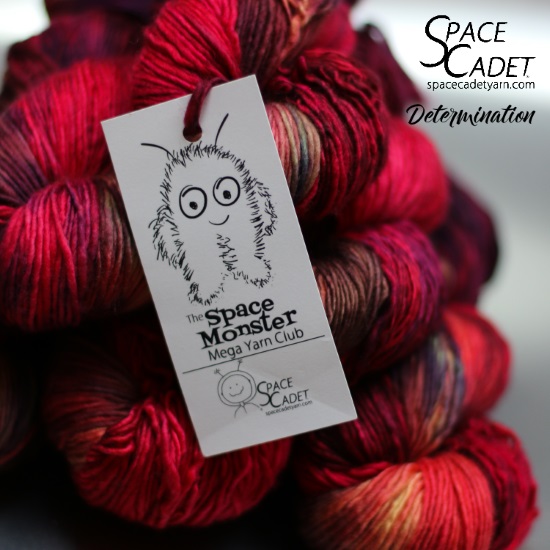 I'm going to tell you more about the yarn above next week but, when you look at it, and you see all those colours, can't you just tell how much love (and determination!) went into it?  That's because it's a SpaceMonsters colourway and there's something really, really special about dyeing for the folks who join our clubs.  They've agreed to come on a colour adventure with us and, to me, that's an amazing honour!
Would you like to join me on this colour adventure?  The SpaceMonster Club is our worsted and bulky weight club, because big squishy yarns are smooshy and soft and so much fun to work with (they're so quick!).  I mean, they're what got me started knitting in the first place (you too?).  If you feel the same way I do, and you love colour like I do, set a reminder on your phone now and click here at noon (eastern) TODAY to join us in all this lovely squishy yarny fun!
Gradient Explorers: Very Limited Spaces Open June 29!
Each month in the Gradient Explorers, we dye a stunning colourway that flows into the next month's colour… and into the next month's colour …and into the next.  With limited availability, we open new spaces only when they become available and, this month, we have a handful spots free!  I'll be opening them up on Fri June 29 at noon (eastern), and there are so few spots available that I think they'll go quickly, so mark your calendar and, if you're on the Gradient Explorers mailing list, you'll get a 10 minute headstart!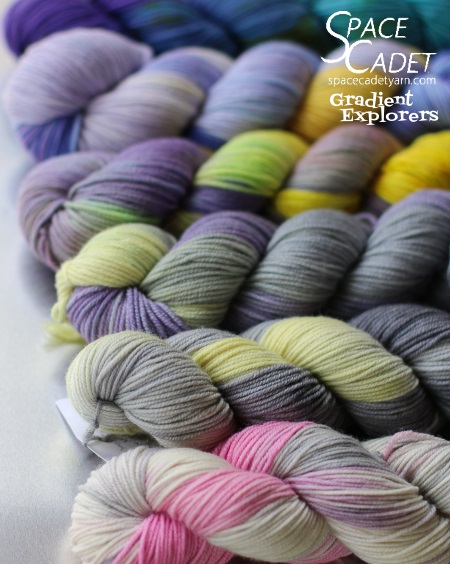 Lindy Pop by Meghan Jones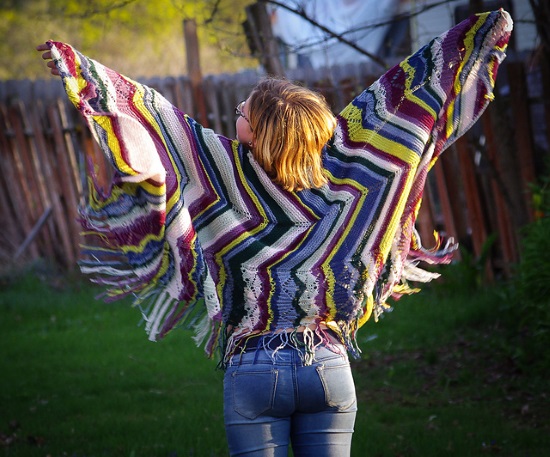 I met Meghan Jones at TNNA this past weekend and absolutely loved her.  She's warm and down-to-earth and brimming with creativity — I'm looking forward to working with her in the future!  But in the meantime, let me share this fabulous wrap with you and the thing that I love about it most: instead of weaving in allll those ends, Meghan turns them into a fringe that emphasises the bold colour play!  Designed for sport weight yarn, it would be gorgeous in Lyra or even more amazing in SpaceCadet Mini-Skeins held double.  Go dig through your stash and find some colours to pair up!
Fire Circle by Simone Kereit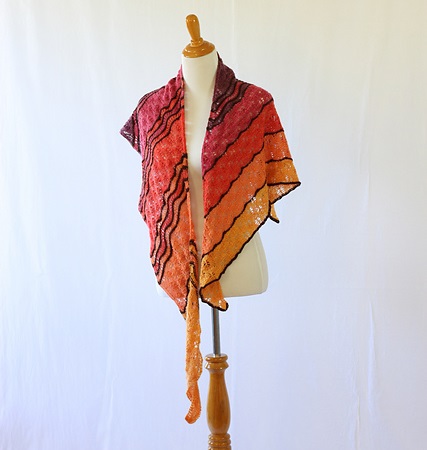 So, you have that stash of our gradient Mini-Skeins and you've been looking for the perfect pattern — something that will really do them justice, right?  Welllll… I think I might've just found it for you!  Choose one gradient bundle for the main colours and then a contrasting mini to make them pop and cast on.
Oh, and while you're at it, let me just tell you that Simone is another designer who is simply a lovely person, so grounded and fun to chat with.  I mean, when you're putting your all into a gorgeous project like this, it's nice to know it comes from good people, right?
Granny diagonal block sweater by Ana D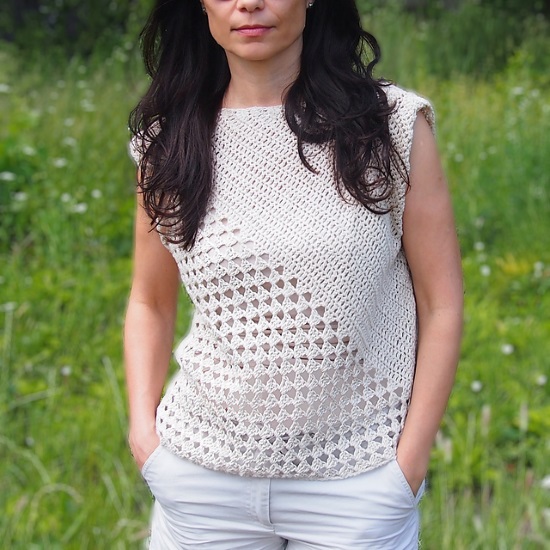 Yesterday was the summer solstice and when the days are long and warm, I do love a lacy crochet top.  And when it comes to crochet, it's hard to beat the ease of a granny square.  I love how this top takes that traditional granny square stitch and turns it on its side (almost literally!) to create a corner-to-corner look that's super eye-catching.  And crocheted garments always work better in a yarn with a little drape, so I'd recommend either Oriana or Maia to soften the stichwork and allow this sweater to really flow!
all image © the respective designers, used with permission
Ok, it's time I finished my coffee and got started with the day.  I'm headed to the studio to see if anything is any drier(!) and then dyeing some fun colourways (because dyeing yarn feels like the cure for just about anything as far as I'm concerned).  I hope your day is going to be great too and, until next time, all my best!