A couple of weeks ago, I asked for a little help with planning for SVFF, a new show we're going to in a few months, and I just have to tell you: the response was awesome.  Thank you so much to everyone who emailed — not only have your photos and descriptions made me feel a lot more informed about the show but I'm also looking forward to meeting  you guys in person while we're there.  A show is always more fun when you know there will friendly faces there!
And we got some fantastic emails in answer to my questions about millennials and crochet — and those turned into great conversations in the studio.  I loved reading them and having the discussion because I think crochet does amazing things with hand-dyed yarn, and I think it's fascinating how the craft is changing and evolving as new generations discover it.  Thank you to you guys for writing in!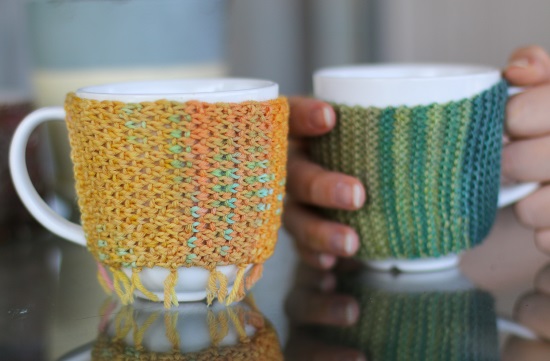 Speaking of doing amazing things with hand-dyed yarn, did you see these little coffee-cup cosies my assistant Jade made with her gauge swatches?  I love them as a solution for what to do with that ever-growing pile of swatches that's always hanging around.  These two made from two of our latest Ombre&Gradient Mini-Skein bundles (that's June's colours on the left and April's on the right), and I'm using one of them on my coffee right now.
If you've got your coffee too, I've got some great fiber-world news to share with you!  So pull up a comfy chair and here we go…

The stitches don't lie: when Staci Perry of Very Pink knit two scarves that reflected the daily temperatures for the years 1900 and 2017, they showed a remarkable difference.  Though the colours are beautiful, one year was alarmingly hotter than the other.
If the word "crochet" conjures up thoughts of small things like granny squares or amigurumi animals, allow me to blow your mind.  First with this amazing 65-foot tree "growing" in Zurich's main train station (watch the video to get a real sense of how amazing it is).  And then with these stunning crocheted doilies, some as wide as 15-feet, that stretch along ceilings and walls to create intricate canopies that are incredibly beautiful.  It makes me think of crochet on, well, a whole new scale!
Ever wondered about the difference between test knitting and tech editing?  I think this article explains it really well, and helps give an appreciation for the amount of work that goes into a well-written pattern.  Speaking of which, the SpaceCadet crew has been working on new design ideas and may need some good test knitters in the near future.  If you're interested, click here and put your name on the list.
You don't need this article in the New York Times on "How to Start Knitting", but someone you know might, right?  I'm including it here so it's easy to hit the link and forward it on to them.  And also because I just love when I'm eating my breakfast and just randomly come across articles that support this awesome industry!

It has been so hot lately that I find myself gravitating to any pattern that gives off a light and airy summer vibe.  And this week, these three designs from Mindy Ross caught my eye.
Dangling Conversation by Mindy Ross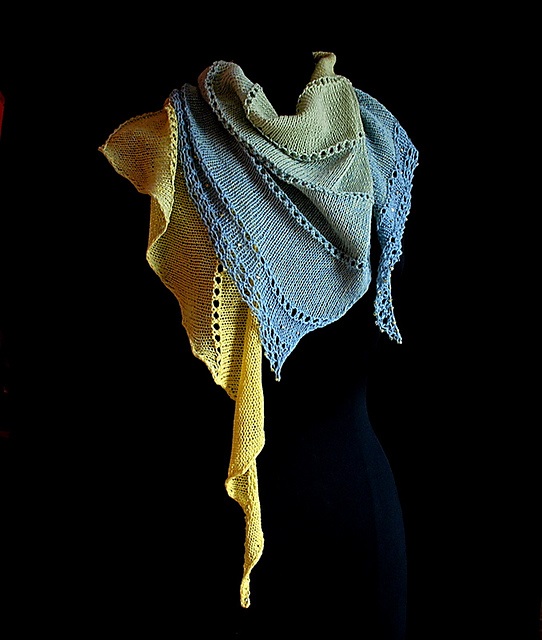 This is the first of Mindy's designs that I spotted, mostly because of the colours and then because the simple stitchwork is almost made for using up Mini-Skeins.  Simply change colours before (or after) each eyelet row and you've got an amazing gradient effect in a easy, zoned-out summertime knit!  Click through and look at the second pattern image to see and example of what I mean — it's lovely!
Early Morning Rain by Mindy Ross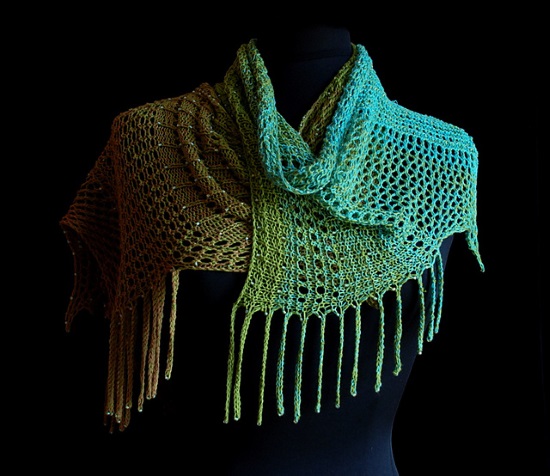 Ok, this one is more complex (but not crazy complex) and the effect is fabulous.  Lots more eyelet rows this time, to create an airy fabric that just exudes summer, and the fabulous addition of a fringe and some light beading.  The result is incredibly eye-catching and perfect for either a set of our Ombre & Gradient Mini-Skeins or a very very gently variegated yarn, like SpaceCadet Oriana in Time Traveller.
Giggle With A Jiggle by Mindy Ross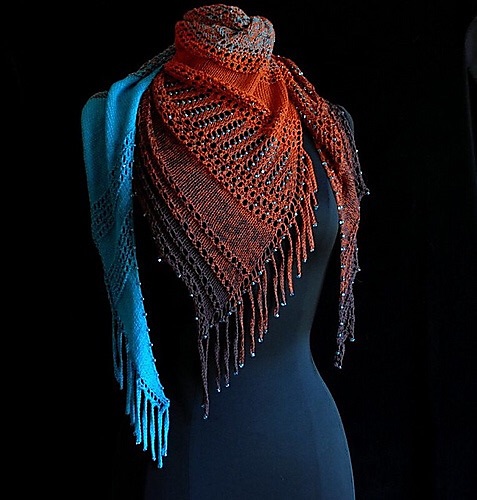 Full-on boho chic!  It's that same eyelet motif but with the fringe and beading turned up to 11, the effect is amazing!  Look carefully and you'll spot that even the fringe itself is beaded.  The entire effect is gorgeously and summer-y and has me just itching to cast on.
images © Mindy Ross, used with permission
Ok, my coffee is gone and so it's time I got going too.   Today we're packing a bunch of orders and then I've got some club colourways to think through — and that part is so fun!  I hope you've got a great day planned as well so, until next time, all my best!