A few weeks ago, I asked whether it's true that Millennials are more attracted to crochet than knitting, and such interesting responses!   Tara shared that she has sometimes felt perhaps less welcome in her crafting community and that a lot of knitters have been dismissive of the results that crochet can create (check out my third pattern pick today to put paid to that notion!).  But she points out that crochet is quicker than knitting, it sits flat and doesn't need blocking, and she compared it to quilting, which once had an aura of old-fashioned-ness but, in recent years, has reinvented itself as a thoroughly modern art form.
Cisela both knits and crochets and so finds it surprising when friends ask her teach them but think they have to choose one or the other.  Perhaps there's a general perception that you can't do both?  Cassandra asked me to include more crochet options in my pattern picks (I do whenever one catches my eye, but I'll definitely try to be more conscious of it).  And I also heard from an organiser of regional craft/yarn shows who told me that, while there seems to be a definite trend towards the growth of crochet, there doesn't seem to be as much demand for crochet classes and events as for their knitting counterparts  — they just don't sell as well — which makes it tricky to put together a show that offers as warm a welcome to crocheters as it does to knitters.  I can certainly see the dilemma!
Oh and Michelle let me in on a craft her family is into: painted rocks. Who knew that was a thing? I certainly didn't! And while I admit it sounds kind of weird, it sounds kind of awesome too.  I'm going to have to look it up.  Maybe a painted rock needs a little knitted or crocheted bag to live in?
The knitting/crochet discussion is one that continues (and I look forward to more of your thoughts if you've got them to share!) but, in the meantime, I've got a bunch of exciting fiber-world news for you so grab a nice cuppa and your project (I'm working on a hat — I'll show you it next week) and let's dive in…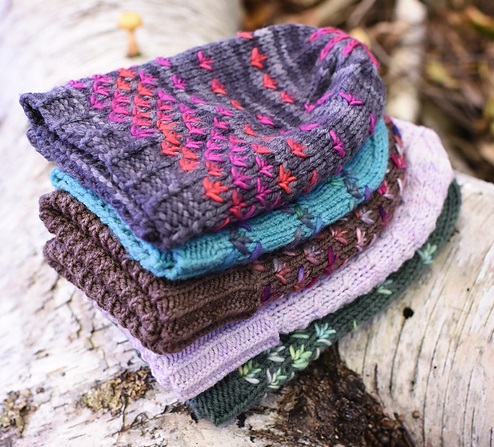 When you buy a knitting pattern, you are supporting so much more than just the designer.  I absolutely loved (loved loved) this post from Hunter Hammersen (that's her design Permutation, above) detailing exactly what that means and how the price of one pattern supports a whole chain of industry professionals.  It's an eye-opening read!
One of the things I love most about summer is all the flowers everywhere and one thing I like about winter least is the lack of them.  But knitted flowers, while they aren't a worthy substitute for the real thing, are fun and simple to make.  I like this tutorial for a great way to add a little summery embellishment while using up your scrap yarn.  Win-win!
When I heard the news about scientists finding twelve new moons orbiting Jupiter, including one that travels in the opposite direction to all the others, I couldn't help but smile.  Most of the time, I feel like I'm travelling in the opposite direction to everyone else as well.  And if you crochet on bus on the way to work, if you knit at the baseball stadium, or you sit at the bar on a Saturday night thinking, "Mmm…  I think it'd be ok to pull out my project bag…", then you're on the same orbit too.  Little Moon, we see you!
I been seeing ads for something called "Bluprint" in my Instagram feed for a while but just discovered that it's the new name for Craftsy, which was purchased by NBCUniversal last year and is currently undergoing a rebranding.  From what I read, that includes expanding its classes from crafting to "areas such as music, writing, dance, yoga, fitness, home décor, entertaining, and kids and family."   And Bluprint will also produce original entertainment series featuring creative experts.  Interesting…  I'm not sure if it sounds like more fun or like more of same stuff I can find elsewhere.  Time will tell.

Our July Mini-Skeins went out to our club members a few weeks ago and, when I saw them caked up, I knew I had to share them with you.  This month, the Ombre & Gradient mix was inspired by paprika and moved into warm, spicy reds with a tinge of brown.  I absolutely love how they turned out!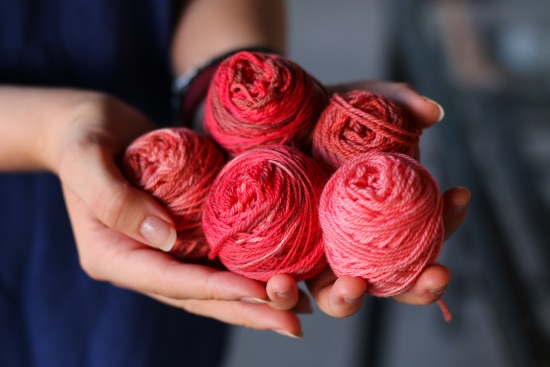 Mmmmm…  spicy!
But how do these warm and spicy shades work with the previous months' colours? Even though June and May's colours were considerably cooler (starting off at blue-green, even!), the flow is smooth — and so beautiful! I absolutely love the idea of a larger project that pulls all three months together. Don't you think it would look amazing?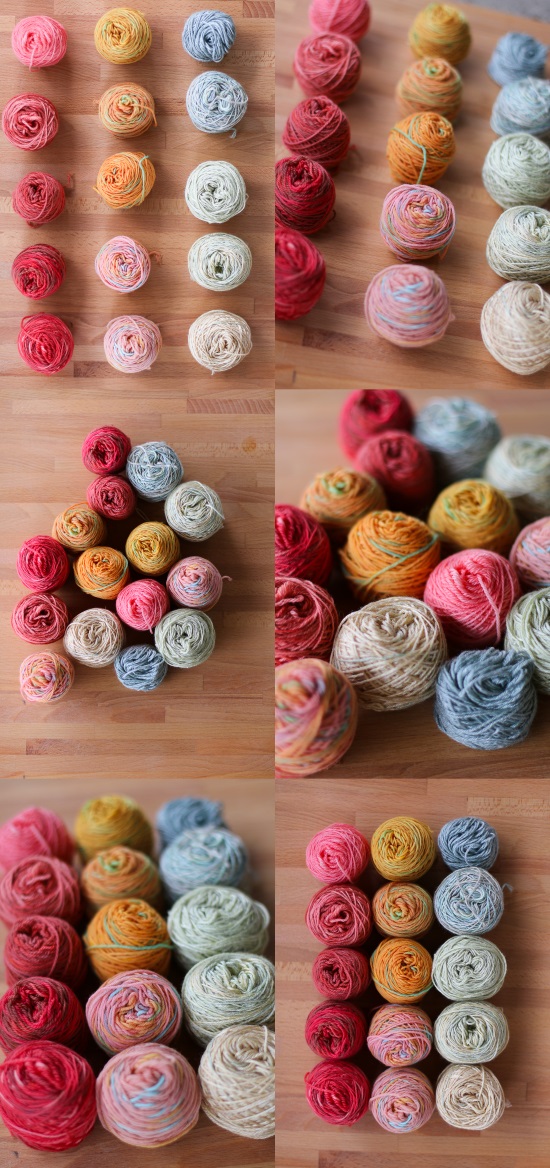 aren't they adorable?  I can't stop taking pictures of them!
Each month for our Mini-Skein Club, we dye an Ombre & Gradient Mix that flows from last month's colours into the next month's colours (and into the next…), to create a Never Ending Gradient. It's seriously so cool! To find out more, click here.⠀⠀

Summer Dunes by Laura Aylor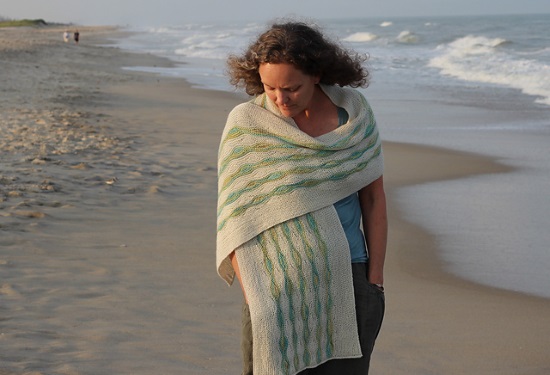 Everything about this pattern feels wonderful and relaxed and chill, from the colours to the easily memorized shaping (and even to the beach in the background).  It's specially designed to make the most of the variegated yarns you have in your stash that you feel head-over-heels for but then weren't quite sure what to make with.  Pair it with a two skeins coordinating semi-solid that gives enough contrast and you're all set!  (I'd try it in Oriana in Time Traveller as the variegated and Drizzle for the semi-solid — they look gorgeous together).  Bonus: Summer Dunes is 25% off between now and August 5.
Gradients A Deux pattern by Debra Gerhard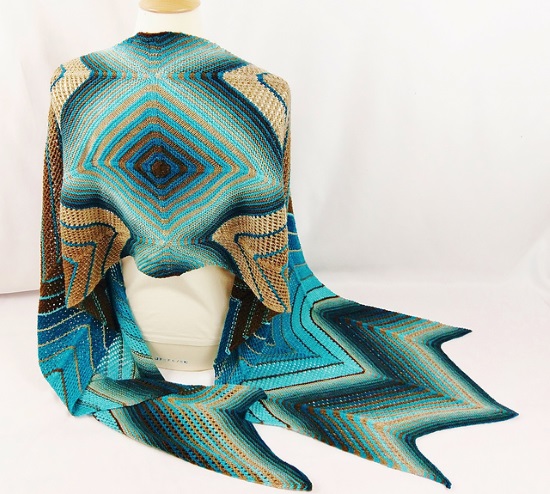 Want a pattern with maximum visual impact to show off your gradient yarn?  I think this might just be the one!  And despite being the kind of design to stop folks in their tracks, it's actually not nearly as complicated as it looks, combining simple lace with garter and stockinette to show off colour to its absolute best!  This uses two sets of gradients but more yardage of each than in in a single bundle from our Mini-Skein Club so it's a perfect opportunity to dive into your stash and start mixing-and-matching, including your Mulicolour skeins.  If you knit it, send me a picture and show off your colour mix — I'd love to see it!
Taw by Rebecca Velasquez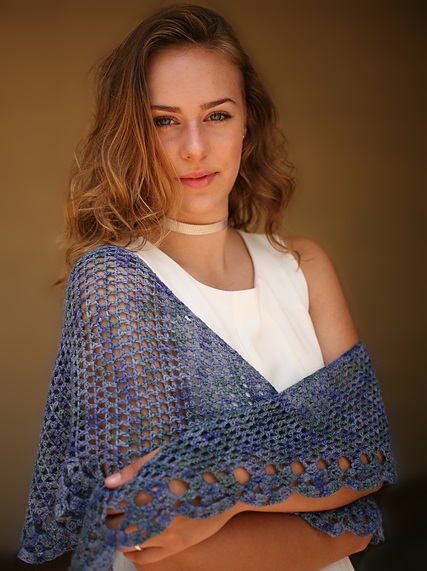 If crochet makes you think of heavy things in stiff acrylic yarns (those big chevron afghans or granny square pot holders), let this lovely shawl shed a little light on how amazing (and modern!) crochet can be.  And when I say "shed a little light", I mean it literally: look at the lovely lacy effect those simple stitches create!   It's the perfect summer pattern — both for the crocheter who wants an easy summer vacation project and the knitter who wants to learn a new fiber skill while acheiving a gorgeous result.  Try it in SpaceCadet Celeste or Maia for the lightest, drapiest of fabrics!
images © the respective designers, used with permission
Ok, I've got a ton of dyeing to do today (in a secret colourway I'm super excited to work on!), so I'd better finish my tea and get to the studio.  I hope you have something super-exciting planned too (and if not, just go cast on a variegated yarn — that'll liven things up…).  And until next time, all my best!