This week, I got a classic lesson in the importance of swatching.  Uh oh…  (I almost heard you say it!).  But really, I shouldn't have needed it…  Actually, when I think about it, perhaps it's more of a lesson in the importance of holding onto your skeins' labels.  Either way, it was a lesson and I learnt it.  Let me explain.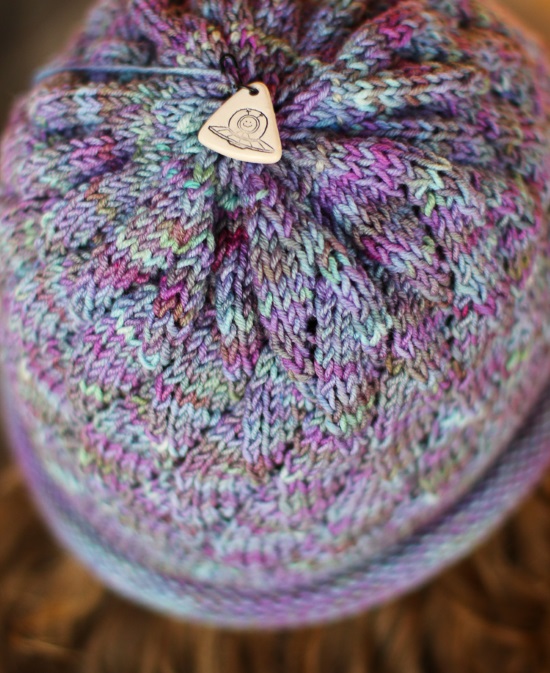 (The first hat. I hadn't finished off the live stitches at this point, so they're held on that stitchmarker)
A few weeks ago, I had an idea for a hat — a sweet little thing with a rolled brim and a simple wave pattern — so I grabbed an old skein of Lyra and cast on.  It was already caked (I have a lot of yarns sitting around that I caked for one thing and then got distracted by another) and the tag tucked into the center confirmed it was Lyra in a one-of-a-kind colourway.  I whipped out that hat in a couple of days and it's lovely, but I decided I wanted to knit it again with a little more slouch.
So I grabbed another skein — again, already caked up but this time the tag was lost.  No matter, I knew this was Lyra too, in an experimental colourway that's a little like Breeze but with a lot more green.  I did some math, increased the cast-on stitches just slightly, and away I went.  Knit knit knit, finish off and… Woah! It was slouchy.  In fact, it was a lot more than slouchy — it was really loose.  What?  I'd increased by only a few stitches…  it didn't make sense!
So I cast on again, this time decreasing from the original by about the same number of stitches and using an absolutely gorgeous colourway from a few years ago, all blues and purples and browns.  Again, it was already caked and, fatally, again I'd lost the tag.  When I was finished and tried it on…  it was nearly as loose as the second hat!  Not as bad (it did have fewer stitches) but still nothing like the first one.  What the heck?!?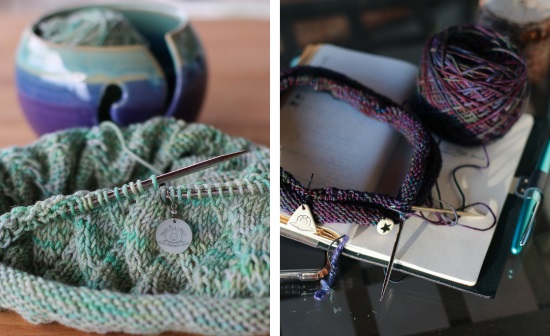 (ill-fated: the second hat is on the left, the third hat is on the right)
It wasn't until I'd faced these two little catastrophes that I finally decided to pull out my tape measure and check my gauge.  The first hat measured 18st over 4″, and the second and third both came to 21st over 4″…   and that difference added a full 3-4″ to the cast-on brim!  It turns out that, without the tags with only my (spacecadet!) memory to guide me, I'd chosen two skeins of Vega, our worsted yarn, for the second and third hats — not Lyra, which is a sport weight!  No wonder they were coming out so crazy!
Swatching first would have told me there was a problem.  Keeping the tags would've helped a lot too.  Either way, I've learned a useful lesson.  And I do have three really lovely hats — one of which fits me perfectly and two others which will go to someone with curly hair that doesn't like to be crushed.  And now that I know what the problem is, I'm going to go find a skein of actual Lyra and cast on… the slouchy version of a hat I've knit three times now!
But before I do, I've got a ton of fun stuff to share with you.  So grab a comfy spot to sit and something nice to drink and let's dive right in!…

We've discussed before the value of knitting and crochet as educational tools so I really really enjoyed this article by Sara Jensen, an assistant professor of mathematics at Carthage College.  She says, "The subjects discussed here – abstract algebra and topology – are typically reserved for math majors in their junior and senior years of college. Yet the philosophies of these subjects are very accessible, given the right mediums."  Interesting read!
Needle-felting is like a kind of magic (the kind of magic you have to do very carefully so you don't stab yourself but, still…) and, every time I try it, I'm amazed at how good the results are.  But these needle-felted cats are so incredibly realistic they're downright mind blowing.
Craftsy is becoming Bluprint and I'm not sure what changes that will bring in the future, so I've been being a little more conscious of watching the classes I meant to get around to but never did!  Next up for me is The Ins & Outs of Grafting, a free hour(ish) long class about mastering Kitchener stitch (because I still have to sit and think it out every. single. time!)
When I'm working in the studio, I often listen to podcasts while I work, usually about current events or TED talks.  I recently came across this talk by Magda Sayeg about how she started the yarn bombing trend a decade ago.  I've never yarn bombed anything…  have you?  What was it?  And how long did it last?

Our Upcoming Shows
Check out the Latest Yarn Alliance Parcel!
A few weeks ago, we sent out the latest colourway to the members of the InterStellar Yarn Alliance and it's so summery and fresh that I just have to share it with you.  To be honest, I sometimes find it hard to dye a yarn that feels right at the height of summer. I want colours that are as bold as the days are hot without feeling oppressive.  It can be tricky.  But when I showed this to my assistant, she said immediately, "Oh, it's like the Summer of Love!"
It has a coordinating colourway as well, called "Peace and Love", and the gift was a fabulous shawl pin from my friend Michelle at Craftyflutterby.  The Yarn Alliance is closed to new members right now, but opens again on Sept 7th, and I give first dibs to folks on the waiting list.  Click here to get on it!

Double Dipper by Lisa K. Ross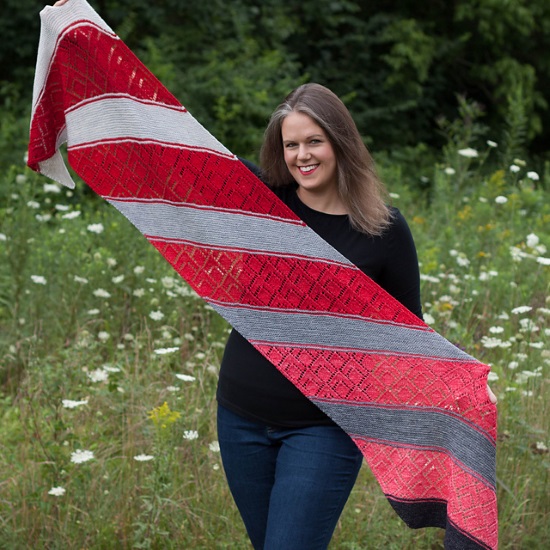 If you like working with gradient yarns, then this design gives you double the fun!  Worked with two gradients running in opposite directions, it combines squishy garter with simple geometric lace for intriguing (but not overwhelming) knitting.  If you've got a stash from our Mini-Skein Club, try pairing the spicy reds of your latest bundlSe with the burnished gold-greens from a few months previous.  Bonus for Mini-Skein Club Members: to celebrate the awesome use of Minis in Double Dipper, Lisa is created a 50% off code for any of her patterns, exclusively for the current members of the club.  If you're on the list for the July or August parcels, check your inbox!
Loro pattern by Lesley Anne Robinson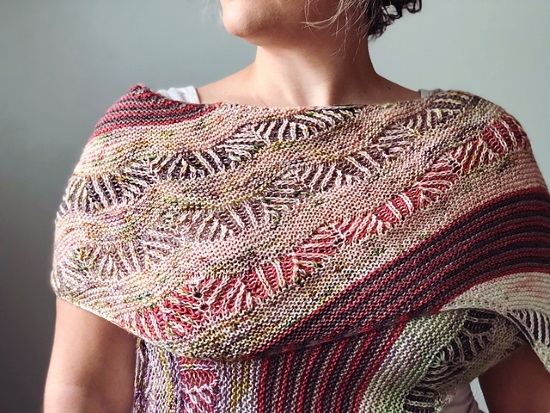 Brioche is all the rage right now and I love the way this shawl takes that technique and innovates on it to create a really intriguing texture.  Using chevrons to offset the brioche's vertical stripes and garter stitch to match it's squishiness, the result is something with the visual impact of lace but a lot more warmth.  Designed it fingering, it would look fabulous in our Mini-Skeins combined with a semi-solid for contrast.
Slow Curves pattern by Joji Locatelli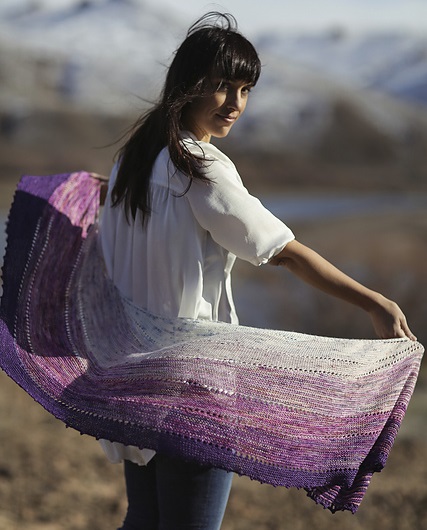 It doesn't necessarily take Mini-Skeins to create a gradient — full skeins can be just as effective!  Joji's Slow Curves uses four skeins of fingering knit in short-row wedges and employing clever use of colour to create this stunning shawl.  Its gentle curve and sweet eyelets set the colours off perfectly.   If you picked up a set of our Faded Collection, this may be the project you've been waiting for!
images © the respective designers, used with permission
Today I'm starting out by photographing some club yarns before the sun gets too high in the sky, and then I'm heading down to the studio to dye  some lovely yarn for a few orders.  Then, I'm going to come home and…  cast on that fourth hat!  I hope your day is full and productive and, until next time, all my best!