This week I did something I almost never do.   Have you ever noticed that, whenever I share my knitting projects, I'm always using one-of-a-kind colourways in my photos? That's because I always feel like I shouldn't take stock from the shop to work with myself, so I only let myself to take the skeins that have breaks or mill knots or something weird that we wouldn't allow into the shop. And, inevitably, that means I am working with our oddest colourways!⠀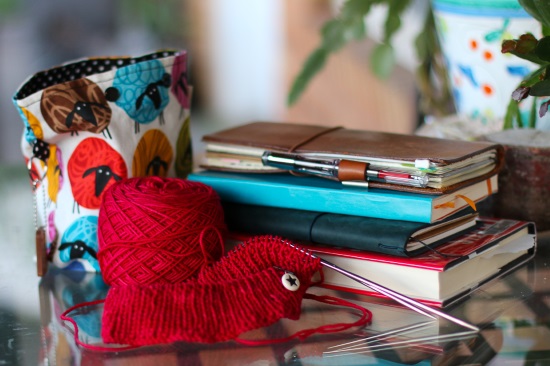 the brim of my hat (in Lyra in Mars) along with my notebooks & adorable project bag (ever-present tea not pictured)
But this week, I had an idea for a hat (yes, another one!) and I really wanted to work with a nice semi-solid to show off the stitch pattern I have planned for it.  So I had a long talk with myself and finally decided I could take a skein out of the shop …just this once. And I'm so glad I did! First, because I love love love this rich red and second because… well, because it's ok for me to share the nicest skeins with myself once in a while, right?⠀
And I'm so glad I did!  That red called Mars and it's just a joy to work with.  I believe there were about 10 other skeins in the shop when I stole mine so if you'd like to cast on something this bold and fun too, click here to grab one!
(Oh, after my newsletter last week, when I shared with you about the two hats I inadvertently knit in entirely the wrong weight yarn, quite a few folks got in touch to ask what the pattern was.  And I realised that, in telling the story, I'd forgotten to mention that I'd just been making the hats up as I went along.  But I've written the pattern down and my assistant Jade is testing it now — in the right yarn even!  If she gives it the go ahead, I'll get it edited and released — which is something I hadn't planned on but am now really kind of excited about.  I'll let you know when I do!)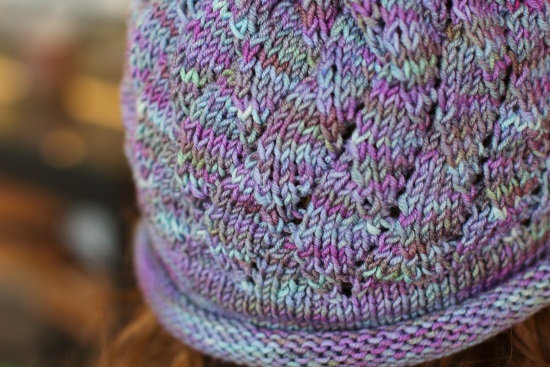 the hat I shared with you last week
In the meantime, I've got some great stuff to share with you this week so grab a cup of tea and quiet spot to sit, and let's get to it!

I've often said — and I am earnest in this belief — that if we could get the whole world knitting or crocheting, we'd achieve world peace.  And, ok, maybe we wouldn't achieve it but they way fiber arts pull people together and help disparate groups relate means we'd be so much closer.  Take this video, for example, showing Brazilian criminals learning to crochet in prison.  The pride of of them describes as he masters new stitches and finishes his projects…  I totally get it!
British crafters: the voting for the British Knitting and Crochet Awards are live now until 30 August.  If you've got a local yarn shop, designer, or yarn brand that you'd like to see recognised, click here to vote.  (And I'm wondering, is there a similar set of Awards for North America?  Anyone know?)
I came across this Instagram post asking how local yarn shops can compete against the growing number of yarn shows, and I found the discussion in the comments really interesting.  And while the post is discussing the situation in the UK, I think the same question could be asked in the US just as legitimately.  To my thinking, LYSs are the backbone of the industry we all work in and need our support and yarn shows provide an exciting event that keeps everything interesting.  There must be good ways to keep them mutually supportive and, if you work at a yarn shop (or a yarn show), I'd love to hear your thoughts!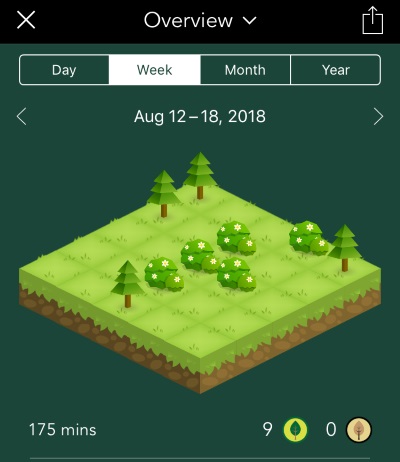 my forest so far — isn't it sweet?
Ok, this is not fiber related but I think it is so incredibly genius that I just have to share it with you.  You know that your phone can be both a help to your productivity and a real hindrance to it, right?  I mean, when you're working on something that requires your full attention, that's the time when your brain starts telling you to check your phone, right?  Forest is a fantastic little app designed to help you resist that urge by growing a tree during the time you've told it you want to concentrate.  Leave your phone alone and the tree is added to your forest, but click out of the app to check something else and…  your tree dies!  There's even a group setting where your team can grow a forest together and if anyone checks their phone during a meeting or work session, the trees for the entire team get chopped.  I've been using it for a couple of days now and I LOVE it! Available for iOS and Android, click here to check it out.

Our Upcoming Shows & Events
Swatching with June's Yarn Alliance Colourway
The other week, my assistant was playing with some texture, using the July Yarn Alliance colourway to do it.  It was a lovely mix of purples, soft browns, creams, and a touch of blush that all swirled into each other.  When she cast on a very narrow swatch, they started to do this cool striping effect and I just had to share with you!
Now, widen swatch and of course the striping disappears.  What will it do?  Well, it depends on the stitch you choose and that's why swatching is so valuable.  But it's fun to see how it came out here!
The Yarn Alliance is opens to new members on Sept 7th, and I give first dibs to folks on the waiting list.  Click here to get on it!

Wild and Free pattern by Annie Lupton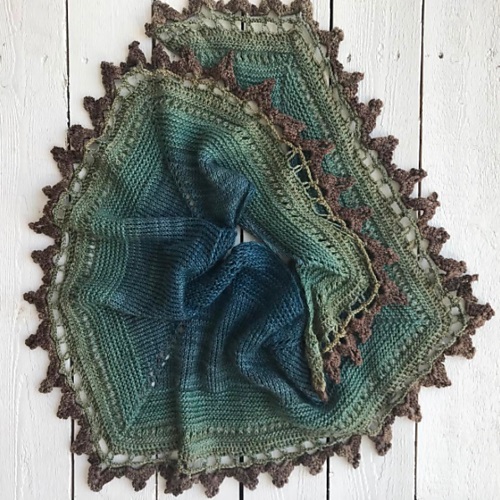 You remember a couple of weeks ago when I was discussing crochet?  One of our readers wrote in to suggest this gorgeous shawl, knit with garter, stockinette, and eyelet sections in the body and then worked with a lovely crocheted lace edging.  Annie recommends a yarn with drape to make the most of the shape and edging, so I'd recommend either Oriana or Maia, both of which have incredible drape and, if you happen to have a gradient set from in our Mini-Skeins, all the better!
Pixham pattern by Jimenez Joseph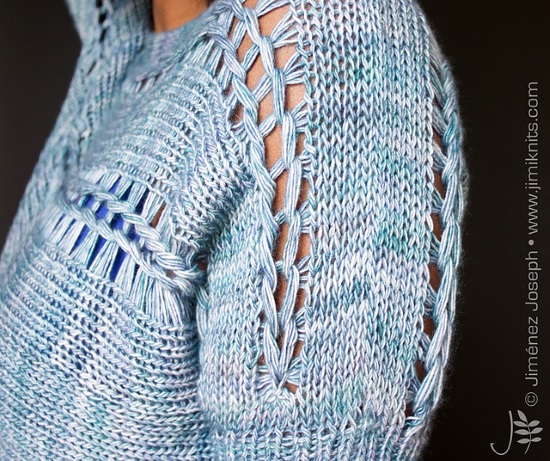 Even though it feels like summer will never end, September is right around the corner (I know, right?!?) and, when it arrives, we'll all be wanting those sorts of sweaters that are warm-but-not-too-warm.  Not only does this one fits the bill perfectly, but I'm also intrigued by the detailing: see how it's taking the yarn from several rows together to create a single oversized knit stitch?  So cool!
Assateague pattern by Emily Connell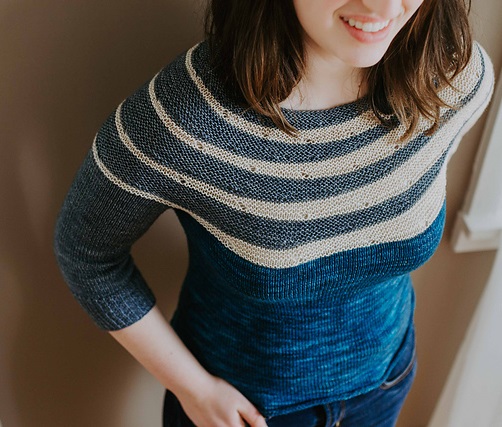 Here's another beautiful choice for when it starts to cool down.  Yoked sweaters are still so trendy but this design turns that on its head by breaking away from the usual stranded colourwork and going for a bold, graphic look.  Designed in two colours of fingering weight, I think it would look even more eye-catching in a semi-solid pair with a contrasting set of Mini-Skeins to bring a stunning gradient flow into the mix, don't you?
images © the respective designers, used with permission
Today we're packing up a bunch awesome club parcels and orders, so I'd better finish my tea and get to work.  I hope this little update of fun fiber news has gotten your day off to a great start and, until next time, all my best!