I have a friend who lives many time zones away and, because our schedules don't often mesh, we've gotten in the habit of staying in touch through voice memos, which we record on our phones and then text to one another.  It means that it doesn't matter if one of us wants to talk when the other is still asleep,  and we get to hear the sound of each other's voices and all those background noises that make us feel like we are really in each other's company.  It's an odd but delightful way to stay in touch.
The outside of my new hat.  I love it!
The other morning, I was sitting on the porch, drinking my coffee and recording a voice memo to my friend, when I realised that what I was sharing with her, I also wanted to share with you.  I had been telling her about a new hat I had knit — one I had figured out right there on the needles — and how surprised and delighted I had been to discover I actually like the inside of the hat almost more than the outside.  So after I had sent my message off to her, I rerecorded it and saved it on my phone, with the intention of later finding a way to share it through social media.
I guess what I was doing was a little bit like a podcast (even though I really don't want to do an actual podcast).  Call it a Mini Non-Podcast…  super short, totally spontaneous, and possibly never to be repeated.  My first thought was to share it on Instagram, but then I realised that wouldn't work, because my message was about six minutes long and Instagram's time limits for posts and stories are much shorter than that.  But what about Instagram Live?  That might work!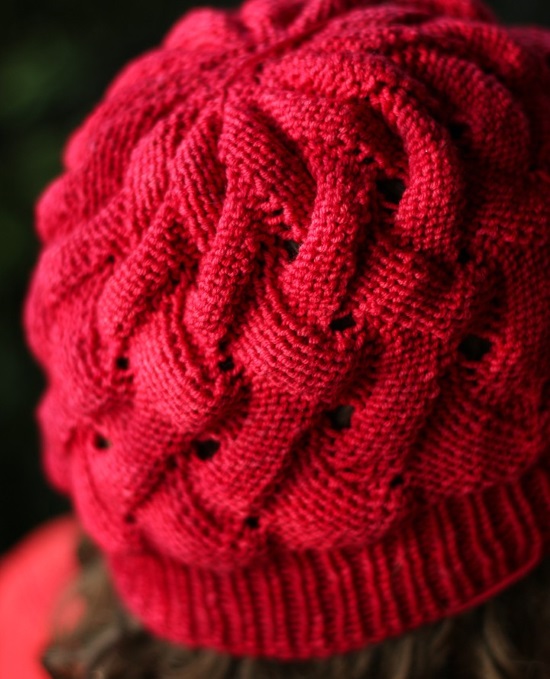 The inside of my new hat.  I'm not sure but I think I might like it even better!
Now, there's a problem with that and the clue is in the name: Instagram Live is supposed to be live, and my mini non-podcast was recorded.  I thought about trying to just re-say it live, but I knew that wouldn't go well.  When I'd originally recorded it, I was in the moment and it was authentic; if I then tried to re-do it, I'd trip over my words and lose all the realness of it.  But I had a grand idea: what if I played the recording over Instagram Live?  Maybe to a background of my hands knitting?
So many times in our lives we do things that seemed like a great idea in the moment that, with hindsight, really really weren't.   I pressed the "live" button and began to knit as the recording played and, at that odd mid-morning timeslot, twelve people tuned in live (Hello, you twelve! Did you wonder what on earth I was doing?).  When the recording finished, I stopped the live stream and then went back to check how the recording-of-my-recording worked and…  it was Not Good.  My voice sounded like it was coming out of tinny phone speakers (as, of course, it was).  The cars that drove past during the original recording competed with the cars that went by on the re-recording, making it sound like I was calmly knitting on the median of a major highway.  And the sounds of nature created a similar double-bird effect that was downright bizarre!  It was a complete Non-Postcasting fail! I deleted it.
The thing is, though, that I had really enjoyed being able to share my thoughts and knitting with you when I made the original recording.  The day was fresh, the coffee was tasty, and it just felt good to chat.  I might do it again sometime, if I can find a good way to put it up on social media.  In the meantime, I'll post my recording here.  The whole point of this newsletter is to spend a little early morning time sharing fiber arts goodness together so, really, it kind of fits right in, doesn't it?
(If you don't see the recording right there above, click here to listen to it.  And if you have any suggestions of good ways to share any future recordings on social media, please do let me know!)
Ok, and now, let's get on with our regularly scheduled newsletter.  I've got a lot of fun stuff to share…

Corrine Walcher has started her countdown to Rhinebeck with a gift for everyone who is keen to start their Rhinebeck sweater too: between now and August 31, all of her sweater and top patterns are 15% off, no code needed.  You can see all of her designs here, but this one is my favourite: Dot Matrix, which she designed in one of our Sweater Sets (in the colourway Perilous).  Want to see how it knits up in a more neutral colourway?  I love TipsyTarsier's version knit in the grey ombre of Downpour!
In the category of Crazy Things that Make Me Smile Every Time I See Them is ChiliPhilly, who crochets the most amazing hats and costumes(…?) and then dances(…?) in them on his Instagram feed.  Hard to describe but hilarious and weirdly hypnotic.
Just recently, I have seen more talk online about possible ways the new trade tariffs will impact the crafting industry and I'll admit I don't know enough about them to have any answers.  But JoAnn Fabrics recently termed the tariffs a "Made In America Tax" and created an online petition calling on lawmakers to exempt craft tools.  It's an interesting approach (framed in terms of the impact on small, independent makers and charities) to come from a big box store and the reaction has been swift and vocal.
So many people in this world don't seem able to so much as walk and chew gum at the same time, but YOU and I can do better than that — we can walk and knit or crochet at the same time, right?  I chuckled to myself when I came across this Knit and Walk event at the Nordic Knitting Symposium (watch the lady at the very end trying and nearly failing to stay in her lane).  If the Olympics can include a skiing-and-shooting combination, surely this must be a contender for future Games?  (with bonus points if your project is lace or intarsia!)

Our Upcoming Shows & Events
The Yarn Alliance Opens on Sept 7!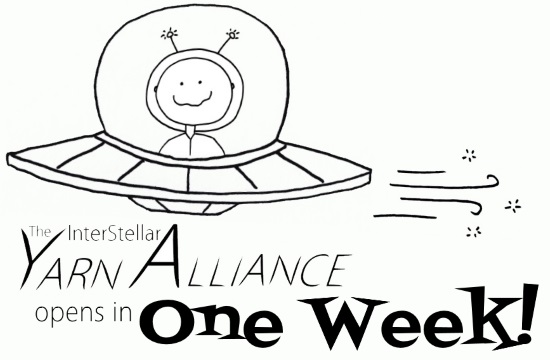 Being part of the Yarn Alliance club is all about coming on a colour exploration — in gorgeous yarns dyed in exclusive colourways and shared with a wonderful community of fellow club members who are all part of the adventure too.  Plus we create beautiful coordinating skeins to double the fun.  And each parcel contains a wonderful club gifts created exclusively for the club by our community of amazing handmakers.  Oh, and a 15% coupon!

The Yarn Alliance is available for subscriptions only twice a year, and we always give early access to folks on our waiting list. There's not much time, so click here and make sure you're on it.  You'll get an email a few days before subscriptions go live so you can join us!

Triptych by Audrey Borrego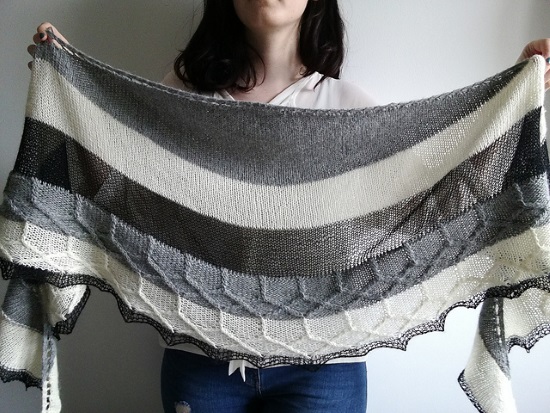 I have often encouraged my readers to fearlessly mix yarns of different fiber contents (such as our Mini-Skeins or the wonderful pairing of Maia & Celeste) but this gorgeous shawl takes that one step further by mixing yarns of different weights — and to beautiful effect!  Look closely and you'll see the change in texture as it flows from lace to fingering to DK.  And in some bold cable work and a lovely crescent shape and the result is simply compelling!
(Also, if you download this pattern, do read Audrey's very interesting and thought-provoking notes on gauge.  I agree with everything she said!)
image © Audrey Borrego, used with permission
Fade Me, Seymour pattern by Ann Konzen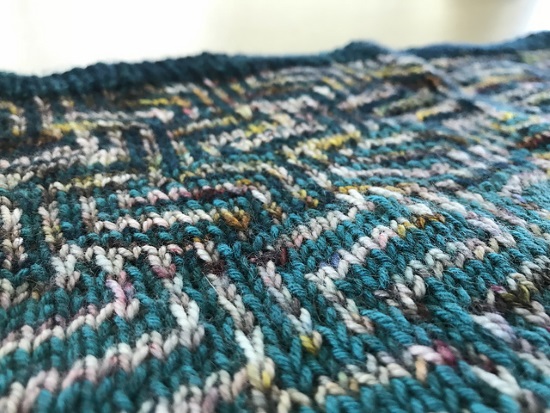 I love mosaic knitting because it looks soooo complex but is deceptively straightforward and, with this lovely cowl, you've got a beautiful opportunity to try it.   Creating a graphic, almost pop-art effect with its stitchwork, the pattern is designed for the pairing of a semi-solid yarn with a variegated.  Be sure to choose two colourways with a clear contrast and cast on a little mosaic magic!
image © Ann Konzen, used with permission
Caitriona Shawl pattern by Margo Bauman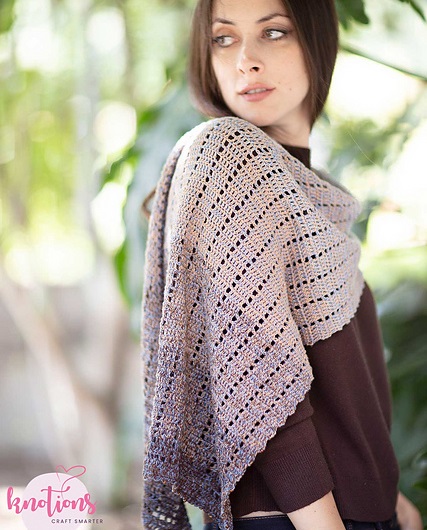 Incorporating both vertical and horizontal elements (the eyelets and colour changes), this lovely triangular crocheted shawl is designed to invoke the plaids and kilts of Outlander.  And though that inspiration suits the beautiful neutral palette in the sample, I think it would look equally amazing worked up in bright berry or hot spice jewel tones.  Mini-Skein Club members, get ready to go raid your stash!
image © Edsger Studio (edsger-studio.com), used with permission
Ok, it's starting to heat up (today is going to be in the mid-80s!) but would you believe I am heading down to the studio to work on some beautiful new Autumn and Holiday colourways we're dyeing?  It feels kind of crazy, but it's true!  So I'd better get moving.  I hope you've got something equally fun to look forward to today and, until next time, all my best!