Oh my stars, I had just made a cup of tea, curled up in my chair, and opened up my journal to start my day with a little reflection (and to-do list making!) when, writing the date at the top of the page, I realised it's Valentine's Day.  I'd almost forgotten about it!  
I think that either says something very sad about my love life or it means we've just been super-busy getting ready for our upcoming shows.  The truth is, we have been really busy.  We've got three exciting shows coming up in the next month or so (see SpaceCadet News below), we're dyeing some beautiful club colourways (both for our own club members and through some great LYSs), and there are a couple of other secret things I can't mention yet.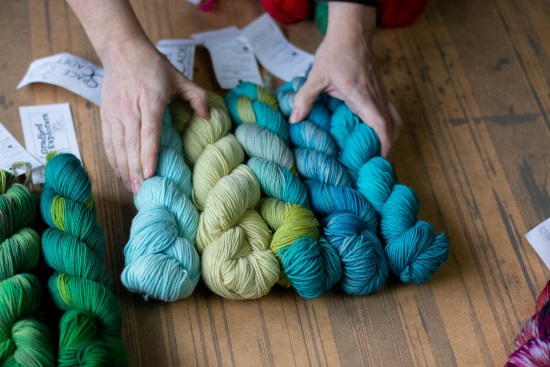 (we spent yesterday putting together some awesome colour combos… this is, l-r: Frigia, Wilt, Becalm, Fathoms Down, and Feather)
So you know what?  I'm going to go with it just meaning we've been really very busy! (Oh and I'm going to sneak out of the house as soon as I can to get my husband that card that I probably should have given him this morning…  oops!)
Whether you celebrate Valentine's Day or not (or, whether you remembered it or not!), there's nothing I'd rather do this morning than sit down and spend a little fiber-time with you (because yarn beats chocolate and roses any day of the year).  I've got a lot of interesting stuff to share with you, so go ahead and make yourself a cup of tea and let's get to it!

The other day, I spotted this post from the fabulous designer, Hunter Hammersen, and though the image is not actually our yarn, the endorsement she gave at the end for SpaceCadet Oriana absolutely made my day: "The 8 ply yarns wear like IRON and last forever. Love them to bits. Go buy lots of it so Space Cadet doesn't ever discontinue it."  See my grin?  It's ear to ear!
I've been using this technique for a while to avoid a gap when joining in the round — and it's super simple but, if you don't know about it, it's well worth sharing. 
I like to stand outside on clear nights and look at the stars.  This time of year, though, that's an awfully cold habit to be in so maybe I'll just gaze at these lovely constellation coat buttons instead.  Hmmmm…  maybe I need to cast on a coat for them…?
Have you met Jonah Larson, the 11-year-old crocheting sensation?  He taught himself the craft at age 6 and hasn't stopped since.  If you click the link and watch the video, he's absolutely amazing — his hook moves faster than my brain can think!
Oh, and if there's someone in your life who forgot what today is (just like I did!) and needs to get you an awesome gift on short notice, you can always send them this link to save the day (wink).

Available Only Until Friday: Our Gunnison Colourway
We are honoured to be dyeing the latest colourway for Indie Untangled's exclusive yarn series, Knitting Our National Parks, and naturally, I chose the Black Canyon of the Gunnison as my inspiration. 
 
image (left) ©Christin Healey, used with permission
You can see how we've incorporated deep browns, greys and terracotas of the canyon walls and added in layers of rust from that moody sky above with a shock of turquoise from the Gunnison River down below. And we are offering this beautiful Gunnison colorway on not one, not two, but four different bases, from fingering to worsted!
Lyra, a sportweight 100% Superwash Merino yarn with a sproingy cabled 8-ply construction. Each skein has approximately 270 yards per 100g, perfect for anything from socks to sweaters.
Vega, a worsted version of the cabled 8-ply Lyra, also with 100% Superwash Merino. It provides great stitch definition for sweaters. Each skein has approximately 215 yards per 100g.
Oriana, an 8-ply sock yarn with a high twist that gives it extra strength and durability. It is comprised of 90% Superwash Merino and 10% nylon. Each skein has approximately 420 yards per 100g.
Aurora, a luxurious 4-ply MCN with 70% Superwash Merino, 20% Cashmere and 10% nylon. Each skein has approximately 350 yards per 100g.
Gunnison is available for preorder on Indie Untangled only until Friday, February 15 and will ship the last week of March.  Click here to order your skeins!

And the best part is… 10% of sales will be donated to the National Park Foundation, which will go to the parks that need the most help after the recent government shutdown.  I'm a huge supporter of our National Parks and delighted to be part of this effort!
Upcoming Shows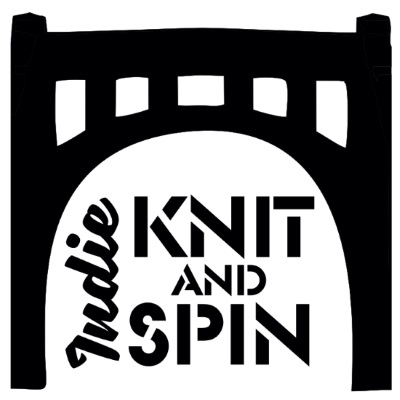 Briochebubbles Hat by Raina K
One of the things I love most about knitting and crochet is how trends evolve and change over time, and this delightful hat is a great example.  We all know how hot brioche knitting is right now and I love how this design uses that same technique in a new way, creating little "bubbles" of brioche in bold colours for a really intriguing look. 
Cold Sand by Melanie Rice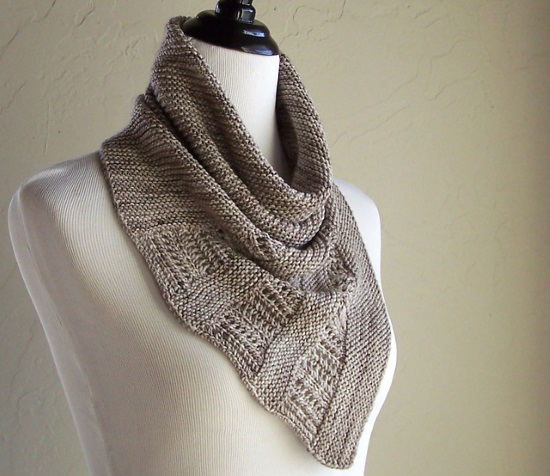 Speaking of innovations, the way this beautiful cowl is elongated on one side creates a shape that's a lot like a triangular shawl (but without that annoying habit of coming apart as you run for the bus!) and gives more space to show off its lovely textured stitches.  Try it in Lyra in Nine Stones, Sage, or Yes Dear for a natural look (or go bold with Tickled or Molten Cool!)
Adventurer by Elena Fedotova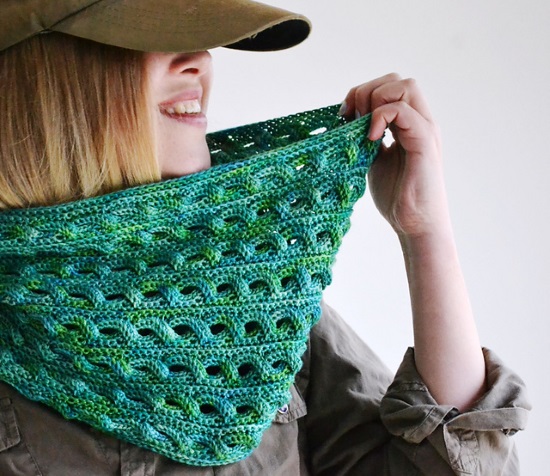 And while we're on the subject of interesting cowls, this one caught my eye first because of it's fascinating texture but, when I read the description, I was really intrigued.  A two-loop infinity cowl worked in the round and using two alternating skeins, the pattern is simple but requires careful attention to prevent tangling of the yarn. The results, I'll think you'll agree, look worth it!
images © the respective designers, used with permission
Ok, my tea is all gone and it's time I got myself down to the studio.  Today we're finishing up a few photos that we didn't get to yesterday and then we've got a bunch of lovely yarns to dye up.  It's looking like a good day!  I hope your day will be just as fun and, until next time, all my best!