I'm going to start today by telling you a little story, and the reason for it is that I am absolutely delighted to announce that SpaceCadet is dyeing the next installment in Indie Untangled's exclusive yarn series, Knitting our National Parks.  For our colourway inspiration, I chose this stunning image of the Black Canyon of the Gunnisen in Colorado, because it is such a breathtaking place that it instantly became one of my favourite national parks so, when Lisa asked me to choose one for this month's colourway, I didn't hesitate!  There's a story about that — well, two actually…
Now the Black Canyon is memorable just for its looks alone.  But on my first and only visit, it made an impression for other reasons as well.  I was 19 years old and my college boyfriend was shocked to discover I'd never been west of the Mississippi.  He'd grown up exploring the national parks with his grandparents, so he planned a month-long camping trip for the two of us that hit every park we could possibly fit into the timescale.  It was the first of many such trips and you'll get an idea of how big an adventure it was when I tell you we drove from Ohio to the Pacific, by way of Seattle… and Tucson… and everything in between.  That's a big trip.
But, you understand, this was before cellphones and before the internet.  We drove off in a Honda Accord, a pair of teenagers with a loosely-outlined agenda, a tentative return date, and a promise to call home regularly and let our parents know where we'd ended up.  And we did call them regularly…  sort of…  every few days or so when we found a payphone and remembered.  Looking back now, as a mother myself, I have no idea how my parents kept their cool.  
The day we arrived at the Black Canyon was my mother's birthday and, of course, I was going to make sure I called her that day for sure.  We arrived late in the afternoon and walked along a trail to take in a first, quick look at the canyon.  There wasn't much time before dark to set up camp, but even in those few minutes I was utterly blown away.  What a sight to behold!  The way the canyon walls drop away, the blackness below, the striation in the dark rock marbled with jagged white streaks —  it was spellbinding and, to this day, I just want stand there and look at it for hours.
But the sun was beginning to sink, so we found our campsite and pitched the tent.  And once my boyfriend started dinner, I wandered over to the visitor center to find the payphone and call my mother on her birthday.  When I got there, I was surprised to realise I couldn't see one.  I walked all around the building once, twice…  where was it?  There's always a payphone!  I found the ranger on duty and asked.  "No, there's no payphone," he replied.
Oh.
Now, it's a really small park and the place was completely empty except for this one ranger, so I explained it was my mother's birthday and asked if they had any kind of phone I could use, just for a minute, just to wish her happy birthday?  I'd be glad to pay, I said.
"Nope, we don't have a phone."  No phone? None at all?!?  "Nope."  Oh no… what was I going to do?  My mother would be expecting my call.   The park ranger seemed entirely unaffected by my dismay but he did add, "Now, there's one off the park a ways…"  I perked up.  He pointed out toward the road and said, "You leave the park and turn left onto the road…"  Uh huh.  I made a mental note.  "…and you drive about twenty miles until you come to a crossroads…"  Uh huh, twenty miles… what?!? "…and then you go left at that crossroads and about twenty miles on from there, you'll come to a gas station.  There's a payphone there."
Forty miles?!?  Forty miles to get there?  And forty miles to get back?  Just to spend five minutes on the phone with my mother?!?  The sky was beginning to darken rapidly now.  The tent was pitched and dinner was already cooked.   It just didn't make sense to drive all that way.  And so my mother lost out and, on her birthday, the only day she knew I'd call her, she never got that call.
That night, lying in our sleeping bags side-by-side, we were woken by a strange and slow plopping sound on the top of the tent. 
Plop
(silence)
Plop
(silence)
Plop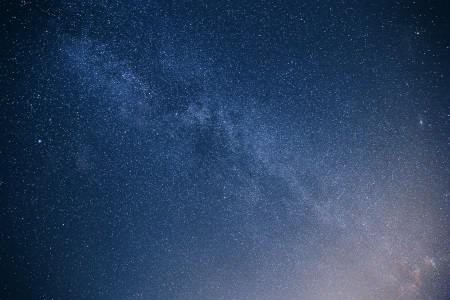 Photo by Levi Price
We laid there for awhile trying to figure out what i could possibly be, and finally unzipped the tent door and slowly slid out, both on our backs and looking straight up.  The night sky was incredible — so dark that you could see millions of stars, so many more than I'd ever seen in my life! For a moment, I forgot the sound that woke me up.
Plop
My boyfriend aimed a flashlight at the scrub oak we were under and there, only ten feet over our tent, was a porcupine.  I'd never seen one before, but it was about the size of a medium dog, with a fuzzy belly and a halo of quills across its back, nonchalantly eating acorns and dropping twigs as it crawled along a branch directly above our tent.  It made a soft rustling sound as it moved, all the quills rubbing against each other, and the flashlight didn't faze it at all — it never once stopped eating or even looked down at us.  Plop.
We watched it for a long while, still lying on our backs side-by-side and utterly bewitched.  And then slowly, we slid back into the tent.  After a few minutes of lying in the dark and listening to the plopping sound and the accompanying rustling above me, I began to wonder what happened if a porcupine were to fall out of a tree.  Do they land like a cat, always on their feet, or are they more like toast, always butter-side down?  It was quite a while before I fell back to sleep.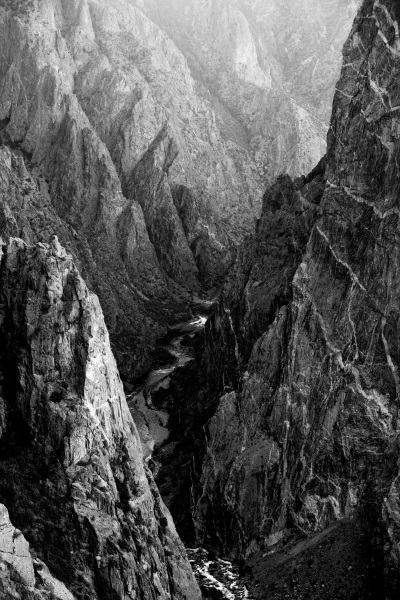 image by Nick Dunlap
Sadly, we never did get to explore the Black Canyon of the Gunnison the way I so dearly wanted to.  The next day, after another short walk around the canyon rim, we drove the forty miles to find that payphone and I finally wished my mother a happy birthday.  I was surprised at how she was sobbing, surprised at how furious my dad was.  I was 19 and filled up with excitement about all the incredible things I was doing and seeing.  She had spent the whole night waiting for my call and convinced herself we'd been eaten by a bear and no one would ever find us.  By the time we'd driven the all that way to find the phone, and then stood in the blazing midday sun in a gas-station parking lot listening first to my mother's anguish and then to my father's angry dressing down, neither of us had much of an appetite for adventure.  So we got in the car and drove on in silence.
I learned a few things that day: about seeing things from other people's perspectives (even in the middle of my own adventures), and about staying in touch, and birthdays, and using a payphone whenever and wherever we found one.  But I also had gotten a glimpse of one of the most beautiful places I've ever seen in my life — just a glimpse — and I've been promising myself ever since that, someday, I'll go back.
Indie Untangled's Knitting our National Parks
Now, I can't show you the colourway yet — it releases on Feb 1 and you'll want to click here to go to Indie Untangled to see it.  But I just have to share this black and white image so you can see what an exciting colourway it is.  Just like the photo of the Black Canyon that inspired it, there is so much going on, and when you add in the colours…  oh, I can't tell you how much I love this colourway!  Don't forget to check it out on Friday.
Ok, are you ready to jump into all our fun fiber news?  Me too.  Go grab a cup of something warm (really warm — it's cold here in Pittsburgh!) and let's dive in!
---

I love this graphic illustrating the wool industry's supply chain.  It's from the International Wool Textile Organisation and I think my favourite thing about it is the last step: biodegrading.  Because discarded clothes made from synthetic materials (polyester, nylon, acrylic) act like the plastics they are and take for ever to decompose, but natural materials such as wool, silk, linen, and cotton degrade in far more… erm…  natural timescales.  Read more about how wool degrades here.
We've all seen it a million times but somehow, for me, it never gets old when the media gets knitting and crocheting all wrong.  Here are eight more instances to make you chuckle smugly.
Years ago, I visited a weaving studio in the beautiful village of Sixpenny Handley, not far from where I lived in Dorset, to see how they used weaving as a supportive activity for adults with learning disabilities and Downs syndrome.  As I watched the shuttles fly back and forth, I remember the director telling me how the repetitive nature of the activity calmed their clients and soothed their frustrations, something that immediately made sense to me.  And the programme was partially self-funded, by selling their own commissioned weavings (I bought a lovely handwoven bag).  Then few months ago, right out of the blue, I found myself wondering if the program is still running and found, to my delight, that it is.  Click here, here, and here to see some very special weavers in action or here to learn more about the program.
Speaking of Downs syndrome, don't forget the Lots of Socks KAL to raise awareness of the condition.  It runs from Feb 1 to Mar 22, and there are tons of fun prizes!  Click here to get involved.
---

Spaces in the Gradient Explorers Open Today at Noon!
Each month, we dye a full-sized skein for our Gradient Explorers members that flows out of the previous month's colour and then into the next month's colour.  The idea is that, over time, we create a beautiful gradient fade that we can all explore together — us in the dyeing and our members in the knitting and crochet — and use those skeins either on their own, together in the gradient, or mixed-and-matched with our other colourways to create amazing fade possibilities.⠀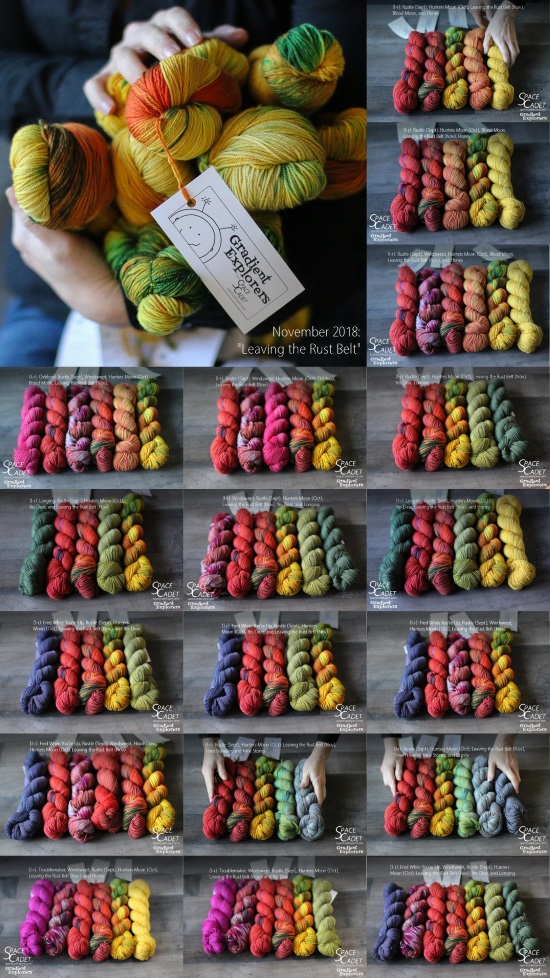 Look how many amazing fades we created based around three recent colourways (Sept, Oct, and Nov).  Each one uses those same three colours as a starting point and yet each still has a distinct personality!
We keep the Gradient Explorers to a really small group, opening it only when spaces become free, and we have a few spots available now that we will open today at noon (eastern). Interested? Set a reminder on your phone now and then click here at noon!⠀
Upcoming Shows
Bubbles of Joy MKAL — Fresh Kits in the Shop!
Designer Kristina Vilimaite is hosting the Bubbles of Joy MKALand, without giving anything away, I can tell you it's an absolutely beautiful design that uses a lot of colour in gorgeous ways.  And I know it's always be a bit tricky to choose colours for a mystery knitalong (how do you know what to pick when you don't know what you're making?!?) so we've put together these gorgeous kits to make it super-easy for you to cast on with confidence! 
When we saw how fast they were selling, we quickly put together fresh kits and they're in the shop now.  The first clue in the MKAL releases on February 4th, so click here to choose a kit, and here to get the pattern, and join in the fun!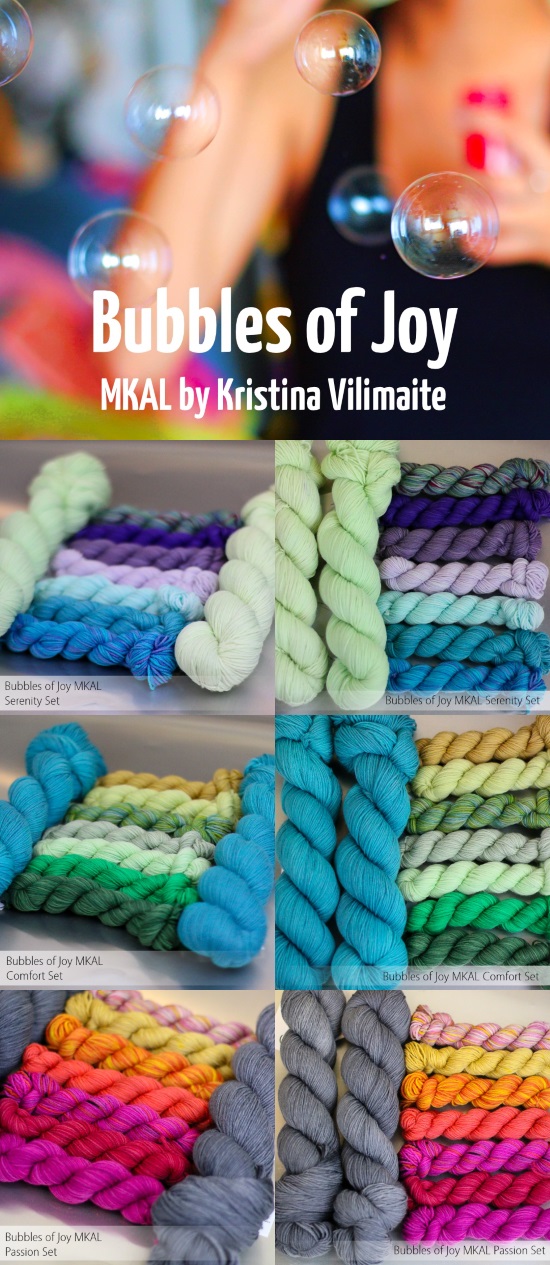 ---

I love it when members of our community share their projects with us!  Susan recently emailed to share pictures of her beautiful vest that she knit from the middle three skeins from one of our Sweater Sets.  The pattern is Nancy's Vest by Carol Sunday.  Isn't it lovely?!?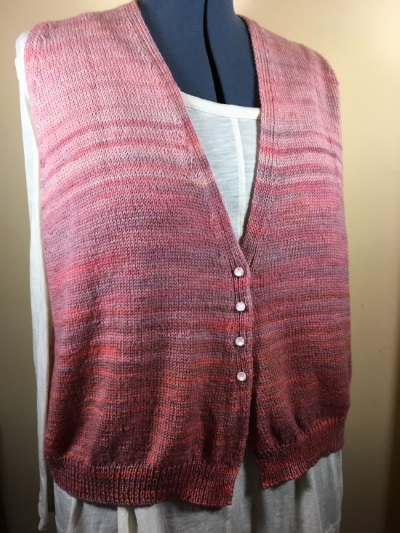 ---

Novemberist Hat pattern by Vanessa Smith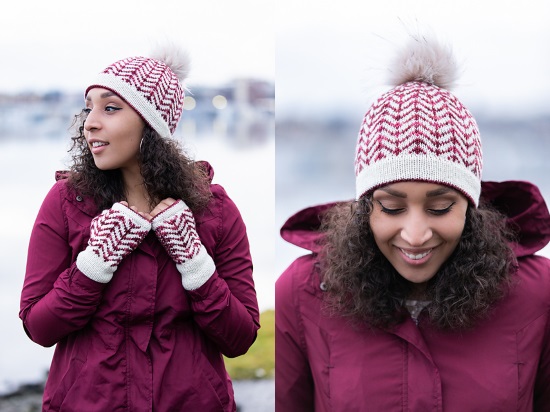 I'm not sure what it is about this beautiful hat that caught my eye first: the lovely colourwork, the big poofy pom-pom, the nifty little colour detail along the bottom edge of the ribbing…  or just the fact that it is really, really cold right now and anything that looks this warm and cozy is a sight for sore eyes at the moment.  (Plus a matching pair of mitts?  It's a shoo in!)  And you know I love the combination of a highly variegated yarns with semi-solids in colourwork like this, so I think I'd try it in Astrid in a combination of Frigia and Nine Stones.
image ©Vanessa Smith, used with permission
Voy's Beach pattern by Jennifer Beale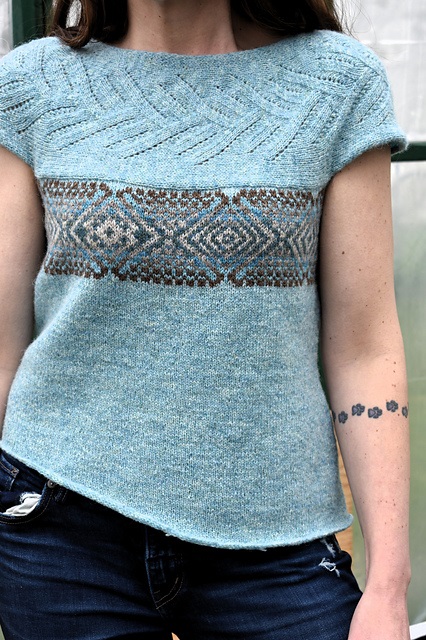 One thing that fascinates me about all the knitting patterns I look at is how one design idea grows and alters and morphs into another.  So I absolutely loved this unique take on the trend for colourwork and yoked sweaters, with the twist here being that the yoke interest is created through beautiful texture and the stranded colour is moved down into the bodice.  Such a refreshing change!  And now that I've spotted this, I have to wonder…  where will the current trend go from here?
image ©Jennifer Beale, used with permission
Hōtoke by Little Yarns
If you need to keep warm (and I do!), I don't think there's a sweater way to do it than with this adorable cowl adorned with a tiny cottage set in the woods.  The pattern is free in the latest issue of Knotions magazine and it's designed in SpaceCadet Astrid in Gobsmack and Sliver but, for me personally, I'd love to see it in two shades of blue, Frigia and Feather, or the earthy tones of Nine Stones against ethereal Gentle.
Image ©Edsger Studio for Knotions Magazine, used with permission
Ok, I'd better get to work.  Today I'm…  wait for it…  trying to save my misbehaving laptop by wiping it completely and reinstalling Windows.  Sigh.  I'm hoping that will do the trick and it's not a hardware failure — keep your fingers crossed for me, will you?  I hope you have a much more exciting day planned(!) and, until next time, all my best!