My sister does not knit. And, if you recall from a few months ago, when my sister was asking where to buy wool clothing, she's not even all that familiar with the terminology (she asked about the "manufacturing" of wool… fortunately, she did see the funny side of it as I burst out laughing).
But the other day, she said something took me by surprise. "I think I want to take up knitting…" she said, "for my sanity." Huh. That was a surprise.  In all these years of seeing me knitting, she'd never really been tempted.   But life gets crazy and, just like all of us, she does know that knitting and crochet have this magical meditative quality that can be so helpful. She continued, "It's a stress reducer, right? I should try this?" Yes it is. Yes, you should.
"Oh good!" She said, "I thought so, so I went on your site a little while ago and I placed an order…".
What?!?
The thing is, one of the perks of being the little sister of a dyer is that if you ask for yarn, she'll probably give you yarn.  It's, y'know, what family does.  But when I picked up my phone and looked, there was her name — right real next to a real order!
Now, she's a total newbie when it comes to yarn, so she started with the only thing she understood: that merino is good and silk makes it even better.  So far, so good.  But she doesn't understand yarn weight or construction, or the importance of matching your yarn to your needle size.  She just jumped in and…  friend, she chose Luna.
I explained gently that Luna is…  well, it's kind of an advanced yarn. "What do you mean?" she asked.  "How can a yarn be advanced?  It's got wool and silk and I like that."  Yes, it does.  It's also a cobweb lace yarn with over 1300yds/100g.  Each skein is over a quarter of a mile long!  It's wonderful and airy and light and lacy and…  it is Not A Yarn For Beginners.
I asked her what size needles she has (just one pair, size US 5s).  Ahhhh, ok.  I'll send her Lyra then!  It's a great sport weight yarn, sturdy and stable and smooshy, and — most importantly — really easy to work with.  I told her I'd cake it for her and send it the next day.  See?  The perks of having a dyer for a sister.  I was confident we'd have her knitting in no time.
And then I asked, her needles…  are they straight or circular?  "Circular?!?" she said incredulously.  "Circular?  How does that work?!?  Is it… like a boat with one oar, going around in circles?"
Ohhhhh boy.  Ok.  Yep.  Maybe I'll rethink the "knitting in no time" idea.  We'll be taking this slow.  "Yes," I said.  "It is!  But it's ok as long as you walk around your circular needles in the other direction as you're knitting." 
Heh heh — I couldn't help myself.  Sometimes there are downsides to having a big sister too.
---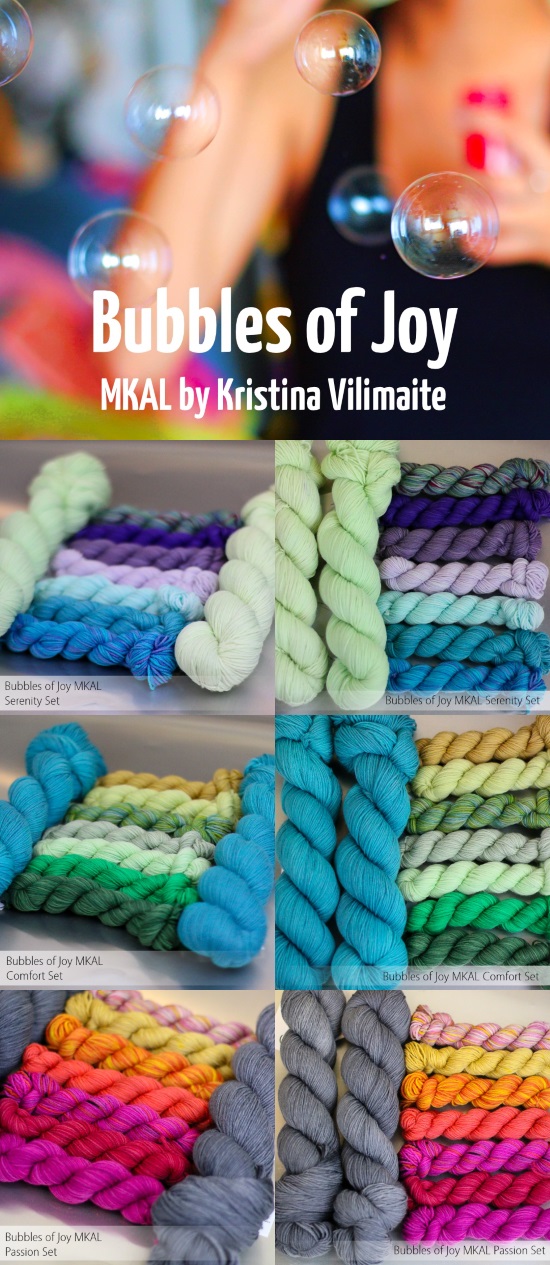 Now, before we get to the usual fiber world news, I just want to take a moment to invite you to join the Bubbles of Joy MKAL with designer Kristina Vilimaite.  Without giving anything away, I can tell you it's an absolutely beautiful design that uses a lot of colour in gorgeous ways.  And I know it's always be a bit tricky to choose colours for a mystery knitalong (how do you know what to pick when you don't know what you're making?!?) so to make it super-easy, we've put together these gorgeous kits so you can cast on with confidence!
The first clue in the MKAL releases on February 4th, so click here to choose a kit, and here to get the pattern, and join in the fun!
---
Ok, are you ready to get back our regularly scheduled newletter?  I've got a ton to share with you this week!  Grab a cup of something warm and steamy and here we go…

I've mentioned before how passionately I feel knitting and crochet ought to be used in schools to teach math (and design and art and home ec…), so I was delighted when SpaceCadet club member Amy emailed to share this article about a college professor who is doing just that.  Sara Jensen, an assistant professor of Mathematics at Carthage College, explained, "What professional mathematicians think of as mathematics is entirely different from what the general population thinks of as mathematics."  The general public associates math with calculations and equations where professional mathematicians think in terms of problem-solving and critical thinking.  Read more here (and better yet, why not share it with an inspiring educator…  you never know what might come of it!)
It's a new year, full of good intentions, and Marie Kondo seems to be everywhere at the moment (this cracked me up), so my mind has been on tidying up.  I think, for me at least, the key is doing little things fitted into my daily routine.  This article gives seven great ways to incorporate quick moments of organisational awesomeness into the every day.  What do you do keep your life tidy?
After that conversation with my sister, this article seemed perfectly timed: Carol Feller explains circular knitting techniques, complete with videos.  I've tried them all over the years except for Hiya Hiya Flyers, and my favourite by far is Magic Loop.  What's yours?
Kristen Jancuk of MediaPeruana Designs is teaching her Swatch Scholar Challenge starting Feb 4.   You'll learn her tips and tricks for swatching success and how to avoid common swatching mishaps. Five days and five free lessons to ensure your next project turns out exactly as you'd hoped. 
image © MediaPeruana Designs, used with permission
---

Spaces in the Gradient Explorers Open Next Thursday
Each month, we dye a full-sized skein for our Gradient Explorers members that flows out of the previous month's colour and then into the next month's colour.  The idea is that, over time, we create a beautiful gradient fade that we can all explore together — us in the dyeing and our members in the knitting and crochet — and use those skeins either on their own, together in the gradient, or mixed-and-matched with our other colourways to create amazing fade possibilities.⠀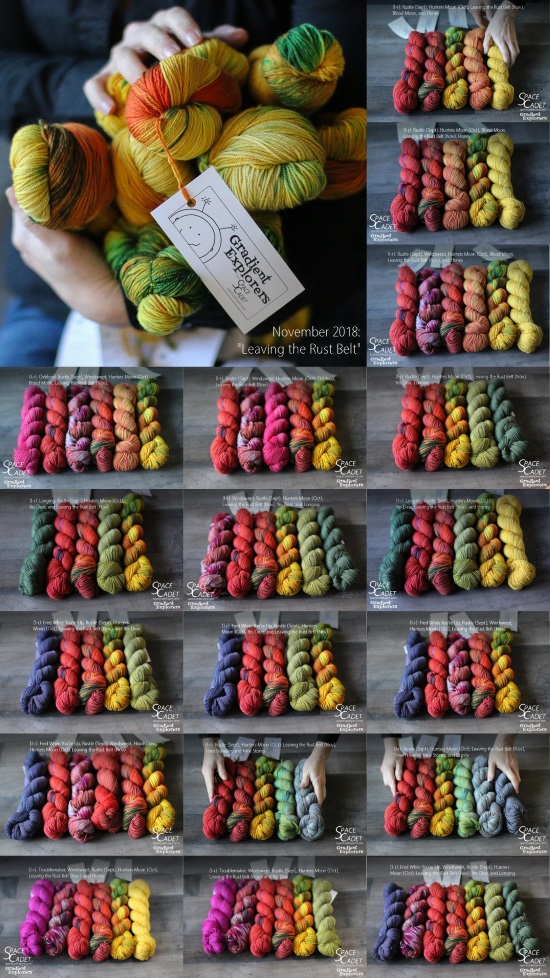 Look how many amazing fades we created based around three recent colourways (Sept, Oct, and Nov).  Each one uses those same three colours as a starting point and yet each still has a distinct personality!
We keep the Gradient Explorers to a really small group, opening it only when spaces become free, and we have a few spots available now that we will open next week, at noon on Thursday. Interested?  Click here to get on the waiting list!⠀
Upcoming Shows
Feb 23 — Indie Knit & Spin at the Ace Hotel in Pittsburgh PA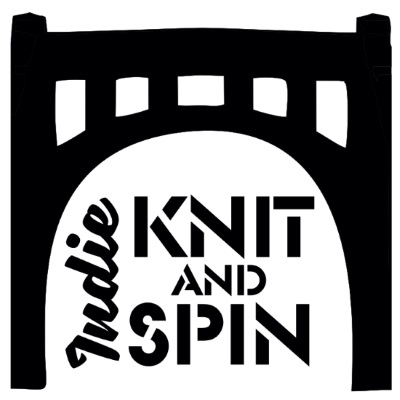 March 15-17 — The Pittsburgh Creative Arts Festival in Greentree PA

I love it when folks share their projects with me!  Here's two great ones I spotted this week…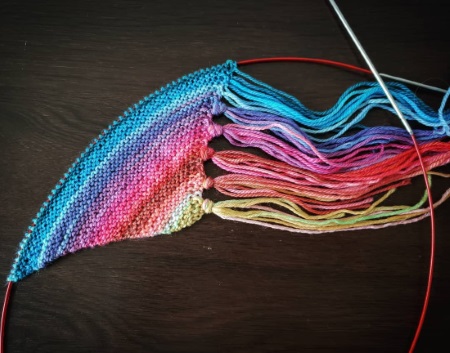 Shannon cast on her Mini-Skein Club yarns and I can't believe how gorgeous they look.  I looove that fringe!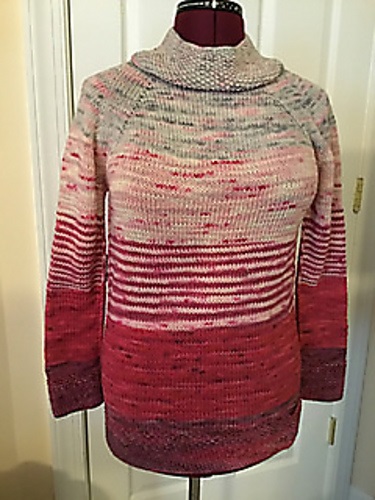 Carol knit this beautiful sweater with her Gradient Explorer skeins.  It's a lovely simple design that really shows off the colour changes!
---

Starry Night by handmade by SMINÉ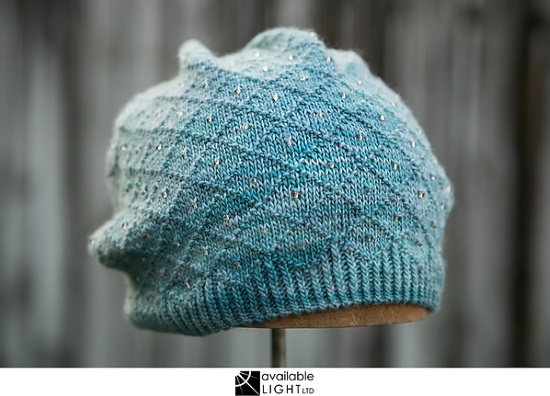 You know, after standing outside at 1am (in 5°F cold!) to watch the lunar eclipse earlier this week, the delicate motif and sparkling beadwork on this sweet starry hat caught my eye straight away. Designed in fingering, I'd choose a yarn with a little nylon to stand up to any friction from the beads, so SpaceCadet Ester in Frigia would be a good option, or go for Aurora in Drizzle for cashmere gorgeousness!
Marble Blouse by By Katerina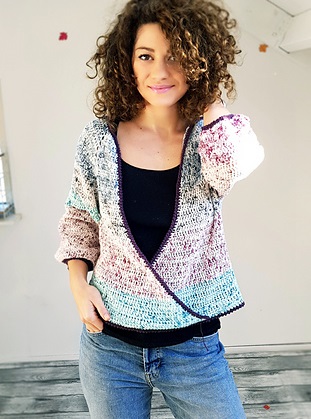 This time of year, every room in my house seems to be a different temperature (really? Is it just me?), so I am all about cardigans at the moment and the more adjustable, the better. I love that this cardigan will keep my back and shoulders warm, but has a more open front so I don't get too hot or too cold. Crocheted in fingering weight, I'd try it in Ester and the colourway Drizzle is really calling to me right now. What would you choose?
XX-one by Hinterm Stein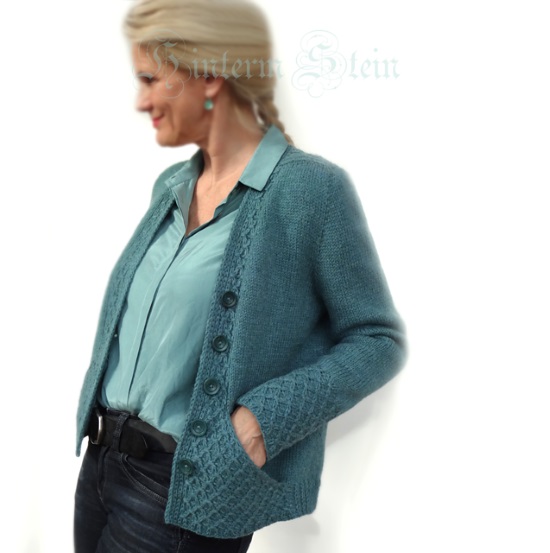 If the way to a man's heart is through his stomach, possibly the way to a woman's heart is to add pockets to her garments. Pockets! Such a simple (and important) thing, and so often just inexplicably missing.  So you know that these awesome pockets were first thing I spotted in this lovely cardigan. That alone is enough to have me casting on, but when they're detailed like this too? Irresistible! Designed in DK, it'd be lovely in Astrid. Try the colourway Frigia or Stroppy to really show off the detail.
images © the respective designers, used with permission
See?  I told you there was a lot to share this week!  I'd better get going — we're dyeing a developmental skein for a fun collaboration that I can't wait to share with you and I'm eager to see how the recipe in my head comes out in real life.  In the meantime, I hope you've got an exciting day planned too — stay warm, drink lots of tea, and, until next time, all my best!