Things feel so weird at the moment, don't they?  I mean, with most of the country under stay-at-home orders to flatten the curve, days seem to blend into each other (what day is it?), it's easy to be distracted by the latest headlines, and any feelings of productivity are especially elusive.  So I've been finding comfort in little things that have nothing to do with the current world situation.  Spring's first buds are bursting into bloom and the birds are joyfully heralding warmer temperatures, and I've been enjoying both as I drink my coffee on the porch.  And I've been starting my day with the ridiculously upbeat Italian Cooking Music playlist on Pandora (a combination of opera and 1950's Italian-ish pop hits) — it makes me instantly happy!
And when I realised that I was getting to the end of each day feeling like nothing much had been accomplished, I created a little printable day tracker, not for planning my days (which feels weirdly stressful at the moment) but for reflecting each evening on what was good about the day: what I accomplished (turns out, I am getting stuff done), what I enjoyed most, and what I'm grateful for in that moment.  The truth is, I've found that filling that out in the evening makes a really big difference to how I view my day.
And then I thought… it might be helpful to you too!  So I've put it online so you can download it and print it for yourself.  Just click here, enter your email address, and I'll send it to you.  (If you're already on the mailing list, don't worry — I've got you covered. Check your inbox for an email with the link all ready for you.)
I know there's a lot going on right now, a lot to keep on top of.  Sometimes, when the big things feel… well, just too big, it helps to turn our focus to smaller things, even if only for a little while.  So I hope doing this little daily reflection tracker makes your days seem a little brighter, just the way it has for mine.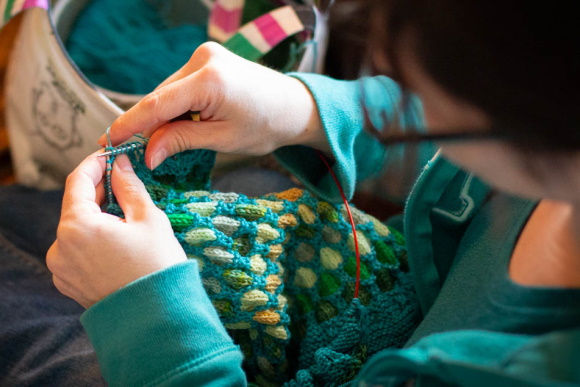 (and here's the other thing that makes a day a little brighter)

It comes as no surprise to you that I love colour. (You too?  Fancy that!)  So I really enjoyed this article detailing nine colours that are named after specific people.  Well, I enjoyed it until I got to the last one, but that's just me…  I'm squeamish.
I know social isolation might not be your favourite thing right now (it's so important though!), but I couldn't help cracking up when I saw Ikea's new instructions for how to stay home.  Now that I've read through them, I think I understand it better.  In fact, I think we can do this!
This is wonderfully funny: with the UK on lockdown, the streets of Llandudno in Wales are so quiet that a herd of wild goats have come down from the surrounding hills to explore the town (and perhaps wonder where the townspeople are?).  The news footage shoes them roaming around like a gang of rowdy teenages, jumping on walls and eating shrubs and flowers. Too funny!
Turns out, wool is a great choice for the environment.  Well, you knew that already but apparently it's even better than that: a recent study looking into whether the machine washable finish applied to superwash wool added to the pollution problem created by microplastics.  And the results showed that wool biodegrades rapidly in a marine environment, and superwash wool does so even more rapidly than untreated wool.  Like you needed another reason to love it, right?

Virtual Trunk Show at The Artful Yarn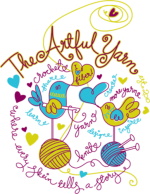 , Chagrin Falls OH — April 25
It's not possible for us to go in real life to the trunk show we'd scheduled at The Artful Yarn, so we're holding a Virtual Trunk Show instead!  It's going to be a blast, with a live Zoom chat, lots of lovely SpaceCadet yarn, and maybe even cocktails (byob, naturally).  It's going to be exclusive to the customers of The Artful Yarn so, even if you've never shopped there before, you might want to join their mailing list (click here and look for the popup).  They offer online shopping and great virtual events and… you might even get an invite to the trunk show!
Update on SpaceCadet Orders and Club Shipments
Last week, I sent out emails letting folks know that having our studio split between three houses means it's taking longer to get their parcels out to them. To be honest, I was a little nervous about it — I hated the idea that we might be letting our club members and customers down.  But the replies we received were just so wonderful.  So many people wrote back to tell us that they were fine to wait if it meant we all stayed safe.  When I mentioned it to my assistant Cathy about it, she agreed, "Oh my gosh! Made me sooooo encouraged!"  So from me and her and the whole crew, thank you — that kind of support and kindness means so much.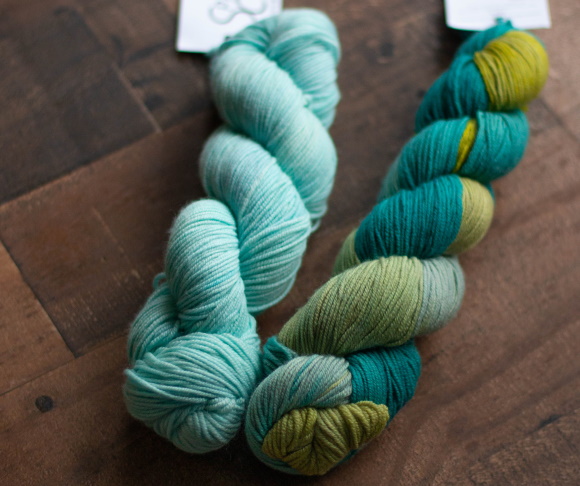 (Frigia and Becalm, so spring!)
And there's good news: even though it turns out my living room is extremely ill-suited to being our packing room (seriously, I'm literally jumping over boxes and yarn to get the job done!), we got a ton of yarn out this week.  The Gradient Explorers went out earlier in the week and the Yarn Alliance will be picked up today.  In between those, we packed up a bunch of individual orders, and I'm planning to get a whole bunch more of them packed today.  And if you're waiting for your Mini-Skein Club order, it's the club that takes us the longest to prep as we twist all those adorable minis by hand, so we're working on it and I hope to have them out next week.
Little by little, we'll make this crazy situation work — and thank you so much for your patience as we do!

Codroy Valley by Jennifer Beale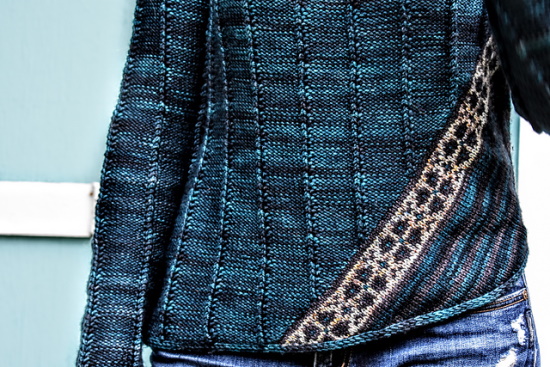 What drew me to this design first was, of course, this lovely asymmetrical colourwork band but, if you click through, you'll find it also has a beautiful top-down circular yoke.  And, just to add to the adventure, the sweater itself is knit flat, the colourwork band is knit in the round, and there's a small steek at the hem.  I know, right?  So intriguing!  Try in SpaceCadet Vega in Longing for a classic look, Crisp for something Spring-fresh, or Honey for a little warmth.
Njord cowl by Emelie Litwin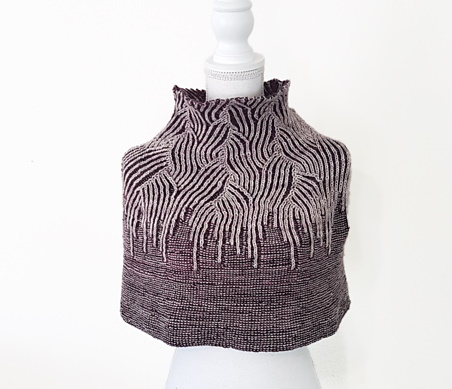 Beautiful two-colour brioche is the first thing you see in this lovely cowl but what caught my eye is the way those stitches fade away toward the bottom.  To me, it kind of looks like the brioche is melting, don't you think?  And I even love the almost-checkerboard effect of stitches below that as well! Designed in fingering, go for neutrals with Sliver and Dark Skies, cotton-candy brights with Tickled and Plume, or natural shades in Longing and Crisp.
Luna Sweater by Courtney A. Clark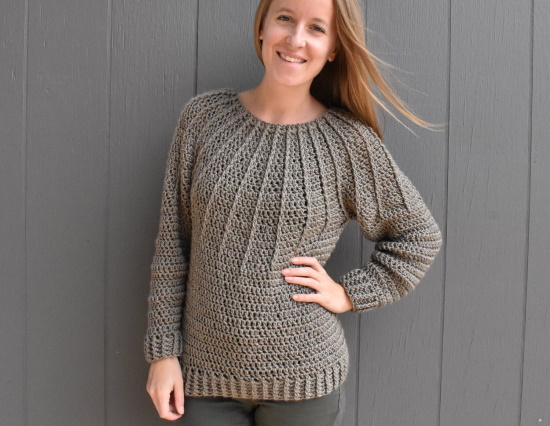 I love a pretty circular yoke and this crocheted version is no exception!  Sized from Small to 5X, it's top-down, seamless, and with some beautiful vertical texture.  It even has a turtleneck option if Spring is a little slow to arrive where you are.  I think I'd make it SpaceCadet Vega in Thrive or Becalm for a little gentle colour interest.
images © the respective designers, used with permission
Ok, my coffee is finished so it's probably time to get my day started (wait, what day is it again…?).  I said I had bunch of orders to get packed and that gives me a wonderful feeling of accomplishment (I love sending yarn out to you guys!), so I'm keen to get on that.  I hope you have a lovely day as well, filled with family (at home or virtually), a little knitting or crochet time, and a few quiet moments of reflection this evening.  And until next time, I wish you good health.