If I'm perfectly honest, sometimes when we are prepping some of our yarns — maybe it's a club colourway, maybe it's some of our one-of-a-kinds for a show — sometimes I fall so deeply in love with them that I have to sit down and have a little talk with myself about the fact that they are going to go away.  I am going to send them to customers, I don't get to keep them.  They are going to go to their new homes and that is all right.  I'm not sure I completely believe that last bit but sometimes I have to have these conversations with myself.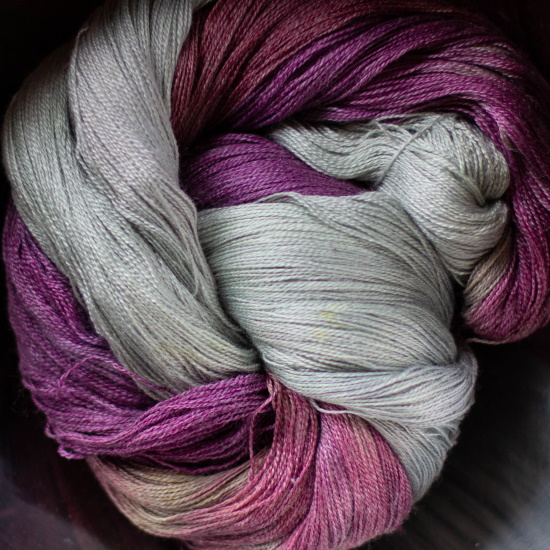 Pyxis in Sage and Molten Cool
And I had one of those conversations as I was prepping our laceweight pairs for this weekend's Virtual Trunk Show at The Artful Yarn.  We have so many beautiful one-of-a-kind skeins of our lovely Pyxis that, sitting in the middle of a huge pile and holding up one after another, I found myself swooning (see them in the SpaceCadet News section).  I knew all these pairs were destined for the show so, after I'd finished selecting them, I just had to go back to our stock shelves and find a laceweight pairing for myself.
After much digging, I decided on a skein of Sage and a skein of Molten Cool, with the intention to knit them held doubled. That's them in the photo above — don't they look absolutely delicious together?!?
But then take a look at the next picture of them caked up.  You may spot that cake on the left is smaller.  And, perhaps you are wondering why?  The reason is that every knitter's worst nightmare happened: within a few turns of the ballwinder, the skein of laceweight tangled.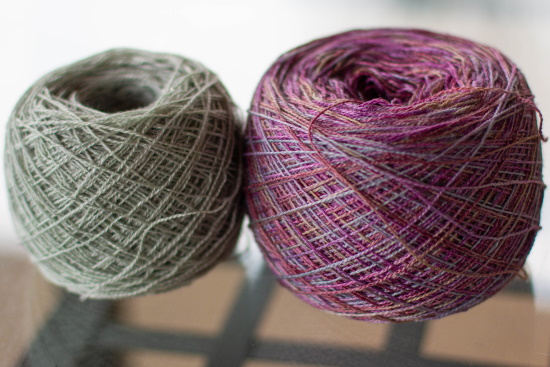 Pyxis in Sage and Molten Cool

"Don't let it see your fear," I thought and tried at first to just casually work through it, turning the winder slowly and fiddling with each wrong-way loop as I came to it.  But after a while, I realised the loops were multiplying into knots and forming a dreaded clump, so I had to lift the skein off the swift and start working it by hand. I pulled this tangled loop out of that tangled loop and slowly… carefully… the clump began to separate. But after a while I found myself going cross-eyed, so I spread the skein out on the floor with its tidy loop and on one side and messy clump of knots on the other and took a break.
When I returned to the skein a little while later, my breath caught in my throat.  The tidy loop had completely disappeared and the messy clump had taken over the entire skein. It was nothing but one giant knot.  And there hiding in the doorway, was my husband, looking throughly ashamed and apologising profusely.  He'd tried to help…  he thought if he just started winding, it would pull itself free…  and he'd got the yarn caught in the ballwinder and had very obviously set me back by hours…
And he felt terrible.
All's well that ends well.  It really did take hours but I'm relieved to report that the yarn is untangled at last.  And when I knit a swatch with the two skeins held double, the colours created a marled effect that is so stunning that I just can't stop gazing at it. (Seriously, zoom in and just look at all those little flecks of colour — they're gorgeous!)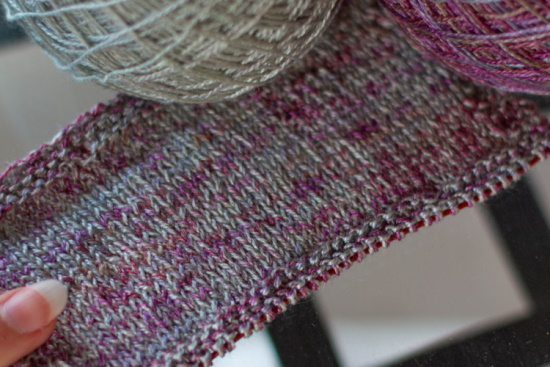 Pyxis in Sage and Molten Cool, held doubled
And even better is what came from that little fiasco along the way: now that we know our marriage can survive the horrors of a full-blown laceweight tangle, I kinda think maybe a global pandemic and national shutdown pales in comparison…?
---

For as long as we're all staying home, Ellen Thomas, the designer at The Chilly Dog, is providing live knitting/fiber arts lessons on her YouTube Channel every Saturday at 11 a.m. In the last couple weeks, she's shared her latest weaving project and taught Reverse Knitting. you can even ask her questions and she'll answer as she's livestreaming.  You can find her YouTube channel here and a playlist of her past live lessons here.
You might remember there was uproar a few months back in the fiber arts world when Disney forced designer Allison Hoffman to discontinue selling an amazing baby Yoda crochet pattern that she had designed.  I found really interesting this article, which explores the deeper legal ramifications of Disney's approach to the baby Yoda copyright issue within the larger crafting community. (In related news, that same designer has recently released an adorable amigurumi elephant pattern that, along with her previous bear cub pattern, it also includes instructions for elongated bunny ears.)
You've heard of temperature scarves and blankets (or maybe you've even made your own), but I absolutely love this temperature dress.  I mean…  it might not have worked, y'know?  But it really really does!
If you're wanting to make facemasks and looking for information on how to do it, I think this face mask tutorial round up is a great resource.
You might feel concerned that you'll run out stash(!) during the shutdown, so conserving every inch of yarn is important.  We all know the long-tail cast on is a common culprit for yarn wastage, so check out Jill Wolcott's step-by-step guide to figuring out how much yarn you'll need.  Useful stuff!  (and ahem… don't worry, if you do run out of stash yarn, SpaceCadet is here for you!)
---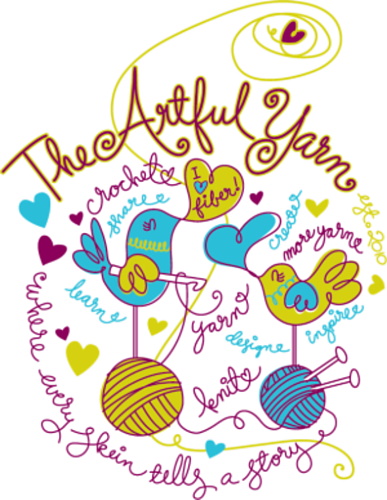 Virtual Trunk Show at The Artful Yarn, Chagrin Falls OH — April 24-26
Launch Party starts LIVE Friday Apr 24 at 5pm
It's not possible for us to go in real life to the trunk show we'd scheduled at The Artful Yarn, so we're holding a Virtual Trunk Show instead!  It's going to be a blast, with a live Zoom chat, lots of lovely SpaceCadet yarn, and maybe even cocktails (byob, naturally).  It's going to be exclusive to the customers of The Artful Yarn so, even if you've never shopped there before, you might want to join their mailing list (click here and look for the popup).  They offer online shopping and great virtual events and… you might even get an invite to the trunk show!
Want to see some of the Laceweight Pairs we've put together for the trunk show?  Here you go!  (See why I had to have that little chat with myself?)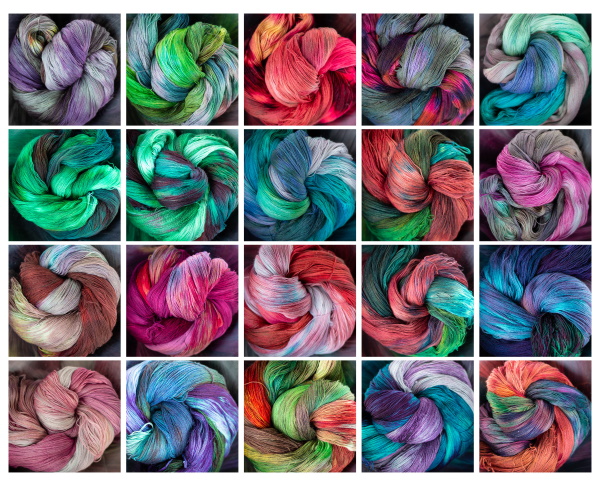 Can you imagine the gorgeous marling these will create when you work them held double? So gorgeous!

---

Indira Cowl and Indira Mitts by Vanessa Smith
The lovely textures of this gorgeous cowl and mitt set are made even more eye-catching by the way the softly mottled colour, which is created by (…wait for it…) knitting two yarns held double.  In this case, it's a fingering held double with a laceweight and the effect is distinct and just so beautiful.  Featuring a double-braided cable, simple lace, and fisherman's rib, it will keep you intriged from cast on to bind off.  Buy the pair and you'll even get them at a discount!
Daciana by Corrina Ferguson
It was the stripes that I spotted first.  They're just so happy (and the world needs as much happy as it can get right now!).  Worked top down in DK, you can work the stripes using your SpaceCadet Mini-Skeins, held double to approximate a DK weight while adding some gorgeous marled colour at the same time. For the main colour, choose either Lyra or Astrid, and cast on some happiness!
Detour Sweater by conceptcreative.store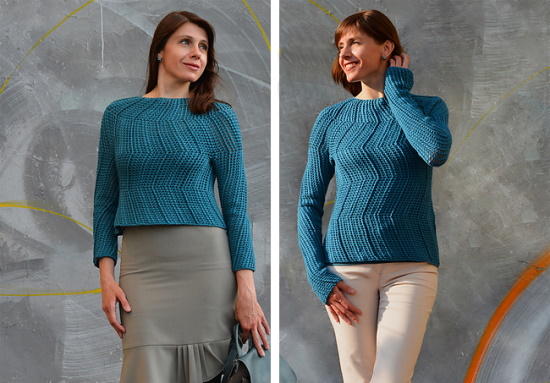 Talk about eye-catching!  I did a double-take as soon as I saw the fabulous texture of this stunning yoked sweater.  Worked in the round and seamless, it features waist shaping, bust darts, and an adjusted back for a better fit.  It can be worked in either shorter or longer lengths, with full sleeves or three-quarter length, and there's even instructions for increasing the length to a sweater-dress.  Designed in fingering, I think I'd crochet it in Oriana (because it has such incredible drape!) in Crisp for springtime vibes, Faded Dreams for some gentle colour, or Tickled if I've lost my mind.
images © the respective designers, used with permission
Ok, I've got a super busy day ahead so I'd better get going.  The weather is forecast to be a little bit warmer (hooray!) so I'm going to set up on my porch for some photography to get ready for the Virtual Trunk Show and then a ton of parcel packing.  I hope you've got a lovely day ahead of you, and that you and yours are safe and well.  And until next time, all my best!