Something interesting happened last week.  The folks on the Yarn Alliance mailing list will have already heard this story but I wanted to share it with everyone because it was such a big revelation for me.
A couple of members of the Yarn Alliance emailed to ask if it was time to renew their subscriptions.  And the truth is that it was time…  in fact, the time to open the club for renewals and new subscriptions was supposed to have happened back in March but, just one week before I was planning to open the doors, states here in the US started to shut things down.  Suddenly tons of people were losing their jobs, worried about loved ones, or getting ill, it just didn't feel right to start cheering about a yarn club.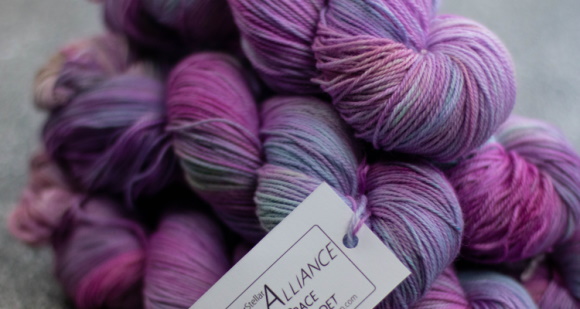 I honestly wasn't sure what to do.  I thought perhaps it would be better to just let this season's opening slide and wait until the next season's opening, in the hopes that things would be better for everyone.  But then those two emails came in, from members who said had so enjoyed  being part of the club and didn't want their subscriptions to end.  Reading that made my heart soar — and shook me out of my indecision.
It should have been obvious to me all along that when times are difficult, we all find comfort in our knitting and crochet: in the rhythm of the stitches, in the feel of the yarn, in the way the colours lift the spirits.  And it's always better when we do it together, whether in person at knit night or safely distanced in the shared experience of a club. So instead of being a time to shy away from opening the Yarn Alliance, I realised that now is exactly the time to share it.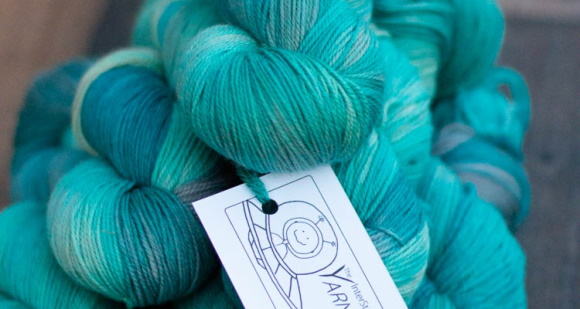 And so I opened the Yarn Alliance this week.  I'm keeping it low key because it still doesn't feel quite right to shout about it too loudly, but I'm excited to be able to share this upcoming season with all our renewing members — and hopefully a few new ones as well.  Somehow, those emails have given me a positive feeling about the future — for when it's safe to end these shutdowns and venture out into the world again — and I'm excited to embark on a new season and dye new colours, with a sense of hope and positivity.  Will you join me?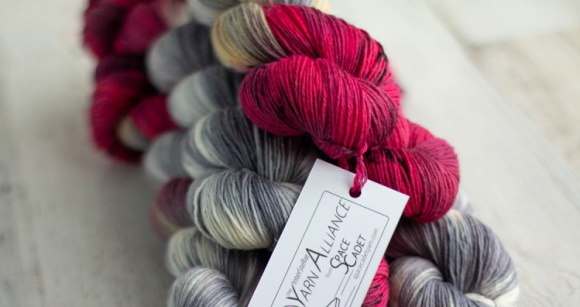 Lots to lovely fibery news share with you today.  Are you ready?  Let's dive in!…
---

When I think of llamas, I think of their fiber but, apparently, when virologists think of llamas, they think of protection against coronaviruses.  This fascinating article outlines how scientists are investigating the way llamas' antibodies defend against a coronavirus infection, including the one that causes Covid19, and coming up with ways they can be adapted to protect humans.  Apparently, shark antibodies work in similar ways but, for some reason, the scientists prefer to do their work with llamas.  Do you think it's because they also make really nice fiber?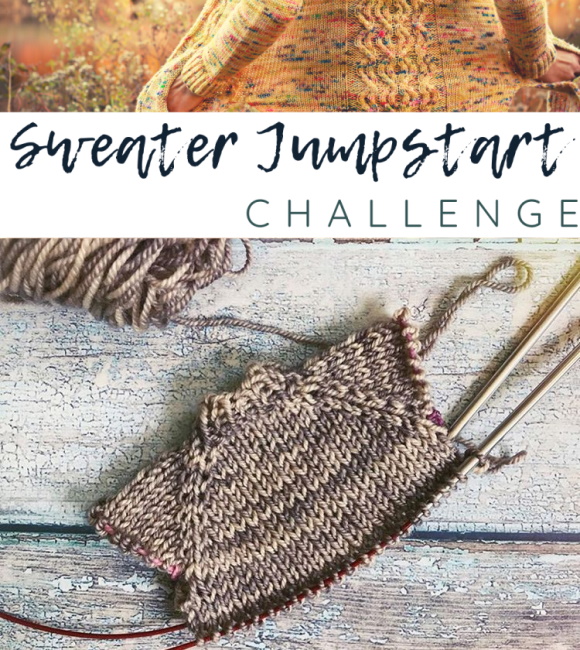 This looks like fun: Sweater Jumpstart is a free five day challenge to explore raglan sweater construction by knitting a mini-sweater with designer Kristen Jancuk.  It starts on Monday, so go grab some needles and leftover yarn, and get started by signing up here.
When the humans are locked down, mean streets of the city belong to… sheep?  These videos capture a shepherd leading his flock through the center of Samsun, a city on Turkey's northern coast — much to the surprise of local residents!  Make sure that when you click play you have the sound on — it's really quite something.
Very sad news for the knitting and crochet world: TNNA, the industry trade organisation, is no more.  Their annual summer trade show was cancelled earlier in April due to the coronavirus, and then last week they announced the organisation would be suspending operations across the board, saying "TNNA currently cannot continue the membership operations you have come to expect with what little resources we have left."  While there's been remarkably little discussion of it online (there's some here and here), it's a huge blow to the industry as a whole and means it will be that much harder for LYSs to discover new yarns and for yarn companies to get into new LYSs.  How can you help?  It's actually really simple: word of mouth is the best recommendation so just mention your favourite dyers (such as, I don't know… say, SpaceCadet) to your LYS the next time you're shopping.  I promise, both the shop and the dyers will really appreciate it.
I have two small problems at the moment: 1) my mask hurts my ears and 2) swatching always feels like a waste of time (or yarn… or both).  But when I came across this quick and simple pattern, I realised it would solve both at once: it ties my mask behind my head and takes the pressure off my ears and it offers provides me with a gauge swatch that actually feels useful!  Best of all, it calls for two fingering yarns held together, so I get the chance to play with colour combinations for my new favourite technique!
---

Mother's Day is this weekend and if you've lost track of time (who hasn't?!?) and need to get something for your mother quick, let us step up and save the day for you!  A gift subscription to one of the SpaceCadet's yarn clubs is a fabulous gift: available right up to the last minute, we'll send her a parcel of gorgeous yarn delivered right to her door every month.  …And even if you can't be with her, you'll still be able to let her know how much she means to you.
There are two great options, so whether she prefers full-sized yarns or minis, you know you're giving her something she loves!
(if you're not sure about those, let her decide: a gift card is always a great idea!)
---

Bukett by Linnea Ornstein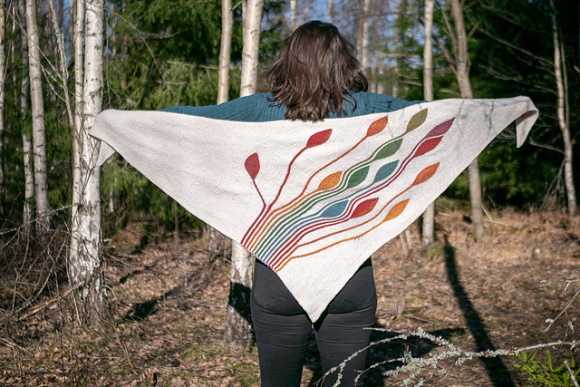 I actually drew breath when I saw this stunning pattern!  I absolutely love the spray of short row flowers bursting at an angle across the shawl but, even better, the whole pattern is garter stich  — meaning you can acheive this amazing effect with the simplest of techniques.  Designed in sport weight, I'd love to see the flowers knit using our Mini-Skeins held double to add extra colour combo punch.  Hands up, club members: who's up for it?
Interlock by Hunter Hammersen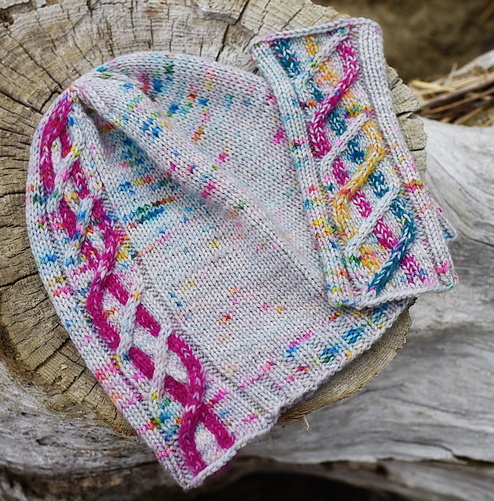 Hunter's designs are always beautiful and this one is exactly that.  Incorporating the magic of holding yarn doubled to create its intriguing colour effect, it incorporates delightful open cables.  As ever, the pattern features wonderful instructions, including a photo tutorial and suggestions to modify it from a one-colour version to a three-colour version..  Best of all, it's free at the moment for folks who join Hunter's mailing list!
Raspberry spring lace cardigan by Lein Knits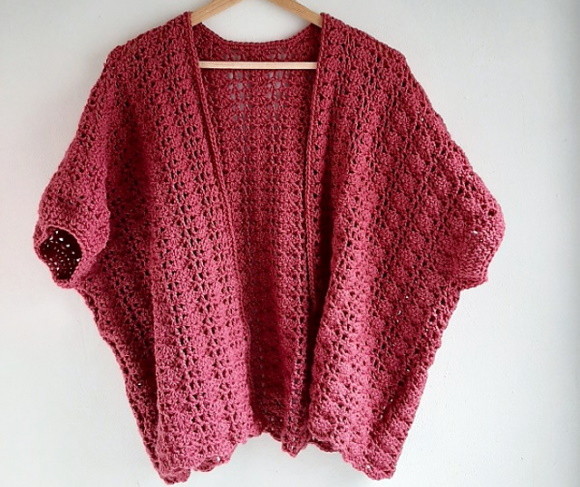 It might have been the name of this cardigan that caught my eye — I'm so ready for spring! — but I think it was actually that beautiful crocheted lace that looks just perfect for the upcoming season.  An incredibly simple design, it's worked in three pieces starting with the back, and each front worked together with the sleeves. And even though it was designed in much heavier yarn, there's a part of me that's tempted to do a gauge swatch with some fingering or lace held together and see if I couldn't create a version that's just incredibly light and summery.
all images © the respective designers, used with permission
Well, it's time I got my day started.  We've got some beautiful club parcels and orders to pack up, and then I need to check through a few dyeing recipes and get them right.  I hope you have a some knitting or crochet breaks planned into your day, and all your loved ones are well.  And to all the mothers, I wish a very Happy Mother's Day.
Until next time, all my best!