Well hello!  Way back in the March or so, I announced my intention to continue sending out uplifting newsletters as the country went into shutdown… but as time went on, I found that keeping a dye studio operating during a lockdown was a wee bit more time-consuming (and a lot more overwhelming!) than I had anticipated.  So I put the newsletters on the back burner as we focused on getting the yarn dyed and orders out the door.
But I've so missed writing to you!  And I've mentally started so many newsletters over the weeks (usually while my hands were busy with more practical tasks) that it feels downright cathartic to be able to sit down and finally say hello again. Hello!
And while I'm at it, I just want to send some extra love to everyone who has written in to check me and the SpaceCadet crew.  Now, the truth is that, during the last two months, I have somehow manged to suffer some ridiculously timed physical ailments: a really nasty ear infection, then a sinus infection, a broken tooth, and a badly sprained ankle – all of them made more complicated by the pandemic and our new studio set-up.  But I am happy to say that, those setbacks all seem to be under control (knock on wood) and, other than my crutches(!), the SpaceCadet crew and I are all well – and so grateful to everyone who checked in on us.
In fact, we've been planning some exciting stuff coming up: new kits, beautiful colourways, fun collaborations.  I can't wait to show you!  But in the meantime, there's lots of interesting stuff to share in the world of knitting and crochet, so let's jump in…
---

Over the past month or so, there have been a lot of discussions on social media regarding financial accessibility and the level of yarn substitution information that should be included in knitting patterns.  It began when a knitter on Instagram suggested that designers should give suggestions for multiple yarns of different prices, and escalated to…  well, to a lot of heated discussions across countless posts on social media.  The whole discussion was a little hard to follow but the post I found most interesting was this one from Patty Lyons.  It's hard to read because she ran out of room and had to continue her thoughts in the comments (they're worth digging for, though) but the idea that really resonated with me was that there is a difference between pattern designers and knitting teachers.  That is, not all designers are teachers, and vice versa — they are two distinct roles.  Food for thought.
In that same discussion, designer Kristen Jancuk wrote this blog post detailing just how much money she makes (or doesn't make) as a knitting pattern designer.  It's certainly an eye-opening read.
Ravelry released a website update in June that has created waves of controversy across the community due to issues with accessibility and reports of migraines, seizures, and similar health problems triggered by the new design.  Again, majority of the conversation around it happened on social media and so can be hard to follow, but you can read a thorough summary of the situation by clicking here, and Ravelry co-founder Jessica Forbes's more recent letter to the community here.
Absolutely nothing to do with knitting or crochet, but you might have guessed that I do have a soft spot for all things space related (and especially our solar system), and so I was just delighted by the adorable graphics in this article showing lots of the spacecraft we've launched beyond Earth's orbit.  Seriously, it's so cute — go look!

With so much of life disrupted by the pandemic, it's a good opportunity to take some time to learn a new fiber arts skill.  If you're a knitter who has always been flummoxed by crochet, this super-fast (and free!) crash course on SkillShare looks like an awesome way to do it.
---

The SpaceMonster Club will Open — and Close Again Quick!
Between the ear infection, sinus infection, broken tooth, and sprained ankle(!), I wasn't able to open the SpaceMonsters Club when I planned to.  And now that I can, it's nearly time to close it again!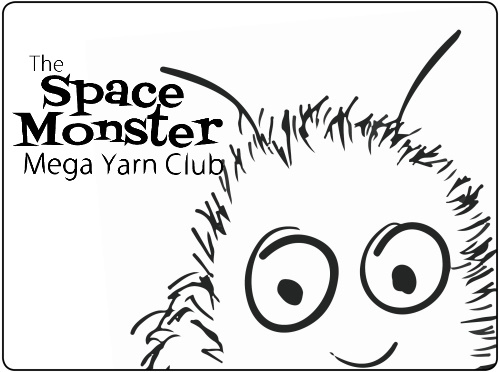 So, I'll be opening it in the next few days and sending a quick email out to let everyone know (with first dibs to the folks on the waiting list). And then…  if lovely smooshy worsted and bulky yarns are what make your heart sing, you'll want to act fast because it will be open for a just a few days before I close it again!  Keep an eye on your inbox….
Upcoming Virtual Shows
I'm so excited to do our upcoming shows…  even if they're not how we're used to doing them!  Watch for more details as we get closer.
Shenandoah Valley Fiber Festival Virtual Show — Sept 25-27
SVFF is such a lovely show… I'll miss standing in the lovely Shenandoah autumn breezes but we're going to bring all that same festival spirit!
Indie Untangled Everywhere — Oct 15-17
The amazing before-Rhinebeck trunk show has gone virtual, and the vendors are as exciting this year as ever.Tickets available now — click here to reserve yours!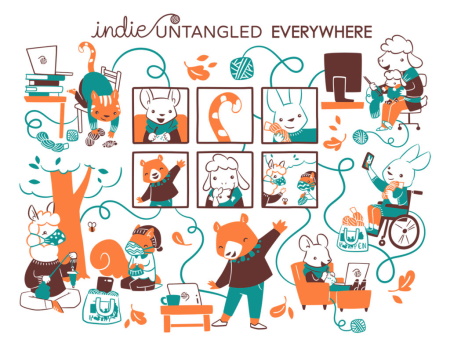 ---

Aeria by Linnea Ornstein
(Ravelry link)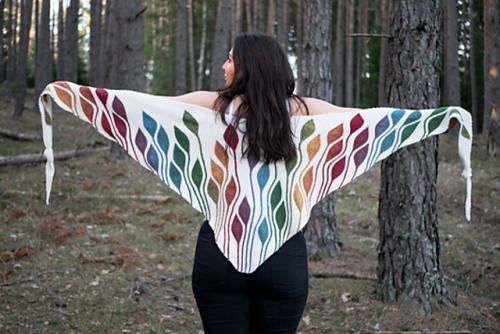 Shawls are the perfect summer knitting and this one has the added bonus of being an absolutely stunning eye-catcher!  Knit in garter stitch from tip to tip, you can work it in just two yarns, or substitue in something like your Mini-Skein stash for a really amazing effect.
Sunday Tee by PetiteKnit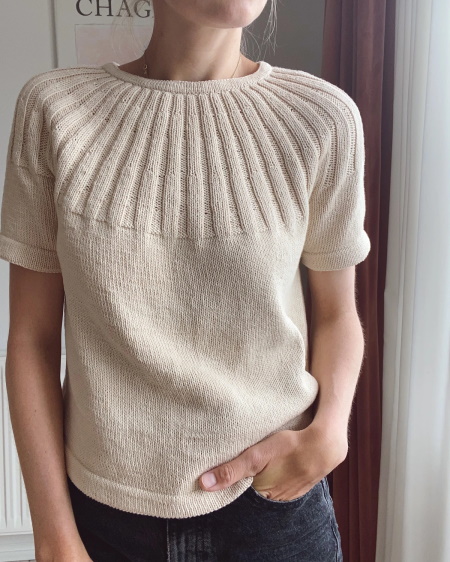 In a world of colourwork yoked sweaters, what caught my eye about this beautifully simple version was the exquisitely folded edges on the sleeves and hem.  It's a tiny little detail and maybe not something a non-knitter would notice but, once you see them, they make all the difference.
Susan Tank by Kay Krochets
(Ravelry link)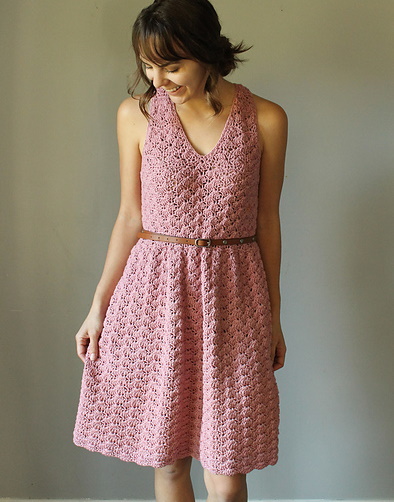 There's nothing like a lovely, lacy dress in the summer and this one just jumped out at me. But it's even better than it first looks because it can be easily converted to a simple tank top or worked up in tunic length. And, even better, it's designed with a fully covered back to — wait for it, ladies — to cover your bra straps! Perfect!
images: © the respective designers, used with permission
---
Well, I can't tell you how absolutely lovely it's been to be back and able to sit down and share all these fibery tidbits with you again.  I hope you've enjoyed it as much as I have.  I hope that your and yours are staying healthy and safe and, until next time, all my best!